Dear Internet,
No, I am not dead yet. I had a lot of great food in New York. I went to Europe for a week, where I had more great food. I am now back at MIT. I took a long nap in the library today. I can feel MIT's gaping maw ready to swallow me whole again.
In other words…
BRING IT ON!!!!!!
—–
So guys, sorry for the hiatus in posting the photo contest results. I received over twenty entries, so thanks for your enthusiasm! :) (although tsk tsk to the person who sent me pictures that were 20 MB EACH. dang son! haha)
Here we gooooo!
HONORABLE MENTIONS:
Let's begin with two group pictures and stories of groupwork:
From Louis, '14, New York City
A photo from Peru after 4 days working to clear the yard of bricks, hills, and assorted shrubbery.
I went on this trip to Peru with the St. Marcellin Society (which has a chapter affiliated with my High School). The majority of the trip was spent in Chulucanas doing service work while we stayed in the Bishop's House: Clearing out "The Pit" so the school could build something in the lot, Teaching English to a class (and watching them sing "I Got a Feeling" by the Black Eyed Peas), and painting the auditorium. We also visited a Nursing Home and an Orphanage and got trounced in sports by the locals. After a week of this, we went to Lima and Cuzco for a few days to be tourists and see Macchu Picchu.
The picture is a picture of our group of 12 standing on the brick pile in The Pit after we were finished working in it.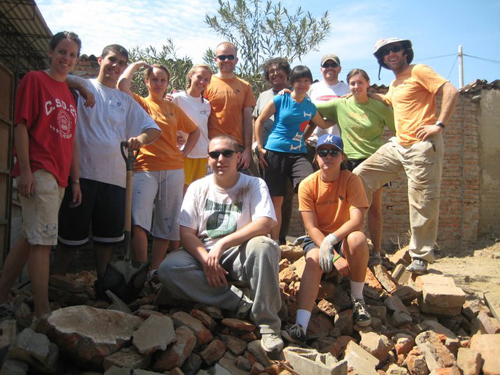 Then the next kind of work is something that's close and dear to my heart (working with Asian communities in Chinatown – which I have been doing all four years of my time at MIT).
From Ting, '13 transfer from Mount Holyoke, China
I took this picture outside Chinese-American Planning Council in Chinatown, Manhattan, New York City. I am the first one on the left in the first row, holding the banner. We are the summer interns and volunteers at the Chinese-American Planning Council for the biennial Walkathon and Family Day Fair.
On Saturday, July 31, 2010, the Chinese-American Planning Council (CPC) brought together over 2,000 participants for a fundraising Walkathon and Family Day Fair with the theme "Community Walks Today, for the Youth of Tommorow." All the proceeds will go to CPC's youth programs, which are significantly affected by the city budget cuts. Starting from Columbus Park, participants crossed the Brooklyn Bridge and then returned to the park. As summer interns, we prepared this big event for nine weeks.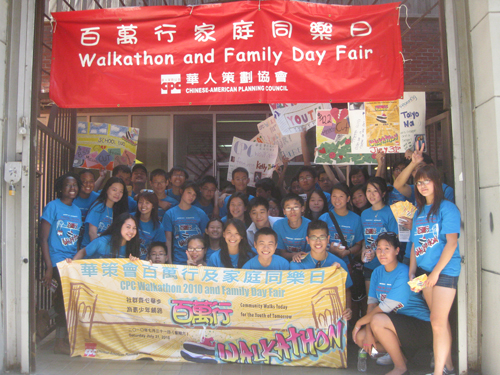 Let's turn now to two sets of traveling pictures…(I must say I got a good laugh out of the first one, and I just had to include the picture of CROATIA – Lake Plitvice was a place that I really wanted to visit this summer when we were in Croatia but really could not due to time constraints)
From Ioana, '14, Bucharest, Romania
I traveled during the summer with my family to Turkey and with the Romanian International Physics Olympiad team to Hungary, Belgium and Croatia. I attached some photos:
-Shop in Kusadasi, Turkey
-Ada Land delfinarium near Kusadasi, Turkey
-Plitvice Lakes National Park in Croatia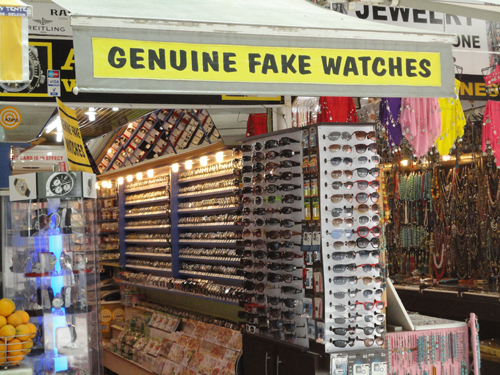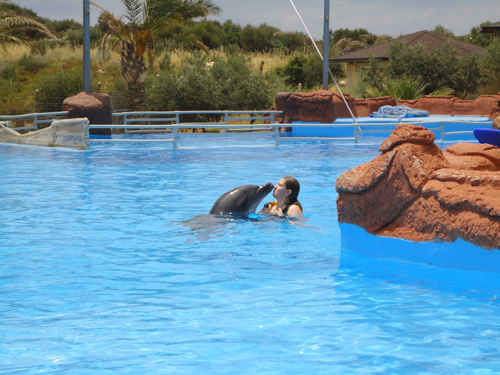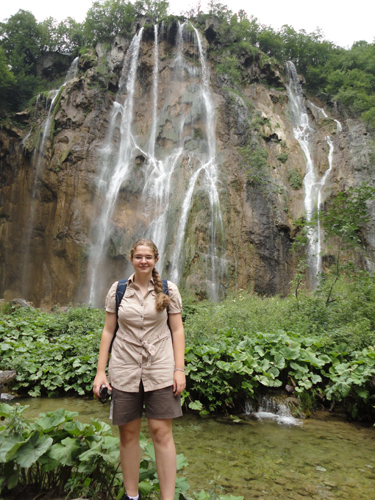 From Chelsea, '14, Pleasanton, CA
In June, my family went to Kauai, HI for a week. During our vacation, we did two awesome things: (1) helicopter ride, and (2) zip lining. Since we only took videos during zip lining (with lower quality than these pictures), I only attached pictures from the helicopter ride (though zip lining was just as if not more awesome than the helicopter ride). Also: since I couldn't get a picture of me with the scenery of the helicopter ride, there are two pictures.
On the ride, we learned that Kauai is home to the wettest place on Earth, Mt. Waialeale (Wai-'ale-'ale), which averages more than 472 inches (roughly 39 feet!) of rain every year. This means that the island is very green and pretty. Because of the island's beautiful environment, Jurassic Park was filmed on Kauai. Pirates of the Caribbean 4 was also filmed on Kauai a week after we left.
And in case you were wondering, I'm the one in the white (but not the helicopter driver, though that would be a pretty amazing job).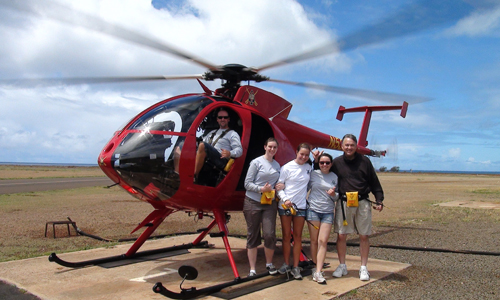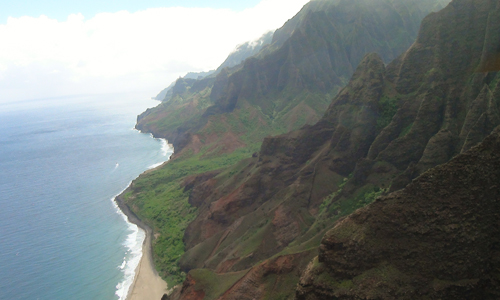 And I think this qualifies as very "MIT"…
From Sean, '15 prospective, Concord, NH
The Boat_Race pictures were taken during a sailboat race yesterday. The black Jolly Roger sails belong to my boat, which is a 1969 sunfish (yep, it's 41 years old. Great find on Craig's list.), and I was so intent on the race, I forgot to take a picture of myself sailing.
The race was at Crystal Lake in Gilmanton, NH, and last year, I had a full pirate getup to match my swashbucklin' vessel, but I finished last. Tactics changed from style to speed this year. It worked, I finished first.
Drink up me hearties,
-sean
P.S. – Pirates Trump Ninjas, Yo Ho!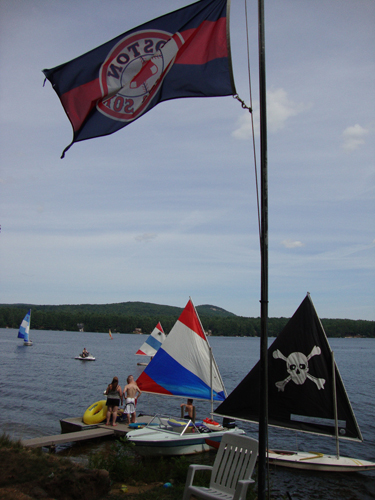 Finally, in the "Honorable Mentions" category, a special place must go to this guy with Animal Planet pictures…
From Anthony, '15 prospective, Johannesburg, South Africa
Hey Chris,
Here are two photos of what I've been up to this winter in fact (Southern Hemisphere just has to be different, doesn't it? ;] )
Both were taken at a lion park outside of Johannesburg, in South Africa.
I'm South African, but moved to study in Europe several years ago, still return for holidays though!
Little note on the lion cubs, the photo with me in shows the cubs just before breakfast time (porridge) and they paid very minimal attention to my existence. After they were fed photo number two was taken :]. There were two rules when going in with the cubs, no picking them up, and no letting them bite you (bad habit for them to start apparently >_>), which ruined my plan of bragging to my European friends that I was bitten by a lion, even if it was only a month or two old.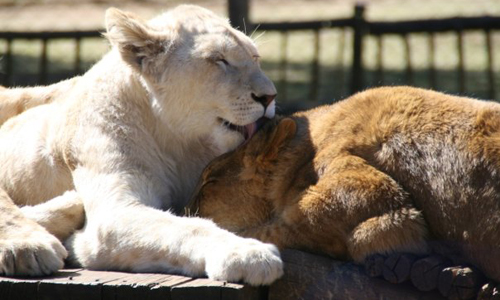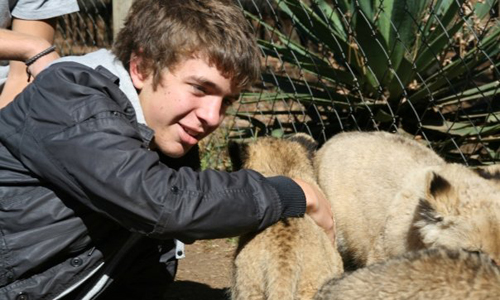 THIRD PLACE:
Not entirely unbiased because I am Taiwanese, but I think cheering on foreign athletes in the US is awesome :)
From Eric, '13, Taiwan
This picture is taken at New Hampshire Fisher Cats Baseball Field. Cheer for all the Taiwanese athlete players in the US!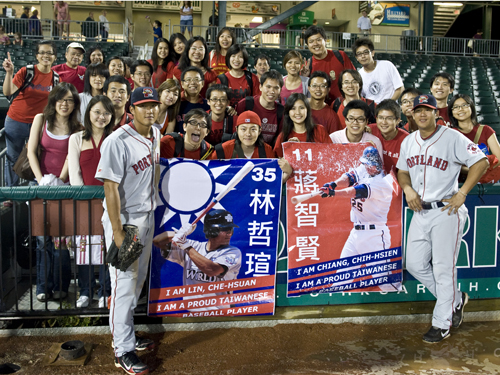 SECOND PLACE:
There's not much to see except a lot of blue, but I must admit that the "cool factor" just dominated this picture. Is this kind of project amazing or what?!?!
From Max, '15 prospective, Western Massachusetts
View from a balloon i launched, about 80000 feet above the ground. It was taken by an automated camera attached to a weather balloon which i launched. Pretty cool right?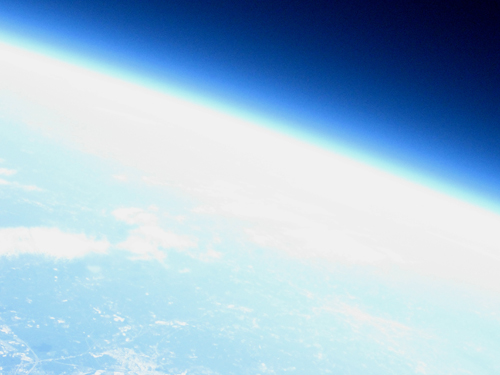 ANDDDD the grand finale:
FIRST PLACE:
So I am a big Miyazaki fan, and Studio Ghibli was such a big part of my childhood (and even now!).
I must take my metaphorical hat off to this fantastic culinary creation by Greg, however. One, because it's TOTORO! Totoro, Totoro, Totoro! (he's even in Toy Story 3!) Two, because it looks wonderfully meticulous and I know I would never be able to pull something like this off in the kitchen.
My only suggestion is to add some makkurokurosukes next time on the side. :) Shouldn't be hard if you managed Toroto! :p
From Greg, '15 prospective
I'm going to be an applicant this year, and as such have spent a good deal of my free time trolling around the admission site blogs waiting for the application to be released. I saw your competition and couldn't resist sending in this photo of the birthday cake I made for my brother earlier this summer. He's a big fan of everything Miyazaki, but Totoro is by far his favorite character (he painted the portrait of Totoro in his art class). The cake took me about 18 hours of work, most of which was spent wrestling with the fondant skin (a material I've never worked with before), and was worth every minute. He was so happy, and it tasted magnificent too. I hope you enjoy it as much as we did!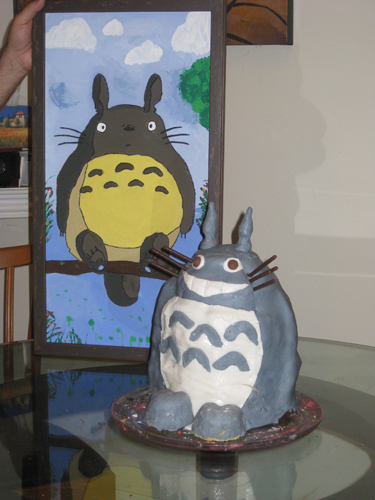 THE PRIZE!
I first came across this game in the game cabinet of a New York cafe, and then very soon I thought the idea was very cool and I thought it was something that I would want on my bookshelf :)
Basically, the premise of this is that you have a tube filled with plastic thingies, and there are about four dozen-ish little things hidden in the tube, and you can find them by turning the tube around. Apparently the hardest thing to find in the tube is the penny that's hidden inside, and I am still unable to find it in this one, haha. :) (ps. once you find the penny, you can go online to the game website and enter the serial number of the tube and the year on the penny to see whether you got it right!)
Have fun! :)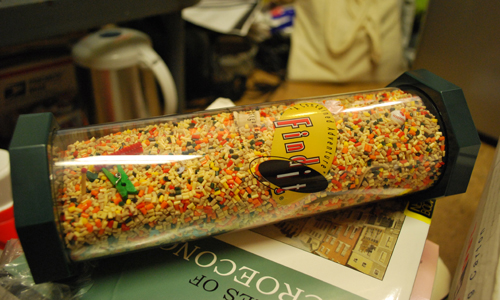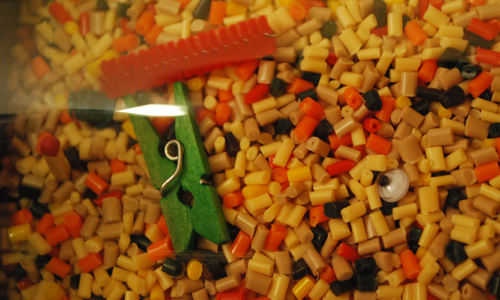 Thanks for all your entries! ^_____^
6 responses to "What YOU'RE Doing This Summer! (2010 Edition!)"