Between the fall and spring semesters at MIT there is a period spanning the month of January called the Independent Activities Period, or IAP for short. It's an excellent chance to do whatever you want!
If you want your time to have formal structure, MIT provides opportunities to travel abroad (with your expenses paid through various MISTI programs, of course), take some classes, or do a mini-internship (called an "externship") at a variety of companies with MIT alumni. I chose to do an externship this past IAP.
If you'd rather abandon structure and float through IAP without knowing what day of the week it is, you can spend all your time connecting with friends, working out, cooking, exploring Boston (if you're on campus!), or hanging out with family (if you're at home). I did this unstructured decompression sequence in my 2019 IAP and loved it. (I also tried to do some of this during my 2020 IAP, but it was harder to achieve alongside the nine-to-five intern life.)
Without further ado, here is my recap of IAP 2020:
Externing
I worked as a software engineering extern at Microsoft (more specifically, I worked on the Responsible AI Team within the larger Azure Machine Learning division). The office was located at the end of Memorial Drive, so it was just a very convenient 10 minute bike ride down the road from my dorm. I was paired on a project with another extern, Maya N. '21, whom I loved getting to know over the course of IAP! Maya and I worked together to read papers about differentially private algorithms and then implement them as modules for Microsoft's open-source privacy toolkit. At the end of most days, we'd walk down Memorial together back to campus.
Overall it was a great experience; I liked the Microsoft fulltimers I was working with and I found our extern project really interesting and well-aligned with my values and interests. I also enjoyed that the team was collaborating with academic researchers (specifically some from a team at Harvard). I haven't figured out if I want to pursue a research career within industry or academia (or something else entirely), so it was nice to observe direct differences in the types of contributions made by the Microsoft engineering team, Microsoft research team, and the Harvard research team.
It was my first time interning at a big tech company. I felt incredibly comfortable. I was given a laptop, two monitors, and a bluetooth mouse to use throughout the month. I had access to such nice spaces, constant refreshments (snack bar, a fridge of cold drinks, and plenty of machines for various hot drinks), plenty of space to work (my own desk and various common areas), and quite a few catered meals! Also, as a Vietnamese-Iranian-American,⁠01 If anyone else out there matches this description, please email me, lol I was really happy when (purely by chance) two out of three in-office team lunches were catered from a Vietnamese restaurant and a Persian restaurant.
It was challenging to get onboarded, learn background information, get comfortable with the software development pipeline my team used, make meaningful contributions, and prepare for a demo all within just four weeks, but we did it. Maya and I had a great time presenting our differential privacy modules at Demo Day to various fulltimers from tons of different teams, who had a lot of interesting questions about how our work might help their products.
You might be wondering how students get hired for externships. Back in September, the MIT Externship Program opened applications and students had less than a month to send in applications. At the time, the program was coordinated by the MIT alumni office but is now transitioning to being coordinated by CAPD (Career Advising & Professional Development). Each student could apply to a maximum of three externships. One of the companies I applied to was literally acquired by Facebook shortly after I applied, so I ended up only really applying to two. I got reached out to by a Microsoft recruiter and Responsible AI engineer, had a few interviews, and then got offered the role. I think it was similar, if not a bit easier, than a standard summer tech internship interview process.
Connecting with friends
I normally I'd just call this "hanging out," but over IAP it always felt like a
special-premium-advanced
version of it. Without lectures, psets, or office hours to clog up the evening, there was more time and energy to leisurely bake new recipes, dine at favorite restaurants, delve deeper into discussions, and leave campus to visit friends at various FSILGs and Harvard.
While living in MacGregor House, I cooked meals fairly frequently using the kitchenette in my suite. However it was impossible to bake in the kitchenette – to use an oven, I'd have to go up one flight of stairs to the large shared kitchen. I never actually tried this until IAP, when my friend Jessica L. '22 brought over some brownie mix. Did we almost eat the entire tray in one night? Possibly. Once we recovered from that, we baked butter mochi! It ended up being quite an adventure. We got started, then realized we didn't have ingredients (vanilla extract and evaporated milk, I think) and had to go shopping at H-Mart before we could finish assembly and finally put it in the oven. I'm no butter mochi expert (I've literally only had it once and it was the butter mochi in this story) but I think it came out really good.
IAP was great having time for weekday dinners away from MIT. During the semester, when I had weekday meals with people, it was almost always at a dining hall, local cafe, or the student center. I appreciated these chances to share a meal, but it frustrated me that I just generally didn't have time to travel away from MIT to a restaurant in Cambridge or Boston without missing a club meeting or an office hour.
So, over IAP I took advantage of the fact that I was totally free after work. I made lots of dinner plans. Jessica and I introduced each other to our favorite restaurants.⁠02 Mine was a Venezuelan spot called Orinoco and hers was a Szechuan spot called Five Spices House Four of my friends from New House 4 and I finally got a meal together not at the Next House Dining Hall. The five of us explored Harvard (in the freezing January cold) afterwards, stopping for some Insomnia cookies. I explored a vegan spot in Boston with Kidist where we got surprisingly good mac and cheese.
With every hangout, goodbyes were said when people's social batteries depleted, not when we had to go pset. It was so refreshing to be able to fully focus on people and not worry about needing to go pset or make it to office hours.
Decorating my room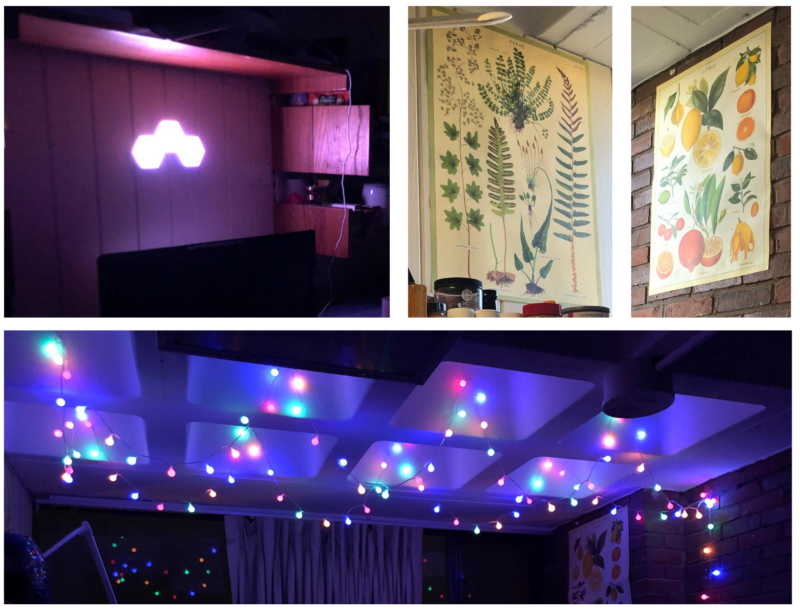 I finally got the perfect lights and posters for my room over IAP. It was pretty heartbreaking to have to disassemble it all less than 2 months later when we got kicked off campus due to COVID-19. In addition to being pretty to look at, I loved all the memories attached to these items:
I got the hexagonal lights as a gift from my family during the holiday season. I love them – they can be connected in lots of shapes and change color according to lots of different settings, including one that syncs with music (or any sound in the room).
The string lights were a birthday gift. I loved how I could string them into the indents of the strange MacGregor waffle ceiling to have even more colors splashed around the room.
The posters were from a cute gift shop in Boston that Jessica took me to over IAP. It was a fun day.
It was super exciting to see my room glow up (literally) especially since MacGregor isn't known for having particularly aesthetic interior design. I was thrilled to have lots of fun colors and shapes to look at all the time. My room at home is much more sparse and it makes me miss my old room in MacGregor House a lot.
It was a good IAP. I'm looking forward to my next one.
If anyone else out there matches this description, please email me, lol⁠

back to text

↑
Mine was a Venezuelan spot called Orinoco and hers was a Szechuan spot called Five Spices House⁠

back to text

↑