So this is a big week. This, is not only production week for photography class (exhibitions for final projects are next monday), which is pretty stressful since I've been unbelievably crappy about making progress on my project since day one, but ALSO the week of our last mandatory physics psets which I'm just a little psyched about.
So to share my excitement I thought I'd start the photo series on my classes this term (the end is nigh!) with Relativity. Which was today.
So 8.033 which is Special Relativity with a brief intro to General Relativity is 1) a physics class, 2) required for physics majors so generally our little budding physicists take it first term sophomore year, 3) really pretty great. But don't take MY word for it. Read on. It's 12 units like most classes here and it meets 2-3:30 on Tuesdays and Thursdays for lecture and some time on Mondays and Wednesdays for recitation (my recitation is at 11am in 24-402 in case you want to pop by with a muffin and say hi. Don't forget the muffin cause I will not talk to you if you are not holding a muffin for me.). It gives out 1 pset a week of variable difficulty and length. The shortest pset this year took me about 3 hours to do while the longer ones have been known to take me some 10-15 hours of being stupid and feeling stupider. The lectures are a lot of fun while generally the recitations are a lot of math. Here, have a look-see:
Lecturer: Prof. Max Tegmark
Recitation Instructor: Prof. Enectali Figueroa
TA: Pranesh Sundararajan
I snapped these pictures very discreetly during recitation last Wednesday:
This is the TA explaining why I got this and every other problem wrong on the last test. Pranesh the relativity beast has the unique quality of being able to do physics so quickly that he is a veritable blur. This was my best attempt at capturing this elusive creature on film: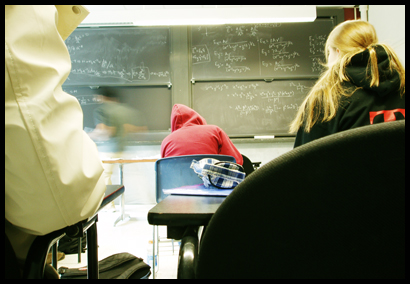 He didn't even show up in my other pictures :(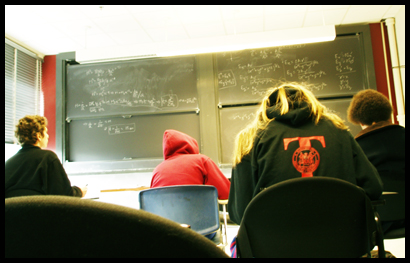 Recitation sections generally consist of 15-20 students, about an average of 10 of whom show up on any given day. We get off talking about just how screwed up black holes are and how wrong Newtonian Mechanics is.
So that's recitation. Not too great, not too shabby, and here's a look at lecture:
The lectures are held in the Green Building which is basically on top of East Campus my dorm so there's really no reason not to go to lecture. It comes to me. Let's take a look around 54-100.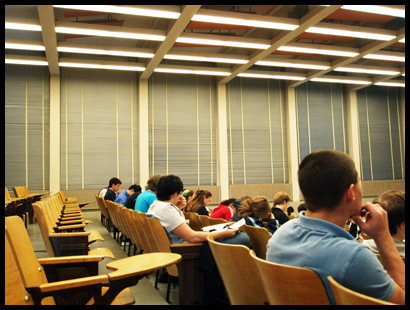 Shiny and state of the art. I did a little sweep, back to front of the lecture hall, and confused some kids behind me.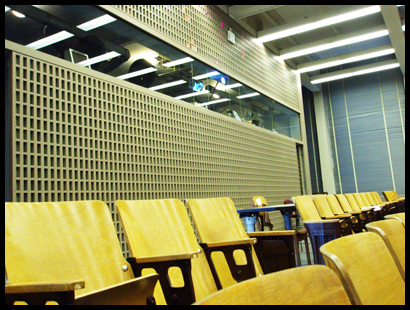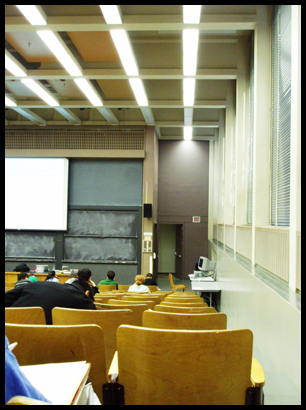 —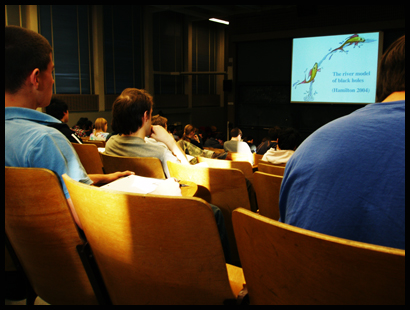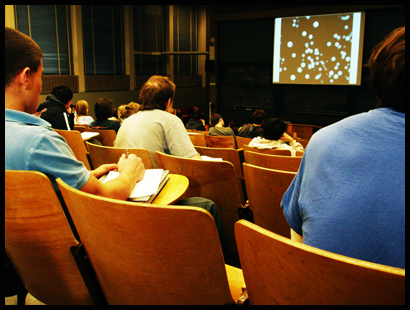 We started this lecture off by looking at pictures of fish. And then of white circles. The white circles are actually stars near the center of our galaxy orbiting a 3 million solar mass black hole that provided convincing evidence for the existence of black holes at all. Nifty, eh? And you thought they were circles…
So we talked a little more about how cool and totally nuts black holes were and then we recapped the whole semester in preparation for the final. To the tune of Yellow Submarine by the Beatles. The average on the last test was a little low, so the two professors in the course thought clearly what was needed was a musical rendition of the major concepts we've learned this year. Original lyrics by Tegmark and Figueroa with special thanks to Einstein for his theory of relativity.
Click on the picture to read the lyrics on the slides!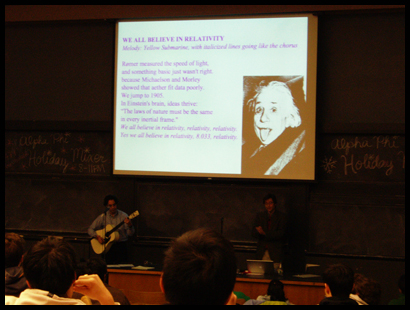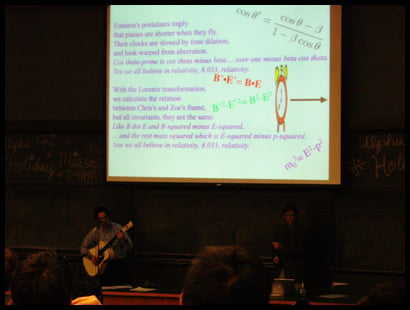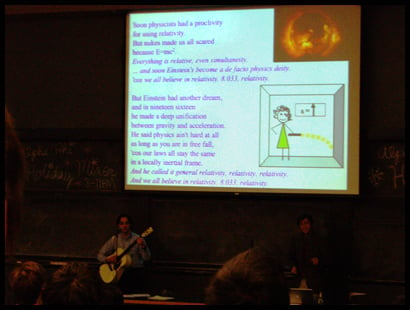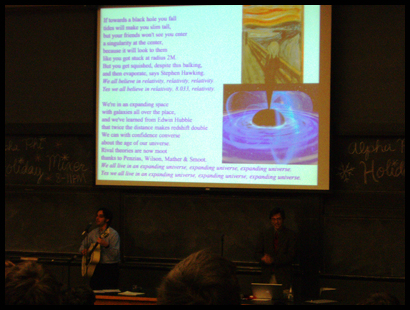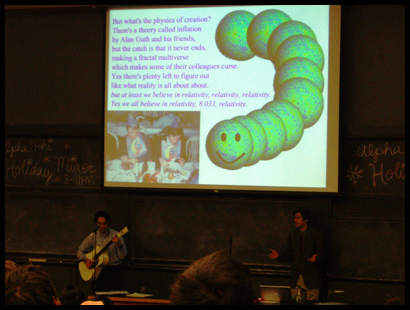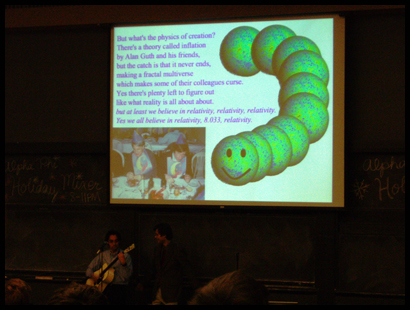 Relativity – It's all fun and games until someone starts doing calculus of variations. The rest of lecture was dedicated to filling the boards with math vomit, a more conventional form of learning.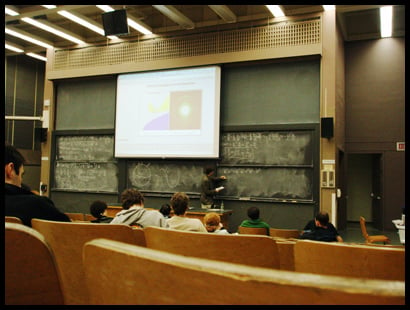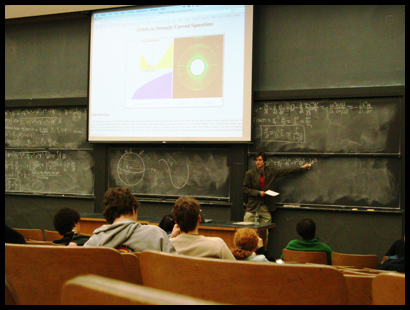 Eager young minds soaking it up like porous, sleepy, overworked SPONGES.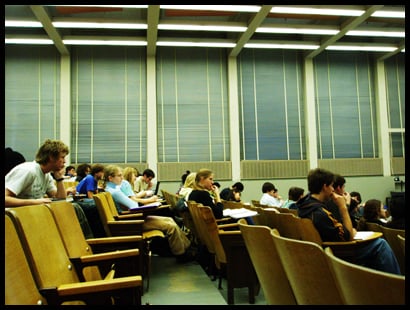 Tada! Who doesn't love things in boxes?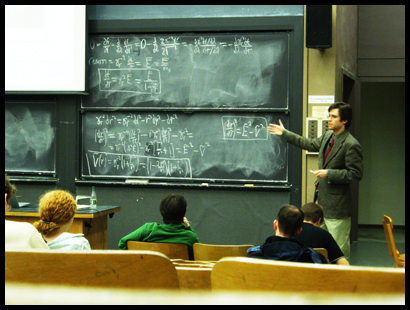 There's usually some exit music, today there was an exit film. An episode of Futurama in which they narrowly avoid being sucked into a black hole.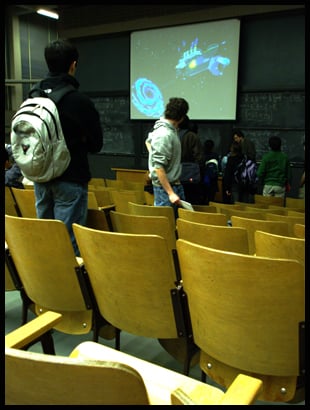 Anyways, I'm doing Unified next. Followed by Waves if I do ever bring myself to go to class. ("Next Monday, I promise!") Great! Good. Get into MIT. And do it quickly. Don't make a fuss.
XOXO
-lulu
42 responses to "A Peek at 8.033 – Relativity"