Part I: Academics
"You do know that MIT is unlike almost any other college in the country, right?".
A few months ago I was cooking dinner with my boyfriend and he was telling me about his visit to UCSC. He had gone to see a friend from high school who was either a junior or a senior there and was blown away by the setting. "Absolutely beautiful," it was exactly his kind of place, too. Full of a very wholesome, very natural beauty. Everywhere was mountains and trees and ocean and hippies. She had spent several days showing him and a few others around, introducing them to her favorite trees and caves and perches from which to view the sunset. And at night there was always something to do. Parties with friends and bonfires in true collegiate style. Wow, sounds perfect, like a movie, I said. Yeah, he thought so too, but then she said something strange. Toward the end of his visit, she'd asked, "What are you supposed to learn in college, anyhow?"
By his account she is an intelligent girl with a good head on her shoulders. She's had a picture-perfect time at UCSC so far but couldn't shake the feeling that she was missing out on something. So she pulled him aside, at a house party I think, and said, "Do you feel like you've learned anything in college?" She was genuinely curious. "I don't know if I have."
My boyfriend's a physics major, like me. He was my junior lab partner second semester, if you remember. He didn't know what to say.
So he told me this, and I dropped what I was doing. "Wow, I can't even imagine what that's like," I said.
I realized soon after that that wasn't the case. I know exactly what that's like. To miss out on something, that is. I know all about waking up in the morning to a boston day in the spring, one of those rare ones with the power to obliterate all memory of even the tough as rocks New England winter and life is just bursting out of every crack and crevice in a great green flood. On those days I've open my windows wide, picked out an outfit with a smile on my face, packed up my things and stepped outside in a t-shirt and my favorite skirt thinking this sun is exactly what I need so today I take the outside, round-a-bout way to the library and promise that when I'm done and there's still sun, I'll walk into town or maybe I'll bike across the river, either way I need the exercise and I could use the getting away from this place. And how many days have I've sat until my butt was sore and finally given up at 11, or 1 or 2, with these daytime thoughts long gone from my head now stuffed full of the things my text book says and wondering, how did it get so cold out and why didn't I bring a jacket. I look up at a black sky with a spattering of stars and I remember back to freshman year when I felt so tough and so proud that this is what I've become, but now at this moment, I'm cold, I'm thinking, "Man, if only I were in California." and "I'm moving out there as soon as I graduate."
How do you know when you have to choose? I didn't know that I was choosing. How do you know, with things so bright and so bleak, that this is what you have to choose? I didn't really know what I was choosing. Then how do you know you've made the right choice? That, there's no question about that.
First, I imagine what it would have been like if I had missed out on 4 relaxing, beautiful years of my youth, a "4-year party", my boyfriend called it ("You do realize MIT is unlike almost any other college in the country, right?"). That's easy, because I have, so I know. I think about it and for the most part it amuses me, that I didn't have this experience. It makes me a little sad, but mostly, it makes me want to take a couple years off between college and grad school (haha). Then, I try to imagine what it would have been like to have had all that, to have been carefree, to have gone out every night, to have missed out on this education.
It doesn't even compare.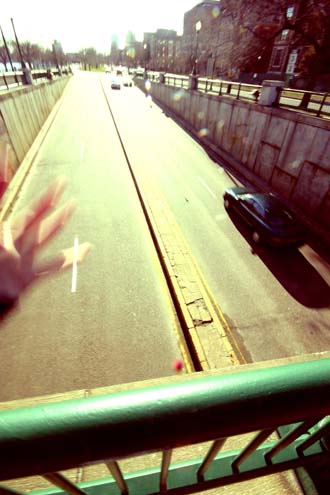 48 responses to "Where are you going, where have you been? (Part I)"