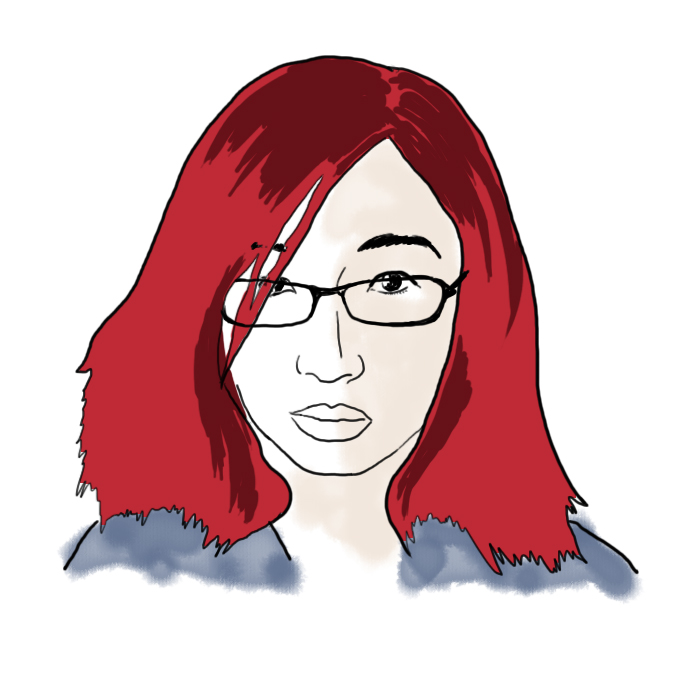 A Short Dining Guide to Cambridge

by Yan Z. '12
Where to find food within walking distance of MIT, other than in my fridge.
It's unfair, I admit: I've rhapsodized aplenty about Manhattan's food dives while glossing over the restaurants at MIT's doorstep. What's worse is that one year ago, I vowed to leave no restaurant within walking distance of 77 Massachusetts Avenue uneaten at, pardon the grammatical ugliness. Fulfillment proved to be elusive, expensive, and less compelling than getting problem sets finished on a Friday night instead of chewing slowly over two-hour, three-fork dinners in French restaurants with napkins pre-folded in topologically confusing structures (not that I needed to see any more of those, really). Honestly, I can't count the nights when nothing was more satisfying than the mouth-drying sodium-shock of defrosted vegetables ($2.00 per 16 oz.) doused in oyster sauce and Sriracha, digging for leftover cornbread and lentil stew in pika's fridge (too many potatoes per 16 oz., depending on the cook), reheating homemade cooking experiments from last weekend (1-10 units of bragging rights per 16 oz., depending on difficulty of recipe and whether or not it contained the LN2 that you accidentally borrowed indefinitely from your lab, or whatever), or scouring the Infinite Corridor for pasta salads and cold trays of curry leftover from catered dinners (1 sprint to campus from Random Hall per 16 oz.).
But enough about my autobiography-in-progress. Chances are, if you're arriving on campus within the next week, you have an interest in avoiding starvation in ways that do not involve the Ben Salinas Delight (last Wed. night's snack, if you're interested). In my infinite kindheartedness to this year's incoming class*, I started to compile a list of memorable-but-not-necessarily-recommended-eateries around MIT but suffered a minor aneurysm from food nostalgia overload and decided to stick to just restaurants on the Cambridge side of the river. (Boston deserves a separate blog post. Or six.)
*Seriously, I not only started the MIT 2013 Facebook Group but even refrained from changing the group name to "Harvard Class of 2013" and posting "Welcome to Harvard!" on the day that MIT matriculation decisions were due. It took some serious self-control.

View Dining around MIT in a larger map
Let's start with grocery stores.
1. Star Market: The closest grocery store to most of the MIT dorms, Star Market is your generic, jumbo-sized, ten-flavors-of-Triscuits supermarket. The fruit is an order of magnitude cheaper than at LaVerde's in the Student Center, and sales on staples like cereals, breads, sandwich meat, canned soup, and frozen vegetables are routine. The downside is that the incomprehensible store layout turns shopping for dried split peas into a labrythine task involving three aisles and a compass. Also, one of the employees doesn't know what peppermint bark is.
2. Trader Joe's: Fantastic bread. Fantastic frozen risotto. Fantastic granola bars. The temptation to spend your entire Saturday morning browsing the 3948294 varieties of mustard while downing free shots of coffee is dangerously irresistible. Remember this warning before you get on the MIT Weekend Grocery Shuttle (loops around to most of the dorms and ends at Trader Joe's/Whole Foods).
3. Harvest Co-op: A scarcely-mentioned, community-owned grocery store on Massachusetts Ave., Harvest has the cheapest prices on the following: bagged spinach, loose oranges, bagged apples (sometimes), soymilk, Sabra pine-nut hummus (the Shawshank Redemption of hummus: spectacular and life-affirming.) You can usually get better prices on fresh produce than at Shaw's, depending on the weekly sales.
Restaurants in Central Square (North of MIT along Massachusetts Avenue):
– Toscanini's: Famous for eclectic ice cream flavors like Burnt Caramel and Banana Gingersnap Molasses and Burnt Banana Ginger Molasses with Snapped Caramel (not really), Toscanini's is MIT's canonical provider of late-night ice cream (other than JP Licks, of which we shall not speak*). The three best flavors in the humble opinion of this critic are Tiramisu (picture below), Lemon Expresso, and Khulfee. Belgian Chocolate, Earl Grey, Burnt Caramel, and Vienna Finger Cookie are also noteworthy.
[*Clarification: I have nothing against JP Licks, but the whole JP Licks vs. Tosci's debate at MIT is worth a blog post in itself. Or six. The best thing to do is to try both of them for yourself. Life is hard, I know.]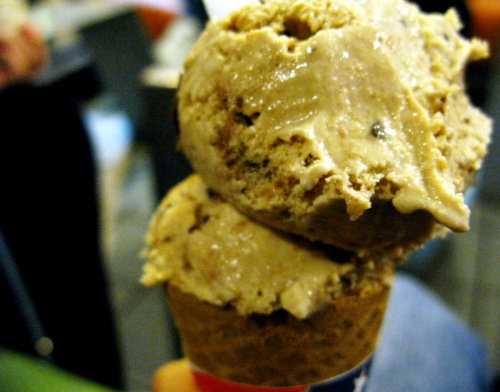 – Pepper Sky's: Serves the best Thai curries within a stone's throw of MIT, unless you can throw a stone all the way to the Boston University vicinity. I recommend the Duck or Seafood Choo Chee.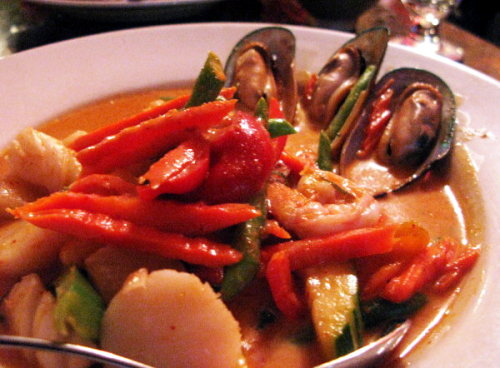 – Thailand Cafe: Serves the worst Thai curries ever, but it's literally next door to Random Hall and delivers comparatively cheap late-night fare, which turns out to be edible sometimes once you remove the brown paper bag. However, the Cumin Braised Beef from the secret Sichuan menu (ask for it) is unreasonably delicious.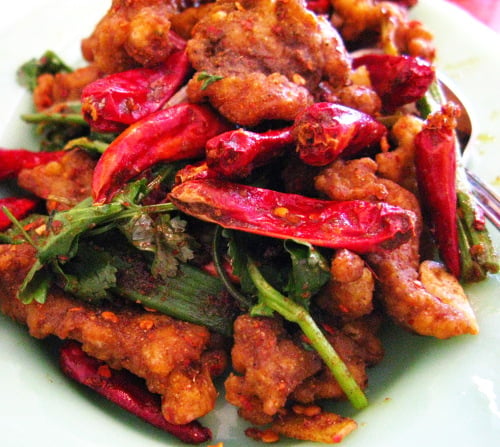 – Bertucci's: One word- rolls. Skip the salad, pizza, and pasta; just get an eternally-refilling basket of the complimentary bread rolls, and you've got the perfect date. Fine, you can get the three-cheese ravioli too if you want. But only after the eighth basket of rolls.
– Mary Chung: Confucius says, "Every campus has a Chinese restaurant within three blocks." Mary's is where you will buy dinner for your friends on their birthdays if you're too lazy to plan a party or bake a cake or remember their birthdays until 8 pm on their birthdays. The Dun Dun Noodles with Shredded Chicken (or without, if you're vegetarian) are unregrettably tasty, whether you were ever born or not. Wait, that made no sense.
Kendall Square (Slightly east of MIT proper, close to the T stop and East Campus):
– The Black Sheep at the Kendall Hotel: It's expensive and dressy as any decent hotel restaurant, so you probably should stay away, but let me assure you that the Yucca Mashed Potatoes are the greatest permutation of root vegetable that I've ever witnessed. Black Sheep takes the humble potato and transforms it into an earthy study in textural contrasts, tempering the ambient starchiness with crunchy, buttery morsels. But you still should stay away.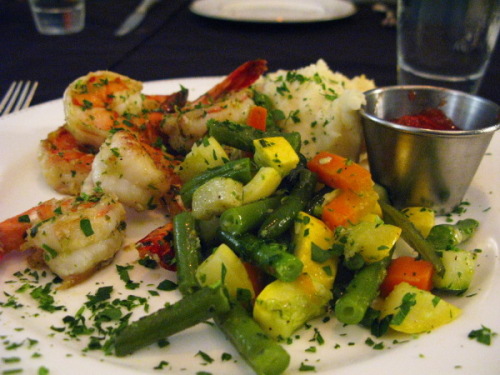 (Ignore the shrimp and vegetables in the foreground; the potatoes didn't just steal the show, they were the show. And it was a good show. You should go see it.)
– Cuchi Cuchi: Flamboyantly gourmet and culturally ambiguous, Cuchi Cuchi refuses to refer to their "international smaller plates to be shared" as "tapas" in the same way that MIT refuses to refer to "the other school in Cambridge" as "Harvard University." Self-denial issues aside, Cuchi Cuchi serves up semi-haute cuisine that manages to be both flashy and flavorful. It's pricey, but keep in mind that the wallpaper is probably more visually entertaining than some Broadway shows. Great for bringing a crowd for a splurgetastic celebration (graduation, birthdays, passing 8.012 with a C-, etc.). I've had nearly everything on their menu as of May, and the standout dishes are the Bliny (Pancakes w/mushroom filling; topped w/sour cream & caviar), Caspian Heaven (Roasted Fingerling potatoes, crispy oysters, creme fraiche, salmon roe & champagne sauce; picture below), and the Tiramisu (caffeine-loaded and bitter, like the upperclassman down the hall).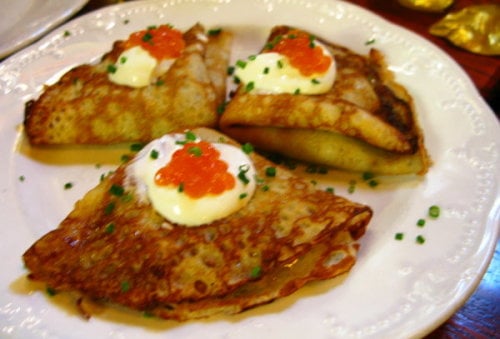 – Clover Food Truck: The brainchild of a visionary MIT graduate, Clover Food Labs is revolutionizing the way that mankind buys food from the back of a truck. I assert that only at MIT will you find a food truck parked in the alley behind MIT medical whose slogan is "Everything will be different tomorrow." I originally interpreted this as an inspirational message about world peace and environmental sustainability and banning chickpea sandwiches that aren't at least 30% hummus, but I think it actually means that their menu changes daily.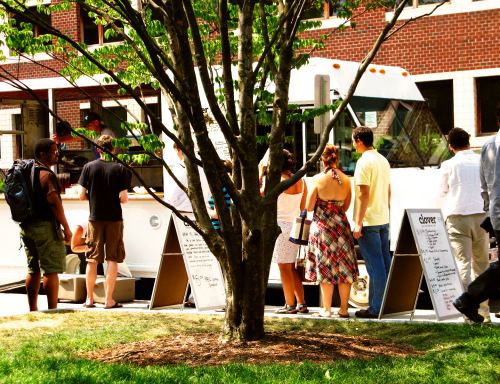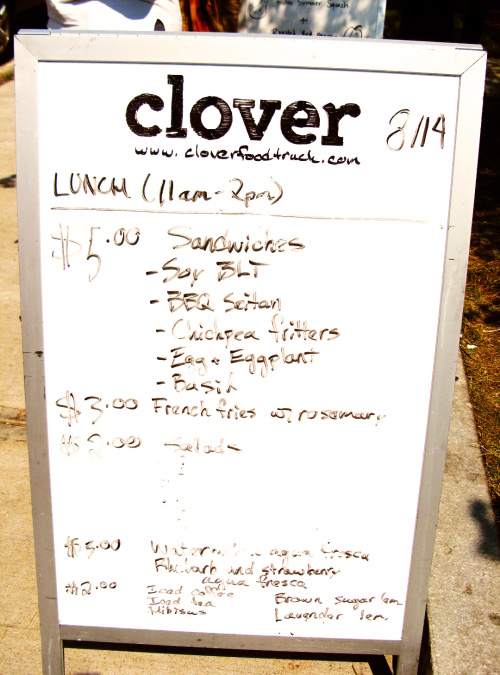 Anyway, whether or not Clover wins the Nobel Peace Prize, I will remain a staunch advocate of their menu (local, seasonal vegetarian food cooked from scratch that will rarely cost you over 5 bucks) as well as their business model (involves Twitter and a friendly, candid blog from the owner that gets updated more frequently than the MIT homepage sometimes.)
Last Monday, I ordered the Chickpea Fritter, mostly because I liked the word "fritter." Lots of nice consonants.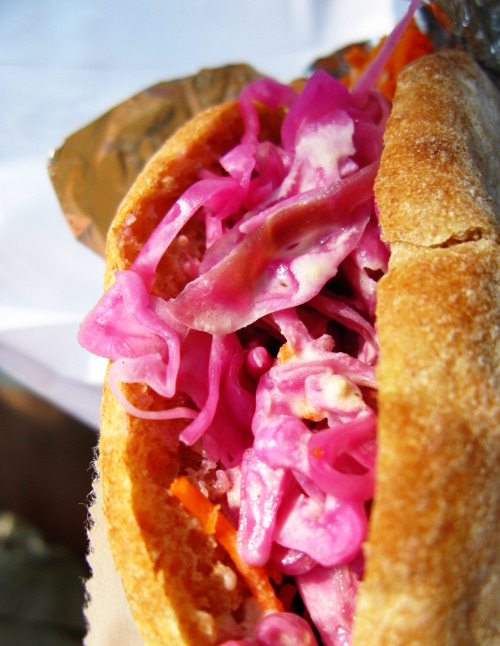 It was essentially falafel snuggled with red cabbage in grain-rich pita bread. Tasty, but could have used more hummus. Keep in mind that I say this about 90% of the things that I encounter on a daily basis. Ex:
– "Hey, how's the 8.03 textbook?"
– "It could use more hummus."
Other choices include the BBQ Seitan Sandwich: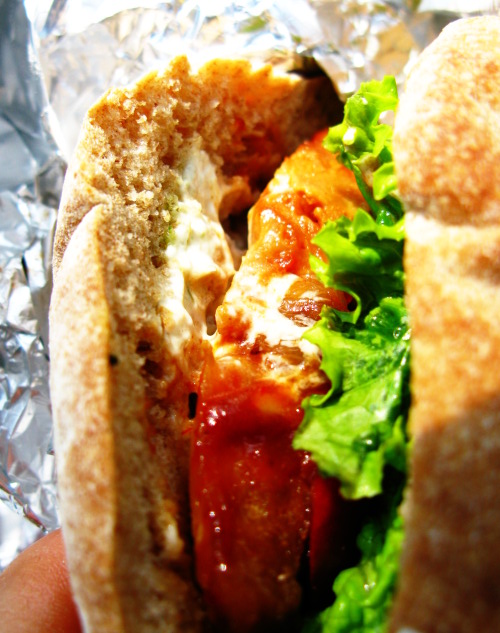 And the Egg and Eggplant, the sandwich that I would have picked hands-down if only it also contained eggfruit. Alas, the egg triumvirate remained sadly incomplete.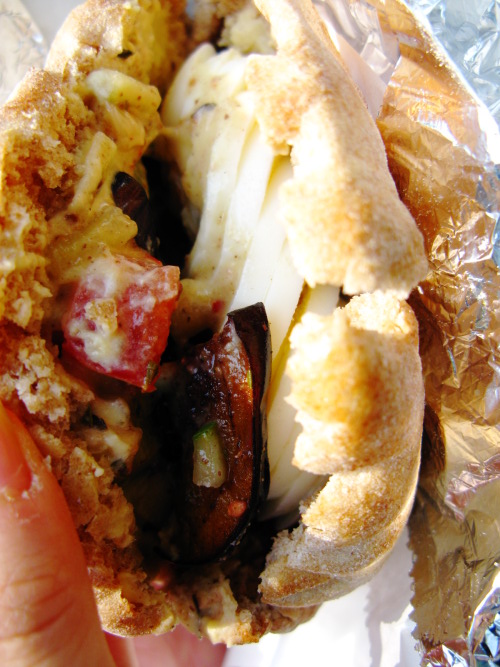 Miscellaneous (One of the locations isn't in Cambridge, and the other isn't within walking distance of MIT except by European standards of "walking distance." Let's just agree that to first order, this item belongs on the list of Cambridge Eateries within Walking Distance of MIT.)
Elephant Walk: A few weekends ago, Jess Lin and her family met in Cambridge for family bonding time over lunch at Elephant Walk in Cambridge, a French-Cambodian restaurant specializing in making colonialism taste delicious. I'm obnoxious on Saturdays, so I tagged along.
Starters were glorified spring rolls, which were completely forgettable. Skip it if you're ever given the chance.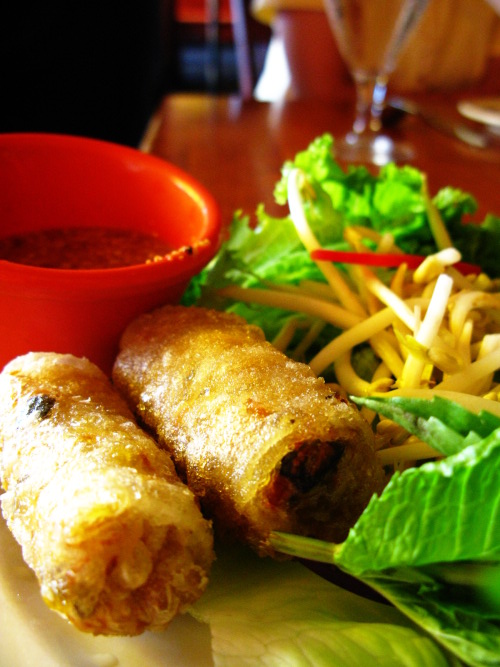 In brilliant contrast, the second course was a bright, tangy Cambodian chicken soup with sparkling tones of lime and lemongrass. It was like drinking broth in C Major.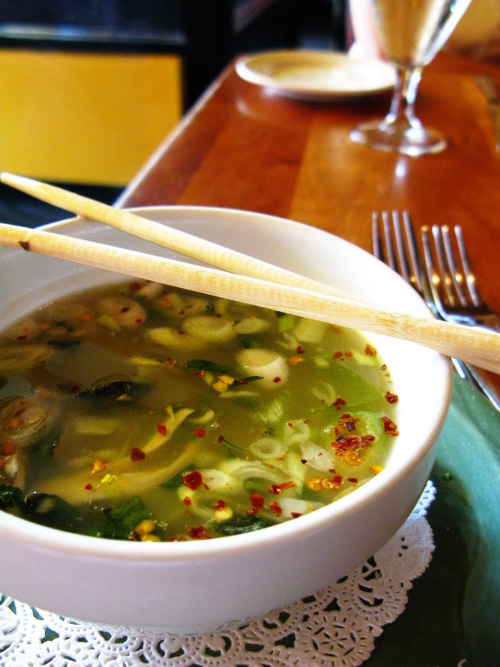 For her main course, Jess ordered the unpronounceable Croustillants aux Poires et Crevettes Flambées aux Vin Blanc (Translation: wontons layered with warm Bartlett pear, topped with shrimp with flaming bees and white wine. Pardon any minor errors.). All observable evidence suggests that Jess was ready to take this dish on a honeymoon by the time she finished.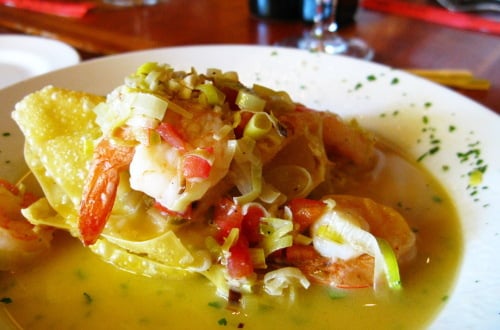 I was less enamored with my main course, the Curry aux Crevettes (curry with Corvettes. I guess the Corvettes made it an expensive dish). Although the sauce was fragrant with the rich creaminess of coconut milk, it lacked spice. Unlike law-obeying citizens, the heat of a good curry should punch you in the face.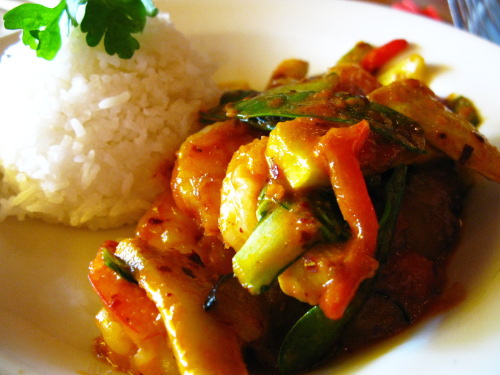 Jess's dessert was a passion fruit mousse. By the way, there are far too many double ss's in the previous sentence.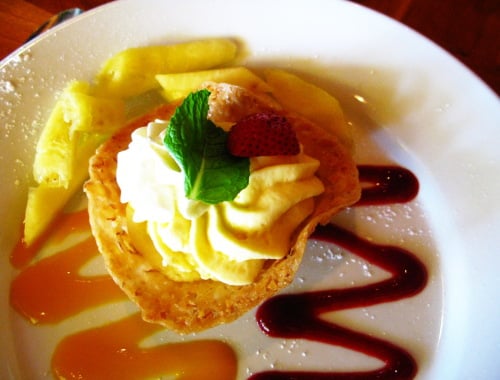 Bottom line: Elephant Walk has one of the most inconsistently wonderful menus that I've ever seen. Great concept, poor execution, just like the Soviet Union except for the great concept part. Considering the price (around 20 bucks for a three-course lunch), I'd rather stay at home and dumpster-dive through pika's fridge.
Speaking of which, yesterday's Franken-lunch of pika leftovers turned out to be a quinoa carrot avocado salad with corn, squash, and zucchini, tied together with a touch of golden raisins and honey mustard. Call it an edible requiem for bygone summer afternoons.
But it could have used more hummus.
37 responses to "A Short Dining Guide to Cambridge"