This semester, I'm taking a graduate class in General Relativity that conflicts with lunchtime in pretty much every single reference frame. Let me repeat that for emphasis. Conflicts. With. Lunch, the refuge of covert slackers since time immemorial, an oasis of idle leisure amidst the dessicated hours between 12 and 5 pm. Recall that the most cherished hallmark of the American K-12 education system, besides the fostering of creativity and free-thinking, is the venerated observance of Lunchtime in the plasticky temple of Cafeteria (often accompanied by the brutal rituals of Recess for the worship of spherical projectiles and various incarnations of tag). Never, in a dozen years of pre-college schooling, was the sin of Scheduling-Anything-During-Lunch whispered within the tender earshot of young, impressionable students training diligently to become Pokemon masters. Never was any child denied the pursuit of half-squashed peanut butter jelly sandwiches and phalanx-like carrot sticks at exactly 11:55 AM. Never did I learn the definition of a standard deviation until six weeks ago*, probably because it was taught at 11:54 AM and my watch was running fast that day in 9th grade.
(As a result, whenever a classmate uttered a complaint like, "I was five standard deviations below the mean on the last test," my response was along the lines of, "Cool, you sound like a fascinating and unique person.")
*Has anyone else ever noticed that the definition of standard deviation is horrifically incomprehensible in standard English? Inevitably, you end up saying something like, "The square root of the average of the square of the deviation from the average equals the deviation of the average of the square from the square of the average. No, it's not a riddle."
On the other hand, General Relativity has been an eye-opening experience on the days when I've drank enough coffee that it hasn't been an eye-closing experience. For instance:
1.The more I learn about General Relativity, the less I'm sure of what a vector is. Right now, my internal definition of a vector is "something that has intrinsic pointiness." (This also happens to be my internal definition of kitchen knives, needles, pineapples, pine cones, sharp-beaked birds, and points.) In four weeks, I'll probably tell you that a vector is the Shroud of Turin or something.
2.Graduate students are people just like you and me, except that they like to talk about how magnetization is like a covariant vector. Ex:
Me: "Hey, can I borrow a sheet of paper?"
Grad student: "Magnetization is sort of like a covariant vector. Yippee!"
3.You can turn a coffee mug into a donut if you're really gentle. (This is literally the extent to which we covered topology.) Also, a small person living on your coffee mug can't tell that it's now a donut unless they either figure out the metric or discover that the fundamental particle of his universe is sugar.
4.Lowercase Greek letters all look the same when piled onto a 5-indexed tensor. Specifically, they all look like o's scribbled by someone who failed penmanship class.
5.Whenever someone talks about tensor contraction, I have trouble resisting the urge to say, "Can't we all just relax?" (The same applies for mention of stress-energy tensors.)
In retrospect, taking Special Relativity last semester was like eating a large bowl of Lucky Charms at 5 AM after spending a bleary all-nighter solving cardboard-flavored textbook problems in classical mechanics. As the sunrise smears over oiled skies like raw egg yolk, your tired soul is momentarily uplifted by the sight of hearts, stars, rainbows, clovers, gammas, and uppercase-lambdas pouring into your plastic cereal bowl, rinsing away the dullness of frictionless pulleys and massless ropes in a crayon-colored flood of sugary milk. Two hours later, you're hungry again and feeling awfully inertial.
General relativity, by analogy, is brunch.
Speaking of brunch, I had it, non-metaphorically. On a cold Sunday morning two weeks ago, I pestered Jess '12 so much that she agreed to spend a miniature fortune with me, portmanteau'ing two meals into one ultra-(price/class/tast)y monster of a gustatory hybrid. In context, I was making $10.75/hour at the time working near X-ray radiation, so I figured that the phrase, "Money is short and so is life," probably applied to me.
With due disregard for financial management, Jess and I walked over to Craigie on Main, a cozy upscale restaurant just around the corner from MIT, swankily cuddled in a block of the usual college-student haunts (pizza parlor open til 3 AM, ice cream shop with a penchant for creative caffeine, the Canonical Cheap Chinese restaurant, etc.) Flanked by tall mugs of hot strong coffee, we seated ourselves at the counter and watched the cooks inscribe isosceles toast into circular plates.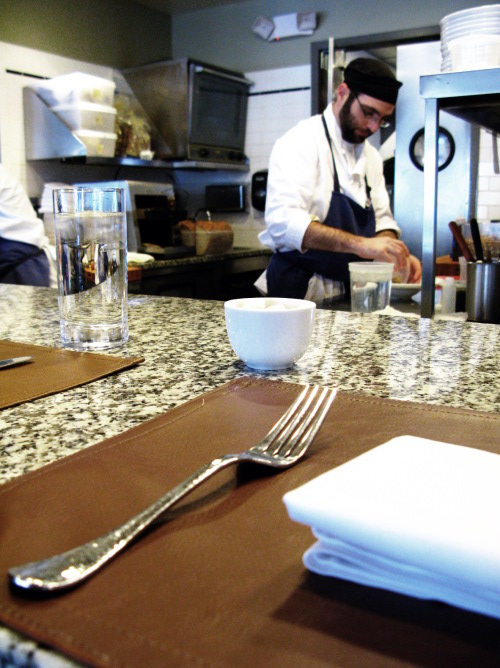 Jess' first course was a miniature sugar-crusted donut, pliant and warm as a fresh corpse lying in a puddle of caramel gore. (Despite my attempt to make Jess' choice of appetizer sound Hitchcockishly unappetizing, it was actually pretty good. Nice job, Jess.)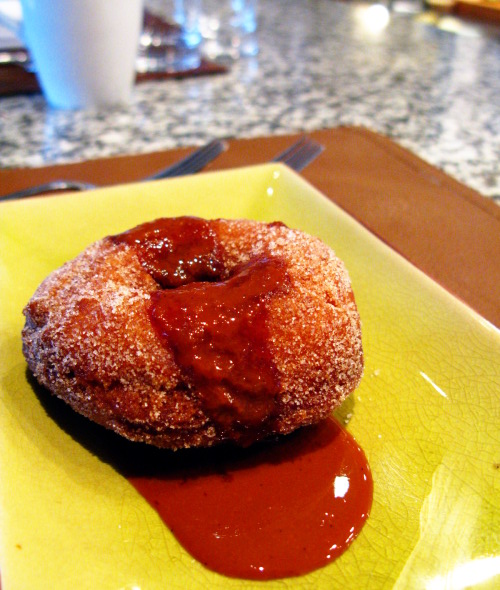 Endowed with slightly more civilized tastes, I started with a scoop of coriander and cashew granola, pleasantly crunchy with the mildest hint of curry.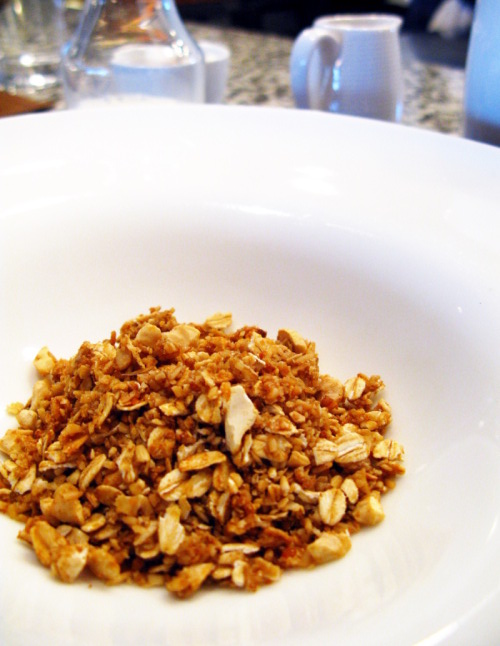 Next was a plate of citrus-cured arctic char and sablefish, curled and piled onto toasted bagels smothered in cream cheese.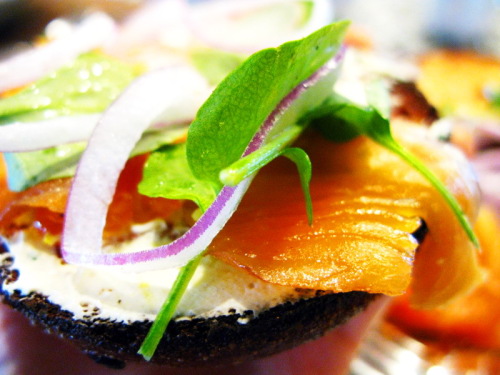 Also, I had caviar for brunch. This is now on my resume, in case you were wondering.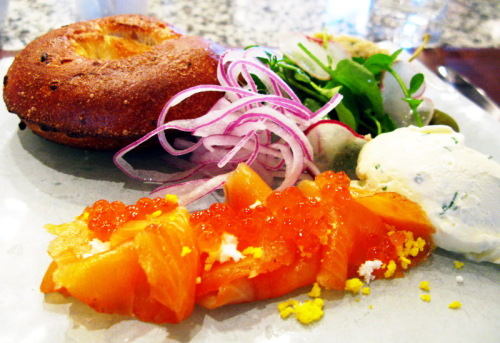 For her main course, Jess ordered the grass-fed house-brined corned beef hash with slow-poached egg and onion rings and too many hyphens. My conscience forces me to admit that this was unequivocally delicious. The beef revealed itself in tender, melt-in-mouth morsels of rich, velvety saltiness snuggled in blankets of briny, creamy, and crispy.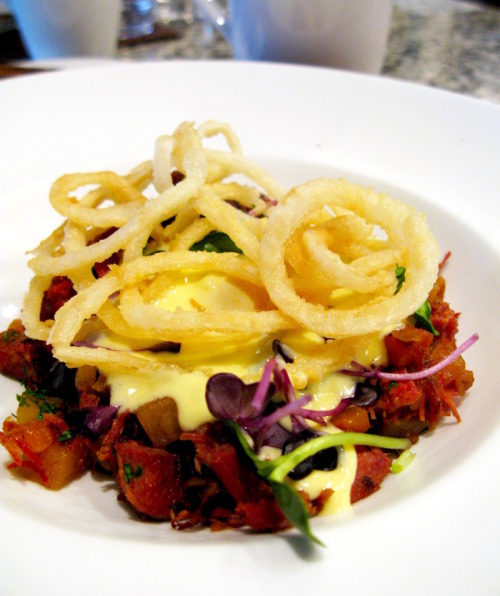 Dessert was a glass of sour milk pannacotta drizzled with a few sweet spoonfuls of blackberry coulis.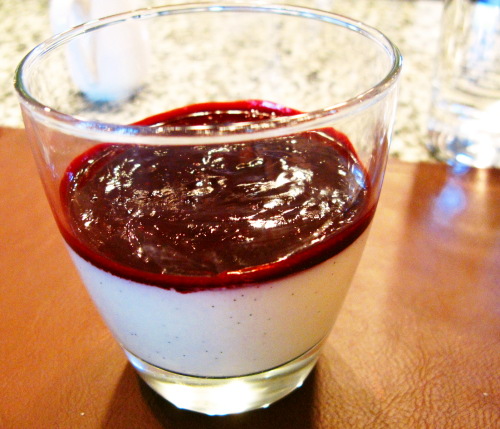 And then I went back to school and ate cereal out of a Ziplock bag during lunch while unlearning about vectors.
38 responses to "Generally Unrelated to General Relativity"