I've mentioned in prior posts that my hall, Tetazoo, in East Campus is very involved in climbing and hiking and other wonderful adventures.  We traditionally have a camping trip each fall, but this year Kayla E. '15 and Becca G. '14 organized a last minute spring camping trip with 18 people out to Rumney, New Hampshire.  We were all extremely excited for this last minute opportunity to relax and have some fun climbing, hiking, and camping in the wilderness.
We split into four cars with three different agendas:
Car 1, led by Kayla E. '15 would go climbing Monday and Tuesday all day
Car 2, led by Becca G. '14, would go climbing on Monday, and then hike the Franconia Ridge over night to watch the sunrise from the top of the Ridge
Cars 3 and 4, led by Jackie S. '14 and Cappie P. '13, would do a small hike Monday, and then join Car 2 for the Franconia Ridge sunrise hike
I was a part of Car 3 with Jackie.
We were all excited for the adventure, and drove up Sunday night to Rumney, New Hampshire, to camp outside of the MITOC (MIT Outdoors Club) Camelot Cabin.  I actually saw Cathie Y. '16 there on a different MITOC adventure!
Once all 18 of us tetazoans (and some friends) set up camp, we gathered around the fire and roasted some marshmallows.  At one point, Cappie P. '13 stood up and informed us that there was a place in the woods nearby called the "Observatory," which was a small clearing of trees and an overturned canoe where you can sit and watch the stars.  Five of us went to follow him on a search for the overturned canoe.  We quickly found ourselves hiking around in circles, stepping on snow and rocks and the tiny river that ran through the lot.  Cappie left with Barbie D. '17 back to camp, and the rest of us went searching for the stars. We eventually found the overturned canoe, and the astrophotographer among us, NiBr '17, took some beautiful pictures of the sky.
Finally, we started our hike back to camp.  However, we found ourselves lost in the woods late at night, and couldn't even find the campfire from where we were.  We trekked through the forest, and finally saw some lights – however, they were street lights, not cabin lights. The cabin was a small hike from where we parked our cars on the street, so we headed towards the lights.  Along the way, we found a mobile home, and the widest part of the river we possibly could have found in that area. We hopped along the stones in the rapidly flowing river, and we found our way to the street. We ended up two large lots away from where we had parked our cars, but eventually found our way back to the rest of our group, excited from the adventure we just had.
We all woke up early the next morning, ate our bagels that we had brought for the trip, and got on our way to our separate adventures.
My group of Cars 3 and 4 decided to do a small hike with a pretty waterfall, known as Nancy Cascades. It was supposed to be a nice two hour hike, and we figured that we could stop at the top of the waterfalls to eat our lunch and relax for a bit, maybe even take a nap.
The ride there was fun. Sadun '17 got on the wheel, and although he frightened us at times, it was a lot of fun and he kept trying to get us to play road games and sings songs about bears and things.
We saw all sorts of great things along the way, including cows!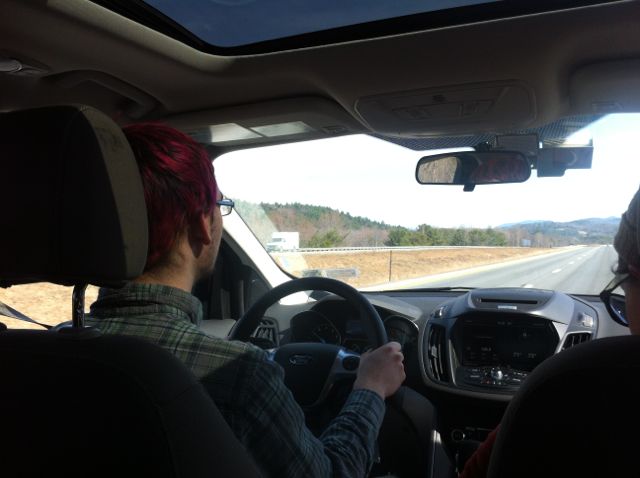 The thing is, we couldn't find the trail head. We had a map, but we didn't purchase the New Hampshire trail book ahead of time because we thought we didn't need it.  So we found a parking lot near the GPS coordinates on the website, and started walking in the direction we figured the trail head probably was.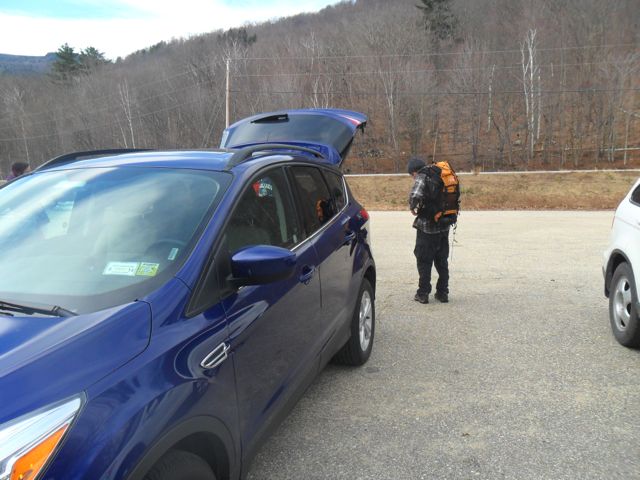 The place we parked near had a trail head for Davis Path, which I was really excited for, but everyone else wanted to look for waterfalls. I also love waterfalls, so I followed.  Still, we found some nature!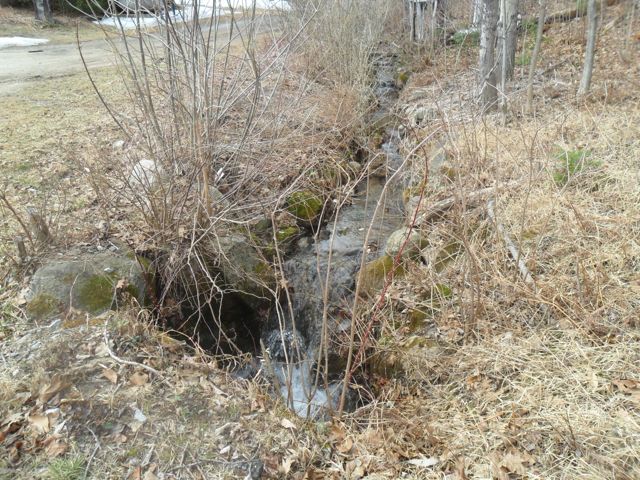 We stopped to ask for directions – twice –  and finally found our way to the trail head!  It was an adventure getting there, that's for sure. It was all in good fun!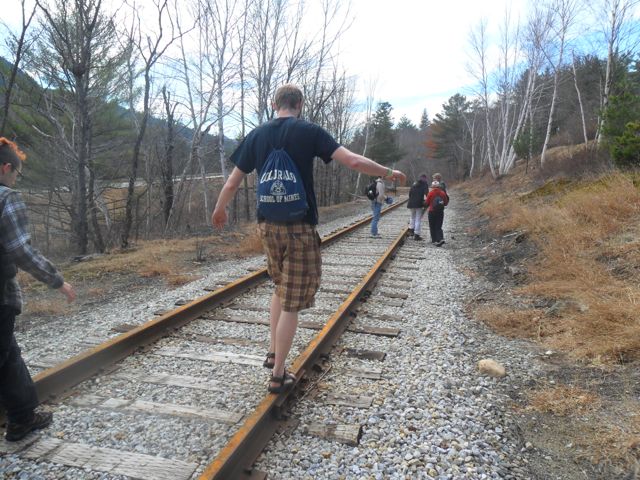 At least there was more nature!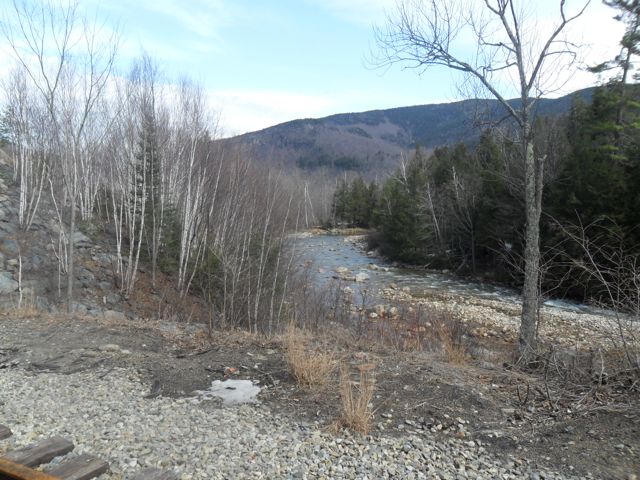 Finally, we found a trail head, which supposedly led to the trail we needed to follow to get to Nancy Cascades.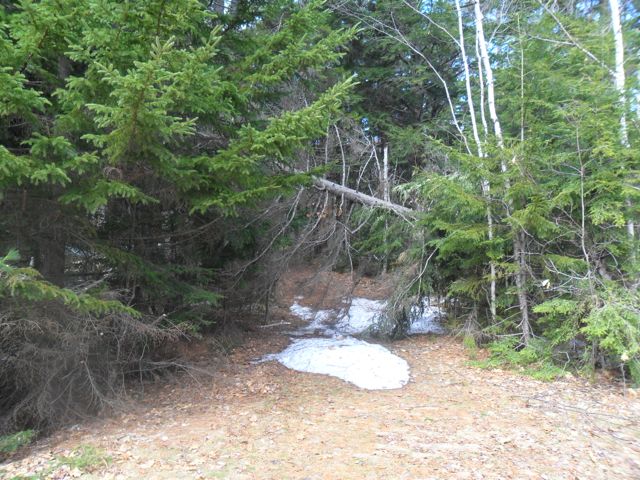 We made our way up a mountain, excited for the adventure. However, in front of us was a trail filled with miles of snow. It made it a bit difficult to get around.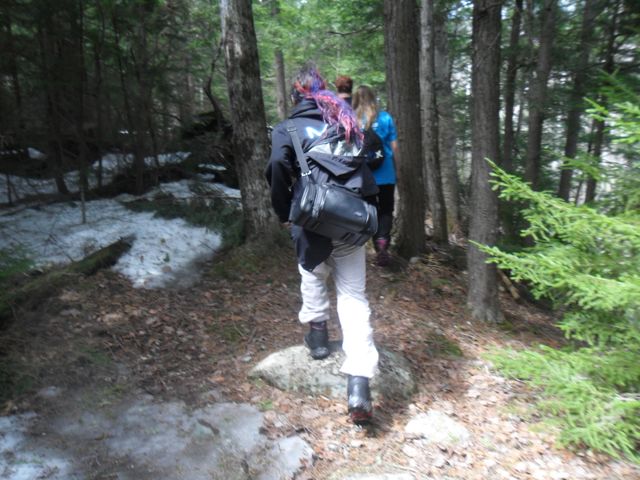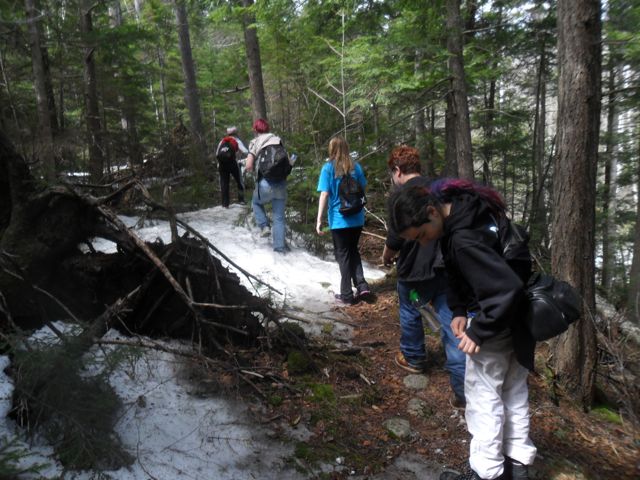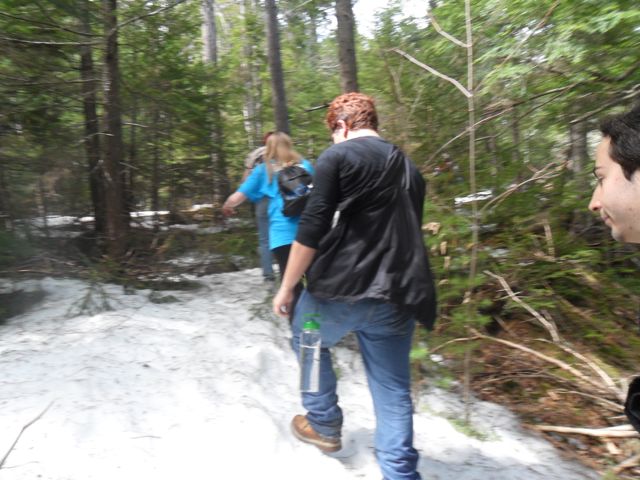 The snow was pretty bad, but we kept pushing forward. Eventually we made it to the actual Nancy Cascades trail, marked by some bloody red paint. We took turns posing with the painted rocks all around us.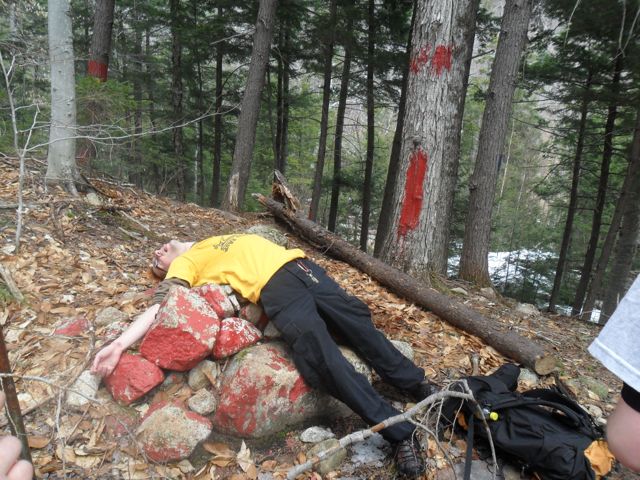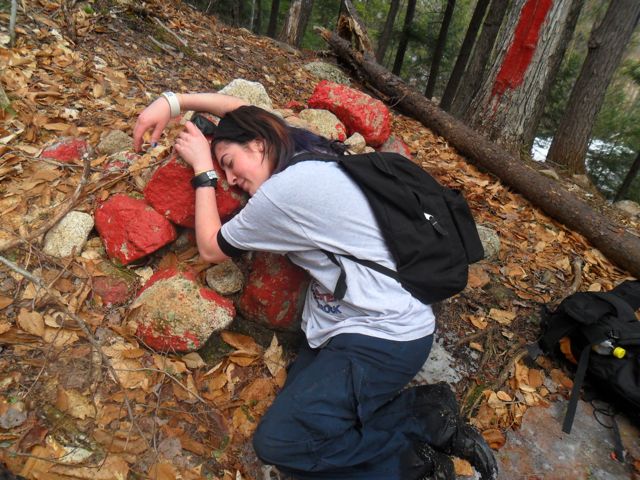 And we found more nature!  But with the nature came a whole lot of terrible snow.  It really was quite awful trekking through the snow without snow gear.  There was about a foot-wide path of packed down snow, but if you stepped off the path or slid outside of that area you found yourself waist-deep in cold, wet snow. It was still a really pretty adventure, though.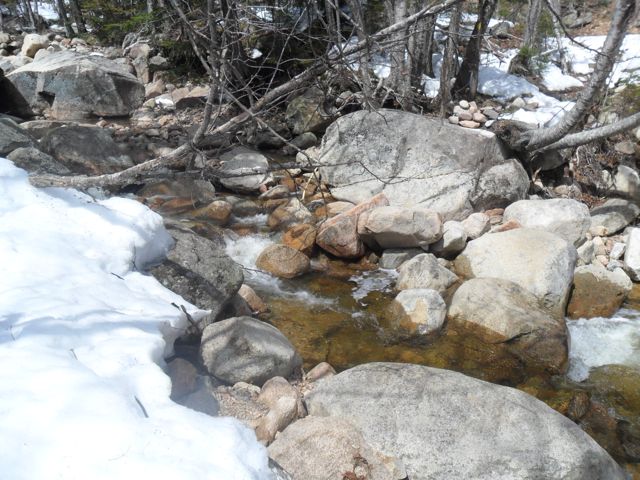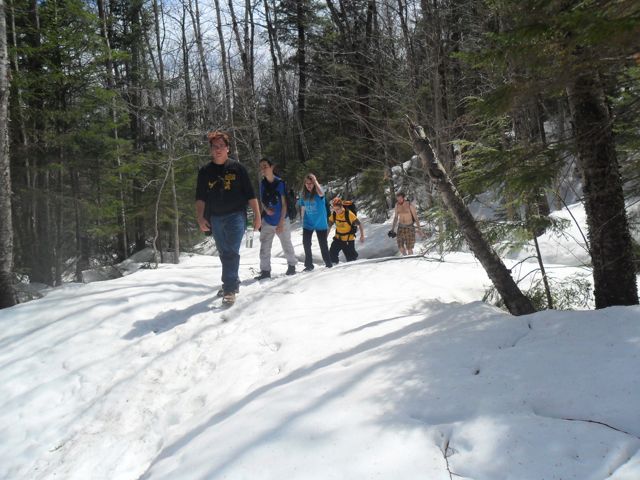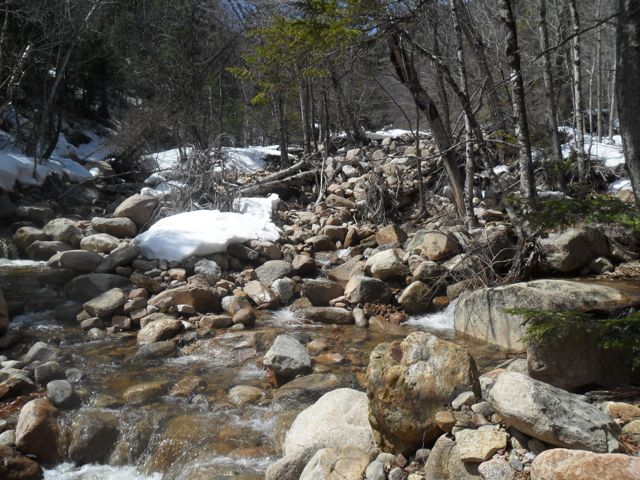 It took us a lot longer than we thought to get anywhere because of the snow. Almost three hours into the hike, and we were unsure about if we were even halfway to the top!
We finally decided to stop by a really pretty area by the river for lunch and to dry our socks and shoes for a bit in the sun. It was really nice out – almost in the 70s – yet we were surrounded by snow!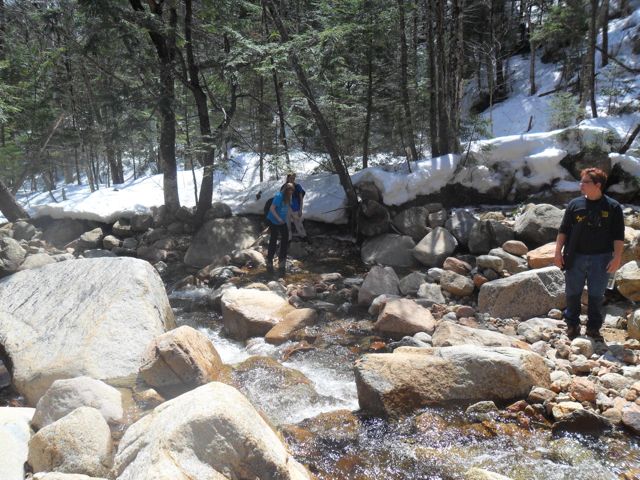 After our break, we continued on the path, which was a bit more clearly labeled now since it had some steep areas that were really icy, as well as some ledged areas which were a little scary.  Finally, we found a sign! It didn't tell us where we were though or how much further we had to go, but we did feel a bit better that at least we were on the right path.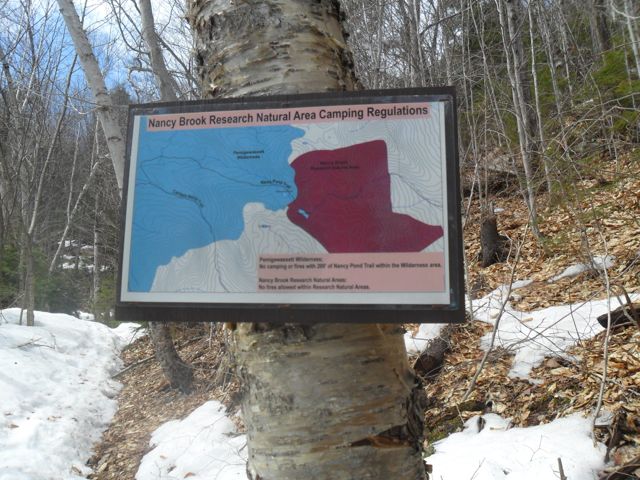 Eventually, we set a time for ourselves to give up. We left for the hike around 10:30am-ish, and it was closing in on 2pm. After falling into and out of snow and starting to lose the feeling in our toes and legs, three of us decided to stop where we were at 1:50pm and wait there for the group, which would turn around at 2pm anyways. We told them to yell back at us if they find the cascades in the next ten minutes, and we waited.  We waited ten minutes and heard nothing. We waited ten more minutes. After waiting 25 minutes in the snow, we left them a note on tree bark.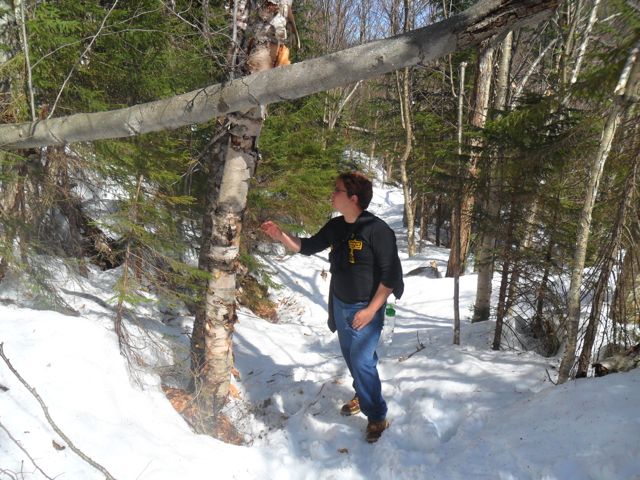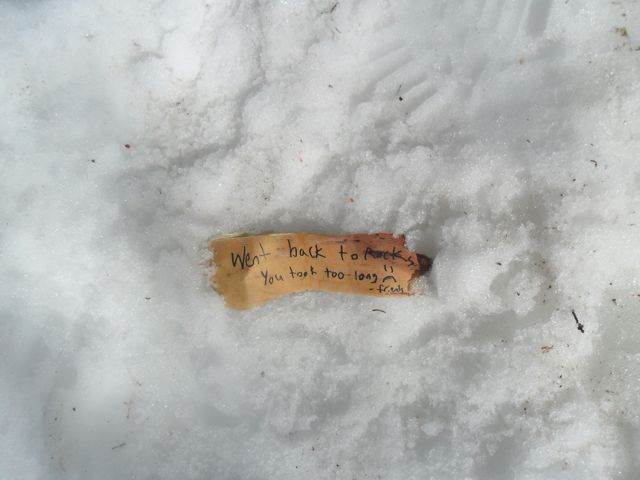 As we started walking back, two more of our hiking friends ran to catch up to us.  They had done the same thing as us five minutes out, and had also given up on the three people ahead of us, but told us that they had heard that the three hikers at the head of the trail had finally found the Nancy Cascades!
They said that it was beautiful, but not really worth us going back for it because it would take another half hour. So we all turned around, and with me at the head of the group, made our way out of Nancy Cascades, not so excited for the slippery slopes ahead of us.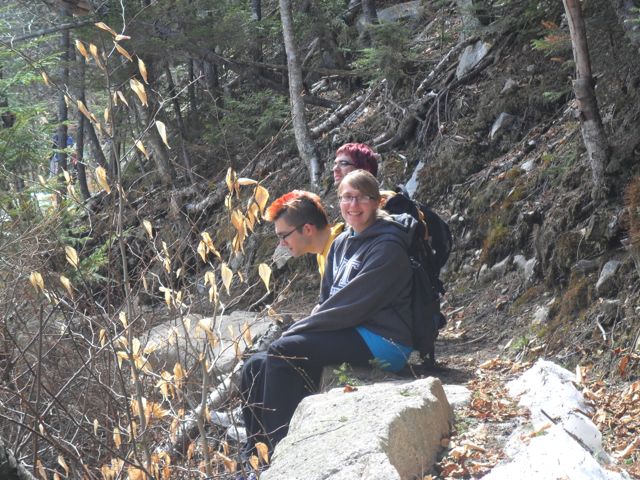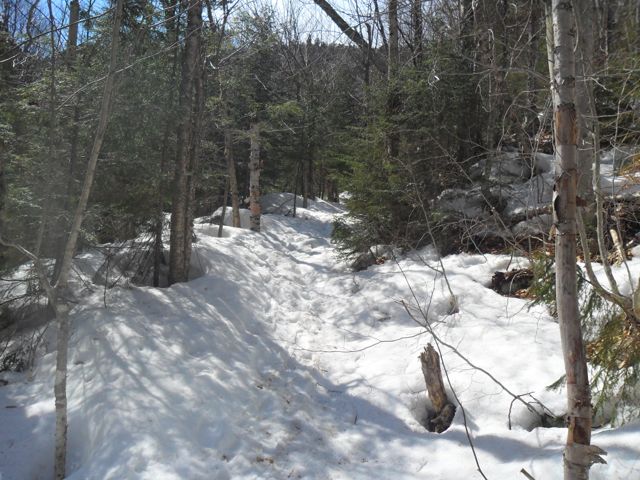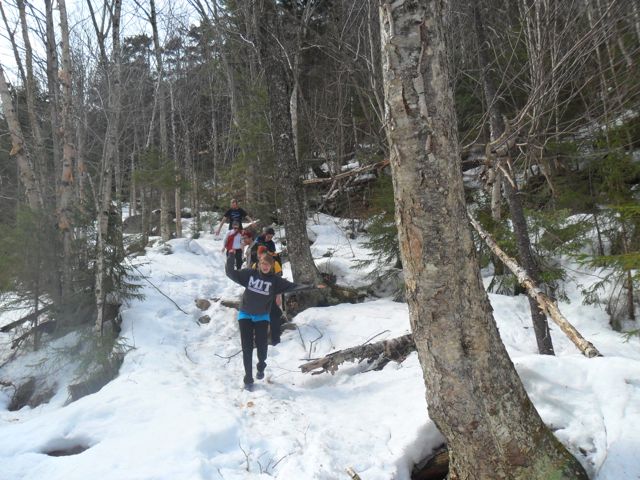 After our really long, and at times painful, hike, we all got together and rested. I walked back to the car with my bare feet on the hot asphalt of the New Hampshire highway, and we went back to Rumney, New Hampshire, to meet up with the rest of our group.
Six of us changed our minds about going hiking during the night, and we shuffled around cars until it worked out.  We warned the other cars about the snowy conditions they will encounter during the night, and headed home a day early.
I was really happy to get home. It's nice to be away from the snow and back in my comfy bed.  And, as always, the cats were really happy to have some of us back.