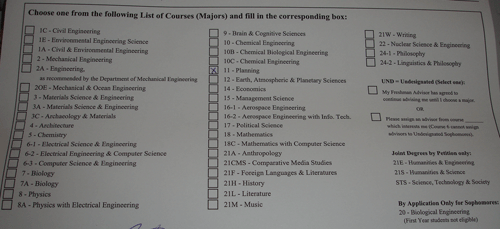 Yep, I'm officially Course 11.
A few interesting things have happened this week.
– Thanks to a freight derailment in Idaho, I spent most of Tuesday on a bus from Montana to Washington state.
– Last night, my hall, Third East, had its annual faculty dinner. We cooked for various faculty and professors that we'd previously invited, and a generally good time was had by all. I invited a fellow who is actually an alumnus of my hall, and he hadn't been back in the building since the early 1970s. Talk about nostalgia!
– This evening, my advisor invited his freshman advisees to dinner following a "signing of the forms" (see above). We've had a few dinners like this throughout the year — freshman advisors get money to do cool stuff like that. We've gone out to nice places for dinner three or four times this year, and it's a good way to get to know your advisors in a social setting far removed from your work. :-)
– In French today, we had to hold mock interviews with a classroom camarade on the French company of our choice. Last week, we were given a worksheet to fill out using data and careers information from the *French version* of the companies' home pages. Everyone was so happy in class today — I guess the four-day weekend helped. ;-)
– I've been exploring UROP options for transportation stuff, and things are looking pretty promising for the fall. Taking an advising seminar with some of MIT's more eminent transport faculty really helped, since I've all-of-a-sudden got numerous beneficial connections, even as a freshman. For those of you coming here in the fall, be sure to read through the listing of advising seminars — you'll be glad you did! (Note to aspiring transportation students: my seminar isn't being offered next year, but if you're really interested in the field, drop me a line.)
– The weather was beautiful today.
2 responses to "Advising and freshman formalities"