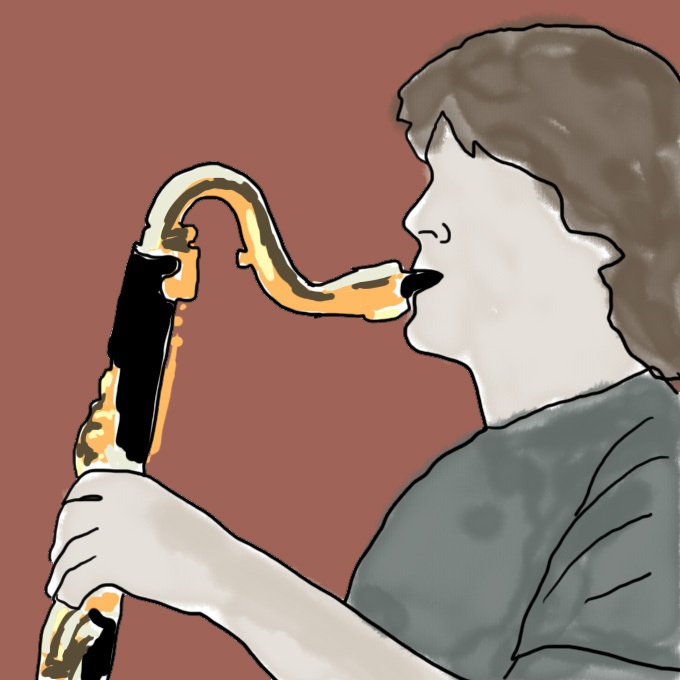 Alpha Delta Phi Presents – Mic-Check

by ARTalk
[by Susan Shepherd '11] If you're looking for a talented actor, or poet, or singer, you'll find a pretty heavy concentration of them centered around 77 Massachusetts Avenue.
[by Susan Shepherd '11]
Many of my readers know by now that if you're looking for a talented actor, or poet, or singer, you'll find a pretty heavy concentration of them centered around 77 Massachusetts Avenue. Well, sometimes even I forget this – mostly, in this case, because the grand prize was $450.00.
I should probably explain. Several weeks ago, Alpha Delta Phi sent out emails to all the dorm lists urging artistic students to try out for their annual competition, Mic-Check. If a student had a poem to read, or an essay, or a song they had written, they would be eligible to win a prize in the competition. There were three main prizes, ranging from $450.00 to $100.00, plus a $50.00 "Crowd-Pleaser" prize and an additional award of $150.00 for the best original piece.
"Oho," I said when I read the email. (Yes, I really do speak like that.) "This sounds interesti – Money? Money! They're offering money!" and then I sort of did a little jig (Yes, I do that too) and went winging off to Google to find a copy of Billy Collins' poem, "The Introduction."
My reasoning was simple and somewhat logical and entirely wrong. I figured that, given the somewhat short notice of the email, only fifteen or so people would have time to try out. I also figured that I had an excellent chance of winning, because the last time I'd been in any talent competition, it had been at my high school. I'm no great speaker, but I thought that if I chose an appropriately funny piece, I'd win easily.
So I auditioned using "The Introduction" and "Anyone Lived in a Pretty How Town." Alpha Delta Phi accepted me, and on the evening of the event, I arrived happily unaware that MIT students are really quite good at the things they do in their spare time.
I remembered pretty quickly, though. After the judges were picked and the brothers of Alpha Delta Phi had started the show, Paul Baranay '11 showed that he's a good orator in addition to a fantastic blogger with his semiautobiographical piece "Living Without A Dream." Then, Balaji Mani sang a song called "Foreground" while playing on his guitar. What was more, it was a really nice song.
Well, I thought I could aim for third place. Then Sally Peach '09 read several MIT-themed poems aloud. The poems were alternately funny and poignant, reflecting the mild craziness of balancing relationships and schoolwork.
At that point I just shrugged and leaned back to enjoy the show. Will Bosworth '08 performed an original song called "Good Love," followed by Usman Akeju '08 and his hilarious tale about Adam and Eve in the garden. (Picture the story in poem form, with sound effects and props. It was glorious, and won first place.)
After that, we heard a lot of poems in quick succession. Helen You '09 read "The Audience," written just before coming to MIT. Andrew Jones '10 read several poems he'd written himself, including "A Train Ride," "A History of Language," "Tangled," and "Immature." Then it was my turn, and as far as I can tell, I think I did a decent job – Billy Collins poems lend themselves to that.
Adrianna Tam '11 sang an original song called "The Forgotten," while accompanying herself on the keyboard. As she put it, "This is the type of song where you're supposed to go home and cry," and I wish I had a recording. Unsurprisingly, Adrianna won the award for best original composition, and I can think of no one who deserved it more.
Nate Ball and Barry Kudrowitz, also known as the hip hop duo "The Capacitors," performed a beatboxing-style song called "Stelevision." Later, as the judges were deciding, they gave a beatboxing tutorial to the audience, which was quite informative. I strongly suspect that I wasn't the only one who tried it out later, although in my case with only mixed results. The duo won third place overall.
Simone Klein '08, armed with black lights, techno music and a specially designed hula-hoop, demonstrated a style of dance which you really need to see to appreciate. Since the lights were turned out, the audience only saw multicolor LEDS flashing inside the hula hoop, which formed interesting patterns in time to the music.
Next, Sam played an original piece entitled "Not Too Old For Me," which won the $50.00 "Crowd-Pleaser Award." The song, about the doomed attempts of a student to woo his T.A., had the entire audience laughing over the unnamed student's over-the-top antics.
The last group to play, a flamenco/Latin trio called "Pïrâña," presented "Un Guarapo Para Ti / Alma Caprichosa." Pïrâña won the second-place award.
I'm looking forward to seeing even more talent in upcoming competitions. Hope to see you there!
7 responses to "Alpha Delta Phi Presents – Mic-Check"