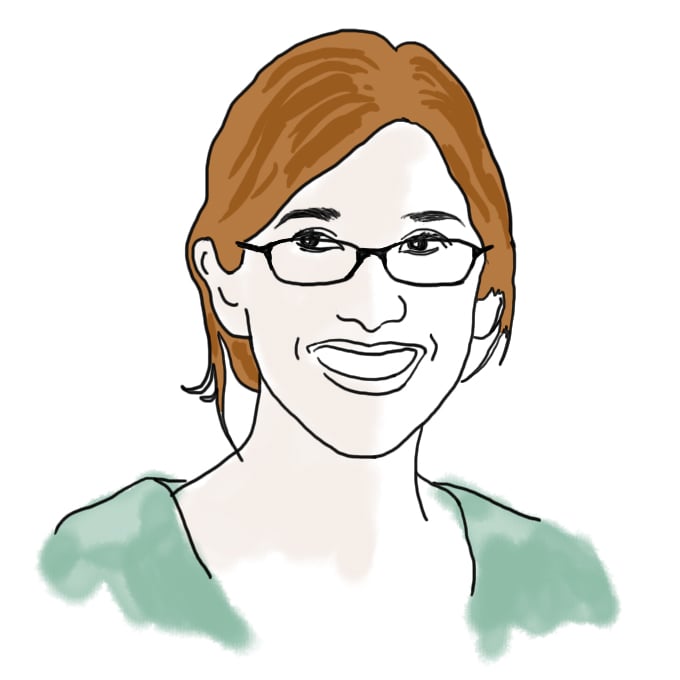 Paper airplanes instead of rice and a reception at a science museum... what's not to like?
(For those of you just tuning in, I'm Mollie. I graduated from MIT in 2006 with degrees in brain and cognitive sciences and biology, and I'm now a second-year PhD student in developmental neurobiology at Harvard. When I was an undergrad, I UROPed til I dropped, participated in my dorm's government, and was the captain of the cheerleading squad. When I was a sophomore, my friend Carl '07 introduced me to a cute curly-haired aerospace engineering major named Adam, and we dated for the rest of our years at MIT. In August 2006, he asked me to marry him in Killian Court with a bunch of tour groups looking on. I think that gets you caught up.)
Adam and I got married September 15 (along with someone else you might know), which dawned drizzly and dreary in Cambridge. Our ceremony started at 4 PM, and the sun came out and the sky cleared around 3:30. (Whew!)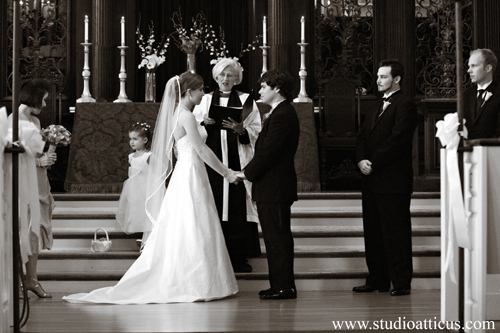 We were married at Memorial Church in Harvard Yard, with twenty MIT alums in attendance and two more in the wedding party. Mark '07, our favorite houseguest, served as the best man, and Carl '07, who introduced us to each other, was another groomsman. Laura '06 and Tulasi '06 performed the readings, which were by Adrienne Rich and ee cummings, both Cambridge poets.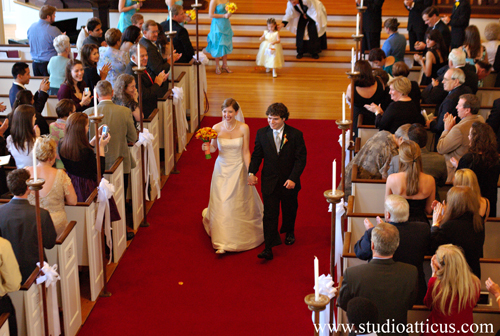 Instead of throwing rice at us after we left the church, our guests threw paper airplanes. Adam designed the airplanes in Solidworks, optimizing for easy foldability and distance. The planes were a little bit pointy, I'm not going to lie.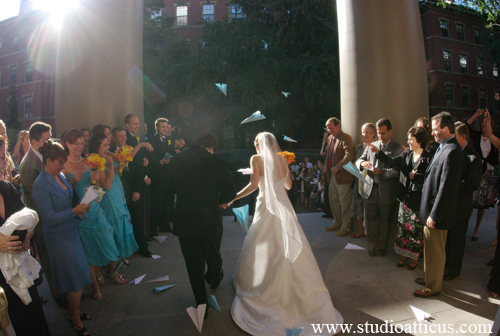 Our friends had come in from jobs and graduate school all over the country — California (Seve '05, Mark '07, Carl '07, Stephen '05), Chicago (Swapna '05), New York (Laura '06), and of course, lots of people in Boston. We were so excited to see everybody.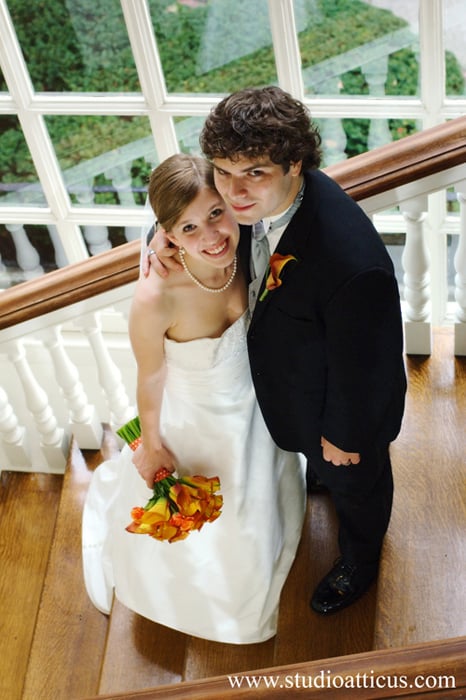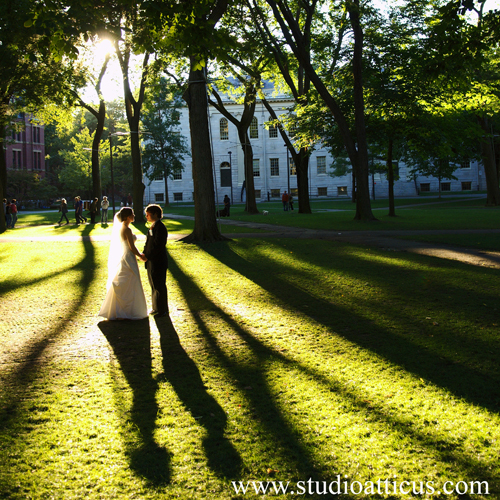 Our reception was held at Boston's Museum of Science, which has a great view of the city skyline. Apparently the museum is a popular destination for MIT alums, because the museum's function coordinator asked for our permission to use a photo from our wedding in an ad in The Tech. The museum was always one of our favorite places — I mean, one, it's a great science museum, and two, admission is free for MIT students — so when we found out that they held wedding receptions, there wasn't much of a discussion about where we would be having our reception.

Our first dance was to "Everything I Do" by Bryan Adams. Adam sang to me (off-key) during the entire dance.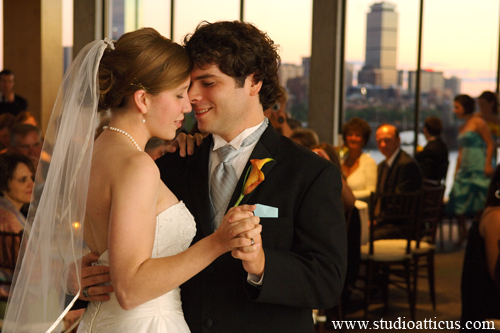 We got to take pictures in the museum, and we got this great picture of us with Daedalus, a human-powered airplane that was built and flown by a group of MIT students in the '80s. Adam's undergrad advisor and the CEO of the company where he works were two of the designers. Adam got really excited when he saw the picture — it's basically a picture of the things in life he loves the most.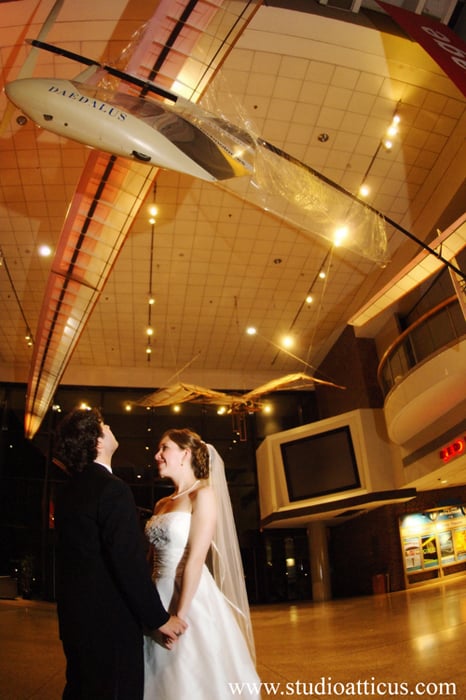 I have trouble conveying just how perfect the wedding was. It's not that there weren't minor snafus — the florist didn't arrive until about 3:25, the officiant mentioned during the ceremony that I was a Democrat (news to my parents!), and Adam's mom left our engraved cake-cutting knife in the car. But it was just such a joy-filled day with friends and family, and it went way too fast. I hate being schmoopy above all things, but it was probably the best day of my life.
There are a lot more pictures here (just sign the guestbook to view them), and all of the pictures there and here were taken by our totally awesome photographer, Connie Miller of Studio Atticus, whose pictures speak for themselves in terms of her amazingness.
A little on what we're doing now
As I said above, I'm a second-year PhD student at Harvard. I picked a thesis lab this summer, and I'm working on neural development in mice — one of the big interests of the lab is to figure out which genes cause neural progenitor cells to become different types of neurons. I'm specifically interested a particular transcription factor that seems to be critically involved in the generation of two distinct cell types in the forebrain.
Adam is working for Aurora Flight Sciences, an aerospace company with a research and development office in Cambridge. Adam is the go-to guy for designing crazy stuff in the office, and pretty soon he'll have two patents earned on ideas for the company. (Incidentally, we're both working for MIT alums — the professor in charge of my lab graduated from MIT in 1980, and Adam's CEO finished undergrad here in 1979, then continued on to do his master's and PhD as well.)
So married life is great, lab life is great (although I'm preparing at the moment to defend my qualifying exam, which is not a great deal of fun*)… how's life in your corner of the world?
*and which is the reason I have not yet responded to the email Ben sent me earlier this week about having lunch…
43 responses to "An MIT wedding"