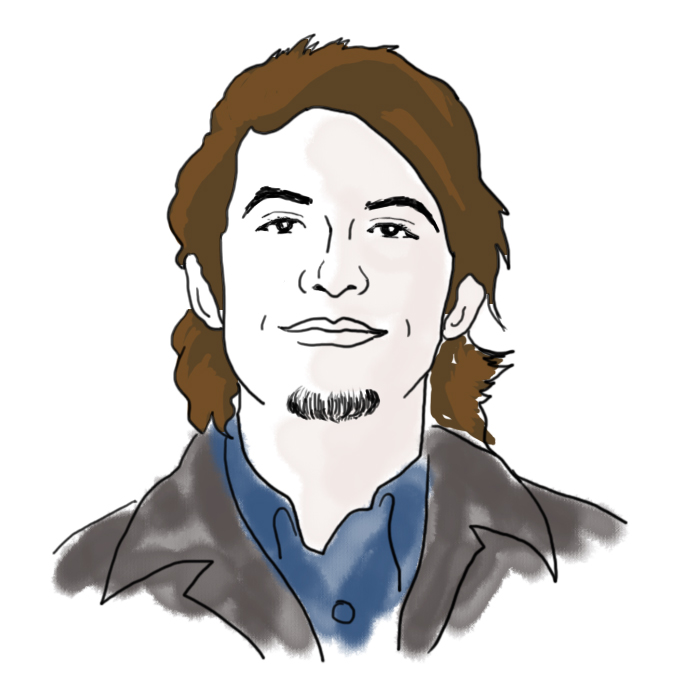 Avoiding moonlight on an empty stomach

by Anthony R. '09
Late-night snack cravings lead me underground on meandering routes to Massachusetts Avenue.
See, MIT has these nifty basements that interconnect with each other all over campus. Living at East Campus, said basements are easily accessible and become quite useful when you want to avoid various above-ground features, such as bright foyers and white floors. :-)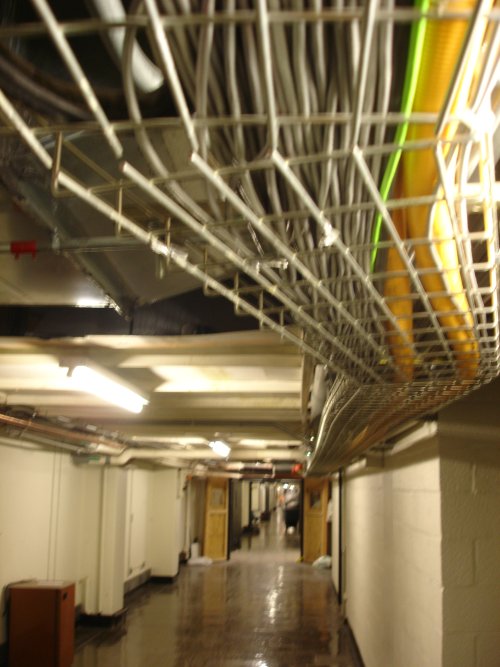 And sometimes, when you're hard at work putting off a problem set, you realize that you forgot dinner and are in fact pining for a cold drink, hot sandwich, or amazing snack. You next realize that it's well into the small hours, and everything's closed for the night. What do you do?
Put the two together, and join me on an all-too-familiar excursion. :-)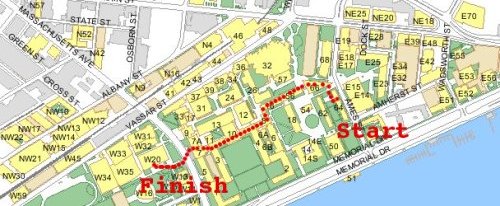 (a closer look at the route — can you find the buildings?)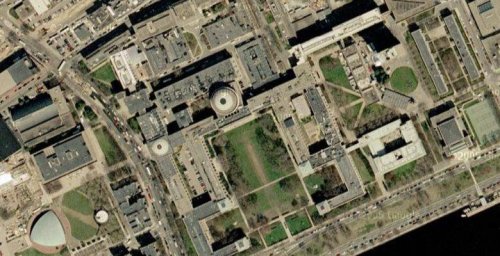 Ready? Let's go!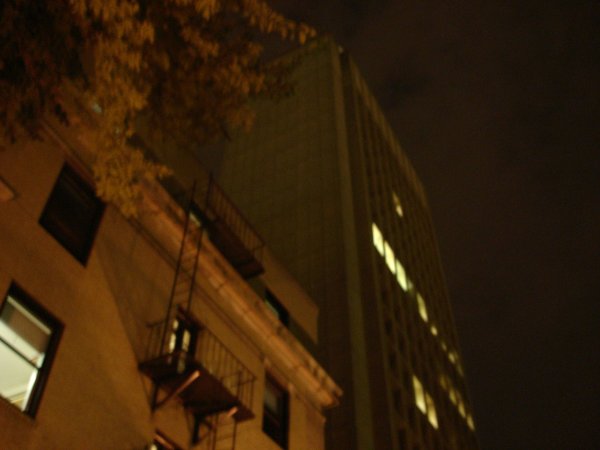 In that door…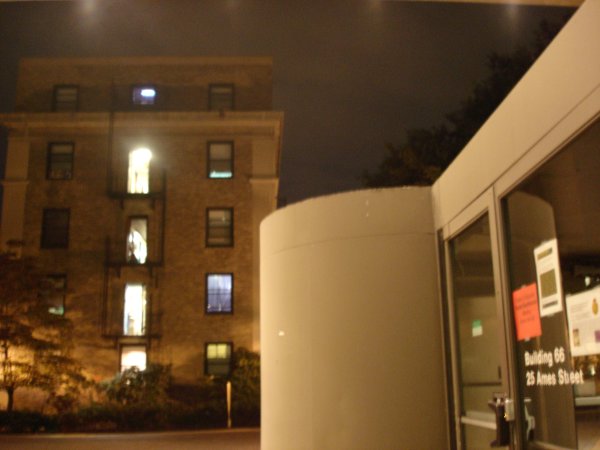 and down the stairs.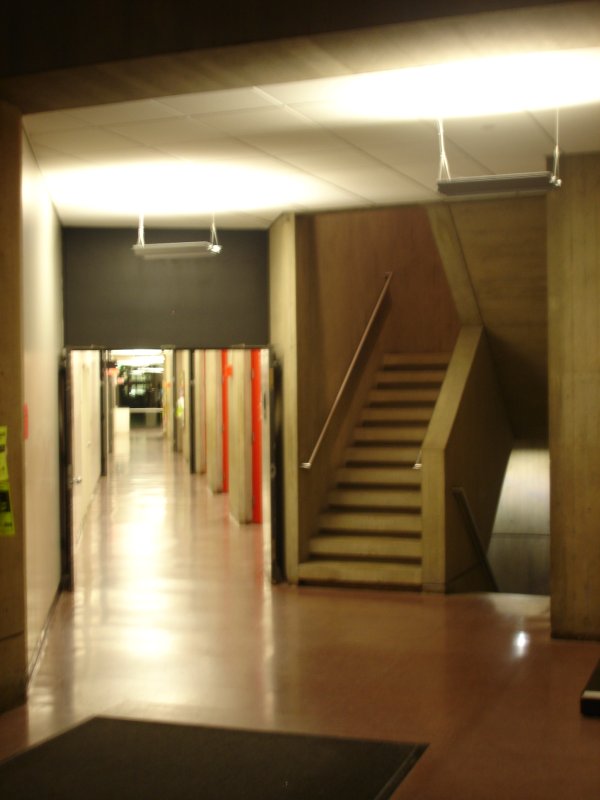 Once you exit the stairwell, you pass an Athena cluster that's deliciously quiet and empty at this time of night. :-)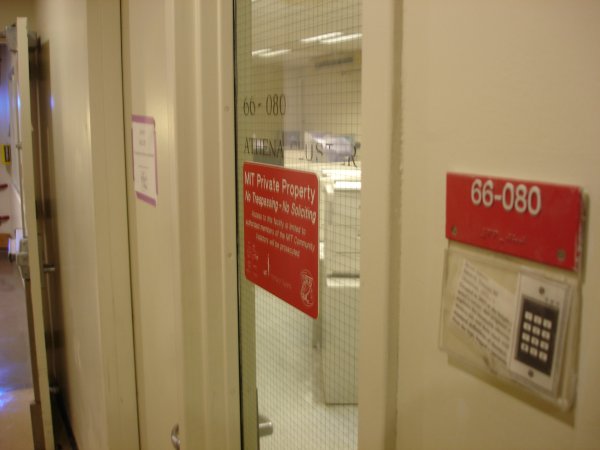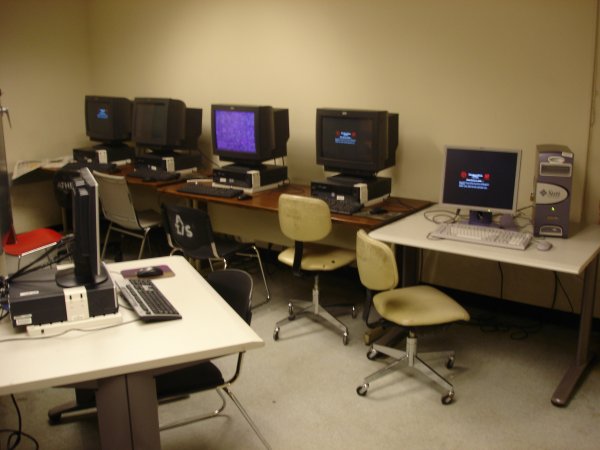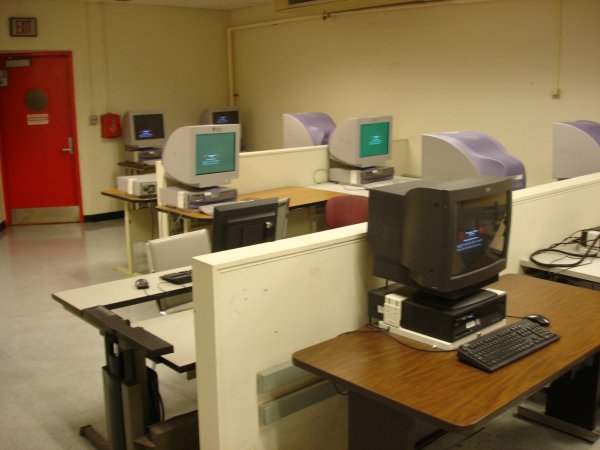 Okay, as we leave, we enter a hallway…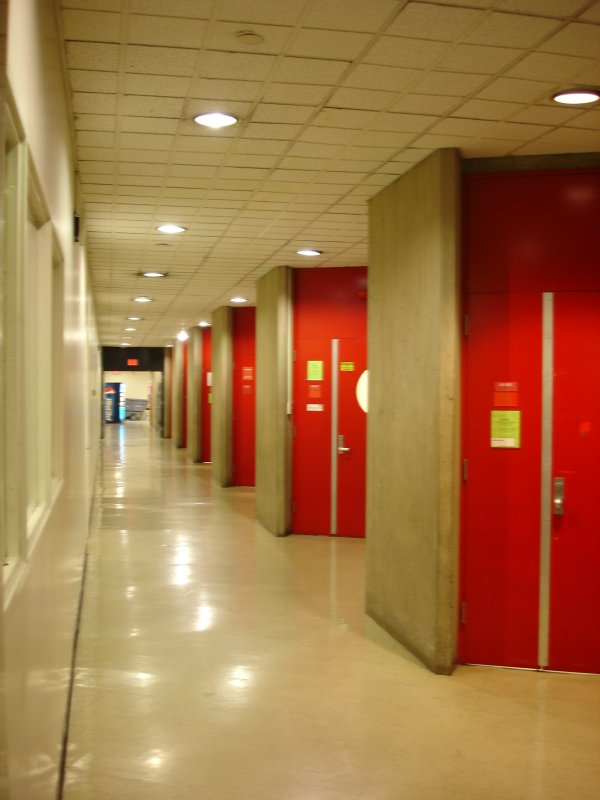 at the end of which lies a special gem…!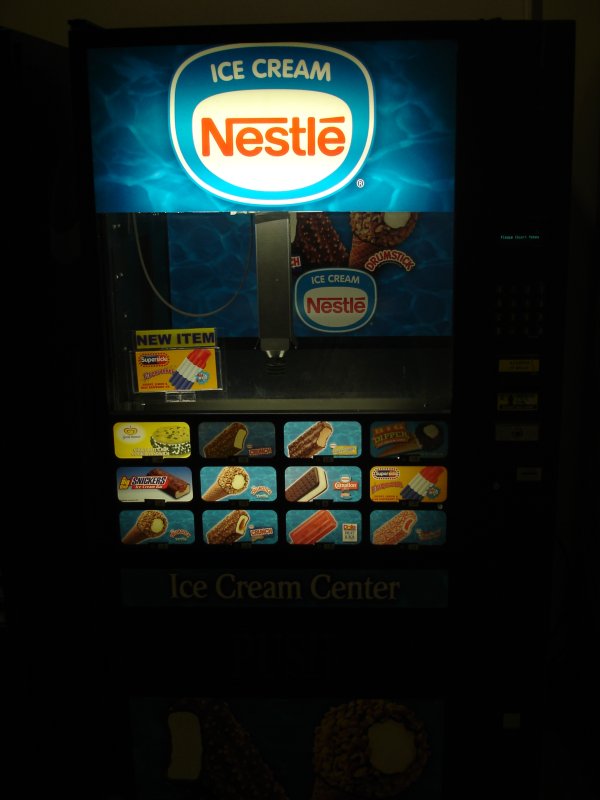 These bastions of the late-night stroll conveniently lie along MIT's basement paths and provide your friendly lurkers (i.e., me) with helpful sustenance in the form of frozen novelties.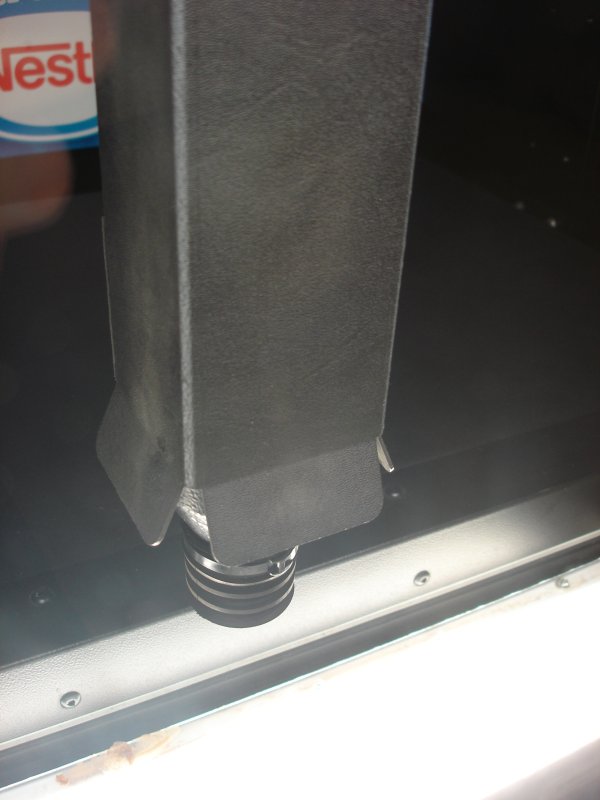 Yes, folks, that is a suction tube, reminiscent of the household Hoover. Upon insertion of the appropriate coinage, the lid of a chest freezer is magically lifted, and this vacuum attachment moves in for the kill. There are numerous compartments in the freezer, each containing a different novelty. Once said novelty is firmly affixed to said vacuum attachment, the lid closes and you receive your bounty through a slot at the bottom!
Ice cream in hand, we enter a tunnel lined with offices.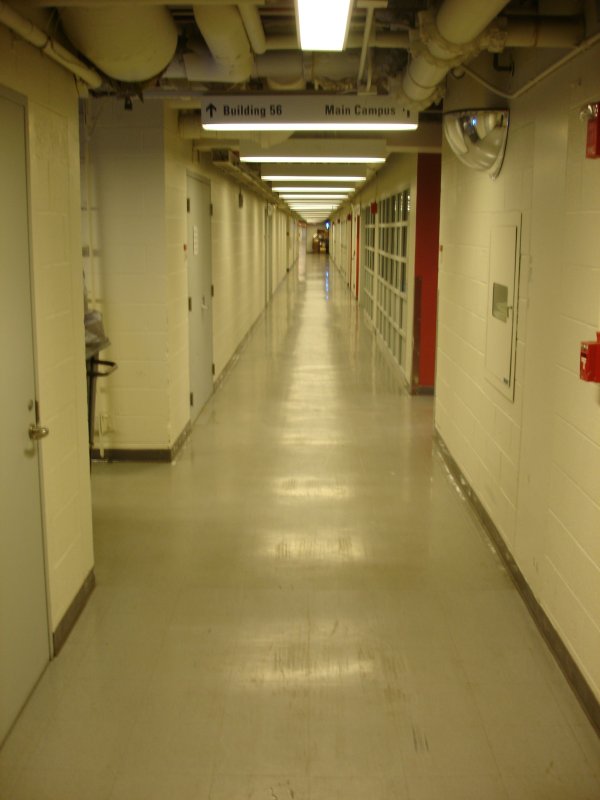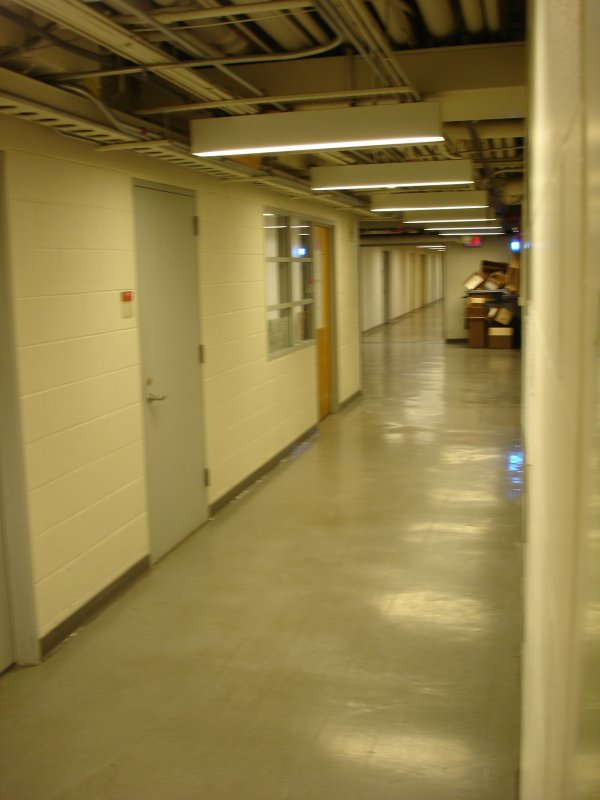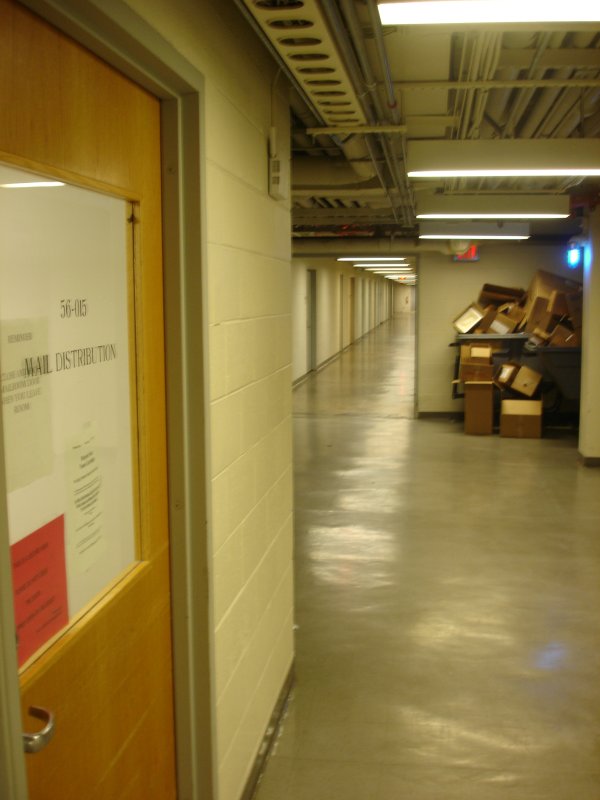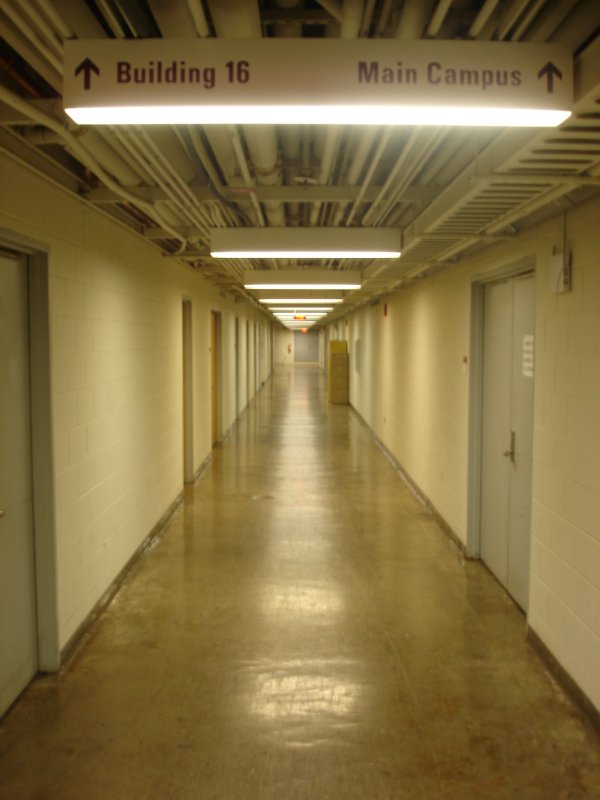 Hmm, these pipes look important. ;-)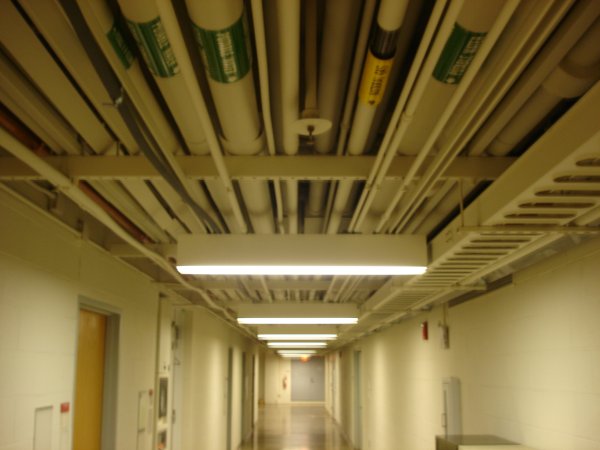 We turn here…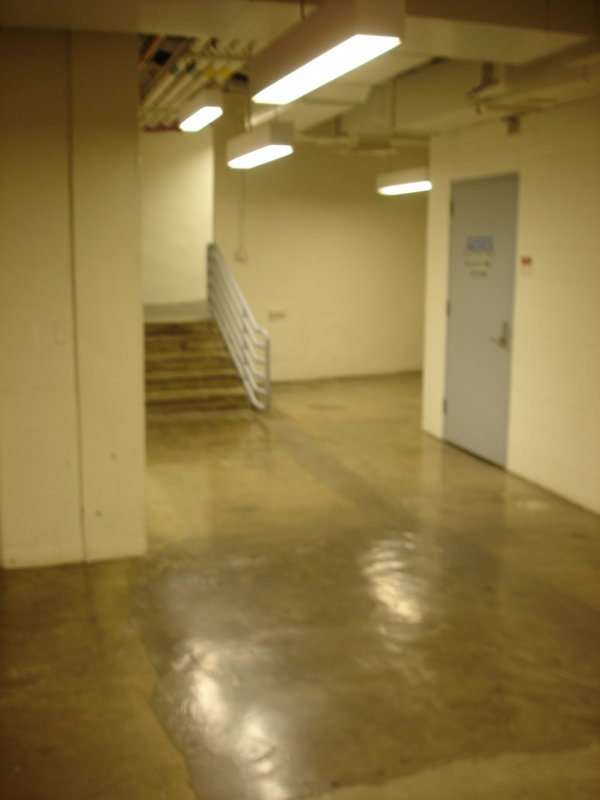 "Fire protection water"?? Nice.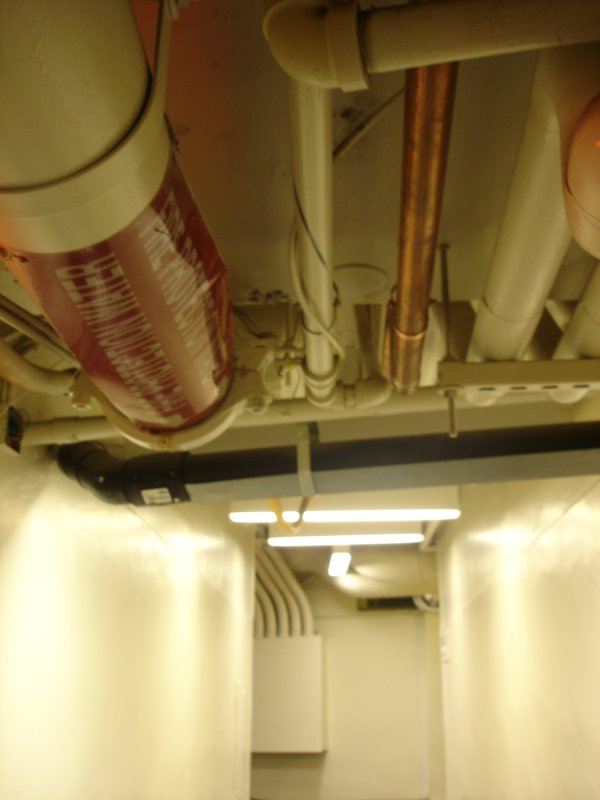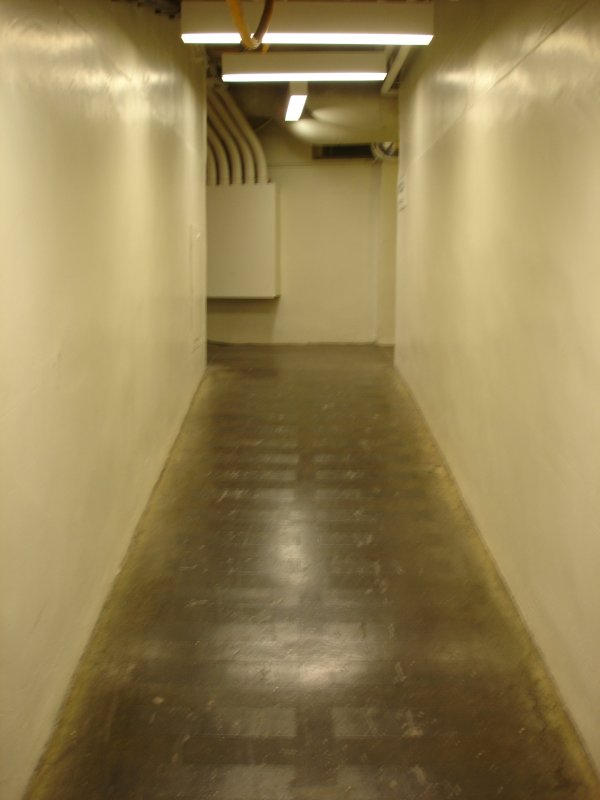 MORE PIPES.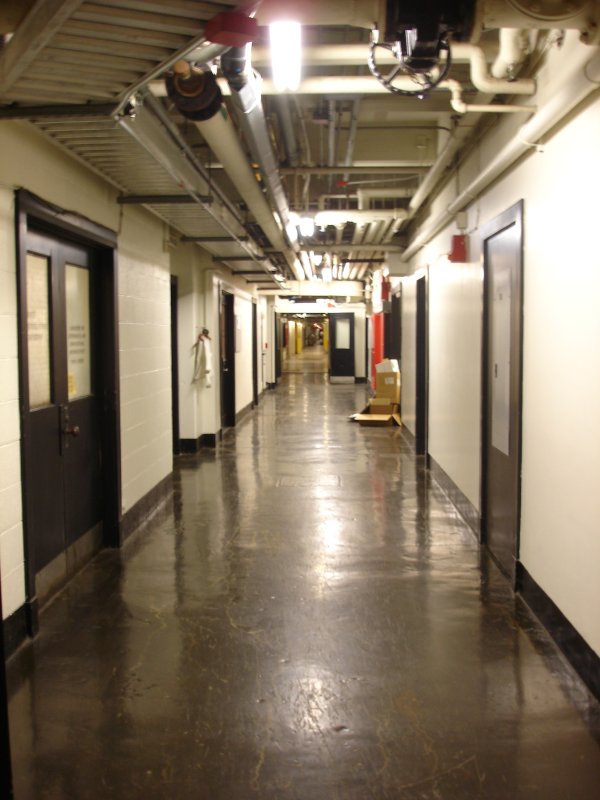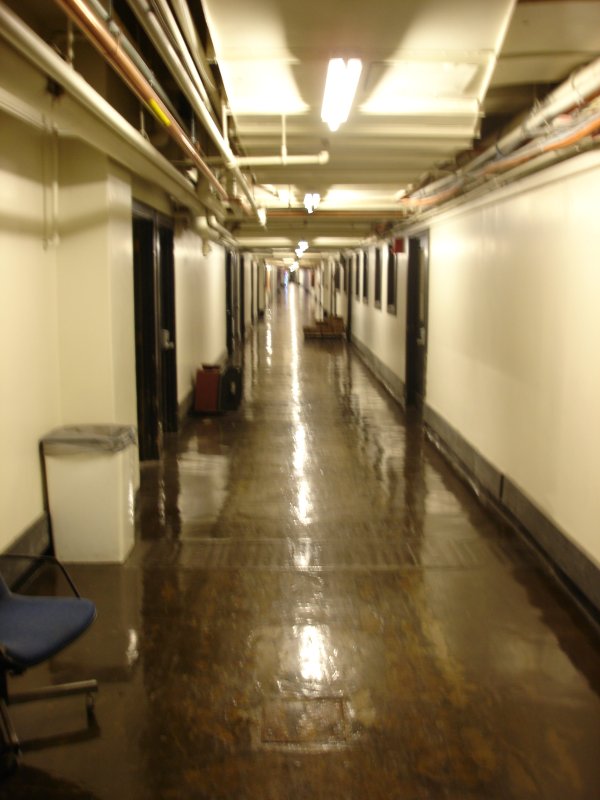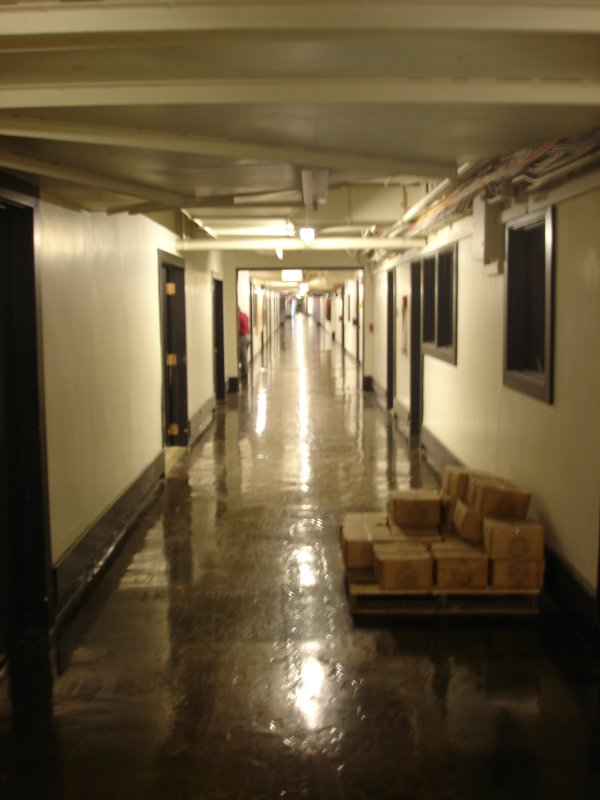 See that fellow in the red shirt? That's a custodian who works for MIT's Department of Facilities. He and a co-worker were mingling in front of another Nestle frozen novelty dispenser as I approached. Not wanting to look like a complete weirdo taking pictures of a basement in the middle of the night, I moved to the side and acted like I was observing a job postings bulletin board. Having nothing better to do except clean the floor, these two geezers told me that the jobs weren't for students, but rather for union employees. Trying to act polite, I became engaged with them in a discussion about Arizona (my home state), snakes and warm weather, and finally, the cost of real estate. I declined an offer for a free novelty and watched as their boss started walking down the corridor, prompting them to scamper off to their cleaning. I then resumed my journey :-)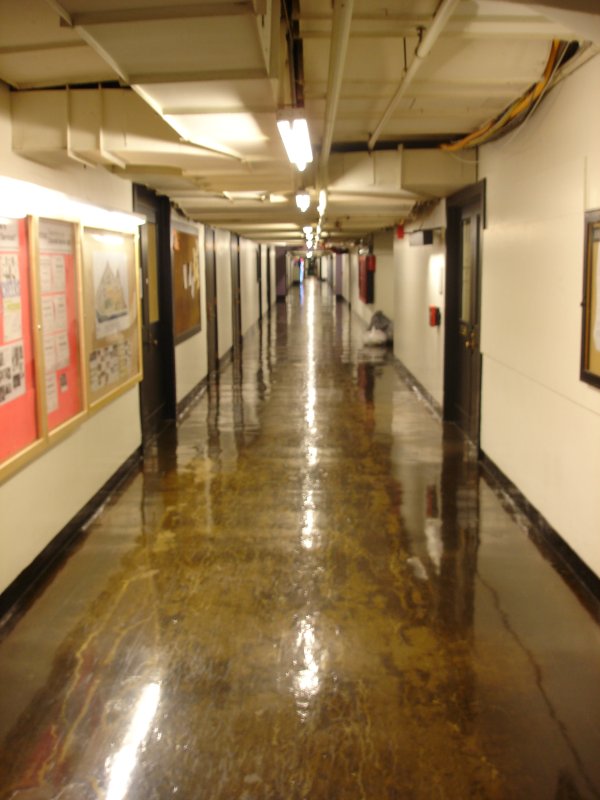 If you take the stairs to the left up one level, you arrive at the Infinite Corridor.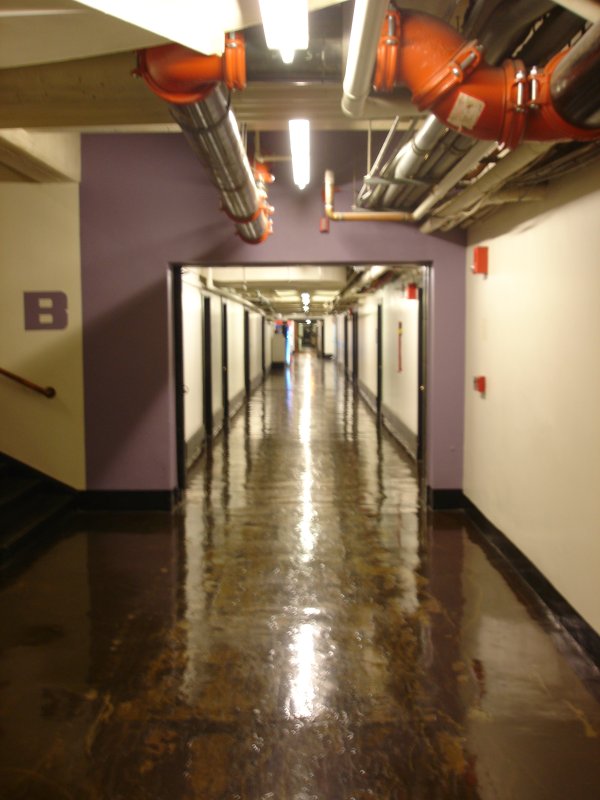 As I passed these offices, I thought of you guys. :-) Yes, along the basement corridor lies these less glamorous, but very important, branches of MIT's Office of Admissions.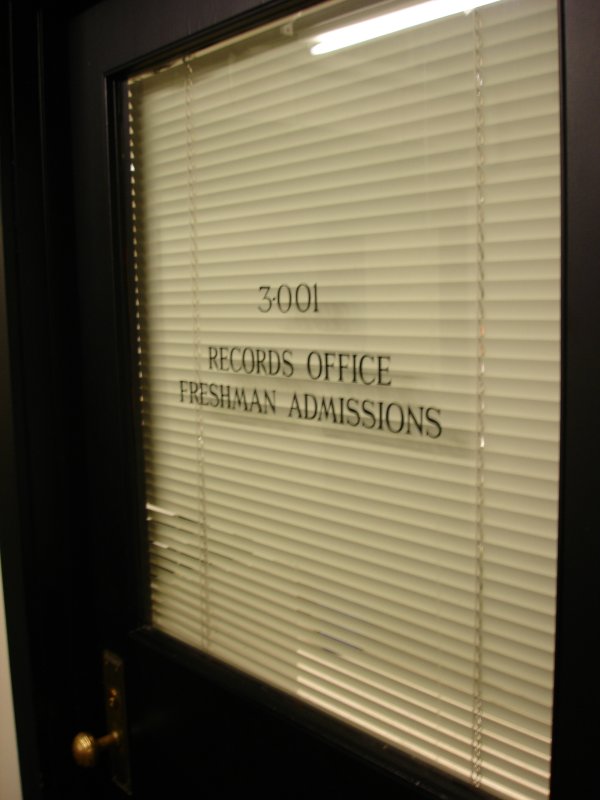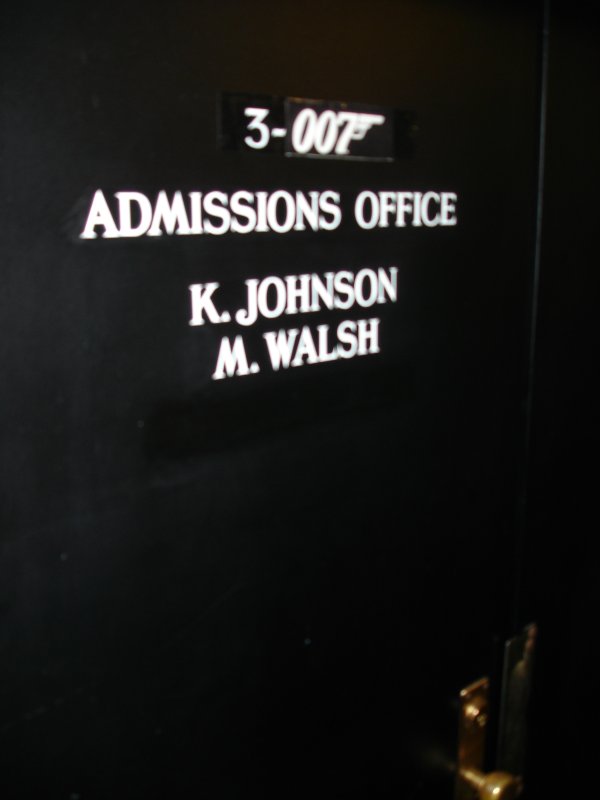 This is CopyTech, the internal MIT copy center. Many professors make course notes and packets available here for a nominal fee.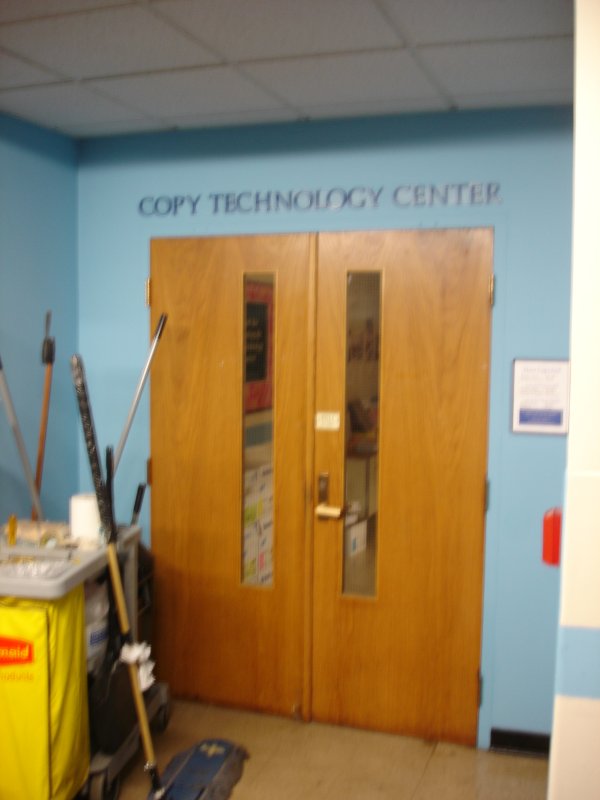 Yes, we're actually going outside for a (very) brief moment.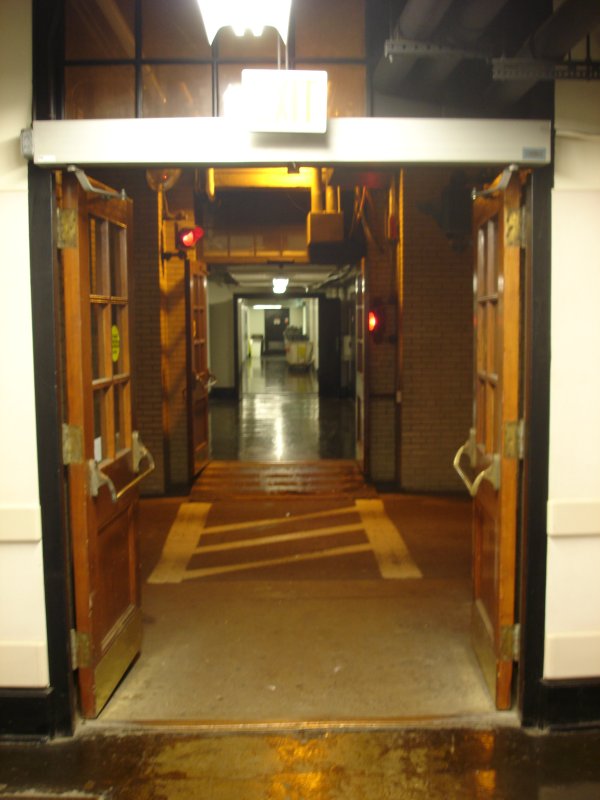 We're now walking in the basement of Building 7, home to the famous lobby that marks the start of the Infinite Corridor and of many a campus tour :-)
What's that peeking around the corner? Another fortress of the frozen novelty??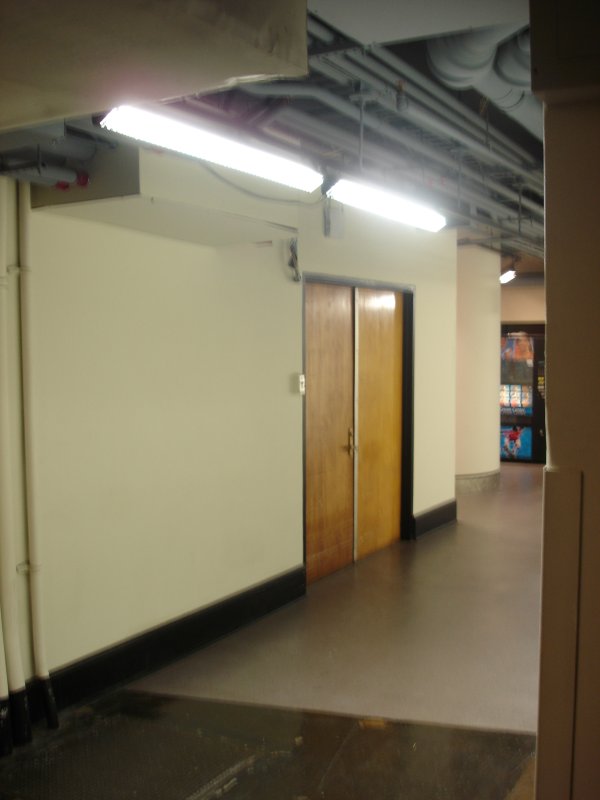 This colorful ramp leads us out of the basement and onto Massachusetts Avenue, beside the front door to MIT.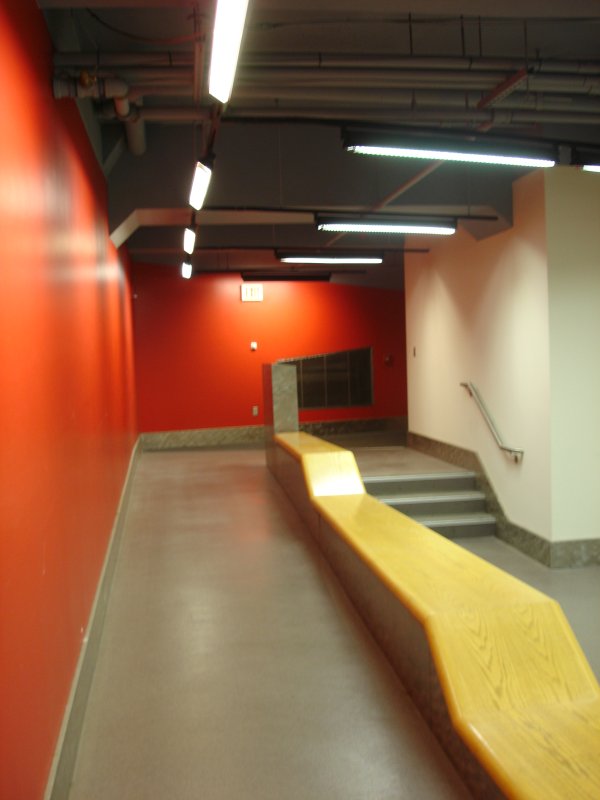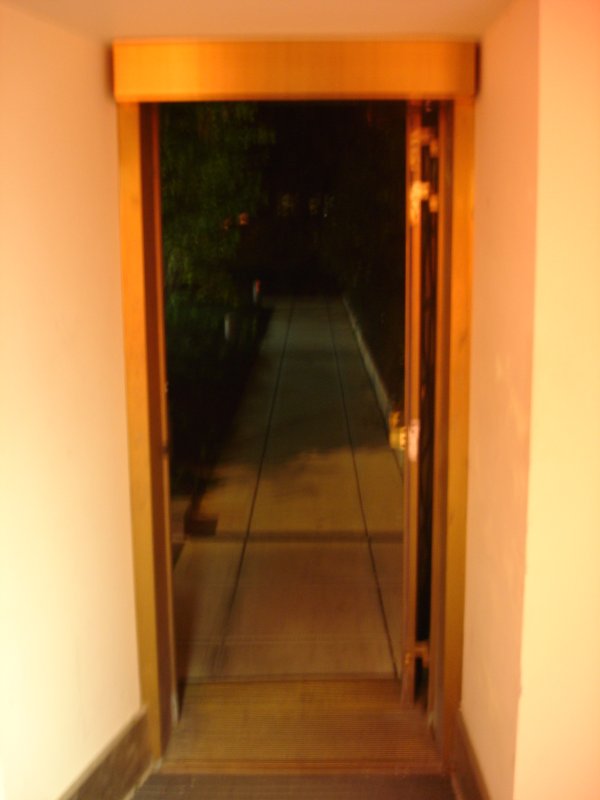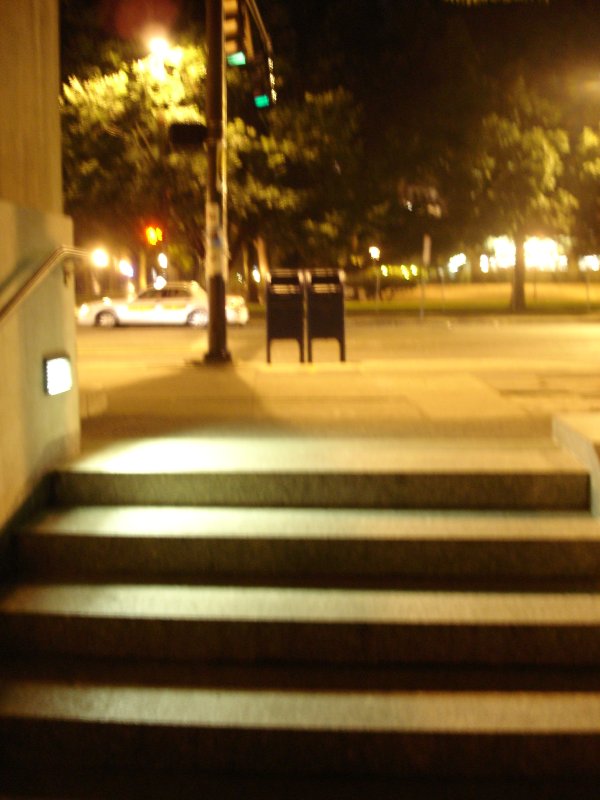 The front steps of MIT, leading into the lobby of Building 7, lie to our left as we ascend the steps from the basement.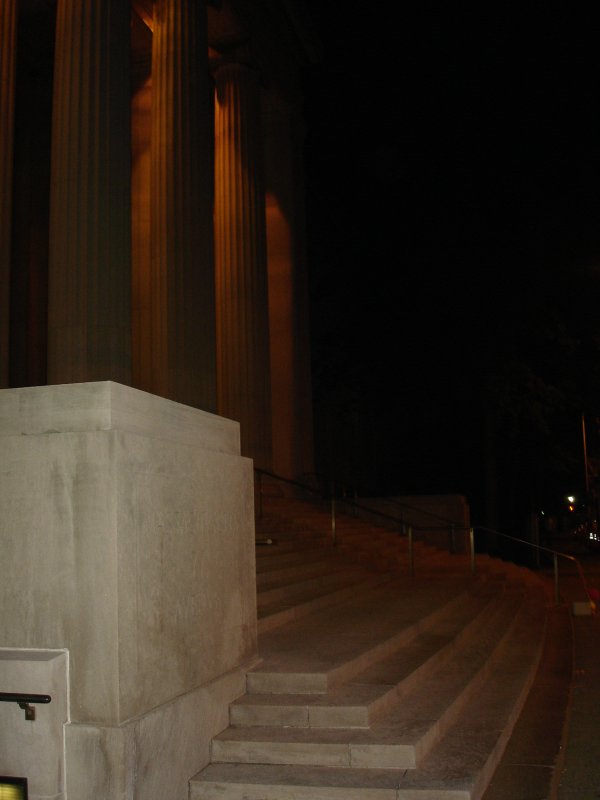 We cross Massachusetts Avenue to reach Building W20, the Stratton Student Center, home to a little 24-hour market called LaVerde's. :-)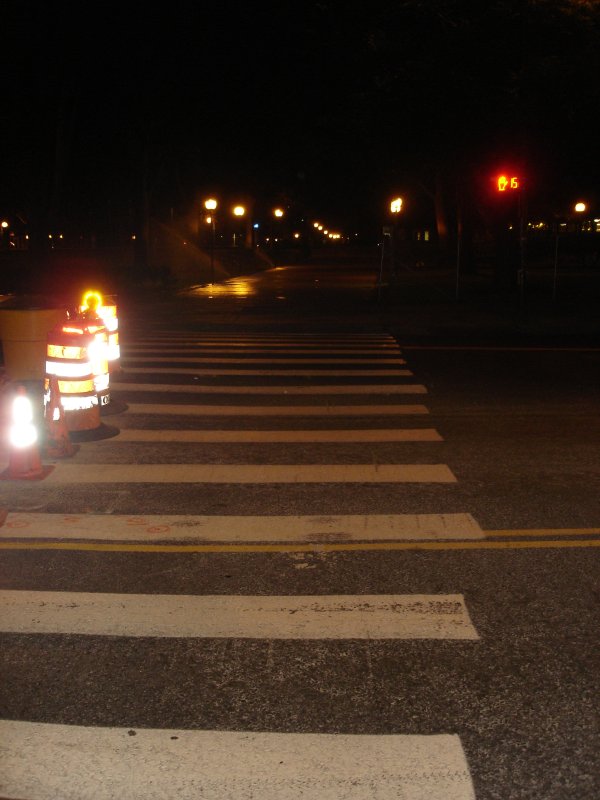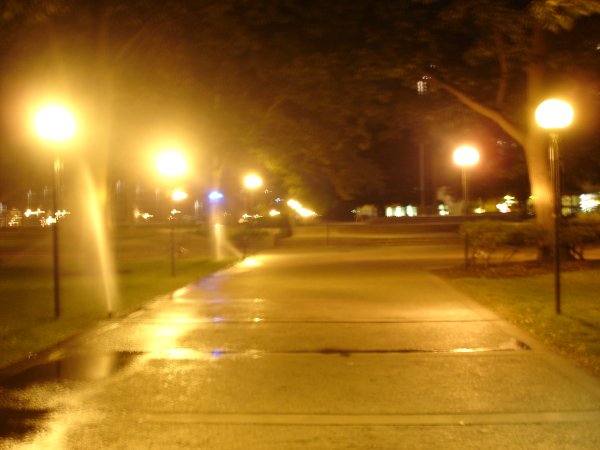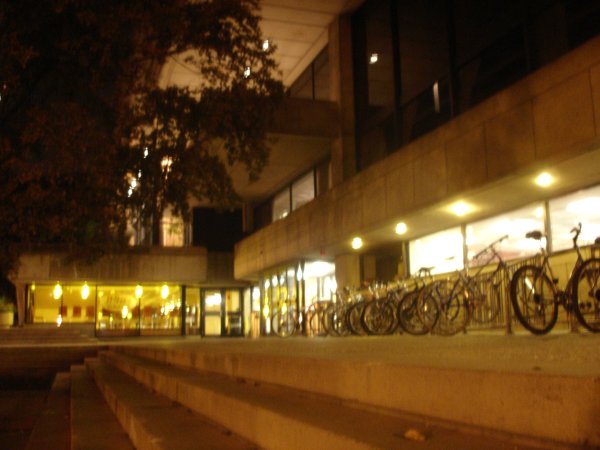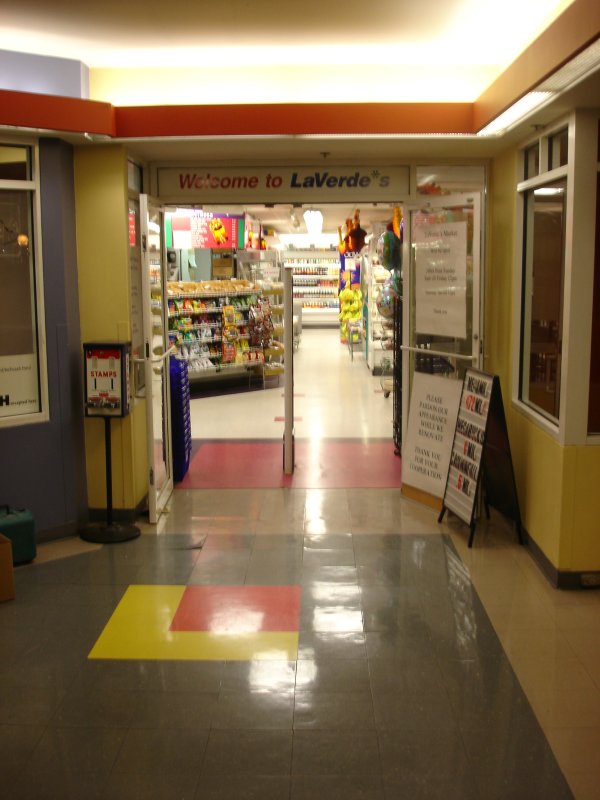 This place has more kinds of beverages than you can shake a stick at.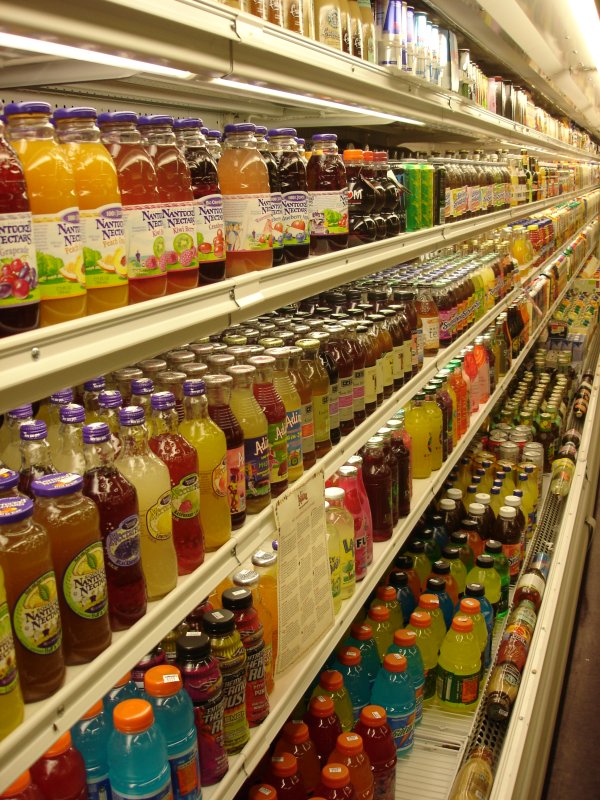 Eureka! I have reached my goal. (Yeah, that's Kresge Auditorium on the left. No, that wasn't my goal.) A bottle of cold water, a relaxing walk, and of course, an interesting blog entry. :-)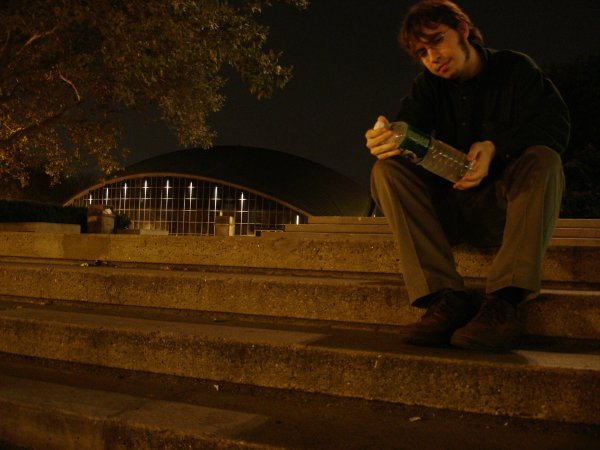 Check back later this week for more basement hijinks!
14 responses to "Avoiding moonlight on an empty stomach"