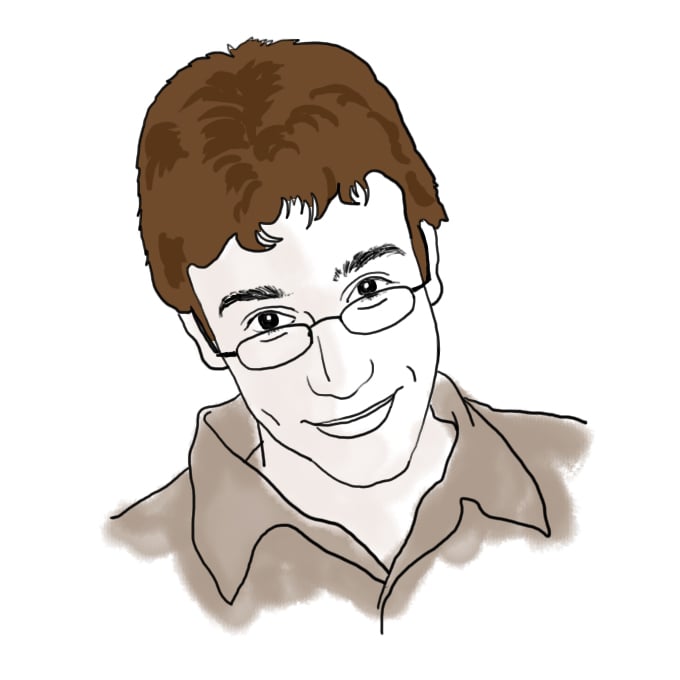 Some of the greatest companies in the world recruit at MIT. Apparently, so do some of the worst television shows.
No, not another Erika Ebbel entry. She's way too classy. Instead, this.
Ruth '07, field reporter for http://sam.mitblogs.com, discovered this curious flyer outside of the Athena cluster in building 24 (aka "a computer lab on campus").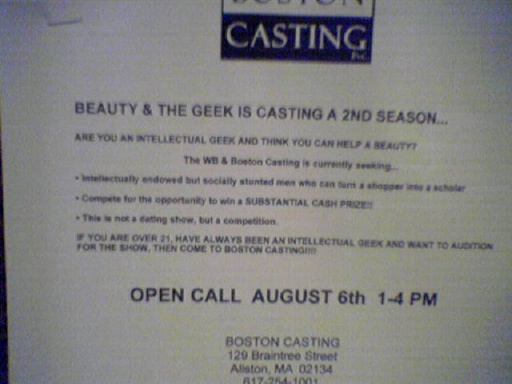 I particularly love the warning "this is not a dating show, but a competition."
Okay, so maybe it's a little stereotypical to be advertising an open casting call for "geeks" at MIT, but this is actually a really exciting opportunity. To my knowledge, there has never been an MIT affiliate appearing as a contestant on a reality television show. And believe me, my knowledge of reality television is pretty deep.
(Yes, I do know that Chris Vu passed the first round of auditions for American Idol 2, but I don't think he got to appear on television as a result of that… even though Carmen Rasmusen did… life is unfair sometimes)
So, who should we get to go to this audition? Ben is married with children, Matt is in Southeast Asia, and I don't think that either Spencer or Kevin really fit the "geek" image that they're going for. I, of course, have no shame and quiver with delight at the prospect of one day appearing on a network reality television show, but I'm also only 19 years old.
If any qualified man in the Boston area reading this would like to check out this once-in-a-lifetime opportunity, you can have a guest entry on my blog (readership roughly equal to that of the Washington Times) describing your experiences. I'll also throw in my Harvard Book Store frequent buyer's card, good for 20% off your next purchase of up to $200.
I've actually never watched Beauty and the Geek. Come on, it's on the WB. However, I once had half of an episode described to me and I think it's kind of a cross between Queer Eye for the Straight Guy and Jeopardy!–the beauties and geeks have to help each other study, and then the beauties have to solve theoretical astrophysics problems while the geeks have to answer questions about the life of Manolo Blahnik and identify fake Louis Vuitton bags… with hilarious results!
Mitra, of course, would easily win the entire show as either a beauty or a geek, although she'd naturally have much better luck entering as a beauty.
The reason that I've never seen this show is that it falls just below my theoretical line of self-respect for watching reality shows. My hypothesis is that you can create a hierarchy of all reality shows based on the amount of self-respect you need to lose if you're going to lower your standards enough to enjoy them. Everyone must have a fixed minimum quantity of self-respect that therefore dictates what reality shows they can and cannot enjoy. Here's mine:
The Amazing Race
Iron Chef
Project Runway
Queer Eye for the Straight Guy
Hell's Kitchen
The Apprentice
Nanny 911
Survivor
American Idol
America's Next Top Model
The Newlyweds
——-line of my own self-respect——–
The Bachelor(ette)
Beauty and the Geek
Joe Millionaire
Boy Meets Boy
For Love or Money
The Littlest Groom
American Juniors
The Real Gilligan's Island
Extreme Makeover
Who Wants To Be a Hilton?
Temptation Island
Bachelorettes in Alaska
Love Cruise
The Simple Life
The Swan
Britney and Kevin: Chaotic
How many have you seen?
It's a spectacular night here in Boston, with nearby summer lightning setting off a pandemonium of car alarms under the hazy red sky. If I didn't know better, I'd say that some force of nature was trying to destroy Beauty and the Geek.
12 responses to "Beauty and the Geek"