So way back awhile ago, after I stopped blogging for extended periods of time (sorry!) and after Ruth's balloon adventure, I headed over to Bryan's fraternity, ZBT, for…an 80s party.
And as soon as I walked in the door, Bryan was like "Laura! OMG we have to take a picture now that there are 4 of us!" So he rounded me, Keri, and Jess into the frame and had someone else take the shot.
Then he sent it to me and I spent way, way too much time in Photoshop because I didn't want to be programming in Scheme.
The result?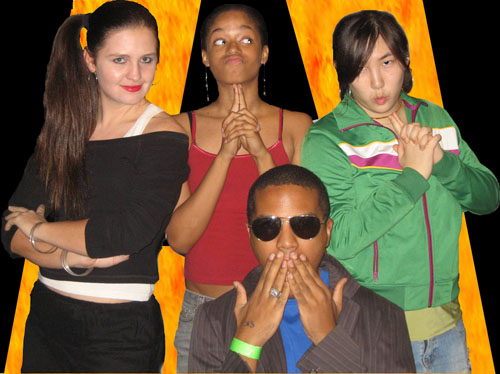 It was an 80s party. Please remember that before you judge.
Anyway, I had an awesome time at the party, which was actually kind of unfortunate, since it meant I stayed out until after 2 AM and had to get my butt out of bed and on campus 5 hours later. Yikes.
Why, you ask?
Because of Splash!
MIT has a student group called the Educational Studies Program, or ESP. They put together all kinds of cool programs where MIT students teach local high schoolers a huge array of topics. Splash! is a program that takes place the weekend before Thanksgiving ever year, and MIT students are literally encouraged to "teach anything." You sign up to teach classes that last an hour or two, and the idea is that you should teach whatever crazy topic you want. I'm really unoriginal and don't have many skills, so I stuck to the basics: I taught "Intro to HTML" and "Electricity and Magnetism," both of which (I hope) went pretty well.
I used to have a link to the full subject listing offered at this year's Splash!, but ESP has been renovating their website and now I can't seem to find it. Luckily, I managed to jot down home of the highlights:
How to sleep in class
Introductory Chocolate Tasting
Sports Statistics; How to Manage a Baseball Team
"Man, that looks good": History and Appreciation of Movie Trailers
Game Theory for Fun
The Mathematics of the Musical Scale
Write & Record Rock Music
Fun with High Voltage
Space Weapons
It was a lot of fun, and I really enjoyed teaching.
And now, responses to really old and probably obsolete comments:
Anonymous asked: Where did the dude who's blowing up the balloon manually get his pants? I totally want a pair.
Oh my God, I am so, so glad you asked that, because Rick actually made those pants himself. It was part of a project for 21M.606: Introduction to Stagecraft. How awesome is that? Here's the course description for 21M.606:
Introduces students to the variety and scope of stagecraft while they learn basic shop skills. Students develop shop vocabulary and learn safe use of all shop machines, basic handwork skills, names and uses of tools, and an overview of the various activities that go on in each shop. In each production area, students complete a project that uses all basic skills. Students build a final project of choice that relates to the skills that stagecraft covers.
WTPer asked: Which dorm is this? Looks nice. And in that first picture where the guy with the blue PJ pants is blowing up the red balloon …. what is that, a common room? Or someone else's room? Looks like a sitting area type thing. Pretty sweet. Kinda want to get the idea of the layout of this dorm … because it looks pretty awesome. Thanks!

And Evan '10 responded like a month before I did (as usual): WTPer –
You're looking at photos from Burton-Conner. Unlike the other dorms, it's laid out in suites, with 6-8 suites on each floor, depending on if you're on Burton or Conner side. Each suite has a common area and a kitchen and 3-6 rooms, including one double (I'm pretty sure each suite has one double…not positive though).
Oh wait…Laura did the whole photo tour thing in an earlier entry.
That's exactly what I was going to say…
turnef asked: How much time did you spend to inflate all these balloons?
Well, we had a large number of people involved- anyone who passed by was forced to blow up a balloon or two or 75. We started the day before Ruth came home and spent maybe 8 hours total blowing up balloons. As for the total number of man-hours, I had no idea…Although Zach '08 estimates about 50.
Alyssa asked: but anyway, im just wondering, do you know about how many girls usually apply/ applied this year EA?
Hmm…I can't seem to find an exact answer, but if you poke around Matt's blog, you should be able to find some info.
Coming soon: I blog more often! And some of the annual-good-old-fashioned-non-denominational-politically-correct-Conner 2-holiday-celebration/sketchfest. In other words, pictures from my floor's end of term dinner and secret santa exchange.
10 responses to "Blast from the Past"