as an obsessive Spotify user, it's only fitting that i finish my last year of blogging with another blogger wrapped. these have become a consistent tradition, and if I had to guess, they'll continue for a while, considering how most of the bloggers listen to more music than ~95% of their respective countries.
here are the previous editions, if you're interested:
let's start with some stats!
MG has literally always been on top. slay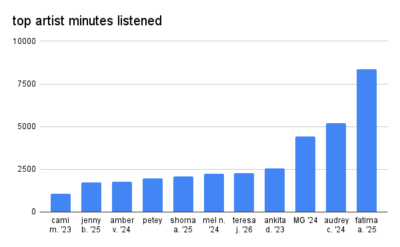 fatima did a lot of listening to TSwift this year, it seems! tbh so did everyone, so that's very understandable.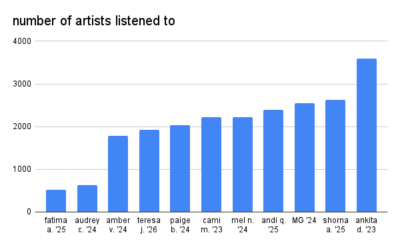 the top two for top artist minutes listened are on the lower end here, but MG and I are somehow also at the far right? it's the sheer amount of Spotify usage, I guess…I'm on Spotify more than any social media, I have hundreds of playlists, and I'm very diligent about listening to music constantly. I also listened to an album every day this year (post coming soon), so this checks out.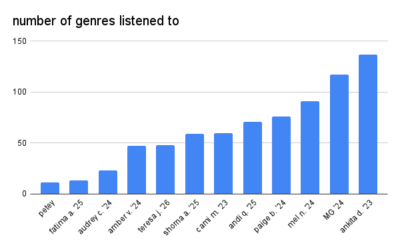 MG and I at the top again! let's go musical diversity :) I can attest to my constant switching between psychedelic rock/hyperpop/rap/anime openings…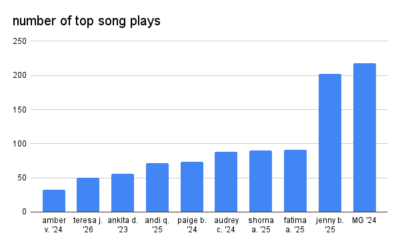 alternatively titled: how much were you going through it this year
Top Genres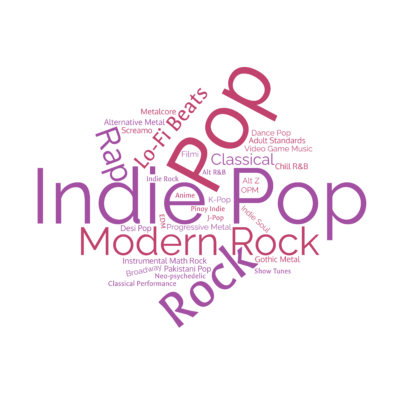 indie pop was this prevalent last year, too. dance pop is much less common, although I think that's because Spotify changed around their genre designations. everyone's top genre last year was dance pop, for some reason.
Wrapped Summaries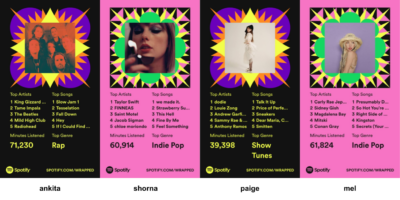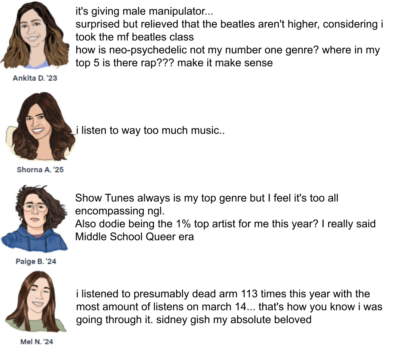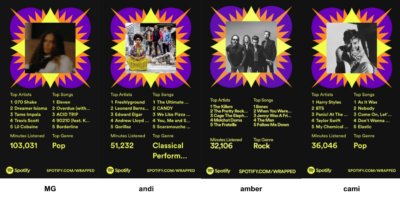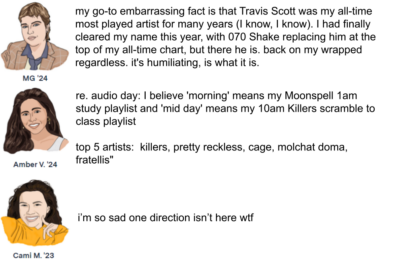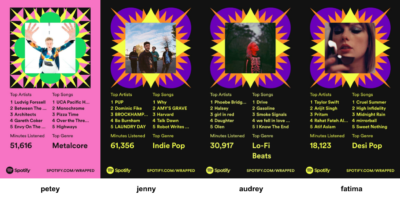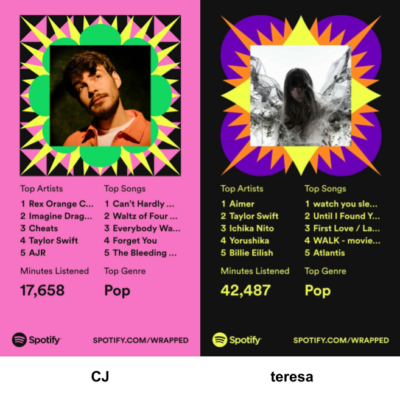 Top Artist Percentages
shorna – top 3% Taylor Swift
cami – top 2% Harry Styles
fatima – top 0.5% Taylor Swift
amber – top 0.5% The Killers
teresa – top 0.5% Aimer
ankita – top 0.5% King Gizzard and the Lizard Wizard
jenny – top 0.5% PUP
audrey – top 0.1% Phoebe Bridgers
MG – top 0.01% 070 Shake
petey – top 0.01% Ludvig Forssell
mel – top 0.05% Carly Rae Jepsen
andi – top 0.001% Freshlyground
wow, look how accomplished we all are!
Listening Personality
ah yes, more personality data for us to hyper-fixate on! thanks for keeping us entertained with random new information each year, Spotify.
they justify this music-personality-test thing with:
Do you mostly listen to the same artists over and over (and over) again, or are you constantly on the hunt for something new? How about when it comes to classic tracks or recent releases? With music, everyone listens just a little bit differently, which is something 2022 Wrapped celebrates. In your personalized Wrapped experience, you may have noticed a new feature: Your Listening Personality.
there are four categories with two indicators each, making for 16 total personality types. the axes are:
Familiarity (F) vs. Exploration (E) — do you listen to your favorite artists on repeat, or sample a lot of new ones?
Loyalty (L) vs. Variety (V) — do you play the same songs over and over, or have a more diverse selection of music?
Timelessness (T) vs. Newness (N) — do you listen to new music when it releases, or prefer to just listen to music from any period?
Commonality (C) vs. Uniqueness (U) — do you listen to mostly popular artists, or look deeper for less well known ones?
okay, now let's see who's what!
Early Adopter (ENVC)
—
cami⁠01
let's go trendy queen
Adventurer (ENVU) — jenny, shorna, mel, teresa, ankita, MG, audrey, CJ, paige.
woah, all of us like finding new music, huh
Time Traveler (ETVU) — amber, andi
Deep Diver (FTVU) — petey (checks out)
Nomad (ENLU) — fatima
Audio Day
decipher at your own risk
jenny
Morning: silly funny fun
Afternoon: gloomy mellow bittersweet
Night: sad boi bittersweet hype
amber
Morning: trad goth hardcore love
Afternoon: triumphant indieheads rebellious
Night: melancholy royalcore gloomy
petey
"what?"
shorna
Morning: Uplifting Confident Comfort
Afternoon: Powerful Light Healing
Night: Hopeless Romantic Lighthearted Yearning
audrey
"Pumpkin spice angst yearning"
andi
Morning: Fun Silly Happy
Afternoon: Amped Bold Eerie
Night: Calm Peaceful Quiet
paige
Morning: Theater kids, Hopeless, Romantic, Silly
Afternoon: Bittersweet, Comforting, Yearning
Night: Good Vibes, Chill, Upbeat
CJ
Morning: Feel good, Upbeat, Chill
Afternoon: Angst, Rebellious, Gentle
Night: Love, Vulnerable, Nostalgia
I would really like to know how Spotify defines morning vs. night. MIT students do not share the same definitions, I promise you.
finally, here's the playlist with some of our top songs! enjoy :)
let's go trendy queen⁠

back to text

↑