*Ahem*.
When I applied to MIT, I put down on my application that my probable choice of major (or however it is they ask you what it is you want to do) was mechanical engineering. I liked to build things and create things, and I thought that led me to being a mechanical engineer.
Fast forward a year, and I've had some new thoughts on the matter.
I've always enjoyed making things; that hasn't changed at all. This summer, for example, I built a bike. Working at MITERS, one of MIT's student groups which I believe I've mentioned before (and will someday blog about), I decided that I wanted to have a bike for when I came to campus in the fall. I didn't want to bring the nice bicycle I had at home, which my grandparents had given me my freshman year of high school; everybody had told me that living in the city, you'd have a bike stolen at least once — if you were lucky.
However, I didn't want a piece-of-trash bike with a rusty chain and a metal post for a seat (ouch). I wanted something nice, something snazzy, something that I would still enjoy. I didn't want to spend a ton of money, so I set about trying to acquire something meeting all those criteria, on the cheap. Yeah, I'm picky.
One day this summer, the very-much-publicized Charles Guan sends out the following e-mail:
3 bikes in mostly good repair on the loading dock.

also, someone's nuclear apocalypse survival kit complete with soviet literature
and yellow bunny suit. but i already claimed that.

get the rest y/n

-c
Score! A few e-mails later, and Charles snagged one of the bikes for me. That afternoon, I came by to check it out: an older, Ross-brand single speed bike, with a kickin' retro seat and a basket on back. I liked it, but wanted to touch it up. I began by stripping the paint, painting it blue, and failing at putting it back together again: (I could've sworn there were more parts in the front fork… Gremlins must've taken them.)
Oh.
Also, I soon came to the (aided) realization that I had a women's frame. With my masculinity feeling threatened (and the frame being too small for me), I set about acquiring a different (but used, cheap) frame.
Fast forward a medium amount of money, a lot of time digging around a *bike graveyard* and in the bike store, and I had most of a bike. I ended up with a maroon frame, sweet plain handlebars, the old seat, and a really nice 3-speed gearbox. Because I was building the bike, and because it sounded like a really cool idea, I didn't want lots of sprockets and tensioners and shifters; I opted to buy a wheel with a planetary gearbox in the wheel hub, which gave me three speeds with no shifting roller chain. (Fyi, three has proven more than enough for the city) Some elbow grease, some bearing grease, and some pizza grease (from Chicago Pizza) later, I had a bike.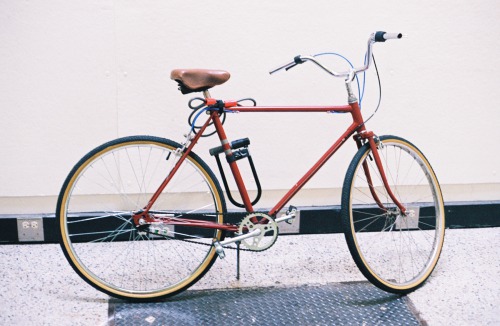 Wewt.
(Note: I know that when I talk about this as "building" a bike, it really means that I just assembled a bike from mostly junked but already-existing bike parts. Nothing too impressive; however, there are some people at MIT who've actually designed and built bicycles from scratch, and that's pretty cool).
Where am I going with this? Hang on, I'm almost done.
This semester, after finishing my critically acclaimed (what does that even mean?) fork, I decided in my freshman seminar that I wanted to build a steel table. It took three+ weeks of forging (working a few hours a week), which make for a fairly boring story, so I'll only share the end result with one awesome detail: when I finished making the table, from 18 feet of steel rod, we put a piece of sheet steel on it as a test surface. Instructor and general cool-dude Mike Tarkanian took out his iPod Touch, and took me by surprisre: he bought an app, on the spot, that would use the iPod's built-in accelerometer as a surface level for the table. As much as I am *not* an Apple fan, I thought that was pretty awesome. Also awesome was that, through eyeballing my handiwork, I had built the table to within 1.3 degrees of level (referenced to the floor). Woot!
Anyway, here it is; the picture was taken in a bathroom because I wasn't sure where I could find a nice backdrop for a test shot. Also, the glass top is borrowed; I haven't bought one of my own, yet.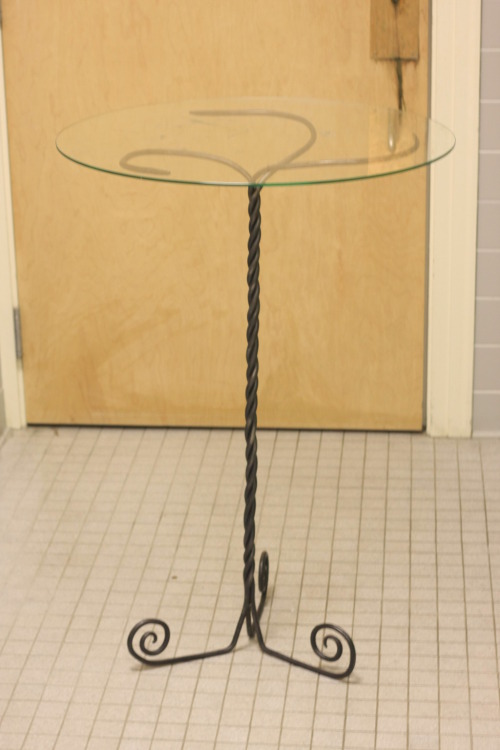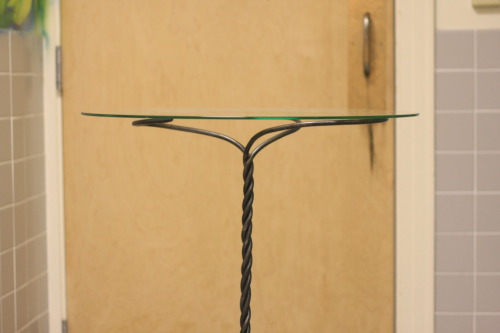 Anyway, what does this all come down to?
The reason I enjoyed building this table, the reason I enjoyed building my bicycle, and the reason I enjoy using linux — not Ubuntu-"everything works and looks shiny!"-linux, but "darn, I have to compile drivers again, this sucks"-linux — is the reason I thought I wanted to be a mechanical engineer. I do like building things, but I like building them because I want to be a part of the creation process, I want to understand and have some part in the things around me. I like customizing things, I like doing things the hard way, and I like taking things apart even when I can't put them back together; I like all this because I like to create. I don't know yet if that means creating things in the mechanical realm, as a choice of course 2 for my major would suggest, or in other fields — perhaps algorithms? — but I do know that I like to take the hard way, often for less effective results (the chain fell off my bike while I was riding it, a while back, putting me on crutches >_<), and I know it is that quality that will lead me to whatever major I do choose to pursue here at MIT.
In a less overarching sense, though, that has some consequences for the present: During my first few weeks at MIT, both of the (old) laptops I had brought to campus broke (A three-year-old Compaq I'd bought in high school, and a $140 tablet I'd snagged on ebay at the start of the summer). Although I've been getting by on a netbook since, an Eee PC does not make for a good primary computer.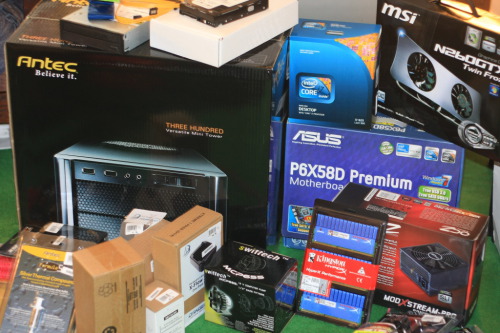 Time to get building!
Till next time,
-Cam
[Sneak preview: Next week may be some of my thoughts about the college essay, although those thoughts do not reflect any opinions of the MIT admissions office (blah, blah, blah). This is for you, regular-action procrastinators!]
[Of course, it may not be, if I decide to write about something else. I change my mind often.]
25 responses to "Construction"