IAP is a wonderful time here at MIT, where the month of January is transformed into a mix of adventures, innovation, and learning.  I am spending my IAP with my head in the books, trying to absorb as much information as I can in my training to become an EMT.  Here are some of my friends' descriptions of their IAPs in their own words.
– – –
Dalia L. '16 – Mechanical Engineering
When I was a freshman, I filled up my IAP with so many activities that it became legitimately stressful. This year, as a sophomore in mechanical engineering, I made a point to have a more relaxing IAP while still doing activities that interest me. I decided to spend the first three weeks of IAP at MIT, and the last week at home.
Over the past few weeks I've been doing a bit of this and a bit of that—like Michael C. '16, I did both 2.670 and UPOP (my UPOP table had the best team spirit!). I've also been teaching Hebrew! MIT has a great culture of sharing and teaching, and it's especially prevalent over IAP. I teach Hebrew for fun and as a way to give back to the community. Last year I helped out Inbar Y. '15 with teaching the class, but this year I've been on my own. MIT Hillel sponsors the class, but it's open to anyone in the MIT community and is especially useful for anyone planning on doing MISTI Israel. In one of the recent classes we watched Ushpizin, a great Israeli movie. And one of my students went out and bought Israeli snack food, so we even had delicious snacks to go along with our movie. Afterwards… well, afterwards I gave them a vocabulary quiz. (I'm not a mean teacher, though!)
And that's my IAP in a nutshell!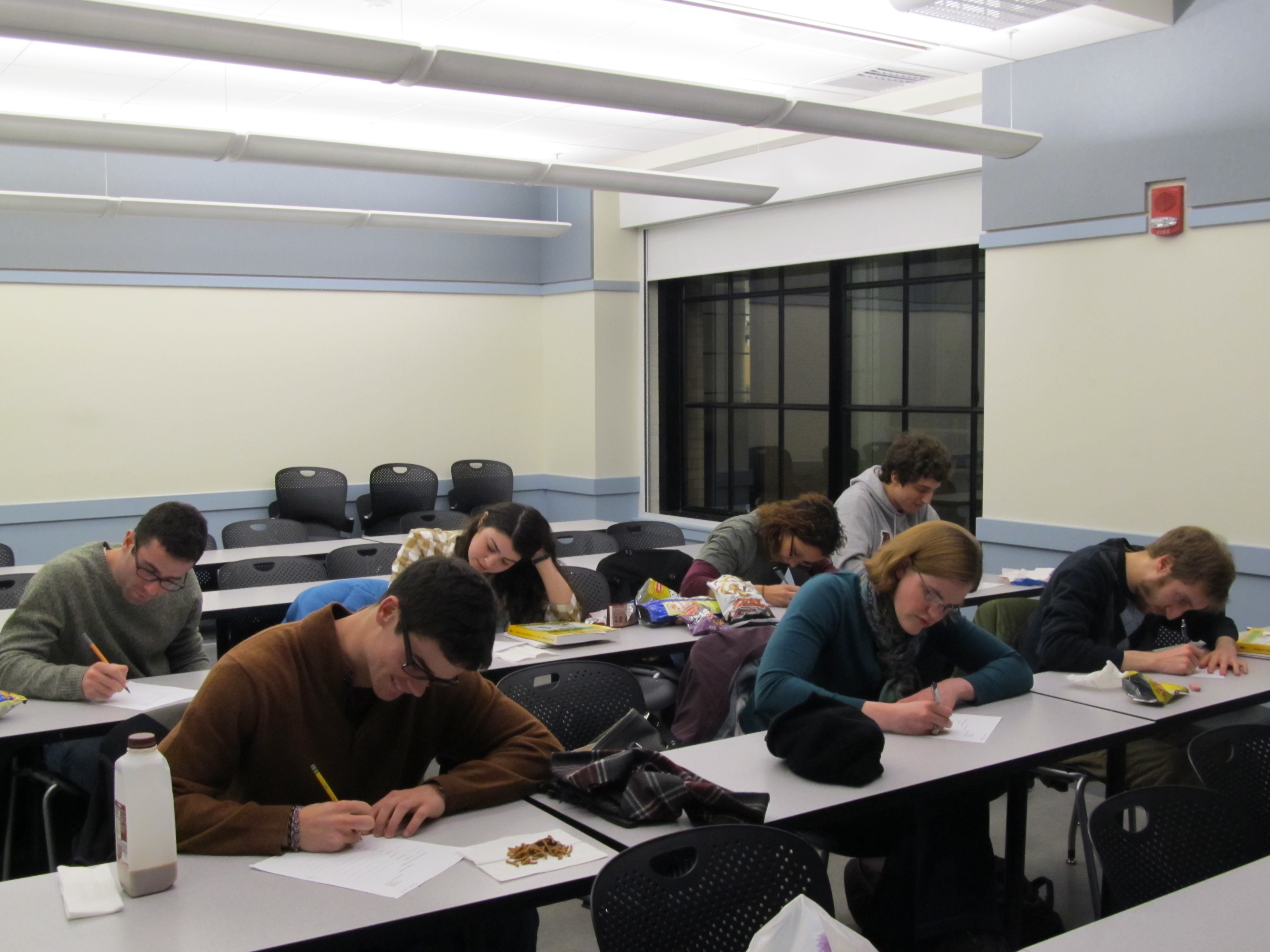 Hebrew students hard at work on their vocab quizzes! Photo taken by Dalia L. '16.
Marvin R. '16 – Electrical Engineering and Computer Science
I'm doing two activities for this IAP. The first of which is a swim class, so I can finally get the swim requirement out of the way. The other is being one of the two chairs for Bad Ideas.
The swim class has proven to be fun. I'm able to float and swim on my back now, so that's great! Though I have to work a little more on swimming on my stomach, I'm getting there. I won't have to worry about swimming later now!
This year marks the 12th year of Bad Ideas. Bad Ideas is an annual event held towards the end of IAP each year. This year it'll be the 24th-26th of January, happening now. It's a weekend where students can come and relax and enjoy some of the more questionable activities that people have concocted.
There are annual traditions that happen such as the Wings Eating competition (kicks off Bad Ideas) and the Green Building Challenge (run up and down the Green Building as many times as you can). But there are also events that people propose that are brand new. Some of this year's proposals include Quadcopter Target Practice, Smoothie Roulette, and Wife Carrying! There are many more events that'll happen, too!
I really like being Bad Ideas chair. It can be a little stressful, but it does seem like it'll pay off. My favorite moment so far was when my co-chair (Michael E. 2015) and I bought 60 feet of sausage. The store didn't actually believe that we were serious! It was a pretty magical place.
My best advice? If you're taking swim during IAP and you can afford to do so, stay indoors until you completely dry off.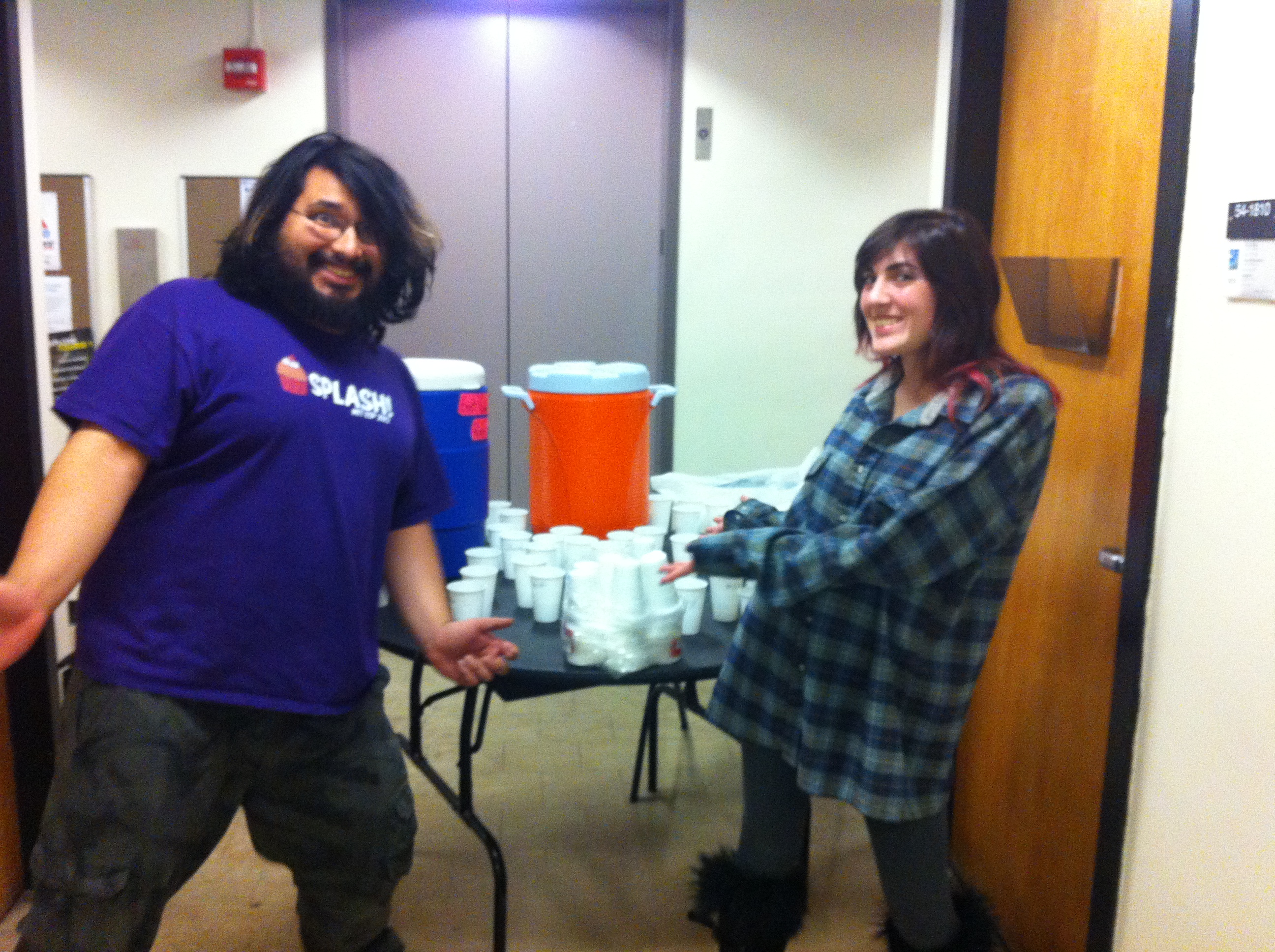 Marvin and I organized the Green Building Challenge together! Here we are at the top of the Green Building stairs waiting to serve the champions Gatorade.
Emma S. '16 – Mechanical Engineering
A majority of my time this IAP was spent in lab at my UROP. I work at the Computational Fabrication Group in CSAIL designing and fabricating mechanical assemblies using 3D printing technologies. As a mechanical engineer in a computer science lab, I'm relied on heavily for my fabrication abilities.
SIGGRAPH, the biggest output for all the research done in the Computational Fabrication Group, has paper submissions due midway through January every year. The opportunity to submit to SIGGRAPH only comes once a year, so the time leading up to it is quite hectic. Everyone in the lab was working hard all month in hopes of submitting a paper that would potentially be accepted at SIGGRAPH.
The SIGGRAPH deadline made me a 'ghost'. I essentially lived in my lab, coming home to my dorm at 5 o'clock in the morning a couple of times. The day before the deadline I didn't even go home, and was in lab for 29 hours straight!
Now this sounds like my IAP was quite miserable, but in all reality I have had a great time. All those late nights working were a personal choice, and I was in no way obligated to work that much. I ended up joining a lot of different projects in the lab that needed my help, and as a result will be an author in numerous papers!
A long with UROPing all the time, I also participated in MITOC winter school. I've always loved the outdoors, but never really did any winter hiking before. Winter school provided me with the amazing opportunity to learn winter survival skills, and the ability to go on trips every weekend. So far I've gone on a trip every weekend this IAP.
Last weekend I summited the Wildcat mountains in New Hampshire and learned how to ice climb! It was a lot of fun, and I'm excited for my trip this weekend. My friend Michael C. '16 and I are finally going on a trip together, and we'll be camping and hiking above tree line.
Michael C. '16 wrote a really great post about winter school that describes a lot more about it, and I highly recommend reading it. Hopefully he'll write a post about our epic trip this weekend.
Next week I'll be participating in UPOP, and I also took a Top Roping PE class. All in all, my IAP has been a lot of fun. To anyone considering UROPing all IAP, I say go for it! You don't have to put in as much time as I did, and you can even get paid for your work! I'm really lucky in that I get paid to have fun and learn, and I think the UROP program provides an amazing opportunity. I've learned a lot about my limits in terms of work and outdoors ability, and really you can do anything you set your mind to!
Emma's pictures from Winter School: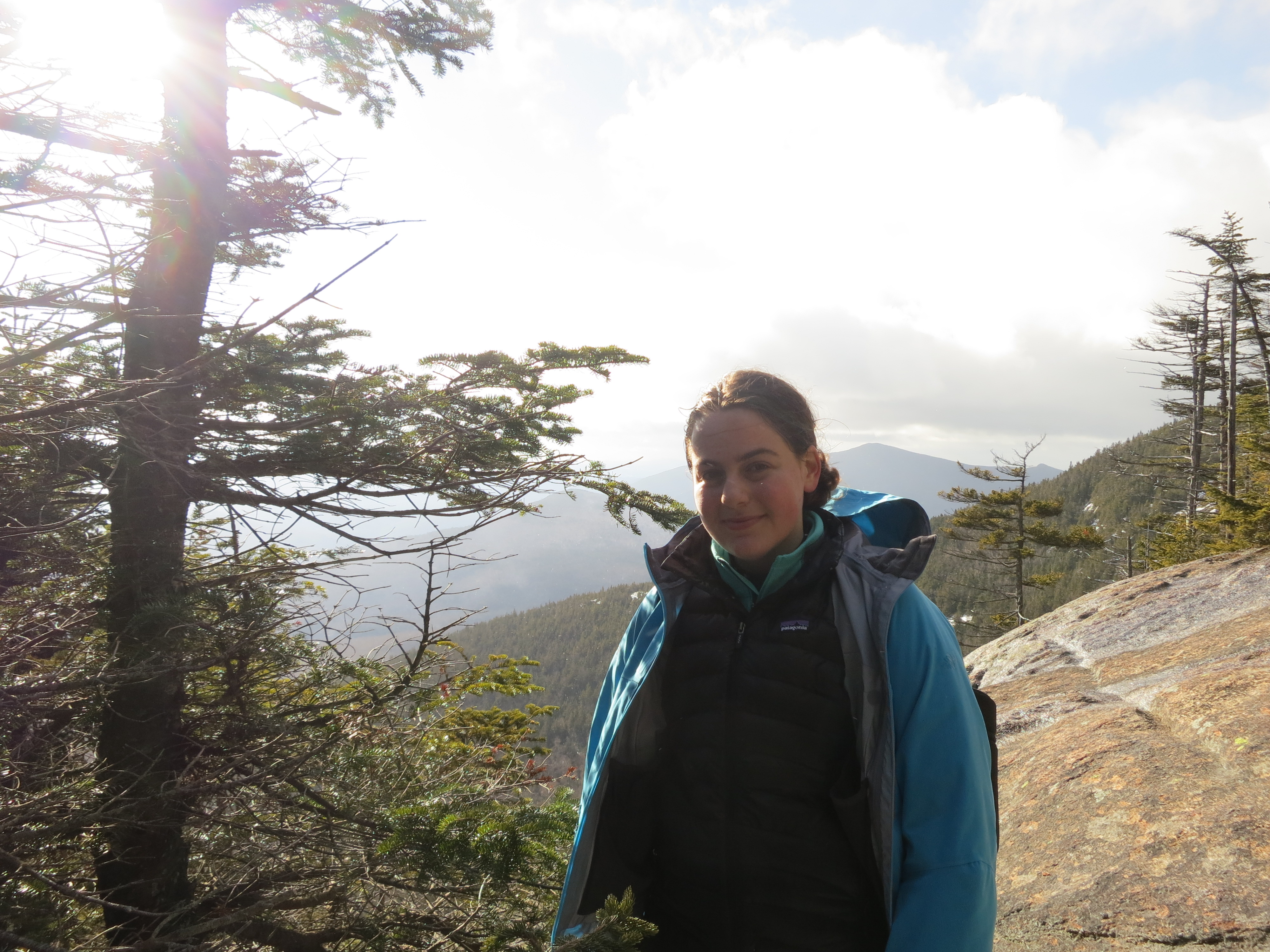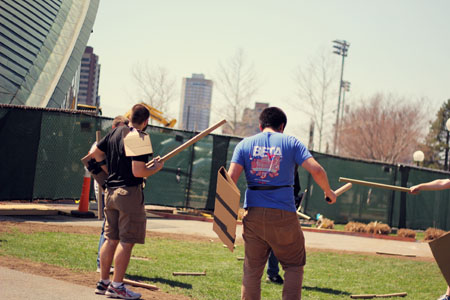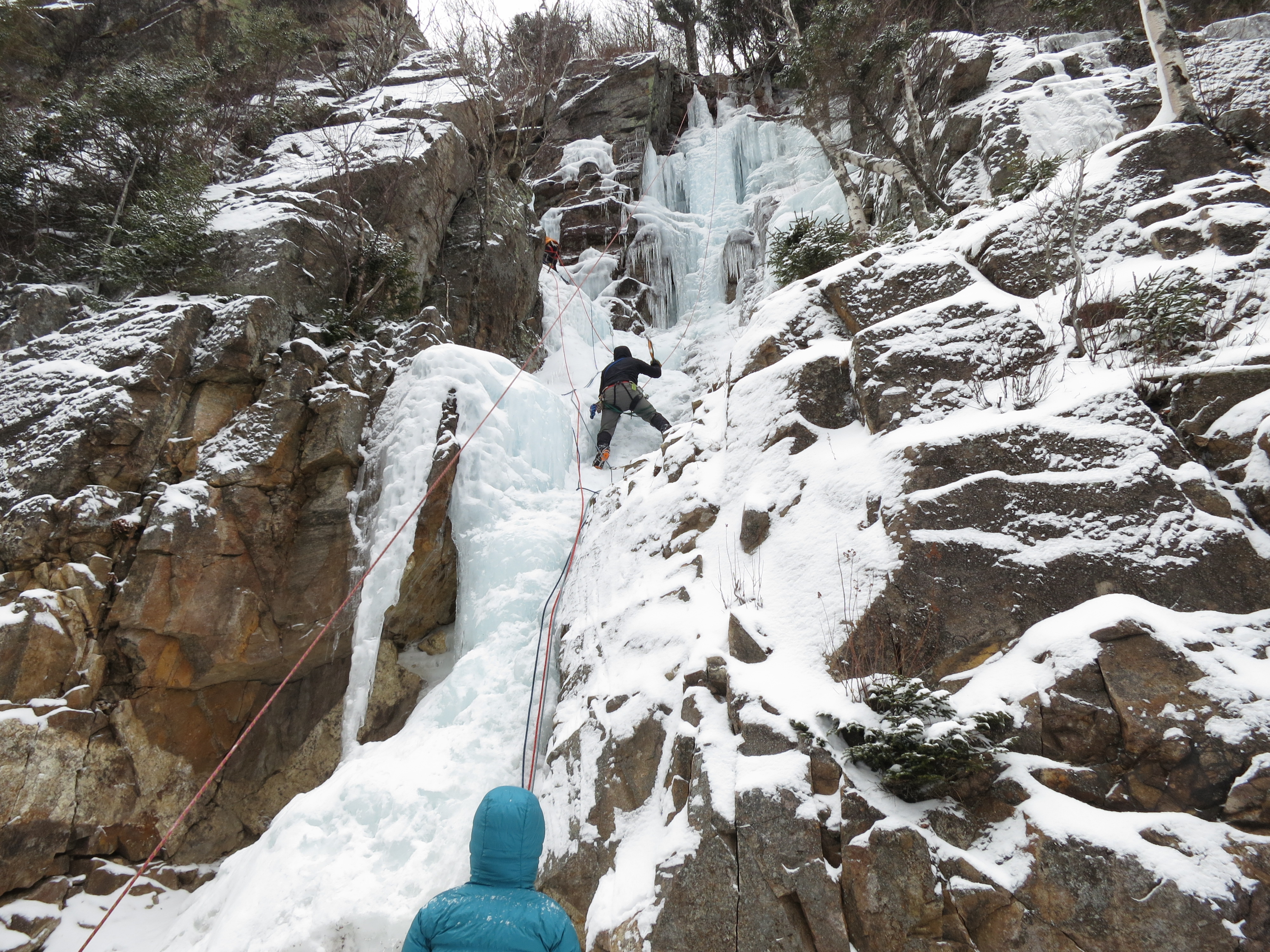 Vicki C. '16 – Electrical Engineering and Computer Science
Over IAP, I'm trying to get out of debt. I'm working full time in a robotics lab at UMass Lowell; I'm working to port some old code for an automated wheelchair into the standard system that the rest of my lab uses. Over the past week I learned a ton about build systems, which take many different files of code and link them together. I'm also working full time in the STEP Lab on campus here, where I'm helping to design edX class modules about videogames and education. Additionally, I'm working part time doing web development for a small business owner in California! I've never used Django before, and there's definitely a bit of a learning curve.
I'm taking a robotics class, 6.270, where you build and automate a lego robot to complete a task. The competition this year involves collecting rings and placing them onto the two towers in the center of the field. My team is all girls, so we're going to get an Arwen lego figurine to stand at the head of our robot (She's the ONLY female lego minifig from LotR!).
Lastly I have odds and ends: I'm volunteering with the local Girl Scouts, and am working with girls doing their Gold Award projects. I'm learning to ice skate for PE credit (I'm from Texas….I never got to learn as a kid!). And even though there's snow on the ground here, I'm starting to apply for summer jobs.
I really enjoy each of the things that I'm doing, but I wish that I had more time (and brainpower) to spend on each of them. That being said, I'm really heavily weighting my work hours into IAP for a reason. I've learned in the past that it's not realistic to work more than twenty-five hours in addition to taking classes during the semester. I miss sleep a lot now, but at least it means that my grades won't suffer for it over term, AND I can still afford to eat!
Valentina C. '16 – Mechanical Engineering
Three things: UROP, poetry, and a wedding.
After convincing my parents of the academic value of being at MIT over IAP, I left warm Miami for blizzard blown Cambridge; strange choice maybe, but I wasn't lying about the academic value. For 20 days I worked hard at my UROP with the Little Devices Lab at MIT on a new project involving diagnostics. Not only did I get more done then I ever thought I could, but I taught myself a few new skills which had been on my to-do list since getting to MIT. It's a pretty good way to start off the New Year.
However, it's not just hard work all the time. IAP though a great opportunity to learn and work is also a perfect time to give a little love to interests that may be a bit neglected during semester. This IAP I've pushed myself to write more poetry and though most of them aren't quite ready yet, it's a good start.
I mentioned above working for 20 days and this is because I only spent 20 days in Cambridge; I spent the rest of IAP in Nicaragua, which is where my family is from. It's not the most urban of countries but it has some of the most beautiful natural landscapes. Just from the plane you can see crater lakes left behind by volcanoes and luscious forests. It's been almost 2 years since I last visited which is also how long it's been since I've seen most of my family—it's about time. My first cousin is getting married and she's one of the more exciting characters in my family (already an energetic bunch to begin with) so the wedding is sure to be a hoot!
As much as I love MIT, so much as to beg my parents to send me there prior to our trip to Nicaragua, it's also important to take breaks which is why I'm grateful to be able to spend a couple weeks before semesters rolls around again relaxing, being with family, and sleeping… a lot.
Lauren S. '16 – Mechanical Engineering
During IAP, I am taking a class on programming in Python. It's a lot of work but really useful, plus it'll make next semester's classes easier. I am learning a lot of useful fundamental skills that apply to many languages, as well as syntax/practices unique to Python.
My advice for people who want to take classes during their IAP is to make sure you check out the IAP listings as soon as they get posted and make a note of all the lottery deadlines. I missed almost all of the lotteries last year, so I didn't get into most of the classes I wanted and ended up having a fairly boring IAP.
This semester, I was also able to get back into taekwondo after a short hiatus during fall semester, work on a few personal projects that got neglected during term, hang out with friends at other Boston colleges who I don't get to see too often, and sleep aggressively.
IAP is the best time of year! I am so excited for Bad Ideas.
– – –
As you can tell, my friends are having a lot of really great experiences during IAP, and it varies even more from theirs. There are people doing externships in other states and countries or saving the world doing volunteer work on campus or off campus.  There are so many opportunities for people during IAP at or through MIT, and as Valentina C. '16 told me, MIT students shouldn't let their parents or other people guilt them out of having a great IAP. IAP is not a real break – it is a time to take advantage of the opportunities at MIT that you normally would not get to do during the semester. So our advice to you is to spend your IAP having fun or taking an awesome class.  It is completely worth it.
On a final note, someone came home for IAP.
DERP CAT IS BACK!!