Yesterday, I wrote to facilities complaining about the noise from the construction in the alley. Yesterday was also somewhat of an exception so I was not unduly harsh. The past week or so a dull thudding began at 8am sharp and continued for some hours into the day. Down the other end of the alley, they appeared to be drilling holes into the pavement and covering them up with metal plates. Which I didn't so much mind except that it kept me from sleeping with my windows open at night, this I did mind. Two days ago a bunch of kids pulled down a big branch from the tree outside my window. Said it was coming down anyhow and didn't want anyone to get crushed under it. Seeing how easily it came down I'd say this was probably the case. I liked the path-of-the-hurricane look and watching people step around the downed branch. Of course, as I expected, there were some noise implications. Earlier than usual yesterday at 7am several very loud chain saws were used to dice the branch up. They did their work efficiently, by the time I woke up for the second time at 11am there was not more than a spattering of sawdust. So these were the events leading up to the noise complaint. The noise complaint itself looked like this:
—————————–
Construction in Back Alley Next to Bexley Dorm
Hello,
I'm wondering how long this will go on for. The construction has begun at 8am for several consecutive days now and the noise is making it impossible to sleep as I live on the first floor with a window facing. I wonder if there is a chance that construction might start at 9 instead or I might get reassurance that the noise levels will decrease soon. Thanks
Lulu
——————————–
Did they receive it? I wondered. They had not replied but surely I did not expect them to so quickly, that would be highly unusual and diligent. 24 hours pass. One day after my noise complaint. I wake up to a small earthquake. First, there was the usual machinery noise, so I reached up and pulled down my window and my shades, assured that I was in for another 3 hours of sleep. Yesterday, my best sleep happened in that last 3 hours, so yeah, I'd say I was looking forward. But something was afoot. I first grew concerned at the sounds of what appeared to be an operation devoted to lifting up large boulders and dropping them on the ground. So I pulled back my blinds a bit and looked out. I saw maybe 6 hard hats standing around, one of those yellow huge claw arms, bricks on the ground, and a section of the brick wall outside my window missing.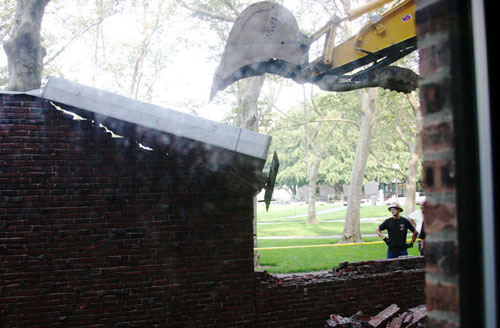 I've never actually watched these guys work before. The "bobcat" parked outside my window yesterday is certainly being put to good use. The view has changed dramatically. I don't think they planned any of this out before they did it. At 9:30 the usual drilling and covering w/ metal plates started. It looked so wuss against the felled wall. Chunks of bricks looked like delicious chocolate bars.
I took some pictures, sent a second email to facilities.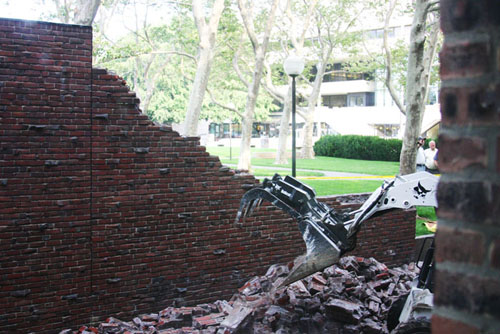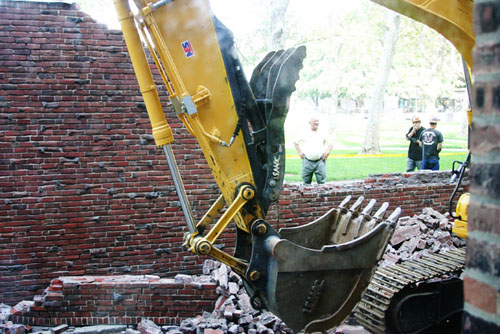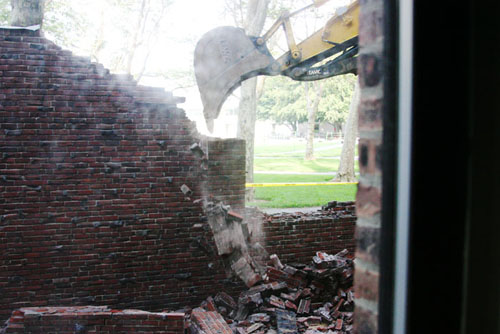 —————————–
Hello,
They are knocking down the brick wall outside my window at 7:30 in the morning. The ground is shaking and my head is pounding and it's a little exciting, but it's so early and I'm sorry, but, could you guys be ignoring my noise complaint more in any way?
Thanks :( sorry to be whiny, but apparently this has been a problem at bexley all year.
Lulu
——————————
I can't say I was expecting much out of it, and I went about my terrible day that started at 7:30am after 3 hours of sleep. But really, sometimes, all you need to do is ask. Because within the day, I received 3 return emails, with information about the project itself, from facilities staff, from the head, with apologies and a change in construction time according to my requests. And, although some kids here are still complaining, cause waking up at 9am still blows, whatever, that's pretty cool. It's a compromise I'm happy to make.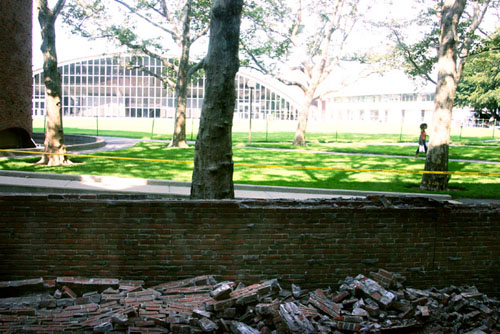 lol, in other news:
——————————————–
Yes Lulu, We'll take care of it on Monday………
—–Original Message—–
From: lulu liu
Sent: Friday, July 04, 2008 4:13 PM
To: Jonathan Nolan
Subject: Light & Cockroaches & Mice
Hello,
My kitchen light is broken in suite 106, is there any way a bulb could
be replaced? Also, I'm not sure if three is a huge hole in my
floorboards somewhere or under my bed or something but 2 days ago a
mouse came out from under my bed and today a giant cockroach- the 2
inches long type, came crawling out in the same direction. Could that
be looked at as well maybe?
Thanks
lulu
————————————–
The mouse I didn't so much mind but the cockroach was hairy and disgusting.
30 responses to "Early Morning Construction"