On Tuesday night, Diana '08 baked a cake. Since she borrowed a bunch of my kitchen stuff (bowls and spoons and so on), she promised to save me a piece.
Now, whenever you print something to one of the campus printers (unless you take the action to turn it off), the printer automatically prints what's called a "header page" before all of your stuff. This page has your MIT username in the top corner, so you can quickly and easily find your printouts in the massive pile of stuff that has been strewn around the printer over the past few days. To make them less wasteful, the header pages always have something useful on them, like graph paper or musical staffs, so that you can actually use them for something, instead of just killing trees. They're also useful for clothing, as Ruth demonstrated at the Anything But Clothes Party 2 years ago.
Anyway, I had used a header page for scap paper and thrown it into the recycling bin earlier that day, so Diana decided to recycle it again to save my piece of cake for me. People sometimes go by their username as a nickname, and since another Laura moved onto the floor over a year ago, I've been trying to get everyone to call me by my username (with very limited success) ever since. I found the slice of cake in the kitchen the next morning, and decided to eat it for part of my lunch right before heading off to my 2.008 exam, which was at 12:30.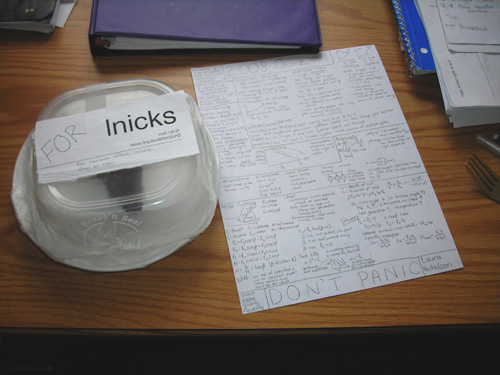 Then I noticed the small note below my username: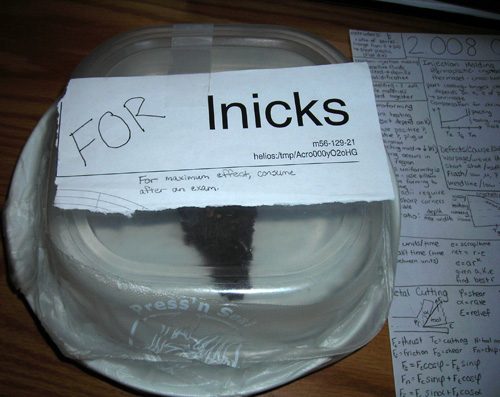 (text: "For maximum effect, consume after an exam.")
Well, Diana is an excellent cook, she probably knows best.
So I went and took the 2.008 exam, which SUCKED and was way harder than it ever needed to be, and I certainly didn't have time to finish. (Although it didn't seem like anyone else did either, so I guess that's not so bad.) Then I went to music class and had another test, which was just in major scales but still hard because I suck at music. Also, music is dumb. Intervals are just stupid. I don't understand them, so they should go away. After that I had another organizational meeting for MassCPR, this huge event that is ruining my life by not planning itself.
So, when I finally returned to the dorm, I walked into my room to find a slice of chocolate cake that literally had my name on it. I poured myself a glass of milk, and enjoyed Diana's delicious baking. Thanks Diana!
Okay, so an update.
Remember my to-do list from a week ago?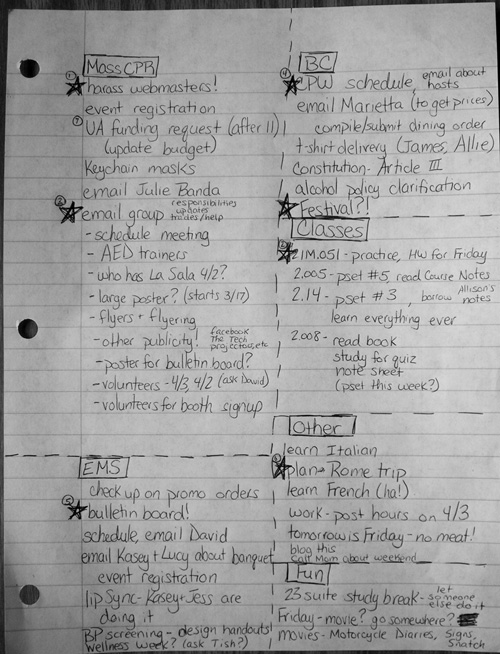 Well, some of them were completely impossible, and some of them I said "screw it, I'll do it after break." So I'm not totally superhuman, but after realizing my limits and readjusting, I'd sort of completed everything. Then I sent our technical advisor for MIT-EMS an email, explained to him what he needed to do to complete the event registration form I'd dropped off for him at MIT Medical earlier today, thanked him for being my hero and taking care of this so I could get away from this place without stressing out about whether the CAC would spontaneously call me up the day before to cancel the event that has ruined my life because the paperwork wasn't filed on time, and took out a big black marker to cross off the last item on the list.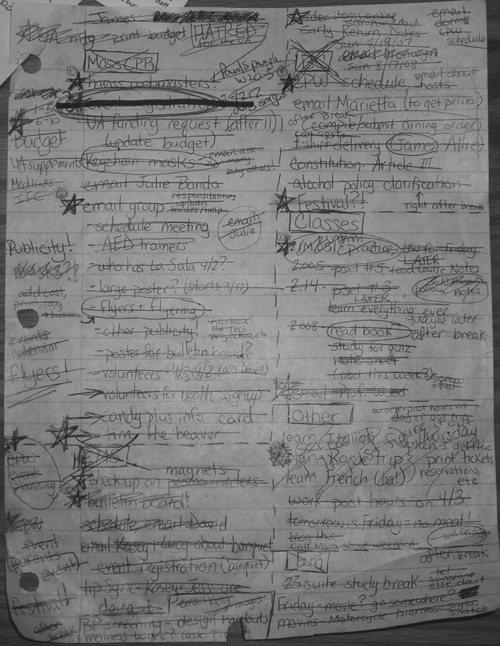 So now all I have to say is:
Forget this place, I'm going to Paris. Oh, and Rome. HA!
21 responses to "Forget that"