They say that today's graduation theme was "MIT students in service of the world", but really, it was more akin to, "Ponchos". We awoke to ominous dark skies today and what was forecasted to be a partly cloudy to overcast day began with a light drizzle. Though simple rain is never enough to cancel or postpone the elaborate shindig in Killian Court (check out the landscaping, man), it does put a little more pressure on the staff and the court gets all muddy and before you know it your pants are wet and your shoes turn into a disgusting lake that your feet are just squishing around in. I think that's the worst of it. The first thing I did soon as I got on my lunchbreak today was run back to EC for clean shoes and socks. Anyhow everyone was hoping for the drizzle to let up, including Matt McGann, who was up on the stage hosting the pre-commencement program, but it didn't do that, it actually just got heavier. Around 7am I took a walk around Killian taking some pictures of this thing and that thing before everything got trampled under the feet of some 13,000 people and before I had to put my camera away and actually do productive, helpful things to guests. As I walked by the security tent at the foot of the court and looked out on Memorial Drive, it was pretty clear the commencement staff weren't the only people who'd gotten up at the butt-crack of dawn. There was already a pretty impressive line of cold and wet parents waiting at the gates: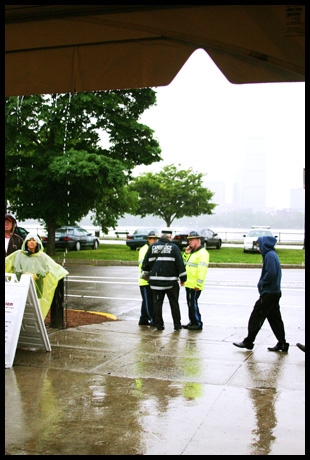 That's awesome though because they then got the best seats in the house. Right up close, next to the center aisle, next to the graduates and the stage.
As I start writing this, every restaurant in Boston/Cambridge is likely just overflowing with graduates and their celebrating families, but at that time, they'd only begun gathering in Johnson for the procession. And their parents filing in were greeted by red vests and boxes of special, MIT Commencement commemorative ponchos– clear plastic bags w/ a hood and MIT printed across the back packed up in a little snap pouch. Around 9, we were caught off-guard by the weather getting steadily worse and the rain getting progressively heavier and the rush of last minute parents such that by about 9:30, we'd run out of ponchos entirely. Kind of embarrassing since these things are so cheap and easy to order in bulk. I reckon there were a total of close to 10,000, and considering the forecast that was probably projected to be more than enough. Nevertheless, around 9:30 I look out across the court: a sea of plastic.
I only have pre-commencement pictures. I'm hoping someone else who was in the audience in the day or had a camera on them throughout the ceremony would post some pictures of the procession and the handing out of the degrees. Otherwise, check the commencement web page for those.
Pre-commencement, the theme was definitely chairs. 16,000 chairs.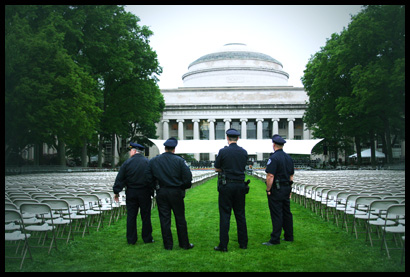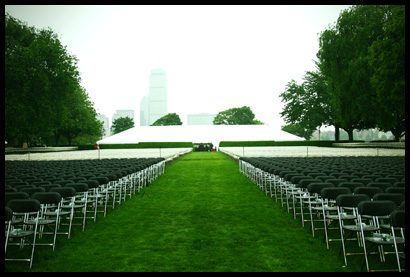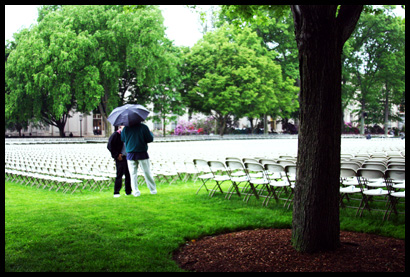 The sitting statue looked so relaxed in the middle of all those chairs,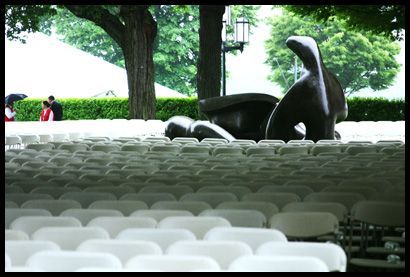 16,000 water bottles on 16,000 chairs.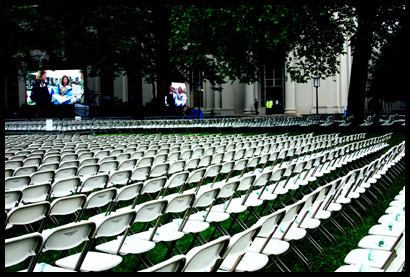 The theme of the day was definitely water. But not bottled water. Sorry, bottled water.
Heat strokes weren't a problem today. Neither was dehydration.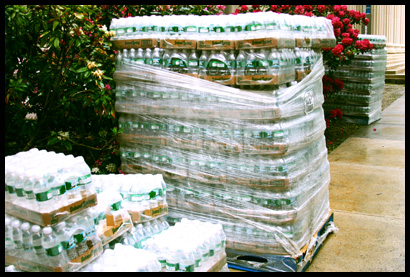 Picture of the front of the stage: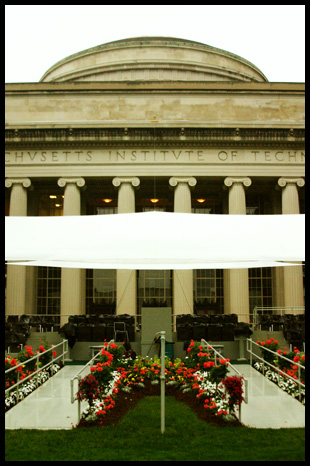 Picture of the back of the stage, omg looks so different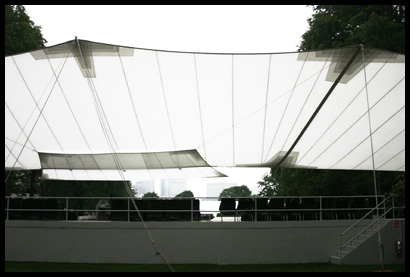 Commencement staff headquarters was the prime real estate right smack middle of porta-potty land, the land of many porta-potties: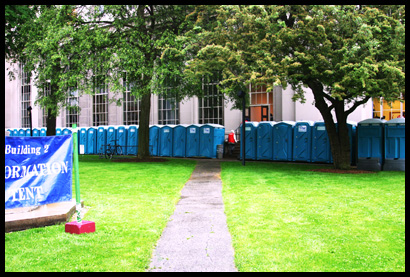 Some of these porta-potties were special: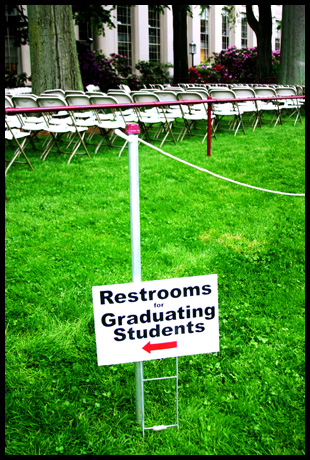 And the security tent out front: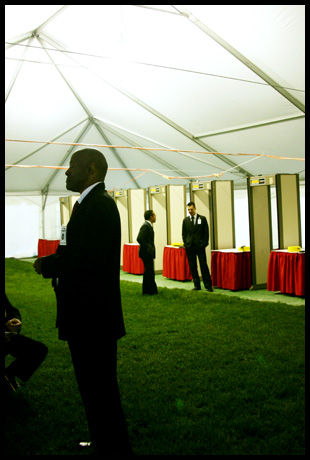 And then it was all over before the time I would normally wake up in a day. I had a lot of friends in this graduating class. It was weird. So weird. They asked me if I'd work commencement next year. Oh, I'll probably be there, I said.
8 responses to "Graduation"