I bring greetings from "the little redbrick school up the Charles River" — although my classes are all at the medical school campus, which is in the Longwood Medical Area, and the labs I've chosen to rotate in are all at Mass General Hospital. So really I'm more across the river than up the river, and of course I still actually live on MIT's campus.
Grad school has been treating me well. I've been doing mostly the same things this winter that I did last winter: going to class, reading lots of papers, mixing small volumes of colorless liquids in the lab — the difference is that now I'm getting paid significantly more to do it. (Ugh, I just did the math — I'm only getting $3.50 more an hour as a grad student than I was as a UROP. Well, at least my paychecks are bigger.) I'm also TAing this semester, and of course I'm trying to plan Adam's and my wedding without losing my already small parcel of sanity.
I haven't picked a lab yet — just like you don't pick a major at MIT until after your first year, you don't pick a lab in grad school until you're ready. When I do pick a lab at the beginning of the summer, my choices will basically be between 1) a C. elegans neurobiology lab that does screens for proteins that have particular functions in the neuromuscular junction, 2) a mouse immunology lab that works with proteins in the cytoskeleton to see what they do and how they cause disease, and 3) a mouse neurobiology lab that studies how particular stem cells decide to become different kinds of neurons, with an eye toward repairing spinal cord injury. What would you pick?
All in all, grad school isn't that much different from MIT undergrad, except that I have less work to do, I live in an apartment rather than a dorm, and I have to take the T a lot.
Fiance news
Adam and his friend (and our groomsman) Carl '07 did their course 16 senior project together — they designed, built, and tested a low-cost solar-powered airplane.

The guys with their plane on the day of its first flight test. (They hadn't mounted the solar cells yet.)
During the design process, they enlisted lots of help from their buddy-slash-advisor-slash-aerospace-bigwig, Professor Drela, and used the MIT name to strongarm various companies into donating materials for the plane. It actually turned out (because they are awesome) that their plane has the lowest solar-cell-to-wing-area ratio of any solar-powered plane ever built, and a lot of people within and outside MIT were very interested in it. As it happened, one of the people who was very interested is the CEO of a company which designs unmanned aerial vehicles, and he had his people request Adam and Carl's resumes. They now both have (extremely generous) job offers from this company, and they weren't even looking for jobs. Cool.
Adam applied to MIT's aero/astro master's program as well, and he was offered admission and a research assistantship. He's planning to defer his admission to the master's program, work for a year or twor, then go back to grad school — the company he's working for will pay his tuition and also his full salary while he's in the master's program, and he'll do his thesis research there. He's really excited about his job — all of his professors have assured him that the company is a really good fit for him personality-wise and in terms of his research interests.
We just signed a lease on a (much) bigger apartment north of Boston, where we'll move in June with our bunny, and of course we'll be getting married in September — our wedding website is here, for people (moms) who like to look at this sort of thing. The ceremony will be held at Memorial Church in Cambridge, and we're having a wonderful science-filled reception at the Museum of Science. And then we'll go on our honeymoon and then at some (distant) point in the future I'll finish my PhD and Adam will do his master's and we'll have little airplane-building, biology-loving babies.
I'm happy.
EDIT: Thought you might all enjoy an engagement photo, taken by none other than this guy's lovely wife.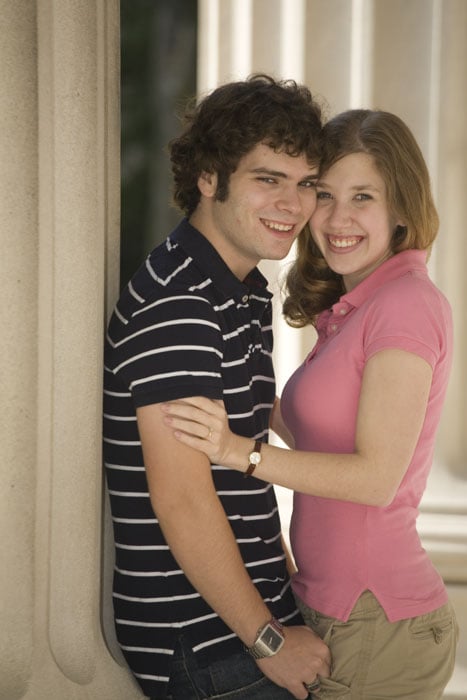 24 responses to "Happily ever after"