For those of you wondering, I ended up working only until the first 2 AM last night, and spent the extra hour catching up on some much-needed sleep with no alarm set.
You've probably heard about all those great Rube Goldberg-type inventions that MIT students make to complete mundane tasks and thereby increase the efficiency of daily lives–like, for example, the Random Hall laundry server that lets you know whether or not to make a trek downstairs with your dirty linens, or the emergency pizza button on (I believe) 2nd West using an internet ordering site to save precious seconds when you're in the middle of a problem set.
Continuing in this vein (not the artery, but the vein), Mike Short '05 mounted a laptop on his door two years ago, programmed some basic menu functionality in DOS, uploaded 50 emulated NES games, and hooked it up to speakers in the bathroom. He then put an MP3 player program on it and started taking requests for shower playlists.
The idea was an instantaneous success. I didn't even live in his suite, but the 30-second walk down the hall was a small price to pay for the sheer exhiliration of cleansing myself to "When Doves Cry" and "Psycho Killer" every morning. Ten playlists were uploaded in under a week, and traffic into the bathroom became almost unbearable. Luckily, I pulled enough all-nighters to take most of my showers at 4 AM, so this ended up not being too much of a problem for me.
Anyway, we were lucky enough to get Jeremy '09 in our suite this year, who idolizes Mike Short and thus dreamed for years and years of setting up something equally awesome in his suite. With a little help from Gabe '08, Jeremy has spent all term setting up a serviceable replica. They haven't gone to the trouble of getting a cheap, ten-dollar laptop from Swapfest and resuscitating it somehow, but, hey, functionality beats form anyday.
Friday night, they finally got around to the hot soldering action required to set up the speakers.
Check it out!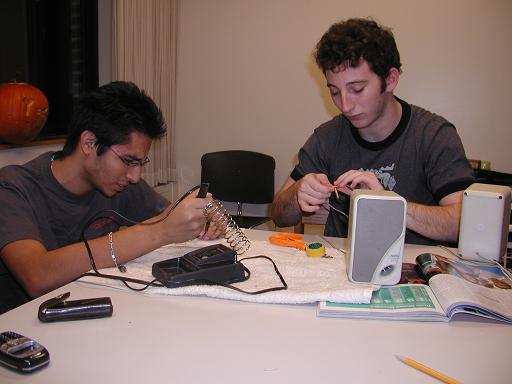 Hard at work on the kitchen table. Check out The Great Pumpkin in the background. Oh, MITblogs has become like an Ozu film, where the same objects keep appearing in different places, hasn't it? Also, check out this month's issue of Cosmopolitan right underneath the speaker on the right. Because sometimes, in between learning how to calculate the thermal convection coefficient in turbulent regimes, we need to learn how to tell what our guys are thinking and match our eyeliner appropriately.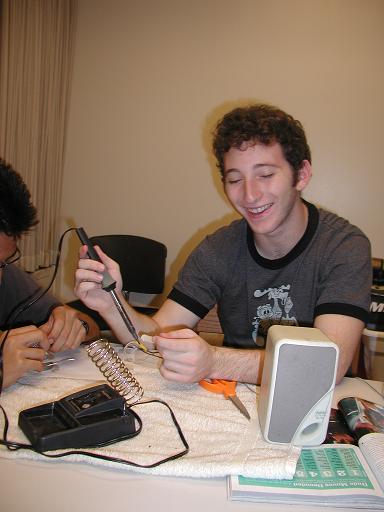 Jeremy is so good, he can solder with his eyes closed. No, wait, this is actually a picture of one of our favorite MIT party games, "Pin the Soldering Iron on the Donkey."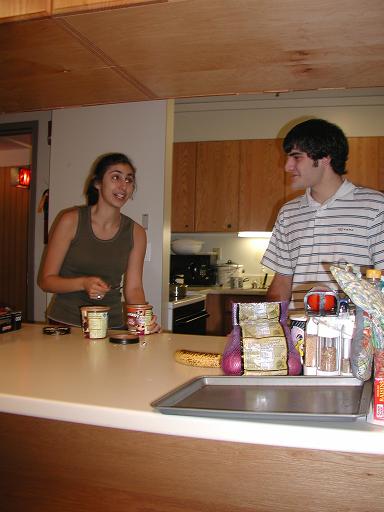 The soldering got so hot that Mike '09, looking on, had to break out the Ben & Jerry's ice cream (New England pride). Somebody took a break from her marathon training to eat all the pieces of cookie dough and brownie out of it and then throw out the rest. Ooh, not too economical–not gonna lie.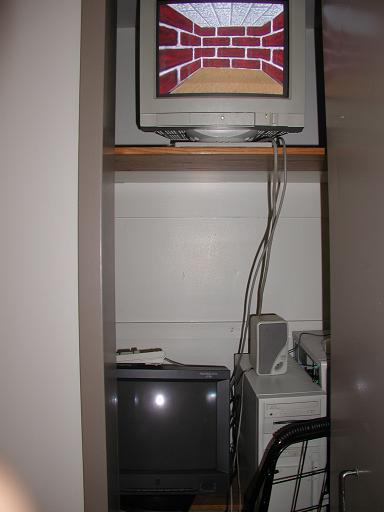 The final product, stashed inside the storage closet. The speaker therein was eventually moved to the bathroom. By popular request of the suite, we did eventually change the 3D Maze Screen Saver.
However, I've always had a little nostalgia for the 3D Maze screen saver, because even if the little guy is successful, he just ends up in another maze. I spent much of 10th grade history determining the maze-walking algorithm through hours and hours of focused observation.
Ben, are you reading this? Do you remember the 3D Maze we left on your computer after prom?
No, not that Ben.
2 responses to "Hummingbird in a Cube of Ice"