Hmmmmmmm, 18.03 PSET or blog? On the one hand I could be productive and try to finish my PSET, generally making my life less stressful promoting my own well-being. On the other hand, I could also make the argument that blogging is therapeutic and thus would lead to a similar outcome of well-being. Now the question is, which do I enjoy more, blogging or 18.03? Um, blogging. Duh.
We'll begin with a quick video clip:

[A short segment from CBS's "Big Bang Theory"]
I'd like to use this video as conclusive proof that every geek in the world wants to be the master (I'd include the proof by induction but it's long, tedious, and involves calculus so I've omitted it). Master of what? Doesn't matter, as long as said geek has control over something. I think this stems from any geek's long life of ridicule and belittlement, but I could be wrong. Anywho, the powers at be have begun to realize that nothing swells the ego of an MIT student more than proclaiming him/her as the master of something.
I am totally in favor of a professor calling me Master Snively. "What an excellent PSET Master Snively" or "Correct Master Snively, very well done." Unfortunately, there is only one way to become a master at MIT and it's in only one subject.
Every freshman taking 8.01, 8.01L, or 8.02 will, by year's end, be Masters of Physics!!! The excitement is almost overwhelming! I mean, me, a Master of Physics, can you imagine!? People will bow before me and kiss the ground I walk on. I will proudly proclaim the virtues of precession and calculate capacitance for fun, squashing the less adept between the force of my heel and the normal force from the ground. I AM A MASTER OF PHYSICS!!!
Oop, I'm sorry, let me get you a rag, I didn't mean to drip that much sarcasm all over your shoes. *squeak squeak squeak* There, all clean now, except for that little bit of bitterness that soaked into the laces but that'll wear off in time.
MasteringPhysics.com is an online physics program that tacks more homework onto the lives of most freshman physics students. In addition to weekly labs and weekly PSETS we also have Mastering Physics due twice a week (Thursdays at 11:00 PM, Sundays at 8:30 PM). Essentially you log on and are met with a screen listing sets of assignments. Click on the one that's due next and you are met with this: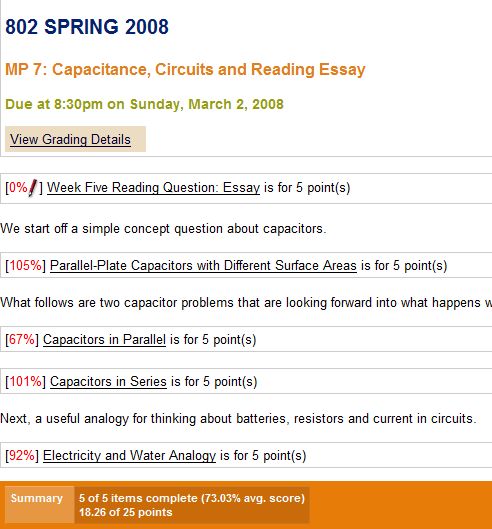 [I've actually finished this set so there are percentages next the different assignments.]
Click an assignment and you are greeted by a screen like this:
It is then up for you, the student, to answer the physics questions. Not so bad you say? Sure, I'll go for that, for maybe the first two weeks of it, but certain things about Mastering Physics start to DRIVE YOU FREAKING INSANE throughout the semester. I've taken the liberty of listing such attributes:
1) It's extra work.
2) It's extra work that's really easy to forget because it's due at strange times.
3) There are always a lot of assignments in each set.
4) Each of those assignments have a lot of parts (sometimes a through m)
5) Everything is case sensitive
6) You can't submit it with parts that are left blank
7) No Copy-Paste
8) They will use degrees in the question and expect radians in the answer (and vice versa)
9) Guess wrong even once on a multiple choice question and your grade is screwed
10) If you turn in Mastering Physics even 1 second past the deadline you get absolutely no credit for it.
If you'll remember, Chris posted a lovely little tale about Mastering Physics that exemplifies many of these attributes (Hopefully Chris doesn't mind if I reproduce his story here):
Aside from the technologically-enhanced lectures, another complement to TEAL is that students must submit weekly assignments online through a site called Mastering Physics. The online assignments involve answering physics problems and entering numerical or variable answers through a real-time system that immediately assesses the answer and provides hints if the student does not know how to approach the problem or enters the wrong answer. Since everything is done online, homework can now be due late at night, or on weekends. For 8.01, there are 2 assignments weekly that must be submitted before 11:00 PM on Thursday and 8:30 PM on Sunday. One of the biggest drawbacks to this system is that everything is computerized, and if you miss the deadline by even ONE SECOND, you get a zero for all the problems that you didn't submit before the deadline.

So Zach and Chris suddenly remembered that they had a Mastering Physics assignment due at 8:10, and this was basically the ruckus that ensued:

Disclaimer: This does NOT happen on a daily basis. =p

8:10
Zach: Do we have a Mastering Physics assignment due today?
Chris: Crap, you're right!!

*logs on and attempts the questions*

*everything is fine, until 3 minutes before the deadline*

8:27
Chris: Three more minutes! What do you still have?
Zach: The reading question and the one on escape velocity.
Chris: Me too! Dude, did you read the chapter?
Zach: I don't remember any of it!
Chris: Me neither! Dude, where's my book?!

*retrieves the Physics book from some corner in the room*

Chris: Uhh, the chapter is about Kepler's Laws of Gravitation.
Zach: Oh! That's easy! *scribbles something into the reading question*
Chris: *writes* "I … found … this … chapter … to … be … pretty … confusing … because … Kepler's … third … law … is … confusing ….."

8:28:30
Chris: One and a half minutes!
Zach: Let's see the escape velocity question…oh crap! It has like seven parts!
Chris: *clicks in* AHHH.
Zach: *reads* The key to making a concise mathematical…blah blah…find the mechanical energy of a object blah blah blah…assume gravitational potential energy is zero at large distances. I don't know what this is! What are you doing?
Chris: I'm doing the multiple choice! Yes, yes, no, yes, no….YESS I'm getting all of these right without reading the questions! It's crazy!
Zach: ARGG ok I'll go and do those as well!

8:29:30
Chris: AHHH THIRTY SECONDS. What is the formula for escape velocity?!
Zach: AHHH it's something to do with the square root of something!!
Chris: AHHH FIFTEEN SECONDS! Stop doing what you're doing! Press submit!! Press submit!! They'll give credit for the questions that we at least answered!!

*frantically presses "Submit Item"*

Zach: I'm pressing it!! I'm pressing it!! AHHH "Cannot submit homework when there are incomplete parts"!!

*bursts out laughing*

Chris: AHHH OK I FOUND THE ESCAPE VELOCITY – IT'S THE SQUARE ROOT OF…

8:30:00
Together: AHHH IT EXPIRED!!
Zach: Okay, I'll just take the time to do this homework assignment over properly.

8:31:39
Chris's screen: "Homework submitted 1 Minute and 39 Seconds late and received 0% of available credit."
Chris: So all that work and I still got 0% for the Escape Velocity part.
Zach: Oh well, at least it was fun.
Let's see, how many things from my list happened there? 1,2,4,6, and 10. I too have a Mastering Physics story, which is similar but different.
It was about 8:27 PM and I was walking towards my floor lounge when all of a sudden (name changed to protect the guilty party) Andrew sprinted out of the floor lounge screaming "OH MY GOD! THREE MINUTES TO DO MASTERING PHYSICS!" He blew past me towards his room to get his computer. Two seconds later his friend, Eric, rounds the corner from a hallway orthogonal to the one I'm in and sprints after Andrew, yelling "I'VE GOT THE ANSWERS ANDREW, I"M COMING!!!"
I'm laughing now, realizing that this is too funny an opportunity not bear witness too. I jog after Eric as Andrew runs out of his room, across the hall, and slams down into a couch next to Eric. I stand in the doorway and watch.
Andrew: Come on computer, turn on!!!
Eric: Alright dude, I've got all the answers up, just get online and we get this done.
Andrew: I'm trying! *looks at watch* TWO MINUTES!
Andrew: Ok, I'm on. What are the answers!?
Eric: Here, just give me your computer (computers are swapped)
Eric (mumbling to himself): "g . . . sub . . . 1 . . . times . . . . AAAH! Stupid fraction! Work! Ok, got it, True True False, A, A, D, False . . . "
Andrew: ONE MINUTE!
Eric: Alright, I've almost got it, I just finished the second assignment. CRAP! There's no way I can finish this last one!
Andrew: Hit submit then!
Eric: SUBMITTED! Wait, NO! Empty parts, I can't submit it!
Andrew: 15 SECONDS! GO!
Eric: Show answer, show answer, show answer, SUBMIT!
Mastering Physics: "Homework submitted 0 Minute and 13 Seconds late and received 0% of available credit."
Andrew: ***** **** **** ****!!!! I hate this stupid website!
I lol'd.
At the end of the day, even if you successfully completed Mastering Physics, there is no feeling of pride or mastery and you detest the website just as much as you did earlier. Sometimes you will hear students trying justify their completion of Mastering Physics by saying things like "I've Mastered Physics already, have you even started?" but most everybody knows that there is no real feeling of accomplishment involved in finishing Mastering Physics, just this sense of uncleanliness after having spent an hour of your life doing online physics.
Master Snively? I wish.
50 responses to "I AM THE MASTER!!!"