DID YOU KNOW? Michael Jackson originally worked on the soundtrack to Sonic the Hedgehog 3, but the deal eventually fell through.
Okay, so I got lost on my way to 6.003: Signals and Systems recitation on my first day of class. I know! It was terribly embarrassing. But I'm not an EECS major and I have no idea how to navigate all the crazy twists and turns of those buildings on the north end of campus. Of course, I played it off brilliantly, by putting up my finger like I just temporarily forgot where I needed to go, turned around, walked around searching as if I were looking for a trash can, and then walked into the room. I am so smart.
And I thought hey, if I can get lost in the middle of campus after 3 years of study at MIT, what must be it be like for all these freshmen who grew up with MITblogs and high schoolers who are trying to schedule visits and navigate the 77 Mass Ave construction in their cars?
So, first of all, every building that you'll probably go into for a class at MIT is called by number except for Green, the Student Center, Walker, and Stata, which will probably be called 32 before long because nobody can agree on how to pronounce it. Dorms, frats, restaurants, and stuff like that are all called by their actual names, too, but that's just because they're not as important as groundbreaking research labs.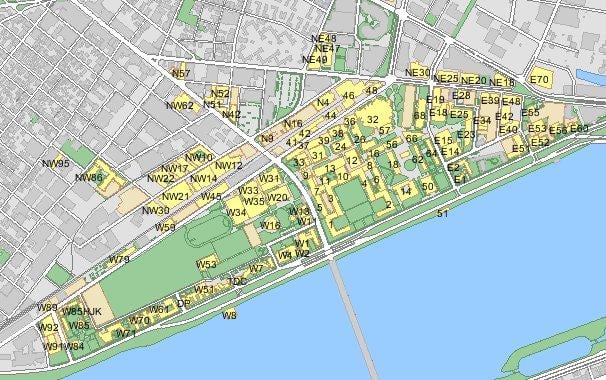 The "main campus" buildings are all just numbers. If there's a letter in front of your building number, that means you crossed one or more streets from main campus to get there. W is west of Mass Ave, N is north of Vassar St, and E is east of Ames Street. There is no S, because that would be underwater, but considering that MIT is in the process of building a physics center in the secret ninja courtyard, I don't think it's long before we expand into underwater real estate too.
There's not much rhyme or reason to building names off of main campus, so if you're out there exploring the vast, unknown frontiers of Cambridge, you're better off consulting a map or getting laughed at by Central Square hobos when you ask them where Building N52 is. But on campus? Well, there exist rules, which are almost as rigid as those governing French grammar.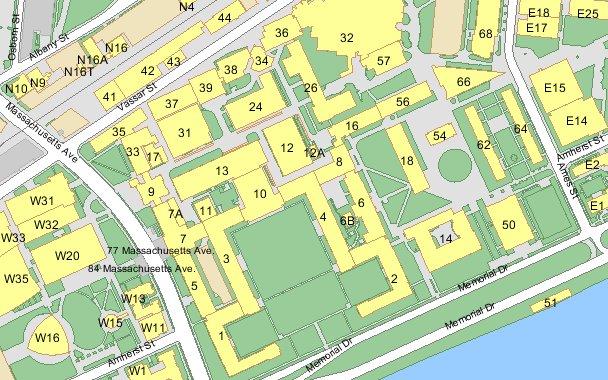 So building 1 is not next to building 2. That's a rookie mistake. Main campus moves on the hips of building 10, the seat of the great dome with the admissions reception center nestled under it in 10-100. While some campuses might have an east side and a west side, the major academic buildings at MIT have an even side and an odd side. Odd buildings are west of building 10, even buildings are east of it (I guess you could make a mnemonic or something to that effect). Then, you have the basic rule that for n < 9, n odd, building n+1 is located in the same place as building n, only reflected across an axis going through building 10. So once you're in Lobby 7 at 77 Mass Ave (how easy is that?) you're pretty much set for buildings 1 through 10.
Beyond that… well, it's complicated, like a relationship on thefacebook gone awry. Building 14 is sandwiched between 18, 2, and 50. But building 68 (Bio) is right next to 66 (Chemical Engineering). Notice also that all the buildings in the thirties are on Vassar St., and all the buildings ending in 6 connect, except not in numerical order, and 8 is between 6 and 16. But other than that, it's totally a rule. And the x4's also more or less connect, except that you have to go through 12, and if you're on the ground floor you have to go outside.
And that fact what got me dazed and confused and lost walking around the Stata Center on Wednesday morning. I haven't even gotten into telling you the stories of buildings that connect only on certain floors, elevators that don't go anywhere, and finding alternate routes to navigate the omnipresent, ever-changing construction projects on campus.
Once you get into a buliding, though, you're pretty much golden. The first digit in the room number designates the floor, kind of like you might expect, and the second two the exact room. Now, the rooms are laid out generally in whatever order the architect decided to build them, but the campus is subdivided well enough that if you get into the right building and floor, you can generally get to where you want to be without too much trouble.
So study hard, and maybe we can get into a more advanced course in MIT navigation next term. Or you could the advanced standing exam.
5 responses to "I don't know where we're going"