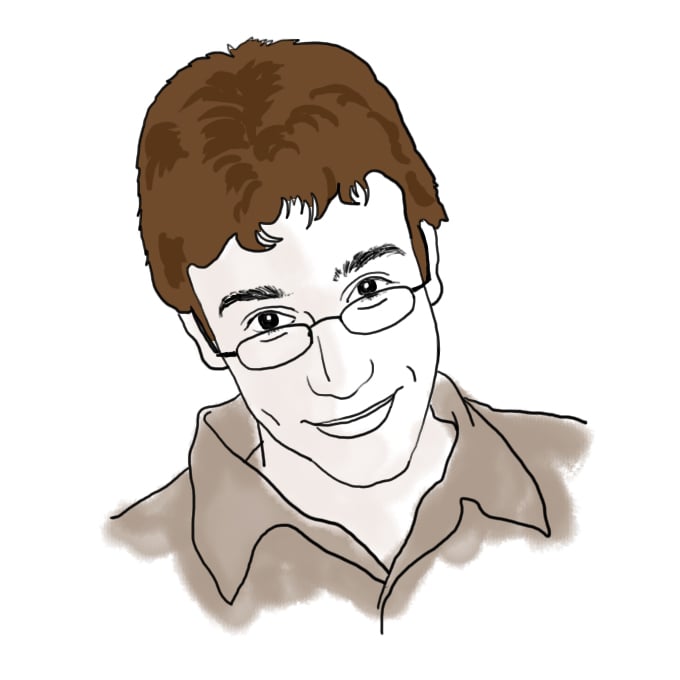 Then most people are six, and if most people are six then pre-meds are seven.
DID YOU KNOW? Polish mathematician Benoit Mandelbrot's last name means "almond bread" in German.
I got to see Mandelbrot speak on Thursday! It was for like 30 seconds, for a variety of reasons, but it was cool just to be in the same room for a minute and catch a glimpse of his well-preserved 82-year-old form. Especially because I really thought he was dead. But no! He's not dead! He's still alive and quipping things like, "So I said 'when you look at dirt, realize that it's not really dirt.'" That's about all I remember. Battle on, Mandelbrot.
My friend and labmate Steph '07 spoke at the Class of 2010 choice of major fair on Monday. I wanted to go myself to reveal the wonders of Chemical Engineering to excited freshmen and score lots of free food, but I had a class taught by Pulitzer Prize-Winning Composer John Harbison to attend. Oh well.
Anyway, according to Steph, the most frequently asked question, besides "Turkeys into oil?! Do you know Sam Maurer? I read his blog!" was something along the lines of "What is the difference between Chemistry and Chemical Engineering?"
It's funny, because I remember going to a choice of major fair in April 2004 and asking that very same question myself, and not really listening to the answer, like, at all. And I ended up kind of majoring in both of them until last fall, when I decided that I'd probably rather be eaten by thermodynamics than quantum chemistry. So I pretty much know what's going on with both of these majors. For the edification of frosh and prefrosh alike, the correct answer to that question is…
"There is actually nothing similar about those two majors. At all."
So if you're a chemistry major (Course 5), you're going to learn about molecules. What they look like, how they react with each other, what their orbitals are doing at the quantum level, whether they'll kill you or not and WHY WHY WHY WHY they have these properties. You'll spend three semesters in organic chemistry, one or two each in inorganic, biological, and quantum chemistry, and one in kinetics. Because of the way the courses are structured (no conflicting times and few prerequisites), it's actually not too difficult to squeeze the whole major into three years, leaving you free your senior year to work on a double major, pursue other interests, or, if you're like most chemistry majors I know, TAKE EVEN MORE CHEMISTRY CLASSES!
If you're a chemical engineer (Course 10), you don't care about molecules. At all. No, really. What you're going to do is take some reaction or some process that a chemist has given you already, look at it, and say "Hmm, HOW HOW HOW HOW can I make this bigger/smaller/faster/better?". You still have to take a few chemistry classes–kinetics, organic chemistry, an introductory lab, and for some strange reason biochem–but you're not really going to use any of those in your engineering courses. These courses–thermodynamics, fluid mechanics, heat transfer, and chemical kinetics–are the heart and soul of chemical engineering. They treat compounds and reaction not so much as things to be studied for they work, but rather as elements of a problem that have specific properties for you to minimize and maximize depending on what your professor asked you to do.
Either way, you're going to have to take three lab courses that will make you cry. But if you're Chem it's going to be because your molybdenum tris-anilide compounds aren't splitting molecular dinitrogen, and if you're Chem E it's because your professor wants you to take all your data and make 50 more spreadsheets out of it with 100 more charts before your group meeting on Tuesday.
If you're ever torn between these two majors, as I was earlier in my MIT career, my recommendation would be to get a UROP or two and see what you're more interested in–the WHY of chemistry or the HOW of chemical engineering. That's actually my recommendation for most problems at MIT. "I don't know what to do with my life." "Get a UROP!" "I need some money." "Get a UROP!" "My boyfriend is cheating on me." "Get a UROP!" "It hurts when I pee." "Get a UROP!" But in this case, it might actually help you. I had a really, outstandingly bad summer UROP in chemistry that ended up with my arm in a splint and a professor not speaking to me anymore. Two months later I had a UROP in chemical engineering that involved saving the world by turning turkeys into usable fuel. The rest is history.
I am also really sad that Jack Palance died, because I used to watch reruns of the 1980's Ripley's Believe It Or Not all the time when I was a kid.
15 responses to "If man is five"