My name is Keri Garel, and nothing else in my bio is true anymore.
…all right, that statement's also a lie. There are some things about that bio that are immutable; my birthplace will never not be Jamaica, and my love for pie is still only surpassed by my love for bacon and Arrested Development.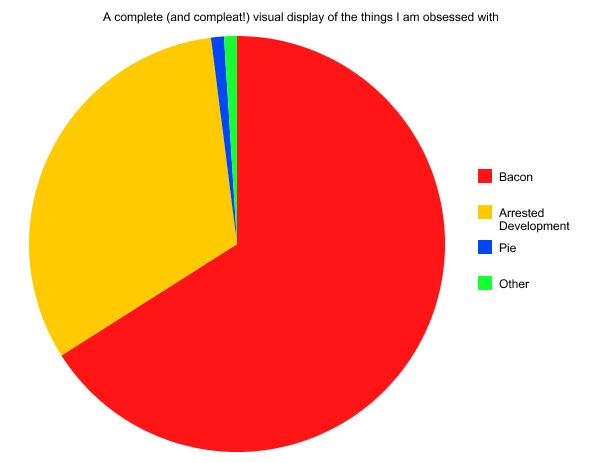 I've now seen more snow than I ever cared to see in my life; by that token, you can tell that I'm certainly not new here anymore. (In case the last three years of blogging and my recent distress over becoming a senior didn't clue you into that.) My old bio is also a testament to my former desire to earn a degree in Chemistry (HAHAHAHAHA) and spend my life playing with brains, blowing stuff up, and curing cancer. My goals have clearly shifted quite a bit. This is partially due to a year of research, during which I learned – among other worthwhile things – that ampicillin-resistant bacteria will not grow in a kanamycin-containing medium and that spending excessive amounts of time with petri dishes full of bacterial colonies makes me want to shoot myself in the face. (Speaking of my UROP, I was explaining the O'Connor Lab's work to my friend Adrian earlier today, though, and I was shocked when I realized that I could actually do so without sounding like an idiot. Who knew?)
I'll elaborate upon my new life plan in an upcoming post. Hint: it's teaching.
"So what, you went to MIT so you could teach?" you may ask. Of course not. I came here so I could learn (Hey! See what I did there?), and I think that's been working out pretty well. No one should be expected to skip off to college with a definitive plan for their lives at an age where they're barely trusted with adult privileges and responsibilities. At the very least, no one should have to be locked into whatever plans they may have; I had an awesome, well-thought-out plan, and look how that turned out.
Anyway, this all means it's about time for a new bio.
---
There are people at this school who are exceptional at everything they do: they get all As, cure diseases, bake amazing cookies for their friends all the time, and manage to look awesome every day when they show up (on time!) for class in the morning.
I am not one of those people.
My name is Keri Garel, class of 2010, and my life at MIT is not what you would expect. I fall up flights of stairs only just more frequently than I fall down them (which is often). I should really cut down on the amount of bacon I eat, lest I have a heart attack at age 30. I am known for making obscene faces in photographs on the rare occasion when I am in front of the camera instead of wielding it, and I will attempt to write the next paragraph without including the word "I," to compensate for its overuse in this one.
In my homeland, snow is only a myth. My fanatical, creepy-as-all-get-out love for brains means that people never fail to remember my major. The number of Sonic Youth albums in my music collection is a little ridiculous. My dorm is better than yours.
I love music, art, photography, dance, and theater. I'm still not quite sure why I go to a school for science and engineering, but I'm in good company here. ("Do you even go to this school?" "No, I just have a lot of feelings.") The future is terrifying, but if you don't ask me about it, then we won't discuss it. Deal? Deal.
35 responses to "In which I am no longer new here"