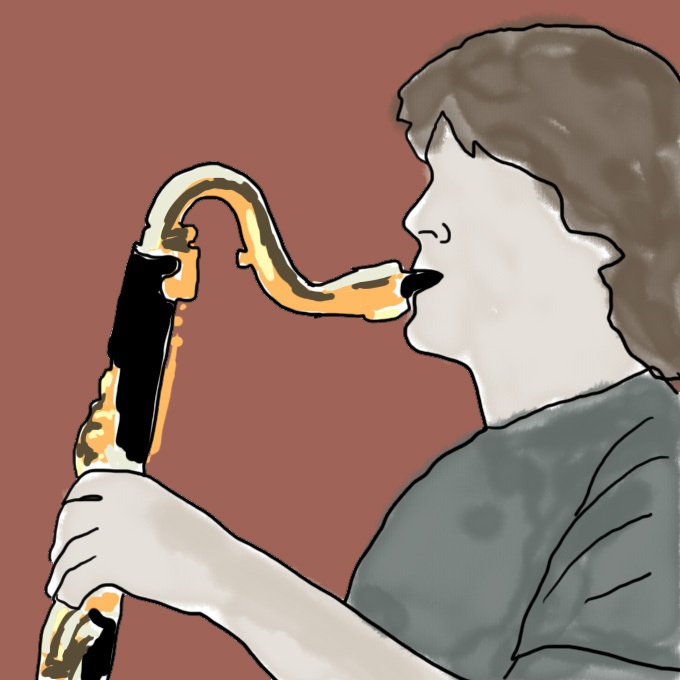 Legacy of a Media Storyteller

by ARTalk
[by Leila Kinney, Comparative Media Studies] Recently, Leila Kinney attended a Symposium at the Media Lab honoring the work of Glorianna Davenport. Here is her report.
[by Leila Kinney, Administrator for Academic Programs, Comparative Media Studies]
On Friday, June 20th, Media Lab alumni and colleagues gathered to recognize and remember Glorianna Davenport's 30-years of research and teaching at MIT.

Above: Glorianna Davenport of the Media Lab's Media Fabrics group.
"I am a media junkie," Glorianna announced in her own remarks, not in the sense of consuming media "out there" but in her reliance upon using media to understand what people see and experience. She characterizes media makers as improvisational collectors, who use their collections to construct new stories to share with others. Storytelling, particularly in an expanded, technically enhanced framework; tools and systems that make film and video more accessible to more people and easier to personalize and share; and advancing media as a process of discovery, particularly for young people, in formal and informal educational settings—these are the themes that have animated her work over the years.
Davenport was first drawn to MIT by Ed Pincus and Richard Leacock, whose Film section welcomed anyone serious about making films, no matter their affiliation; it was a golden era when faculty "didn't have to answer to anybody." She particularly wanted to work with the technology they had developed—super–8 film and synched–sound with modified mass-produced cameras—as a much cheaper alternative to 16mm. Soon thereafter she collaborated with the photographer William Eggleston, an early experimenter with color negative film, who eventually came to MIT to research color video. Meanwhile, Naim June Paik dropped by, declared video a phenomenon comparable to solar energy and described his efforts to devise a personal editing machine.
Davenport went on to found the Interactive Cinema Group at the Media Lab in 1985. They quickly left behind notions of single-person filming techniques and delved into an amazing array of projects aimed at stretching the visual capacities of storytelling, creating narrative networks from multiple points of view, and developing novel digital interfaces that disrupted the traditional role of audiences as passive recipients of a meaningful message constructed by a single author. The various descriptive tags for these activities signal the extent of experimentation, as Davenport and scores of graduate students created "elastic documentaries" and "highly distributed motion video stories" while devising technologies for "collaborative co-construction." The Media Lab's distinctive culture enabled lots of cross-fertilization with other research, for example with Muriel Cooper's Visible Language workshop, which was exploring how the computer and artificial intelligence could transform traditional graphic design and design decisions and, increasingly, with Seymour Papert's exploration of how computers can profoundly change learning.
As the Media Fabrics group succeeded Interactive Cinema, it focused more and more on how to incorporate video into kids' learning, allowing them to create and learn through active engagement with their own worlds, and on making really simple tools and systems for people to personalize video, build archives, and share stories in multiple media formats. It's hard to do justice to the many projects that were presented by some twenty alumni—some of whom are now educators, others serial entrepreneurs of social media platforms, and still others creators of the "next wave" of cinematic transformation—in video games, gestural interfaces, and physical feedback loops embedded in media properties. Who would have predicted that a bunch of cinemaphiles at the Media Lab, all–too capable of producing the most user-friendly defying, complex new technologies, would at the same time embrace the collective goal of radically democratizing media production, so that the full potential of what Henry Jenkins calls "participatory culture" can be realized? For this, former students again and again thanked Glorianna for her insistence on the central, pervasive, and infinitely expandable impulse to tell stories and share them with others.
Even though she will no longer be accepting graduate students at The Media Lab, fortunately for MIT, Glorianna Davenport will be back. In the spring semester, 2009, she will teach a new undergraduate course for Comparative Media Studies, CMS.405: Media and Methods, Seeing and Expression. Stay tuned.
One response to "Legacy of a Media Storyteller"