Today was going to be my sleep day. I was going to go to sleep on Saturday night (ok, so it was actually really early Sunday morning) and sleep through until 9 AM Monday, when I have to get up to get ready for my first class of the week, and in so doing I would catch up on all of the sleep debt that I've accumulated over the course of my entire life. Unfortunately, I woke up around 1 PM anyway and was about to go back to sleep when I heard April the Californian open the shade above her bed, look out the window, and say something about the winter. That's how I knew that it snowed.
So of course I had to get up and open the shade above my bed, and this is what I saw: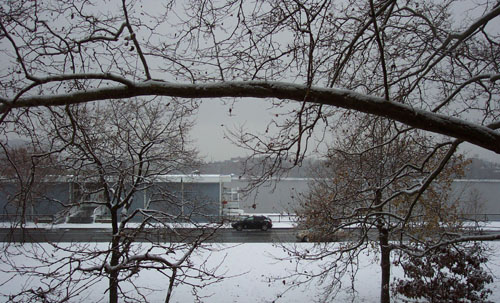 Very pretty, isn't it? =) Now that I was up, I realized that I was pretty hungry, so I decided to make cinnamon rolls for breakfast. As I'm sure you know, these go very well with milk, but my milk was in a fridge on Conner 4 (along with my eggs, apple juice, and maple syrup. I think I'm going to start telling people that I live on Conner 3 even though I barely ever spend time there, because I don't officially live on Conner 4 but well…as you can see from the list above, I went so far as to have breakfast there Saturday morning. It's a long story. A really long story. So since C3 is halfway between C2 and C4, so I think I should just start telling people that's where I live.) Anyway, on my way back down with my milk (the eggs, syrup and apple juice still need to be retreived), I noticed that there was a really neat view out of the window in the stairwell. You can look out into the little courtyard-type-thing in the middle of the dorm. (
As you can see
, BC is basically a string of U's, and this window looks out into the third one from the left, which has an entrance to the dorm.) So after eating my breakfast, I went and took a couple of pictures: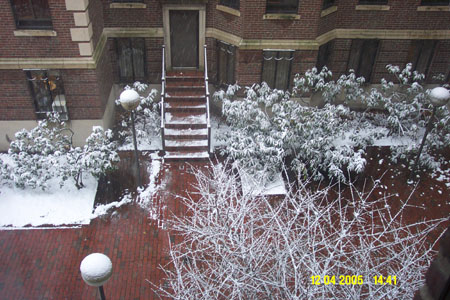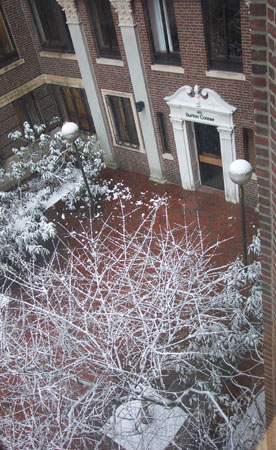 Then I went back to sleep.
When I finally dragged myself out of bed (I won't even say what time it was), I went to church, and from church to the grocery store (because otherwise I was going to start going hungry pretty soon). At the store I picked up some nifty…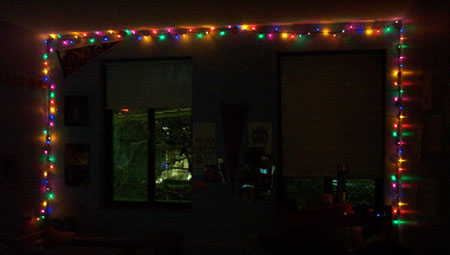 Christmas lights!
Here's a better picture where you can see what our room actually looks like: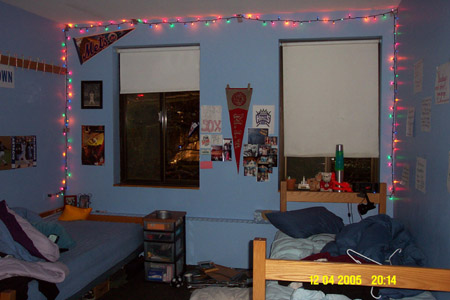 Notice the candy canes that April put up in the upper lefthand corner. We're just chock full of holiday spirit.
Then, just a few minutes ago, Batya '08, Alex '08, and Ruth '07 all came by to ask for my signature on their nomination forms. (They're all running for Burton-Conner government.) Ruth said (as she always does), "Hey, you can blog about this now! And tell all of the prospective freshman about BC government and the election process!" Which is a great idea, only I don't know anything about the BC government election process, so maybe I'll have Ruth write a guest entry about it on my blog like she's done on Sam's so many times before.
And that was my day. Utterly unproductive-but I loved it.
Write me emails. Leave me comments. Parents too! Bloggers love it. Promise. And if you asked a question awhile ago and never got an answer, I'm working on it. Maybe someday I'll be better about writing about the things I actually say I'm going to write about…
6 responses to "Let it snow"