I know it's been a very eventful week for you guys, waiting for decisions and dealing with the mail mixup. But it's been one of my better weeks all term, so I thought I'd tell you about it.
Sometime early Sunday morning, I decided I'd go to the middle of nowhere in Maine for brunch. I made the decision around 2am, went back to bed, and rose at the fine hour of 8:00 to get ready for the train. A shuttle + subway ride later, I was at South Station and hopped on Amtrak, arriving in the bustling metropolis of Saco in a couple of hours. I really wish I'd taken a picture, because this place was *tiny*. The sidewalks on the main artery, Main Street, weren't even plowed, but I managed to score a ham/sausage/cheese omelette at a hole in the wall called the Golden Rooster. This place's claim to fame was a visit some years ago by Steven Tyler of Aerosmith — they had his guest check framed on the wall, no kidding. I paid in two-dollar bills and half dollars, then set out to explore some of the town. Not a lot to see, but I filled a couple of hours just moseying down some random lanes and turning around at dead ends. All in all, a few hours well spent. :)
Monday was host to the final session of 1.A24, my transportation seminar. Professor Wilson and Dr. Martland took us out to dinner at the Border Cafe in Harvard Square, where we had some good food and interesting discussion. Sad to see that seminar end, and incredible that it's already mid-December. We shared some stories about recent MBTA snafus, including the construction effort between the Kendall and Park Street stops that forced weekend commuters to take a delayed, circuitous shuttle bus route. At least the buses were free. :)
Tuesday morning wished 21W.784, Becoming Digital, farewell, with Professor Aden Evens playing the didgeridoo and providing us with donut holes. Loved that class — Aden's taking a sabbatical next semester to write a book, so won't see him around for a while. I also met with George, a sophomore with whom I'll be working on a Web project during IAP. That went really well, and I'm continually amazed by how articulate and organized so many of the upperclassmen are. Later, in my final chem recitation, we culminated a long history of in-class heckling with the presentation of photos from the more hedonistic of our illustrious instructor's college days. Ah, the wonders of Facebook. Laughs and snickers were had by all, and he even told us some stories of his college days once class was over. ;) See? You can get to know your TAs this well here.
Wednesday brought the admissions mail mixup, which really wasn't a big deal at all because mail was promised to go out "on or before Monday." Still, incredibly nervewracking for the staff, even though it wasn't their fault. I consoled a few applicants in a chat room, which was fun. :-)
Thursday (today), I met Professor Sadoway — what an awesome, down to earth, warm guy. He genuinely cares about his students and I was really impressed by how approachable he was. Thumbs up.
I also had the immense privilege of seeing Ben Jones and his band, Tremulant, perform live at the Middle East in Central Square this evening. They were second on stage; how amazingly surreal to see Ben Jones, admissions officer, one of my favorite people, as Ben Jones, rock star, talented vocalist and guitarist. Had you asked me when I received my admission to MIT if I thought I'd be at a Ben Jones concert almost exactly a year later, I'd have looked at you like you were crazy. :) I went with Ben Gleitzman, and later, Blogger Bryan, Nance Bryan, Admissions Edmund, and Admissions Mari also showed up. An awesome night — kudos to Tremulant! You guys rock.
Tomorrow (Friday), all of the bloggers are meeting at Toscanini's (an ice cream joint at the intersection of Mass Ave and Main Street) at 4:30 for a "blogger outing". Believe it or not, many of us have not met each other yet — MIT may be a veritable cocoon of sorts, but social lives are sufficiently centered around one's living groups or campus geography that the folks on one end of campus just don't often see those on the other. :P The aim of this "outing" is to eliminate this injustice, promoting camaraderie in blogging. Sounds good.
I go home next week and will be blogging about what's up over break. I'm back in Cambridge a couple of days before my French class starts on January 9th. More later — congrats to those accepted in early action, and to those deferred, you've got a good chance of getting in later!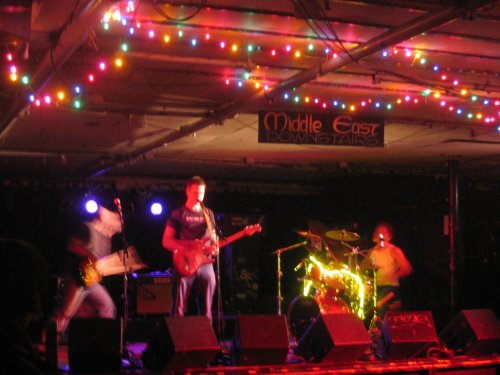 9 responses to "Loose Ends"