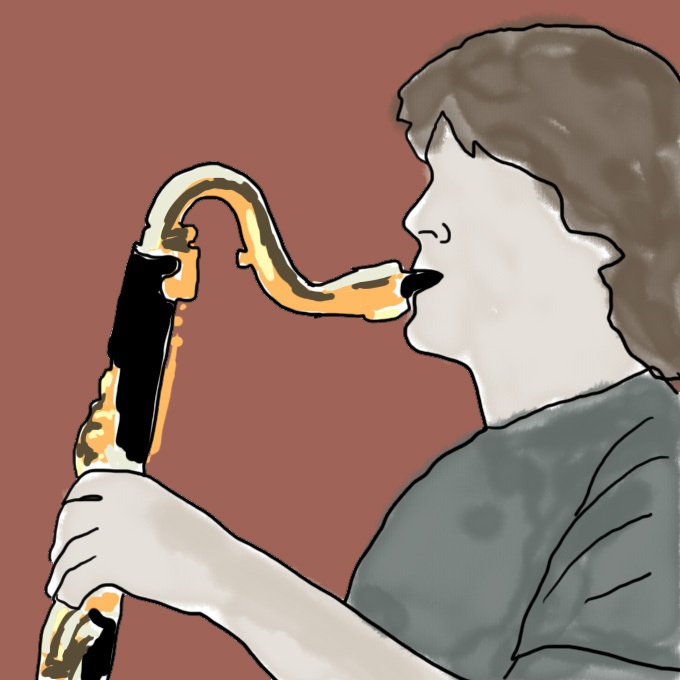 MIT Arts Party 2010!

by ARTalk
[by Ken Haggerty '11] Now that I'm about to graduate, it's time for some fun projects.
[by Ken Haggerty '11]
Happy Autumn!
This entry marks the beginning of yet another great semester in MIT arts, and to celebrate this MIT Associate Provost Philip Khoury brought together the MIT arts faculty and community through his annual MIT Arts Party:

ABOVE: Carla Sehbani (Office of the Arts), Pardis Parsa (Office of Arts Initiatives), myself, and Mei '13 (ARTalk). (Photo by Mei Zuo '13)
The party was held in E15 (the old Media Lab building, and now the home of many MIT arts departments) and included a DJ, hors d'œuvres, and an open bar! (Despite now being 21, I was in the mood for milk.)

ABOVE: Pouring myself a nice big glass of 2%. (Photo by Mei Zuo '13)

ABOVE: DJ booth blasting "Blue Monday" with rainbow LED spheres! (Photo by Mei Zuo '13)
ARTalk will be back in full swing too, with bloggers Mei Zuo '13, Shelby Heinecke '13, and myself, along with a variety of guest bloggers. Biyeun '10, as indicated, graduated this past year! So she won't be blogging anymore :(
The semester is looking pretty busy (but in a very good way). Here's a preview of just some of the many things heading your way in the near future:
MIT ARTS PORTAL: MIT has an Arts Communication Council which has been working tirelessly to improve publicity of and communication within MIT's arts community. I've been sitting in on meetings, just for fun, and it's been a great experience. We've come up with a logo to represent Arts at MIT graphically and got a direct link on the slighlty-redesigned MIT homepage ("arts" under "[email protected]" at mit.edu) which will soon enough connect to the official MIT Arts Portal! (coming soon…)
F.A.S.T.: To celebrate MIT's 150th anniversary, the Institvte is throwing a huge festival this spring that'll last approximately 150 days. This Festival of Arts, Science, and Technology [F.A.S.T.] will bring together professors, researchers, and students across disciplines to showcase MIT's talent, legacy, and future, and to prepare for the festival, there's even an class you can take to work on one of F.A.S.T.'s many projects. Hopefully we'll get a student from the class to guest blog the experience for ARTalk.
A HOUSE IN BALI by Jay Scheib and Evan Ziporyn: This is a new opera created by MIT music Prof. Evan Ziporyn and directed by MIT theater arts Prof. Jay Scheib over at Emerson's Cutler Majestic Theatre. House In Bali will be playing on October 8th and 9th, and hopefully we'll get someone to cover it for ARTalk.
SIMMONS ARTS INFUSION: I live in Simmons Hall, which I like to describe as living in a *very* nice condominium. However, it can get a little…sterile at times. Some people like the modernity, and others wish the dorm had more "culture." As a compromise, we've decided we could probably liven up the place a bit by painting murals (on canvas, not the walls)…I'm going to be helping with this, so once this gets up and running I could probably blog about it.
A DAY IN THE LIFE by Technique: I am the Managing Editor for Technique, the yearbook and photography club of MIT, and as such it is my job not only to manage all business matters related to the club but also to shamelessly promote it by any means necessary (e.g. here). That said, we've actually been doing a lot of really great work (renovating our office, tutorials, and of course photography), so I will probably blog about that at some point. Most recently, Technique held A Day In The Life [ADITL], a 24-hour photo marathon open to the MIT community. It was this past Thursday (9/23), and you can check out the results HERE.
WIESNER EXHIBITIONS: The Wiesner Student Art Gallery, run by the Student Art Association [SAA], has an exciting group of student artists scheduled to exhibit in the upcoming year, and I myself was graciously offered a spot—which means I'll have to think of what to exhibit!
LOBBY 7 DESIGN COMPETITION: Also as part of MIT's 150 celebration, there's a design competition focused on submitting theoretical proposals for what should sit atop Lobby 7's empty plinths. Although I personally think the plinths should stay empty (Op-Ed in the Tech HERE), I love coming up with fun ideas and am really excited for this. I am working with fellow blogger Mei Zuo '13 and course 4 friend Kris Swick '13 and so far it's been great. Hopefully we won't all get bogged down in work :S
COOKING ADVENTURES: My single in Simmons Hall is obscenely large, but I am trying to make good use of it by cooking myself a healthy dinner every night. I've come up with some really good meals just by throwing things together :) In the meantime, you can check out a great blog by one of our past bloggers, Sadie '10, on cooking HERE.
And then of course there's a blog on my research which I've been meaning to post…
Well the semester (if not the year) looks very promising, but unfortunately I have to eat lunch and run off to class, so until next time, thanks for reading!
3 responses to "MIT Arts Party 2010!"