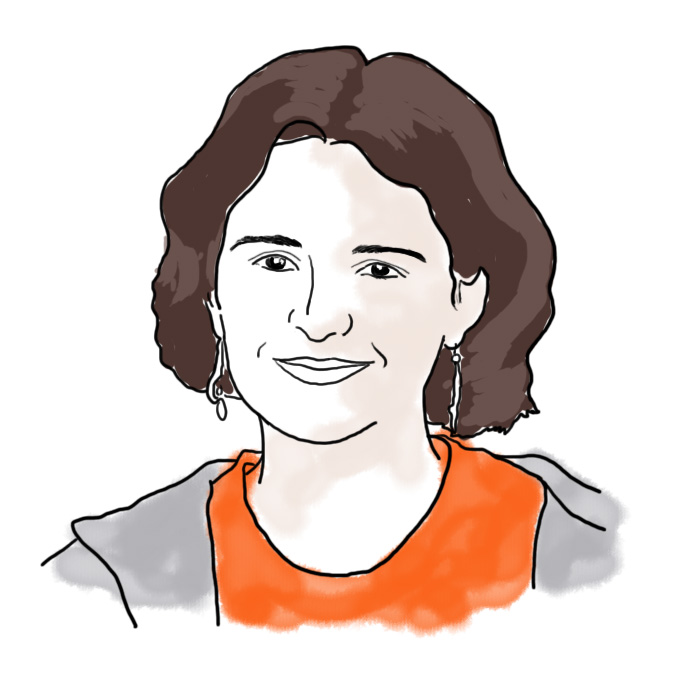 ABC, easy as duct tape, zip ties, Athena headers and packing tape.
Email lists can be the burden of my existence sometimes. I get all kinds of spam- the actual kind, telling me I need a degree from some on-line university (….hello, why would you send that to an at mit dot edu email address?), announcements from every group on campus promoting their events/shows/fundraisers, as well as all kinds of junk from fellow students who want to share their amusing weblink of the day with all their friends. Sometimes, it actually pays off.
In today's Doonesbury column, Alex comments on the Stata Center. I personally appreciated the strip, considering I'm in the camp of people who thinks that Stata is the most hideous excuse for a building I've ever seen. And Ruth '07 agrees with me.
Speaking of Ruth '07, this is what she and I looked like as we headed off to the annual Burton Third "Anything But Clothes" party: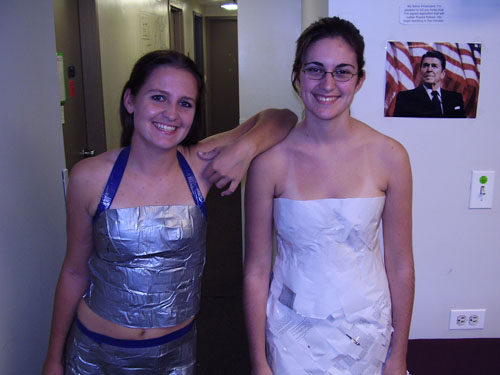 So hot, right?
If anything looks familiar, I kind of recycled what I wore last year. After I posted that, my entire extended family (all of whom read this blog) found it hilarious. Every once in awhile when I'm home for a break I run into another person who I haven't seen in 2 years and they're always like "OMG I saw that picture of you wearing duct tape and it was so clever!!!" The downside of being an admissions blogger- you can never escpae your past. I figure my reputation is already ruined for life, so what's the harm if I continue to post pictures of me wearing duct tape clothing?
Anyway, Ruth's outfit rocked pretty hard if I do say so myself. Side note about computing at MIT (which will be relevant in like 5 seconds, promise): Our campus-wide computing environment is called Athena. Everytime you print something to an Athena printer, it prints out a header page with your username on it so you can quickly and easily find your stuff in the big messy pile of the entire world's computer printouts. This is obviously useful but very wasteful, so each header page has something useful printed on it in hopes that you'll reuse it- like musical staffs or graph paper.
Most people leave their header pages in a recycling box in the cluster, so Ruth raided one of these and constructed her outfit entirely out of Athena headers and packing tape, which adds several "hardk0re"ness points to the project, in my opinion.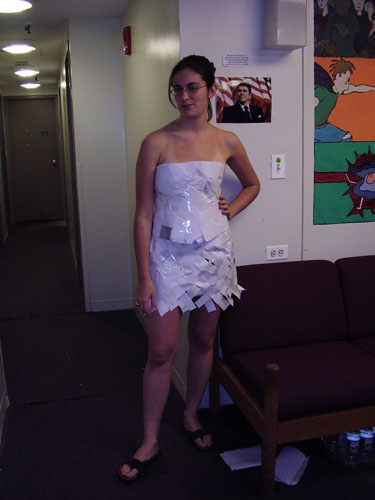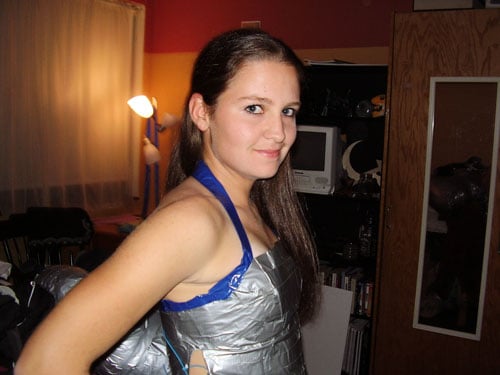 As for me, I had no time to make anything last week, so I brought the colored duct tape my parents bought me to commemorate the original duct tape outfit to Ruth's room, where she went all Project Runway on me and helped me design my new and improved duct tape clothing. (If the modifications don't look that cool, that's because Ruth had all these ambitious ideas that I knew I wouldn't be able to actually pull off…)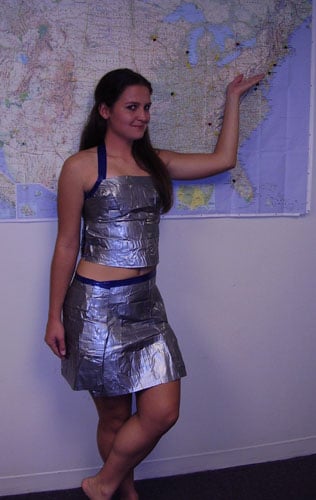 That's me, doing the Vanna White move to point out my hometown on the map. Because…that's what the person holding the camera told me to do. *shrug*
In other news, someone on my floor forwarded an email he got offering free dating service to MIT students. I followed the link and made this discovery (written by a Harvard undergrad), which I think is awesome and she be required reading for all male MIT students: Intelligent Turn-ons =P
Coming soon- answers to all your questions. Promise. (I say that a lot, don't I?)
10 responses to "MIT Nightlife, Part II"