Thanks to a continuation of computer problems, I was without a computer for the entire month of January. Thus, when Chris made a call for more blog posts during IAP, I said I'd get around to it once I returned from my five-week expedition to India. Fine; even though IAP is ancient history, I will deliver.
As one might be able to deduce from my previous adventures, I feel more at home overseas and traveling abroad than at home. This trip to India, which had no connection to Hamsika's, was a follow-up to a course I took last term called 4.S10 – Delhi and Jaisalmer: An Architectural Journey through Two Indian Cities. It wasn't a particularly heavy course – just six units, P/D/F grading, a semi-freshman seminar (even though most of the people in the course were upperclassmen). There was no doubt the IAP trip was a major draw for students, but I am also very much interested in Indian architecture – specifically the Mughal architecture the country is most famous for – and so registering for 4S.10 was a no-brainer.
Now, let me warn you that, although this post is a summary, it is far from brief. But there are pictures!
Week One

During the last week of December – and 2010 – I was briefly back in the UK, now my second home, where I reminisced about my prior year there (where I did the Cambridge-MIT Exchange). Having exhausted the London tourist trail over the summer, when I interned in the city, I simply revisited the street where I lived and took in some of the Christmas decorations (the Trafalgar tree was remarkably unspectacular). I stayed with a gracious friend in the East End (with whom I proved how poorly I play Call of Duty) and then went up to Cambridge for more trips down Memory Lane.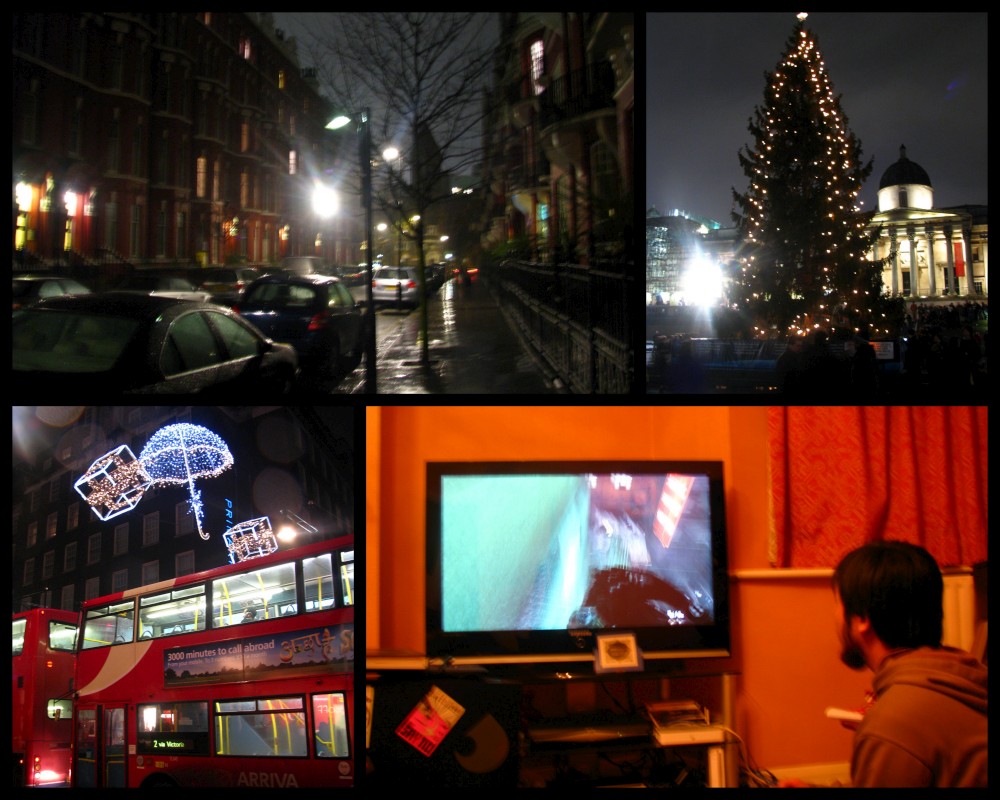 But the crowning moment of Week 1 (technically not during IAP) was the chance to celebrate New Year's Eve in London. Even though my friends and I arrived relatively late to the Thames, we still scored a riverside spot for the stroke of midnight (after three hours standing in the chilly nighttime air). Following the fireworks, we stayed up the remainder of the night playing backgammon, eating kebabs, and going to a shisha café (see a theme?). My flight was at 8am on New Year's Day, so I hardly had a choice here: I had to stay up all night.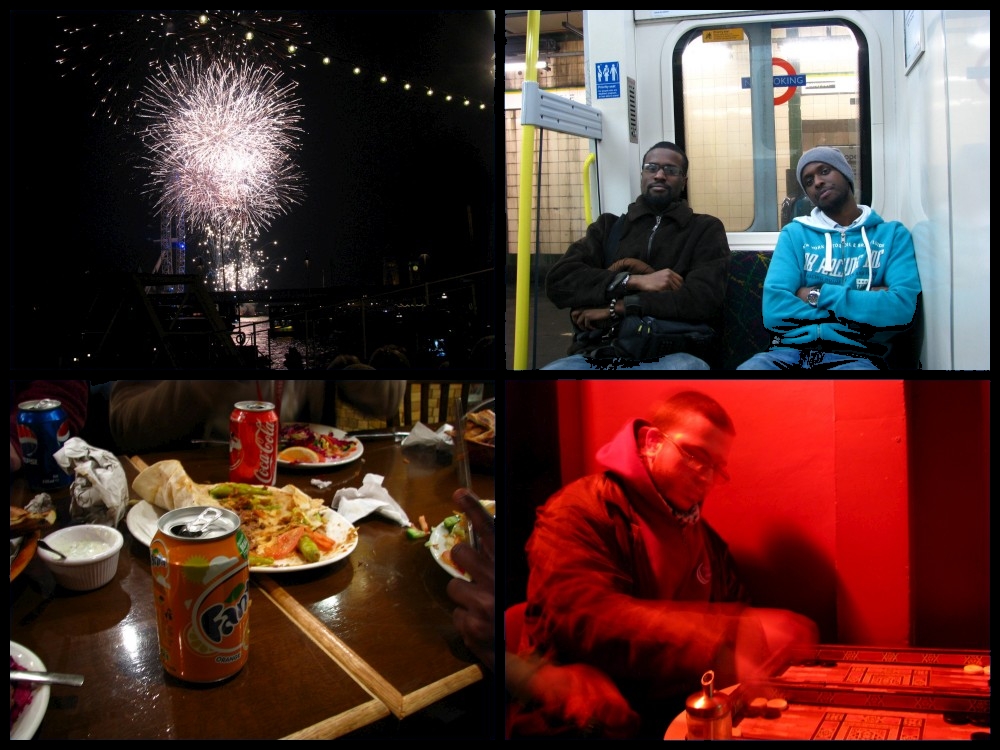 After transiting through Doha's abominable airport, I finally arrived in India January 2 in the early – very early – morning, at 3:30am. I was back in Bangalore, where I worked during the summer of 2009. Despite the early hour, I still managed to recall how to navigate to the home of a friend whom I worked with during my internship (+ one benefit in meeting people abroad). The weather was a welcome change from the Boston cold and London fog; the temperature in Bangalore was in the neighborhood of 80F and, for the first time in days, I could see blue sky. The traffic was a lot more chaotic in India (as expected), but I guess you can't have everything. And, to be honest, I'm a big fan of chaos.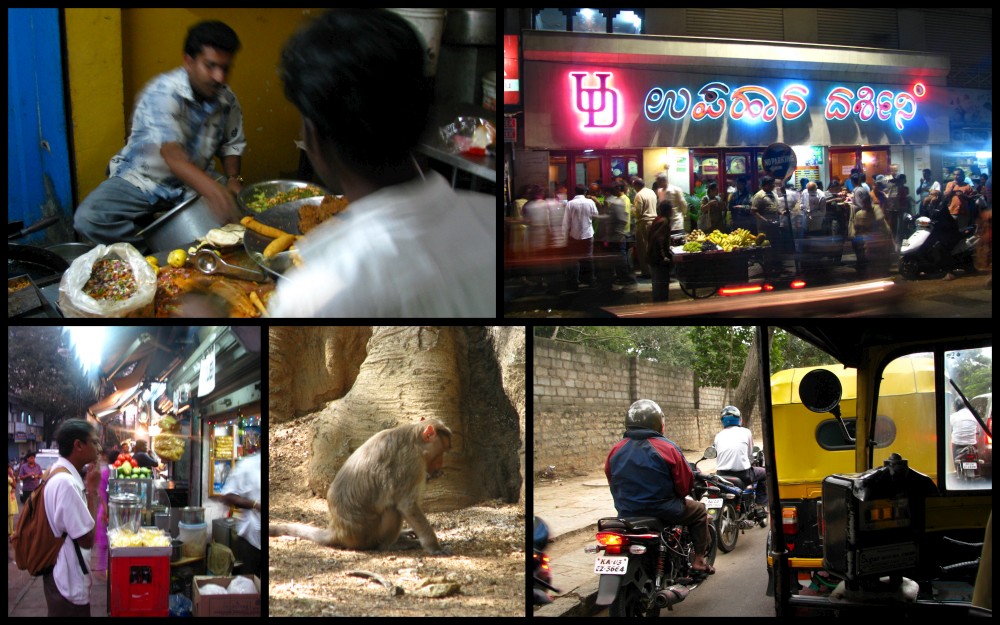 Week Two

Departing Bangalore, I slowly made my way up north to Delhi, where I was supposed to meet the remaining MIT students on January 6. On the way, I stopped in Bijapur, sometimes known as the Agra of the South. Not receiving as many foreign visitors as the real Agra, it seemed everyone wanted to talk with me and be photographed.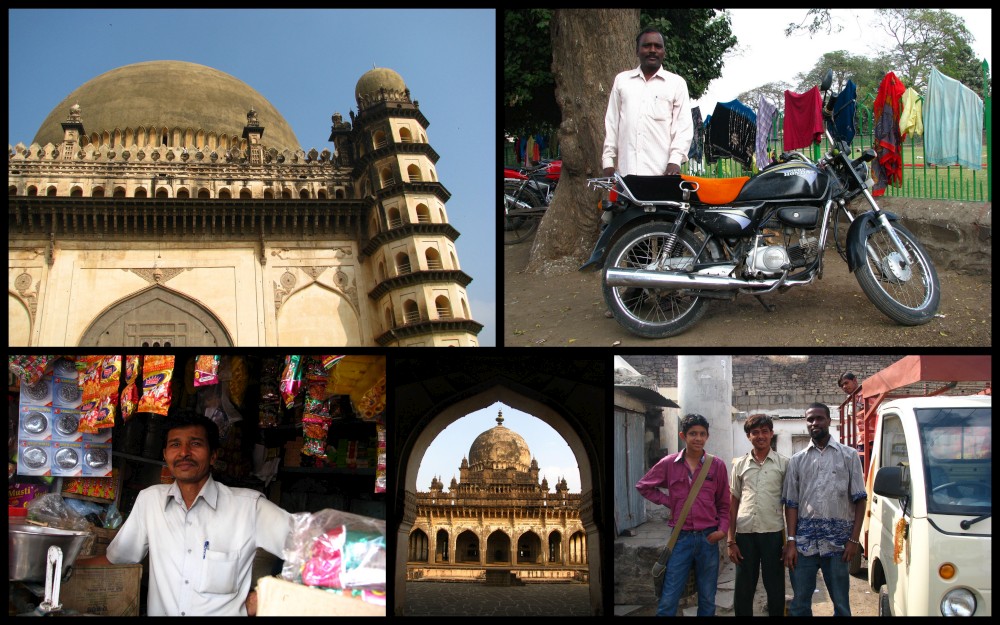 The next stop was Mumbai, where I spent several hours walking around its Londonesque southern tip (as I had done sixteen months earlier). For a number of reasons (did you know it takes over an hour to go 15 km in Mumbai?), I missed my train departing to Jhansi. Luckily (not sure if that's the right word to use), there was a taxi driver willing to drive me the 130 km to the next station at the meager price of Rs 2500 ($55). Because the deal was that I only paid if I made the train, he drove in a manner that may have even been unacceptably aggressive by Indian standards. Trust me; that's saying a lot.
To add to my travel troubles, the train was five hours late arriving in Jhansi; we actually sat about ten kilometers from the station for around ninety minutes. The late arrival seriously cut short my time in the city (or, rather, nearby Orchha), but it was certainly among the most memorable parts of the entire month, as I met a number of people on the train and joined passengers in building (unappealing) trash fires outside the train. (Between Mumbai and Jhansi, we went from 80F to 40F.) And this foreshadowed the extended final leg to Delhi: whereas I was supposed to have a four-hour train ride leaving around 6pm, I had a twelve-hour train ride leaving closer to 10:30pm. The culprit? Fog apparently.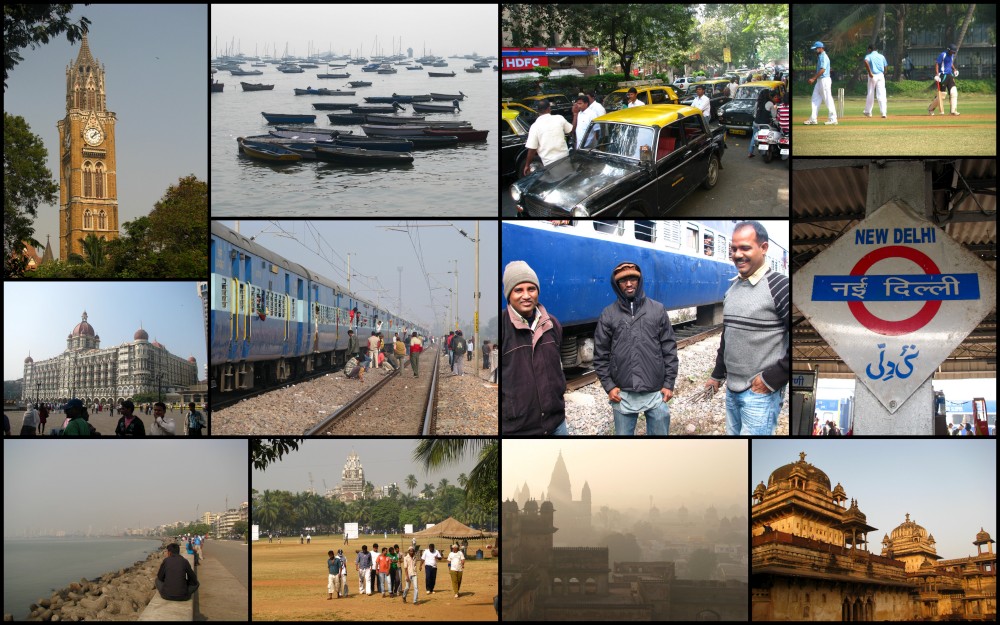 Finally united with my MIT comrades in Delhi, the "official" part of the trip kicked off with visits to several business schools owned by MIT alumnus Vinay Rai, including Rai Business School. Several students from these schools, especially RBS, showed us around the city the first few days and even accompanied us throughout much of the remainder of the month. On January 8, all of us, plus several students from the University of Virginia, made the journey down to Agra to see the Taj Mahal (no trip to India is complete without it).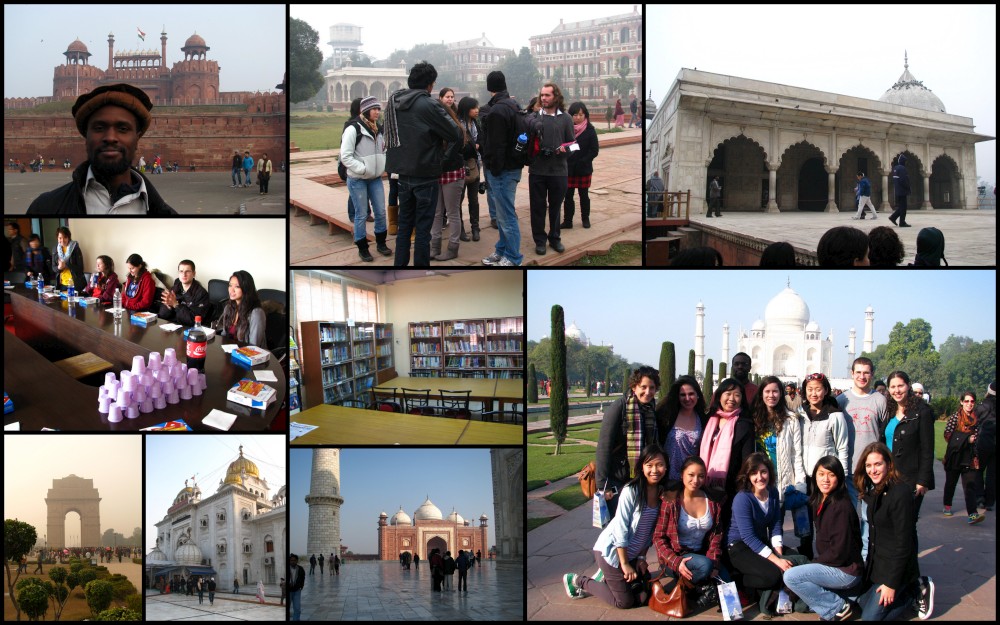 Week Three

Week Three was almost exclusively consumed by Project Prakash, a project spearheaded by MIT Professor Pawan Sinha. In a few words, Professor Sinha's work focuses on addressing congenital blindness in India; eventually he'd like to build a facility in India that would help reintegrate formerly blind people back into society. However, our group of fourteen MIT students broadened the scope of his project to research all childhood disabilities in India. We split into four teams (mine was looking at medical concerns) and travelled across Delhi, speaking to doctors, NGOs, shopkeepers, and everyday citizens (in between more sightseeing, of course).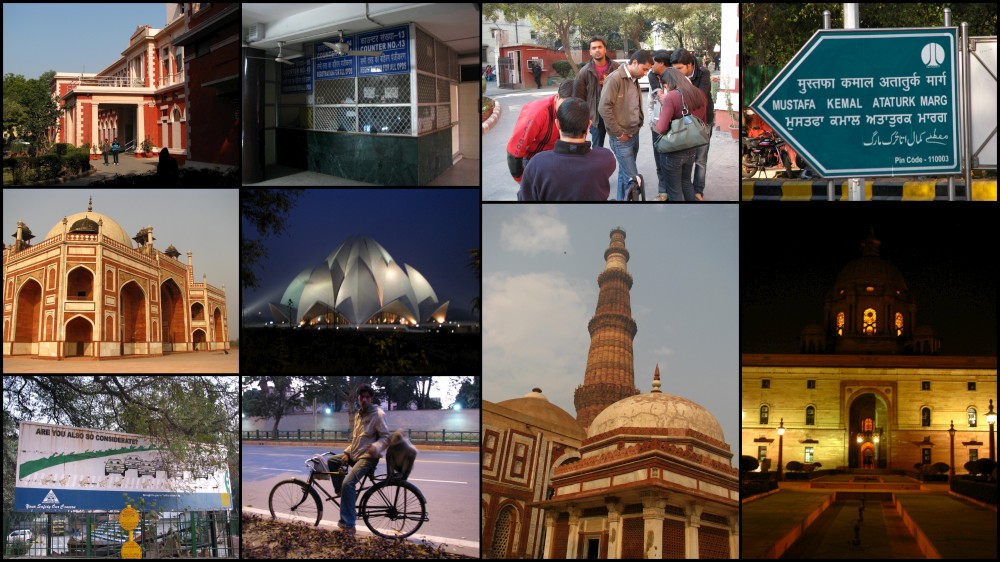 Toward the end of the project, we visited a charity eye clinic set up in a slum in northern Delhi. As part of that day's program, we walked through (I hesitate to say 'toured') one of the slums in the area. Many of us, suffice it to say, were very surprised to see how happy and excited many of the people, especially the children, were to see us. Rather than making us feel like intruders (which, in a way, we were), children were following us, talking to us, jostling for the opportunity to be photographed, and finally wishing us a resounding goodbye when we eventually pulled away in our bus.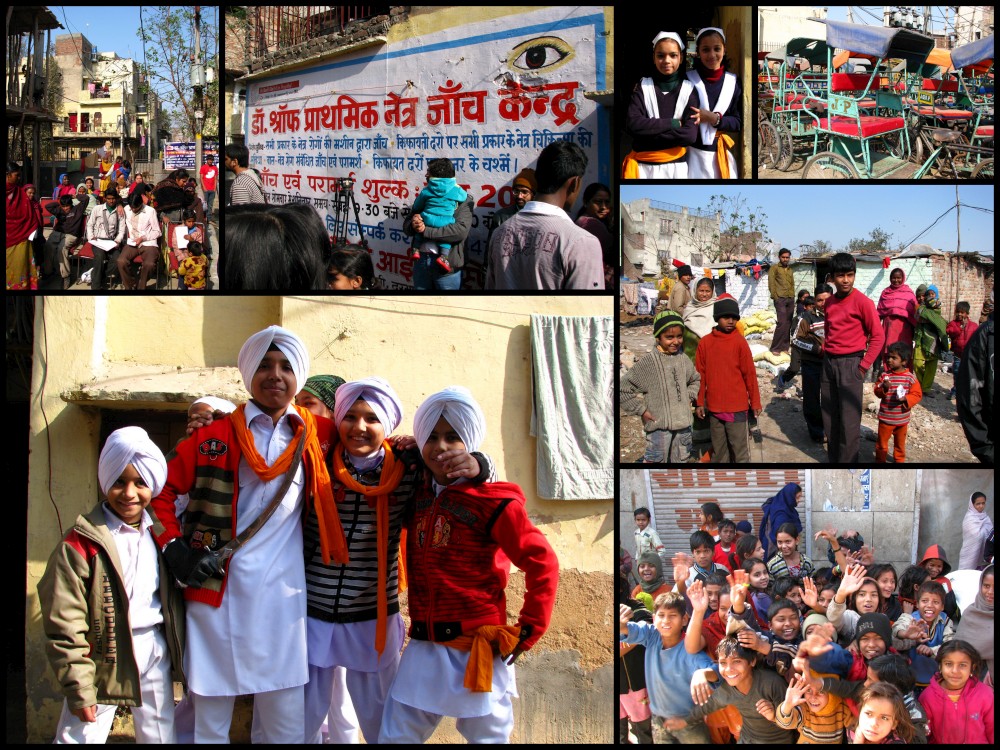 That day – January 16 – truly encapsulated one of the great parts of doing Project Prakash: it enabled us to explore aspects of India one normally wouldn't be able to explore as a typical tourist.
Week Four

After a week of work in Delhi, we headed into Rajasthan, considered one of the – if not the – most beautiful state in India. We only had eight days to travel around the state, but we managed to cover a great deal of territory. The first stop was Jaipur, Rajasthan's capital and largest city. We got the chance to see the making of a few handicrafts, and the following day, we visited Amer Fort (just outside Jaipur), riding elephants from the side of the road up to its entrance. After visiting Amer Fort, easily the most impressive site on our circuit, we stopped at Jaipur's City Palace and explored the city's markets. The next day, we made our way to Udaipur, breaking up the eight-hour journey with stops at Pushkar (known among Hindus for its Brahma temple, one of very few in existence) and Ajmer (known for hosting the tomb of one of Sufism's most revered figures).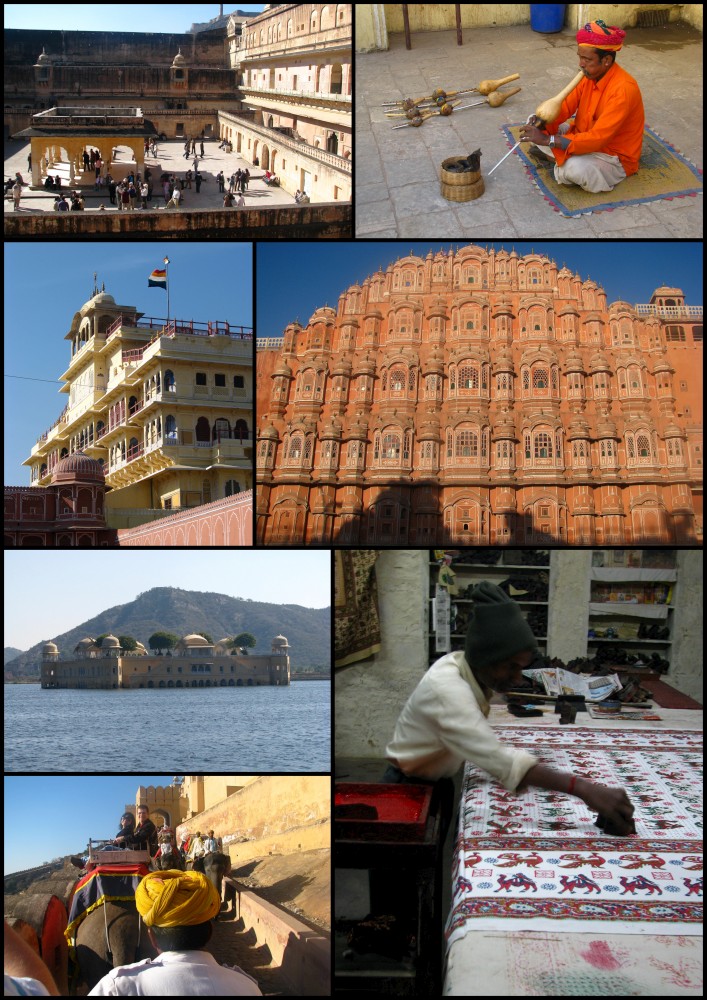 Udaipur itself was, like the iPad, simply magical. Sometimes called the "Venice of the East", the city is built around several man-made lakes, including one claimed to be among the most picturesque in the world (and I'm inclined to agree). After one day in Udaipur, we proceeded to Jodhpur, stopping in Ranakpur to see its grand Jain temple. That meant we had visited places of worship for five or six religions (after Jainism, Sikhism, Islam, Hinduism, the Baha'i Faith, and the Hare Krishna Movement). In Jodphur, unfortunately, we only had time to see its Mehrangarh Fort before we had to continue to our final destination in Rajasthan: Jaisalmer.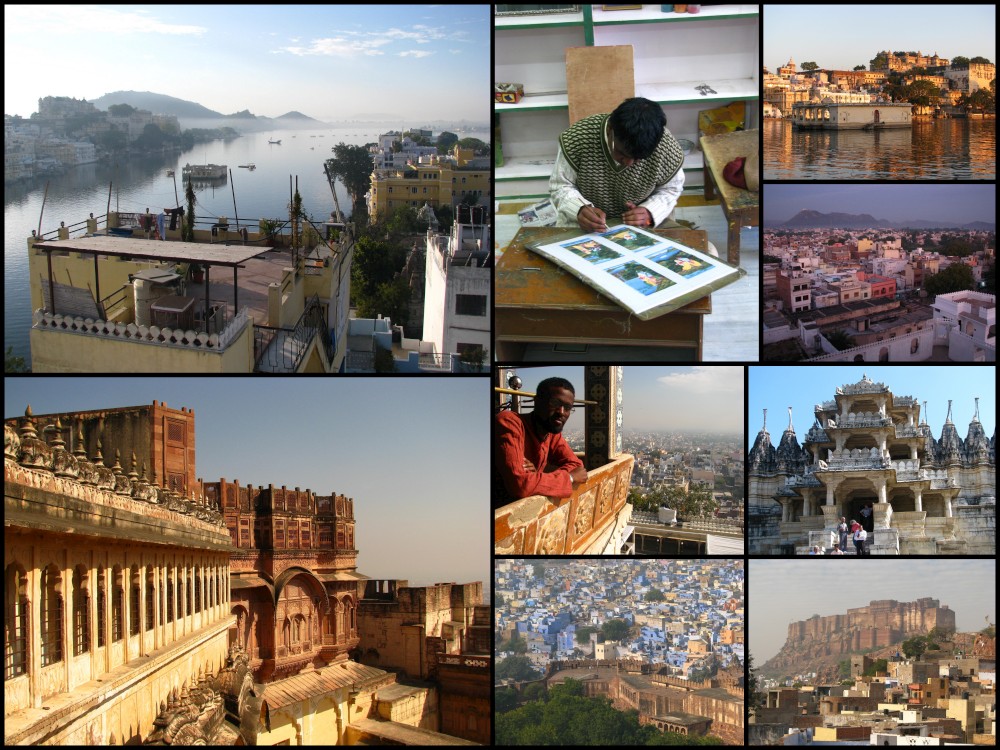 Week Five

Although India has many forts, Jaisalmer's is the only one that is still a working fort. On first night there, we ate at a rather disgusting restaurant where everything on the menu was misspelled and the kitchen was a mess. However, the following night, we found something a bit more appetizing to do (okay, we didn't find it, so much as it was just scheduled): that evening, we made an excursion west of the city for a short camel journey and view of the sunset over the desert sand.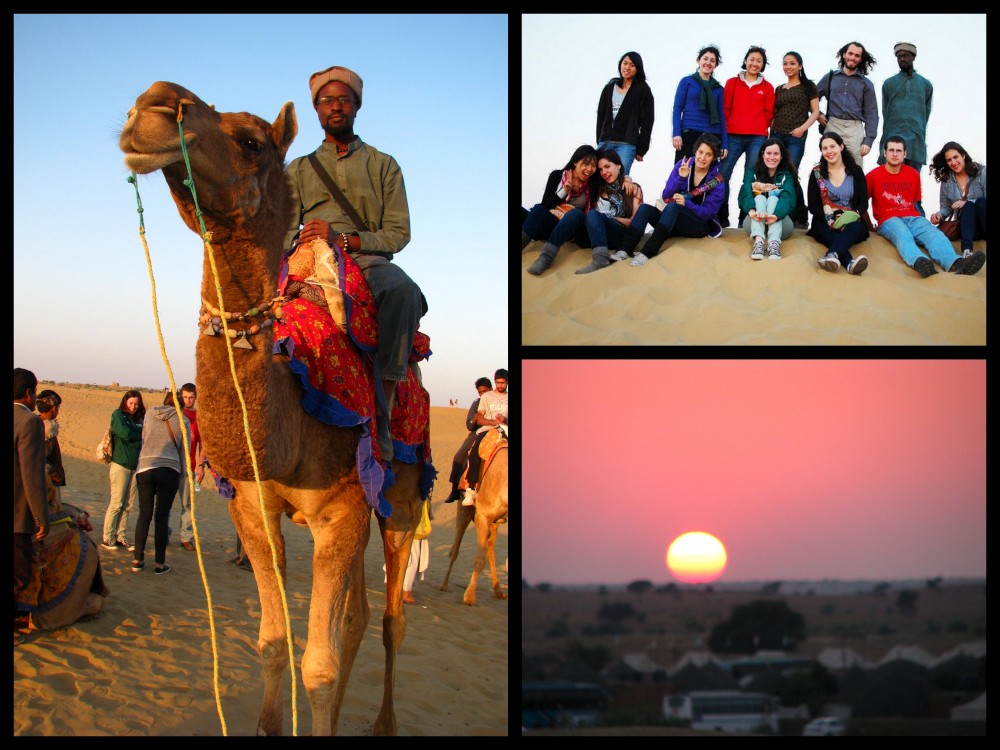 (Note that I did my level best to locate a photo of all of us, but because there was almost always someone sick at any given point during our four weeks in India, such a photo may not actually exist. Pictured are Becca '11, Emma '11, Iris '14, Shan '11, Saul '14, Me '11 [back], Ami '14, Noa '14, Emily '11, Leah '11, Eliana '12, Patrick '11, Yael '13 [front]; not pictured is Rai '11.)
Our Indian adventure didn't officially end for another four days, but the remainder of the trip was primarily consumed by working on reports for Project Prakash, getting in some last-minute shopping, and preparing to leave.
My return to America was longer than most people's (even longer than the two whose direct flight to Newark turned into a twenty-four hour layover in Shanghai). I built in a six-hour layover in Doha – plenty of time to see the city considering its limited points of interest and the close proximity of the airport to Doha's Corniche. My goal for the day was to stop by the Museum of Islamic Art, whose building is as much a work of art as the pieces in its galleries. I.M. Pei, who graduated from MIT in 1940, designed the building in the mid-2000s – at the age of 90. Ninety, folks.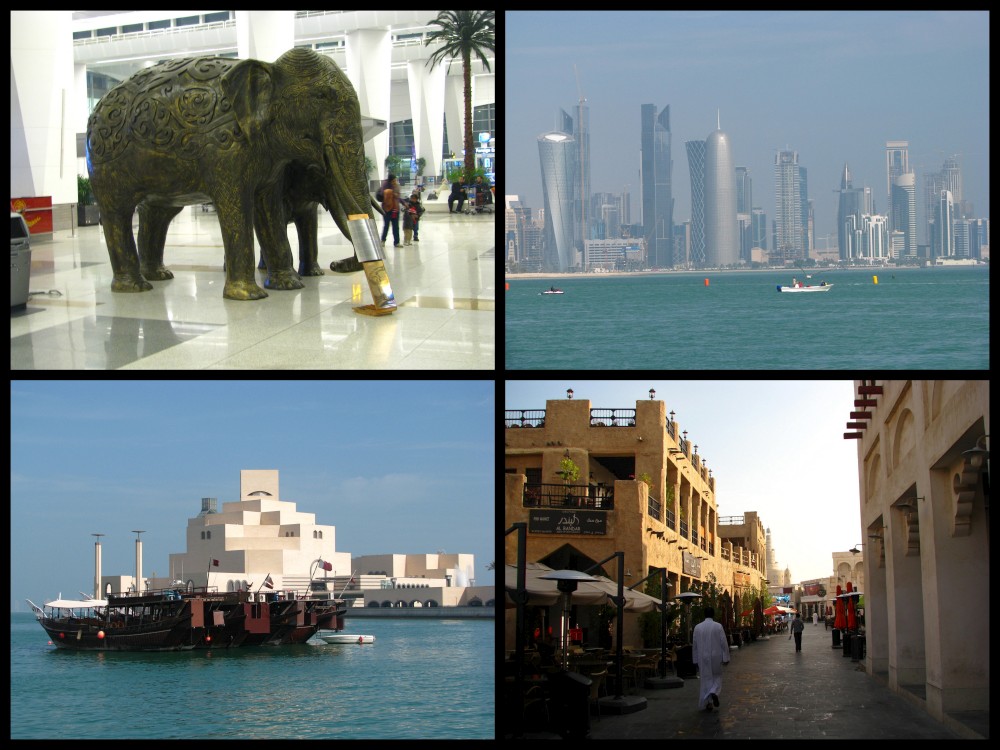 After leaving Doha, I made the obligatory return to London – somewhat of a forced two-day layover to break up my sets of flights. While much sunnier in London than on my outward journey, I was much less productive this round, spending what seemed like half of it queuing in the immigration line at Heathrow. I did, however, manage to squeeze in time to go see a(nother) friend in London, watching our Boston Celtics crush the Lakers that Sunday night.
While not widely advertised, you are not compelled to be present at MIT during the day on Registration Day. So, I squeezed every little bit out of my IAP by not returning to Boston (via Zurich) until 8pm that night. I got a somewhat stern e-mail from my adviser's assistant the day after wondering why I hadn't registered on Monday, but that paled in comparison to the pointed line of questioning I received upon arriving at Logan Airport (ah, the secondary screening). I was explicitly questioned about how and why I traveled so much at a young age, what my room number was at MIT, and where my family and friends lived.
Like I said, more at home overseas.
16 responses to "More at Home"