Wow, lots of questions to address today!
I guess I'll start by talking about my UROP (and for those who don't yet speak MIT, my lab job). A few months ago, I wrote a summary of my last project; a paper describing the results of that project is currently being reviewed for publication in Cell. (For anyone who follows science journal impact factors, this is a Really Good Journal.)
But anyway. Since the completion of the mouse project, I've been working on a yeast two-hybrid screen. Basically, you have a DNA that encodes a protein you're psyched about, and you put it into yeast along with a DNA that encodes for some random snippet of something. If the two proteins interact within the cell, they will allow the transcription of another protein that allows the synthesis of a certain amino acid.
I'm sure that made very little sense (it's a very confusing assay, even for biologists), so I have made another handy Paintbrush figure.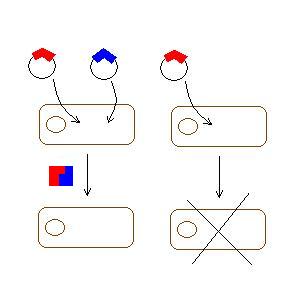 If the cell gets both a red (your gene) plasmid and a blue (unknown gene) plasmid, and the proteins interact, then the yeast cell lives. If not, the cell dies. There's another flowchart here. It's a little short on colorful Paint pictures, though.
So at the end of the two-hybrid (which actually takes an obscene amount of time, because it involves a lot of plasmid purification from yeast, which are rather tough customers), I found five proteins that interact with the protein I'm interested in. I've been exploring the interaction between my protein and one of the proteins I found since the beginning of the summer.
I've done a lot of assays to explore the interaction — Western blotting, immunocytochemistry, and overexpression in COS cells. I'm currently drug-treating neurons which express my proteins, staining them with fluorescent antibodies, and imaging them on the worth-more-than-my-life confocal microscope. (I'm not kidding. If you were to sell my organs piece by piece on the global black market, I'm pretty sure they would be worth less in total than this microscope.)
I wish I could tell you right now the exact nature of the interaction… but to be honest, I'm not really sure. It is likely to be connected with remodeling of the actin cytoskeleton, which is involved in learning and memory because neurons "learn" by changing their physical connections with other neurons. Further than that… I'll have to investigate more during IAP, when I'll be working at the lab 40 hours a week.
I got my UROP at the beginning of sophomore year, when I went through the faculty research interests of MIT biology professors to see which professors were doing interesting research. I emailed about 10 professors, and interviewed with two… I've been working in Morgan's lab ever since. I get paid $10 an hour, and since I'm a workaholic who works 15 hours a week during term… well, you do the math. ;)
I work directly with a postdoctoral associate in Morgan's lab, although I do meet with Morgan somewhat frequently to discuss both my research and my schoolwork — Morgan is also my biology faculty advisor. On a day-to-day basis, I work independently… after working in the lab for two and a half years, I know what I'm doing in a technical sense, but I still consult with my postdoc about experimental design and the further direction of the project. Still, the two-hybrid is my project — my postdoc has other projects of his own that he works on with his lab tech, but the two-hybrid is all me.
Other Questions:
1. Shannon asked if Eric Lander (the god of the Human Genome project and intro biology instructor) takes UROPs. In fact he does; I have a friend, Dennis '06, who's been in Lander's lab for several years now. Almost all professors take UROPs at some point — after all, we're much cheaper than grad students.
2. Anonymous asked if Stanford was grade-inflated. Well, I don't have any personal experience with Stanford's grading, although I have heard through the grapevine that it's inflated. I don't think that causes Stanford students to have problems getting into good grad programs, however!
3. Alexandre asked if it was possible to go to grad school in course 8 (physics) if one went to MIT for undergrad. My friend Fadam '07, a course 8 undergrad, says that the department does accept MIT undergrads, but that it's often harder for MIT undergrads to get into the MIT program than it is for them to get into similarly-ranked programs. I don't think this should be a factor in the decision to come to MIT.
4. Japanther, Katie, and zoogies observed that 4000 students is perhaps not a "small" school. I guess "medium-sized" might have been a better adjective, but 4000 undergrads is certainly a great deal smaller than the other school to which I considered going, Ohio State (50,000!). I think it seems smaller sometimes than it is — oftentimes there aren't so many degrees of separation between people.
13 responses to "On being a lab rat"