First of all, good afternoon to any visitors I might have who are knitting aficionados. Did you know that the bunny hat I'm wearing above was knitted for me by Ruth '07?
So, there's this report for 10.28 on the effect of hydrocarbon-coated magnetic nanoparticles on increasing diffusivity and thus oxygen mass transfer in E. coli fermentation, and I'm doing it with three people. I volunteered to organize and compile it by 3 PM today. So, I've been e-mailing Christina '07 all morning, running around with my laptop, taking it from wireless connection to wireless connection on campus, saying, "oh, no rush, no rush, just send me this report as soon as you can" and "Oh, DON'T WORRY, we'll be cool if you just SEND ME a page or something TODAY!!" and "AHHHHH!!! NO PRESSURE JUST DO YOU HAVE ANYTHING DONE YOU CAN SEND ME CHRISTINA?!?!" and "AHHHHHHH!!!! ANYTHING?!?!??! ARGGGGHHHBLE!!!!" because Christina '07, like me '07, has been working on the 10.302 heat exchanger lab report Excel extravaganza all night, so I figured she put the 10.28 report on hold until she finished that, which is cool, but I REALLY NEED HER PART BECAUSE I HAVE TO HAVE IT ALL ORGANIZED AND COMPILED AND PRINTED BY 3 PM TODAY.
…and finally she e-mails back and she's all, "Oh, I'll just do it tonight! Maybe you can come over and we can analyze this data together! Hahaha!" and I'm all "Oh, wait, it's due at 3 pm tomorrow. Oops."
Did I say "Oops?" Because I mean "Score!"
And then I got this.
Subject: application
To: Sam Maurer
From: Birgit Heil @ Bayer BBS
Date: Mon, 21 Nov 2005 16:37:30 +0100
X-Spam-Score: -1.638
X-Spam-Flag: NO
X-Scanned-By: MIMEDefang 2.42
X-UID: 22472

Dear Mr. Maurer,

Bayer CropScience GmbH in our site in Monheim will accept you as an intern.

Please be patient a little bit longer.

We hope to send you our acceptance letter at the end of this week.

Best Regards

Birgit Heil

_________________________________________
Bayer Business Services GmbH
Human Resources Services
Pre-Recruiting Services
Hauptstrasse 105/ Geb. 4818, 4. O.G.
51368 Leverkusen
Bayer requested a photo along with their application. I already showed you the one I sent to BASF.
Want to see which one Bayer got?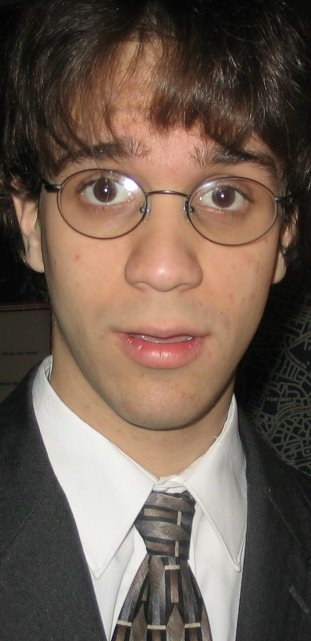 Many thanks to Dr. Berka and the MISTI MIT-Germany program for getting me an internship in spite of this picture and my vast underqualifications.
Additional congratulations to occasional commenter Ling '07, who, I think, also got an internship from Bayer. I can't really tell because the e-mail Dr. Berka forwarded to us is in German.
And, uh, I guess I don't really understand German too well.
Ruh-roh.
61 responses to "One wonderful day"