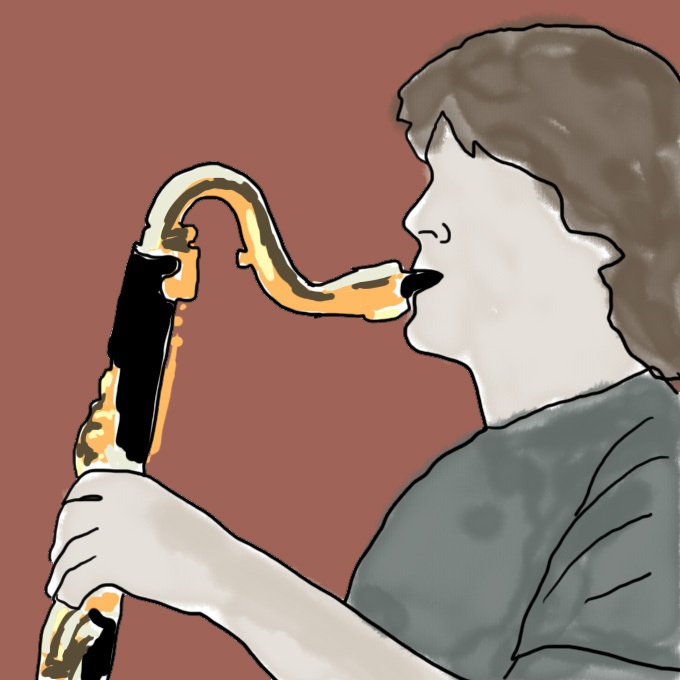 Orthostatic Tolerance

by ARTalk
[by Ken Haggerty '11] It might not be such a bad idea to visit this exhibit.
[by Ken Haggerty '11]

ABOVE: "How We Make Someone Invisible, 1" (2010): India ink on Mylar®.
I will admit upfront that I am a bit, if not a byte, more of a museum nerd than your typical MIT student, which is why this exhibit makes me so happy. The List Visual Arts Center's current exhibit of Tavares Strachan's show, Orthostatic Tolerance: It Might Not Be Such a Bad Idea if I Never Went Home, is really one of the best exhibits I have seen anywhere and is easily my favorite LVAC exhibit that I've attended. (And I'm not just saying that because I am writing a blog for MIT Admissions that is supposed to highlight the best of MIT's arts community.)
For those both within and outside of the Institute who have not yet visited, the List Visual Arts Center [LVAC] is MIT's official art museum. The center launches five to eight exhibits each year highlighting the work of a visiting artist (often an artist-in-residence), but it also organizes various other programs, including the Student Loan Art Program and Percent-for-Art program responsible for contributing new works of public art to campus. The museum itself is located in the old Media Lab building (HERE!) on the first floor and is free to everyone :)
Those artists who show their work at LVAC do not necessarily have to produce any new work for the show, but Tavares, a space and technology afficionado, collaborated with various research groups, including the 3D Optical Systems Group and the MIT Sea Grant College Program, to develop novel and advanced works of art which could only be created at MIT. All of Tavares's work, though, is interdiscplinary in nature and stems from a desire to establish the Bahamas Aerospace Sea Exploration Center [BASEC], a "dreamed-of educational center in his [Tavares's] homeland."
I had the great pleasure of attending an LVAC Gallery Talk with Tavares himself back on June 3rd with Li Brunetto '12 (a talented artist in her own right), Mark Linga (educator for LVAC), and Leila Kinney (Director of Arts Initiatives at MIT, who runs ARTalk) in the middle of a hailstorm, so thankfully we all stayed dried and didn't break any umbrellas.

ABOVE: LVAC Gallery Talk with artist Tavares Strachan. (Photo by Mark Linga)
What I like about Tavares's work is both how interdisciplinary it is and how methodical his process is. As Marshall McLuhan famously said, the medium is the message, and in Tavares's case, the medium is transparent—literally.

ABOVE: "What Will Be Remembered in the Face of All that Is Forgotten" (2010): Hand-blown glass circulatory system, 900 gallons of mineral oil, Plexiglas® tank, steel base.
The drawing at the top of this blog is a study done in India ink on Mylar® for the piece above. As you can't see, the cube contains a hand-blown hollow glass replica of a human circulatory system. The reason you can't see it is because it is immersed in mineral oil, which possesses the same refractive index as glass. Even in person, you can only see hints of it, usually when someone else walks on the other side of the sculpture.

ABOVE: "C.W. Sawyer", "D.W. Davis", and "H.O. Nash" (2010): Calcium carbonate. In the distance is "Purplish Blue Light" (2010): Hand-blown glass underwater vehicle, 100 gallons of mineral oil, plastic, computer systems, and Plexiglas® tank. "Purplish Blue Light" was made in collaboration with the MIT Sea Grant College Program and mimics the motion of the waves in the Bahamas in real time.
Tavares's work tends to be symbolic and suggestive of themes of exploration, failure, and homeland. One of his pieces—three chairs made from calcium carbonate (i.e., chalk)—is named after three schools in the Bahamas which are themselves named after prominent Bahamian educators. Tavares chose calcium carbonate because, in addition to being a medium of pedagogy, the islands of the Bahamas are composed largely of calcium carbonate. Another piece dramatically balances and exploded spacesuit over the viewer's head, surrounded by black walls and preparatory drawings in India ink on Mylar®.

ABOVE: "Finding My Way Home" (2010): Cast resin and steel. (Photo courtesy of Mark Linga/LVAC)
What I also like is the staging of the exhibit itself. As an architecture minor, I appreciate the attention to detail regarding how the pieces are placed. Makng art is one talent, but presenting it is another. Even though some pieces are new and others are old, all feel very much cohesive and uniform in both aesthetic and theme. It's great whether you're an art scholar or art novice.

ABOVE: A rocket made entirely of glass (L) and a robotic rover (R) are in a second smaller gallery just across from the main gallery. Don't miss them! (Photos courtesy of Mark Linga/LVAC)
Orthostatic Tolerance runs through July 11. The gallery is open every day except Monday from 12-6pm and is open until 8pm on Thursdays. Additionally, there's a Gallery Talk with Mark Linga of LVAC and Sarah Hammond of MIT's Sea Grant Program tomorrow (6/24) at 6:00pm, and I would definitely encourage you to go.
6 responses to "Orthostatic Tolerance"