This entry is a lot of things. Read!
First here are some pictures from freshman year. This is the dorm room which I shared with Kelly '09, all dressed up for Christmas.
This is my side of the room:
and kelly's:
You might be upset by the fact that there are 4×4's running through the middle of our room and you might even be wondering, "What?! Are those 4×4's running through the middle of your room?!" Well, yes. But here's why.
Chris '10 now occupies this room (his roommate de-doubled out of it over IAP when a single became available) and was kind enough to let me climb all over his bedding and his pillows to take the following pictures for the sake of clarity.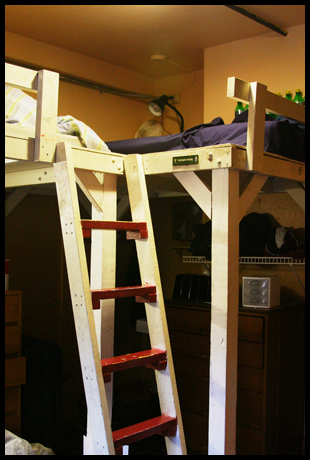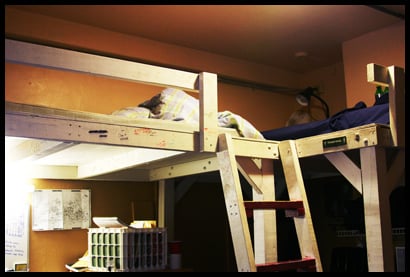 Because you see, we have a second floor to our room. Built as a double-loft, this imposing structure presides over more than 1/2 of the room and provides a comfortable living space below as well as one overhead. In short, it meant that you didn't feel the need to close the door when you napped and could always find a good hiding spot when evading responsibility.
This is the view from atop our loft. The interior design is an amalgamation of our individual tastes.


When we moved into our respective single rooms end of freshman year, naturally, we each got to have our own way with the decor. I spent weeks visualizing my new room and it took only 3 days in early June to turn my vision into reality.
This is where I live now.
And kelly's new (current) room: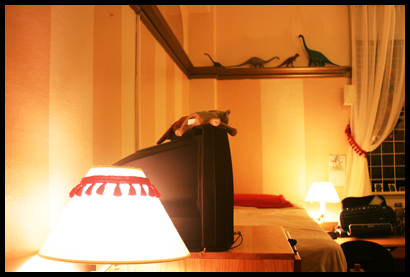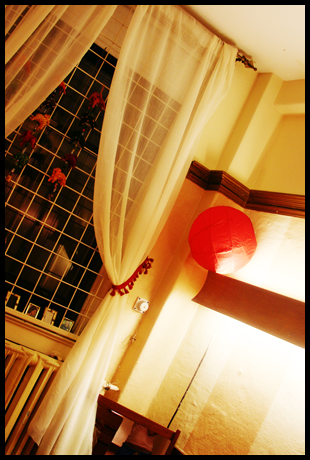 We think stripes are pretty cool.
Me chillin' in my new room after all the hard work: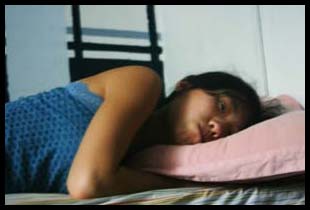 Here are some examples of other rooms around the place. (Yes, I am REUSING some of the pictures I took for the viewbook.)
A double in East Campus- 2nd west. these guys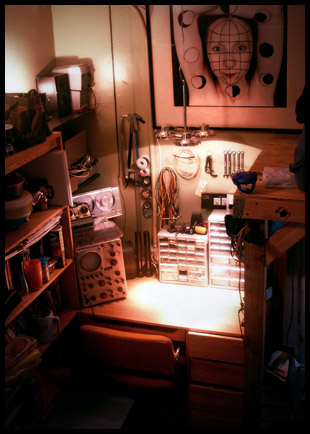 Talia's room in Senior House (who graduated last year, I believe).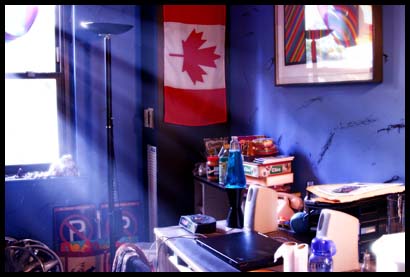 A single in New House (German House):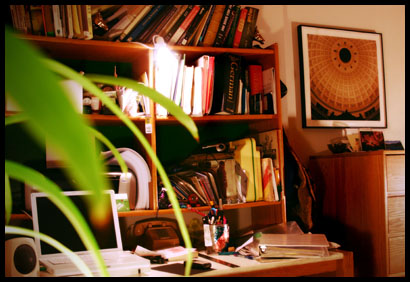 A single in Simmons Hall: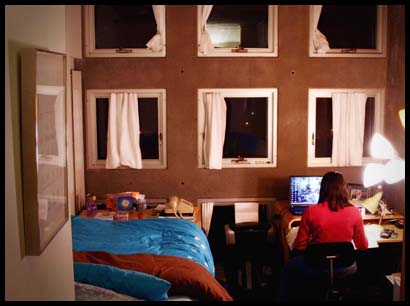 (there's a window under her desk. I probably couldn't handle that.)
Speaking of Simmons Hall. I ran into it the other day on my way to Brigg's Field. It was lookin' pretty good so I took a couple of pictures.
But don't be fooled by its grandeur. There are freshman singles, computer clusters, and private bathrooms in each dorm room. I hear it's quite a pain to live in.
I took these from the 3rd floor of lobby 7. Two pictures:
The other day, when a firetruck appeared atop the dome.
Rune, MIT's literary and art journal, hosted a open mic poetry reading with coffee and desserts. This was in the student center. I hear they might host another soon, you should probably go. I know I will.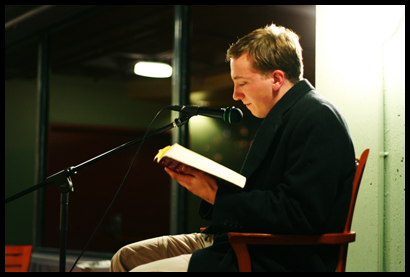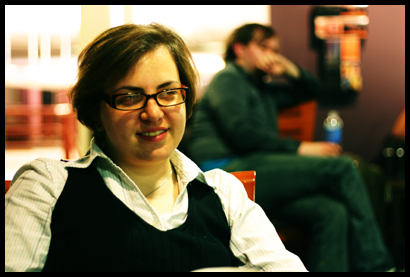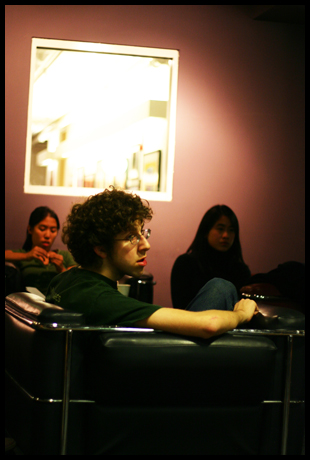 Meet the kitties of first east:
kitty #1 – Blackjack. Though lazy and fat at first glance, this cat can go 0-to-60 in 6 short seconds!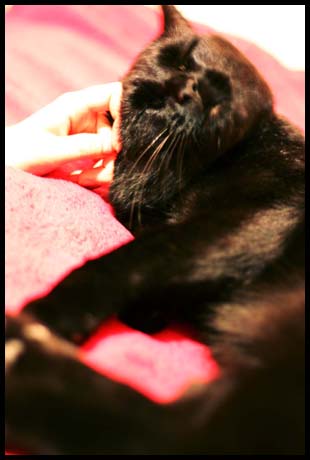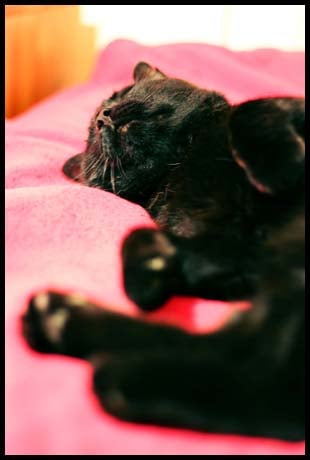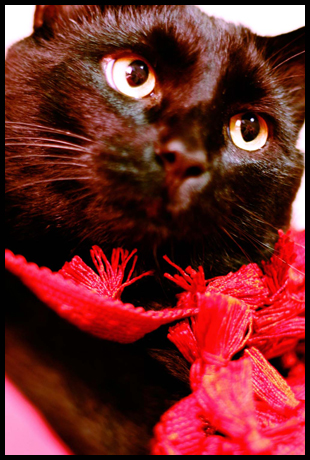 (glamour shot for a glamour queen)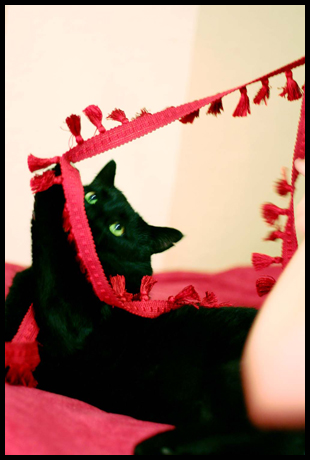 kitty #2 – Lestat. In full-blown teenage rebellion, this cat is catty and territorial. Likes to explore. Killer looks. Fits into tiny spaces.
kitty emeritus – Truman. Aw, Truman. Freshman year cat who graduated with his owner. Truman, who loves to eat hair and sleep in beds like a person. His favorite spot was our loft. His favorite time of day was naptime.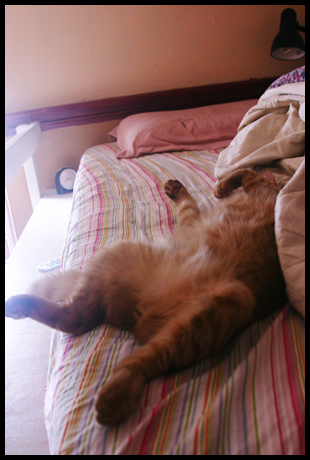 That's enough for now. Stay tuned for part II, if there is one!
28 responses to "Pictures that don't belong anywhere else – Part I"