DID YOU KNOW? All canned pineapple is cooked. This is why you can use canned pineapple in JELL-O but not fresh pineapple.
How tired do people get at MIT, with all the work they have to do? Well, yesterday I broke my world record low test score with a 40% on the third 6.002 exam. Luckily, the average was 47 with a standard deviation of 25, meaning that I really didn't do too badly, and also that you could have gotten a zero and still passed. However, shortly after getting my test I exclaimed, "Shoot! Dammit!" People probably thought I was just really upset about the test score, but I quickly followed it with "I stapled my finger!" After a few moments of panic, I had the sense to reach in and rip it out with one clean jerk. Miraculously, it didn't even bleed one drop for the rest of the day, the only evidence of it being a slight tenderness and a dull throbbing pain. Then I fell asleep 40 minutes into recitation.
So, you can staple your finger to a problem set and then fall asleep, sitting down, half an hour later. That's how tired people at MIT are.
Thirteen hours later, having not left campus for home at all, I triumphantly completed this thing.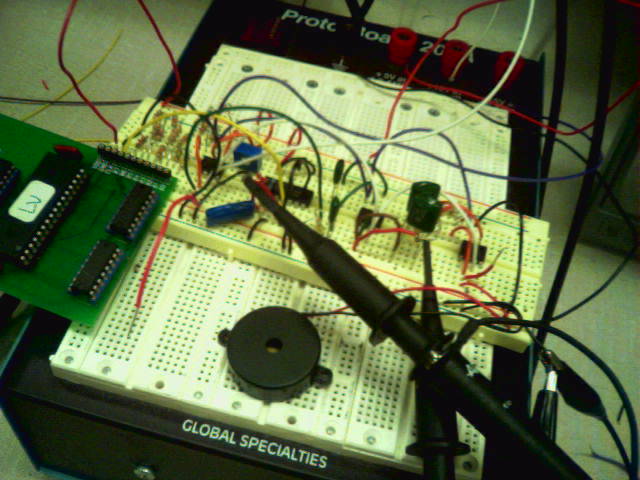 It's a clock, a counter, some memory, a DAC, a low-pass-filter, an amplifier, and a speaker. Put it all together and what do you get? Well, you get to pass 6.002 for one. But you also get music. Sweet music. I was really excited, because I had never done anything circuitry-related before and almost blew up an oscilloscope on the first day of lab, and now, here I am, making real, live 8-bit audio equipment out of a tangled mess of wires.
So, if you notice above, my memory is labeled LV, and I have no idea what this could possibly stand for. It played some kind of sad-sounding piano ballad, but the distortion was too great for me to figure out which one. I was guessing maybe "Lovely" something or "Lady" something or just plaing LoVe, but I really have no idea. So I played it again and again, switching out bits, playing with the gain, turning off the filters, but no luck in figuring it out. I was so excited, because everybody else was playing AP (the chorus of American Pie) or MLK ("I Have A Dream") or WHO (Abbott and Costello's "Who's On First") and I have absolutely no idea what I was playing. So, finally, deciding that the rest of the lab grew tired of hearing distorted whatever, I decided to pack up and call it a night.
Can you think of any piano-related thing with the initials "LV?"
8 responses to "Play it again, Sam"