DID YOU KNOW? There are at least two KISS cover bands in the world consisting entirely of "little people," and at least two of them are apparently engaged in some sort of war.
Hey all, sorry about the relative dearth of blog entries recently over the past week. Let's just say that today I turned in a problem set that was 47 pages long.
CPW rocked it, yo. Special thanks to my prefrosh George for being really independent and finding his way home at 6 AM without my help, to Kristin R for her wonderful (if slightly awkward) compliment at Meet The Bloggers, to "Joooliyah" for preventing the theft of my laptop, and to all of the lovely prefrosh I had a chance to meet over the weekend when I wasn't slaving in lab, passed out on my couch in the midst of 10.32, performing some blog-related duty, or running 3 miles. You kids are my American Idols.
Also, thanks to Kappa Sigma for letting the marching band crash their barbeque in front of Kresge–although, really, you guys should be thanking us. As fine a piece of art as "The Thong Song" is, I personally think that it was simply taken to another level with our improvised marching band accompaniment on top of it.
So I woke up Monday morning to find that there was a five-foot tall trophy in my suite. Now, this isn't actually such an uncommon occurrence, because I happen to live next to the president of the MIT Sport Taekwondo club. Competing against such worthy adversaries as Cornell, Princeton, and West Point, the five-year-old team has accumulated so many points in competition this year that they could skip the next competition completely and still win first place in their league.
That's pretty rowdy.
My neighbor Alicia (Course 7 '06) is the president of the club and is only slightly taller than the trophy recently won by the team: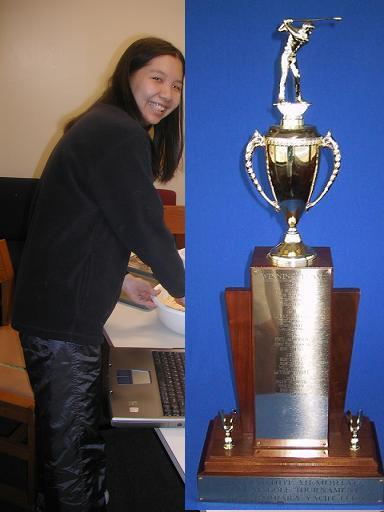 I was going to get a picture of Alicia with the five-foot-tall trophy, but she took it away last night. Well, this is what it would have looked like, had she won a golf tournament.
Alicia came to MIT as a white belt and joined the club her first semester. She just earned her black belt two months ago in a truly beautiful display of stamina and finesse. Among her many accomplishments, Alicia has a perfect 5.0 GPA, is headed into the PhD program at Harvard (with Mollie next year), lives next to me, and has performed cancer research for the past three years in a UROP with Professor Robert "I discovered the first human oncogene" Weinberg. This semester alone, she organized the national collegiate taekwondo championships, served as an undergraduate TA for freshman biology and beat all three Donkey Kong Country games for the Super Nintendo with her boyfriend. She also bakes delicious sugar cookies and shares my obsession with Food Network personalities.
Alicia and I were sitting in the suite one morning discussing, among other things, how amazing she is, how amazing the trophy is, and Trader Joe's High Fiber Cereal. Alicia noticed that she's actually the perfect height for the trophy, because the little guy kicking on top of it is exactly at her eye level. Then she noticed that the little guy was kicking with really terrible form, and concluded that he must be a white belt or something.
Such is the way of all Taekwondo trophies.
Anyway, I thought it was time to blog about somebody other than myself and Rachael Ray, and Alicia is better than both of us put together! She is a prime example of how to totally rock at life. Also, she goes to MIT.
Correlation implies causality.
11 responses to "Profiles in Courage"