For most of my life before coming to MIT, I had been really into drawing all sorts of things.⁠01 there was a lot of… naruto though I had sketchbooks full of Digimon I'd made up when I was 8, and drawings along the margins of all of my notes. I learned how to use Photoshop and Paint.NET and GIMP and Paint Tool SAI beginning in elementary school, and for a long while I would draw things by hand on paper, scan them, and then painstakingly line them using a computer mouse so I could color them digitally.
In middle school, I'd saved up money from birthdays, holidays, and what allowance I got, so that I could buy myself a drawing tablet. After some careful research, I had gotten myself a Wacom Intuos tablet, which was a small black rectangle that I'd plug into my computer, and a wireless pen with six adjustable tips. There wasn't a screen, so you'd have to watch your monitor as you made the strokes, which took some serious disconnecting from the mind-hand connection that I was used to.⁠02 as in, drawing a line produces a line at the tip of my pencil, and not a foot away and also vertically During this time, LED tablets were either extremely expensive or couldn't support the necessary software, so most amateur artists (at least, the ones I'd followed on DeviantArt) had drawing tablets. But wow, did this tablet work a charm. The six tips were all textured differently to give you the sense of different materials—I most often used one that was hard and gritty and felt just like the tip of a pencil.
I kept doing this throughout high school, when I'd post fanart and other original art on my Tumblr page. However, as is the story with most hobbies at MIT, the transition to college rigor made it hard to find time to draw, and the frequency of my art-making dropped to near-zero.⁠03 exceptions are: murals i painted in senior haus Plus, I didn't bring my drawing tablet with me, and my drawing software⁠04 read: torrented drawing software was left behind on my parent's home computer, effectively dashing my chances to continue on in my pursuit. I doodled in a sketchbook here and there, but it's just not as fun once you get a taste of digital art, and you realize that there is a world in which you don't have to worry about erasing the same spot a thousand times and ripping through the paper.
Well, what's changed now? Why am I even writing this? Like hundreds of other MIT students, I received a free iPad and Apple Pencil in late August, as part of a new loaner program to help us with remote work in the age of COVID. Alex has also written about the glorious iPad and even did an unboxing video for the fancy Apple Pencil. I was pretty skeptical of the tablet life when it came to note-taking and doing work, but when MIT offered the option, I thought to myself: why not give it a shot? These are unprecedented times, after all.
The package arrived on August 27th, earlier than most of my peers, though I'm not really sure why. I was grateful for it, though, because I had a five day window where I had this new, fancy tech that was supposed to be for school, but I was also not yet in school. I spent a few hours just setting things up—downloading all the apps I'd need, installing certificates, synching my iCloud, logging into various websites so I wouldn't have to later down the road, really just all the boring stuff that comes with getting something new.
I fiddled around with the pen, and found that I didn't like the way there wasn't enough friction in the pen-screen contact. The screen was too large for my hands, which was made worse by the clunky case we were also given, and I hated the feeling of holding it up like a giant phone. I'd made a mental list of all the things I didn't like, convinced that my old pen-and-paper ways were far superior. But, still trying to get some use out of this thing which I'd decided I didn't need⁠05 spoiler alert: i love it now, especially for taking notes I decided to download Procreate from the App Store.
What is Procreate, you may ask yourself? According to the internet, it's a raster graphics editor (think Photoshop), though to anyone who is remotely interested in digital art, or even traditional art, it is a godsend. Now, I'm going to do my best to not sound like I'm being paid by the Procreate team for this, because I'm not, I'm just really excited about this app, okay? For starters, it only costs 9.99 on the App Store, with no advertisements, subscriptions, hidden or pay-locked elements. The whole app is yours after one payment.⁠06 compared to photoshop, which can range from 9.99 to 20.99 per MONTH, depending on your subscription type The main con is that it's only available for the iPad,⁠07 there is an iphone version called procreate pocket, but it's very limited compared to the original. also, drawing on a tiny phone is HARD but again, not a problem if you can get your hands on the loaner ones.
I'd first heard about this app through Twitter—I follow a lot of artists (a mix of professionals and hobbyists) who often would talk about their software or brushes they'd use and the like, and I saw the name Procreate get thrown around a lot. I never had an iPad until now, though. I started doodling casually the day I downloaded the app, trying to figure out how the software worked and different brushes. Everything felt simultaneously so familiar, yet so new. There was the pressure sensitivity, which was always buggy on my older tablet, but worked perfectly on the iPad. All the things I had forgotten about making art had started coming back to me as I tried virtually every brush available. My first piece was a very rusty rendition of two characters from a series I just finished reading, but it still felt so good to do it again.
I find myself filled with a newfound itch to draw again, like I'm 14 and can't pay attention in geometry. I'm taking CMS.307: Critical Worldbuiling with Nisha, and for my latest story, I drew up a map of the location just so I could have it visually and reference it when I was writing. Whenever I finish a piece for this class, all I want to do is draw my characters or their worlds, just to look at this thing that feels so real and alive, in both words and pictures. It's the thing I loved to do the most as a pre-teen with loads of free time: writing and then making fanart⁠08 although, i guess it's not fanart but rather just art of my own work like I'm part of a one-man fandom.
At the risk of sounding like an absolute nerd, I'm also working on a partially-remote southern gothic tabletop RPG campaign with my roommate and some other friends, and I've been spending a lot of time trying to draw out all of our characters, and different things that have happened in our game so far. It's set in a small fictional town in Louisiana,⁠09 definitely not inspired by the hit HBO series True Blood, which i binge watched last spring and is all being carefully planned by our great DM, my roommate Dominik M '19, who's name already has the initials required. So far, my character Clem has attempted (and failed) to steal a dead man's cufflinks, and then completely botched a spell for summoning a ghost, but it's all in good fun!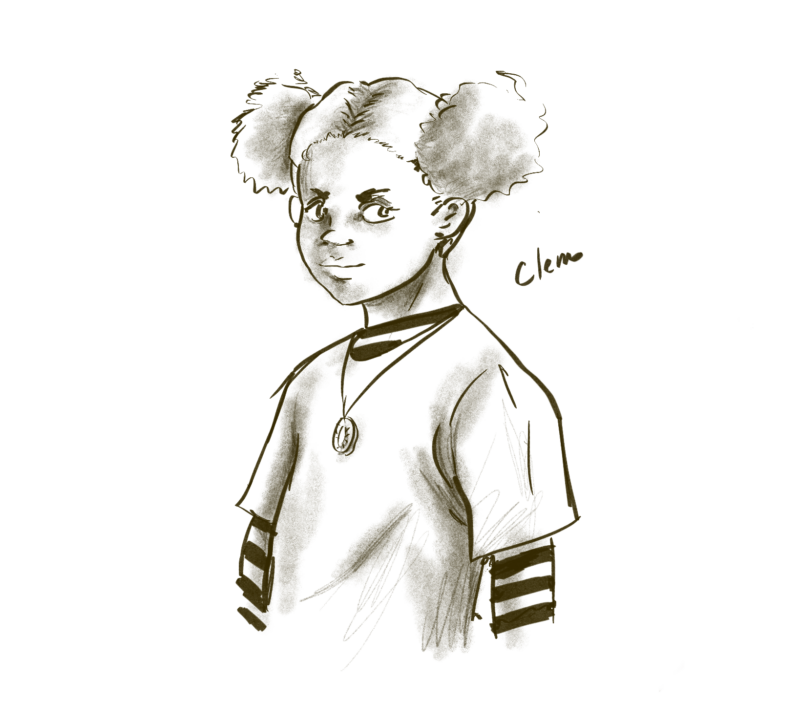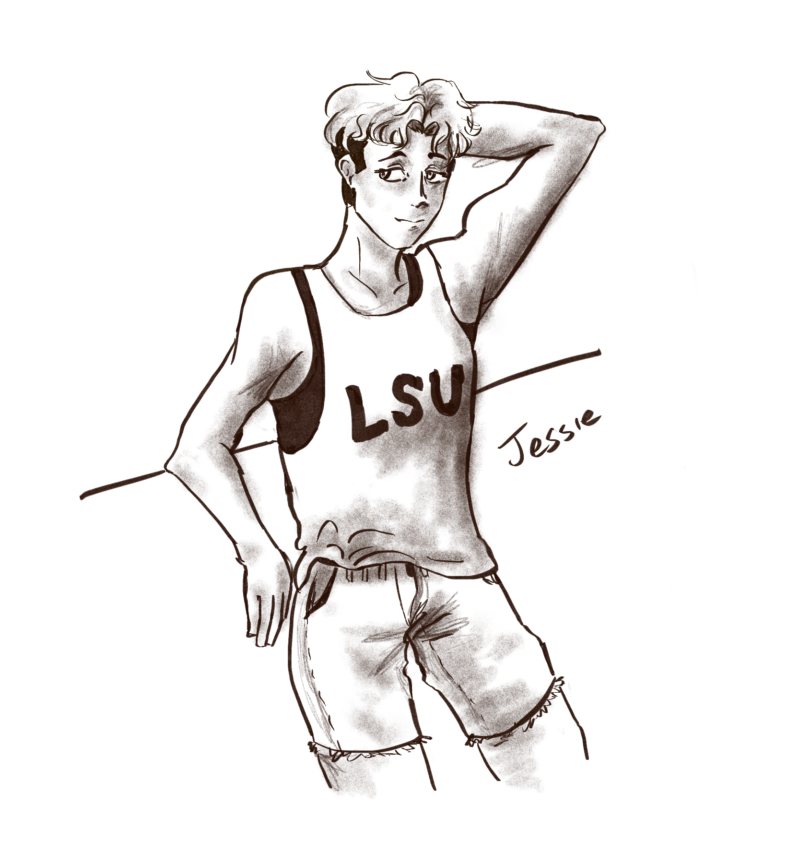 It's just so fun, drawing again with the world at my fingertips. I don't need to buy inks or special pens or paints, because I can just change the brush type and make it look like whatever I want. It also helps that this has coincided with my recent fantasy-reading-spree, which fills my head with ideas and inspiration for things to draw.
If it isn't clear, I highly recommend this app if you like to draw, and have an iPad. I know I'm going to be really sad when I have to give mine back at the end of the year, but I'm still hoping my rekindled love for drawing continues in full force.