Last week, I blogged a little about how MIT's student body really distinguishes the Institute from any other university that I know. On one level, it almost seems as if campus is constantly brimming over from the sheer amount of passion, creativity, and pure intelligence that suffuse all of MIT. At the same time, though, I have come to realize that MIT's faculty also play a tremendous role in creating, encouraging, and preserving the campus culture we have all come to know and love.
The traditional image of a college professor is, I think, something along the lines of an intimidating old sequipidelian I've already introduced you to Jeremy, but he's actually just one of the many, many completely amazing professors and instructors that populate MIT's corridors and classrooms. The blogs already have a ton of entries about the zaniess, creativity, and passion of MIT's faculty – and what's actually here on the website is only a small sample of the entries that could be written.
Beyond simply having awesome personalities and/or lecturing skills, you'll hopefully be happy to know that the research MIT is so well known for is still advancing at full throttle, across all disciplines. MIT's homepage has featured so many stories of this revolutionary discovery or that once-unthinkable breakthrough that I hardly have time to read them all.
As you may already know, I am making my own (very small) contribution to this research through my UROP in the Langer Lab. In spite of that, until just recently, I had never actually met Professor Langer before. Most of the time, I work directly with a post-doctoral student named Sandeep, who is actually the person who hired me; so on one level there was never any need for me to see Professor Langer anyway. Although I've heard he's actually pretty approachable (especially as Institute Professors go), I decided to wait for the right time to strike…I mean, uh, introduce myself.
That opportunity came a few weeks ago, when I received a very exciting email inviting me and any other interested UROPs in the lab to meet with Professor Langer for a pizza dinner! I immediately confirmed that I would come. After that, waiting for that day to finally roll around came close to how it felt to wait for admissions decisions…well, okay, maybe not quite. But I was incredibly excited to have the opportunity to finally meet Langer!
As it turned out, Professor Langer is even more personable and friendly than I could have ever hoped for. Including me, seven students showed up to the pizza dinner (I'm amazed there weren't more), which lasted over an hour. We talked about everything from the quality of the food to the state of education in China, from this one pizza shop in New York Dr. Langer was particularly fond of to the sort of qualities he liked to see in UROPs. Perhaps most significantly for me, Professor Langer also talked about how he wasn't entirely sure what he wanted to do upon graduating (from Cornell) with his bachelor's degree in chemical engineering. Certainly, he told us, he never saw himself as a professor…and yet, here he is, one of MIT's most famous and most highly respected researchers and scholars.
Of all the pictures I've taken here at MIT, this may be my favorite yet.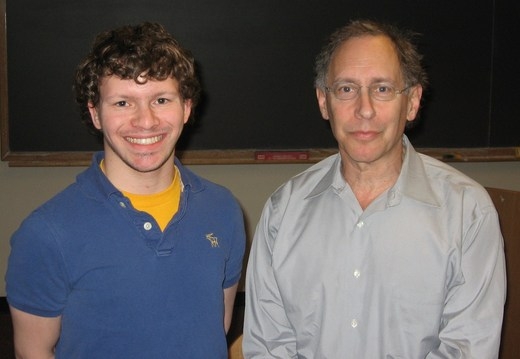 25 responses to "Rubbing Elbows"