The field hockey team is doing awesome this year, (The Tech even wrote an article about us breaking records!) but when we lose, we lose spectacularly. Like last night, we lost 1-0 in double overtime on the road and didn't get back to campus until quarter til 11. I mean, come on. Anyway, for whatever reason, I had a ton of energy when I got back, so Javier '08 and I decided to literally run circles around the dorm. The title of this entry was the last thing I heard Rick '09 yell as I skipped out of his suite: Ruth says update your blog!"
And when Ruth tells you to do something…
Being a blogger is a lot of fun. People (like Noah '09) introduce you to others as, "Laura. You know. The blogger." People yell at you when you don't update (like Ruth). People get all excited when you mention them in an entry(Adelaide '09 and Meara '09). Hell, people even get excited when you do psets with them. Monday night I visited Adelaide and Meara to work on 3.091. Clifton '09 was there, and when I sat down on the floor next to him and cracked the textbook he said, "Wow. Who would've thought I'd be doing my homework with a blogger?"
Anyway. On to Woodie Flowers. (Remember I promised to write about him forever ago? Yeah.)
First of all, props to Nehalita for properly identifying him right away. Woodie Flowers is a national advisor of the FIRST Robotics competition (here's even an award named after him: the Woodie Flowers Award, which goes a teacher/mentor who has had a profound positive impact on his/her students) and he also happens to be a professor here at MIT.
So a few weeks ago, Adelaide came running into study break, all excited about something. She proceeded to tell me breathlessly that she walked behind Woodie Flowers himself just that same day while on her way to class. Adelaide, being a veteran FIRSTer up in Canada, was thrilled about this. Her roommate, Meara, rolled her eyes when she heard the conversation and asked if Adelaide was still talking about it. Apparently, Adelaide had been telling this story to anyone who would listen, and no one cared! She was waiting all day to tell me, because she knew I was involved in FIRST in high school. I was appropriately excited, and even more so when I made another discovery a few days later.
I was on my way to the MechE computer lab to work on a project for FSAE when I passed this inconspicuous door…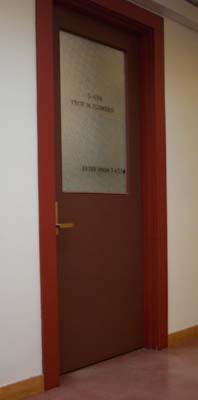 Woodie Flowers' office! If you're thinking, "Duh, he's a professor, of course he has an office on campus, what's the big deal?" then you'll never understand.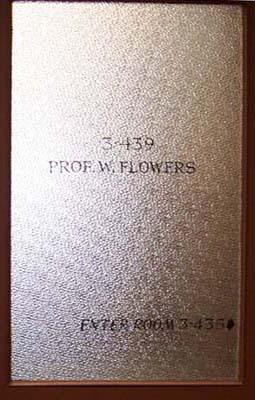 It's just so cool. =)
Moving on…in response to my entry about cooking, Dave asked, "cooking is fun, but is there any kind of dining hall? just for times when you don't xactly have time to make a three-course meal?" Absolutely! (And don't get me wrong, when I say "I cook for myself," what I really mean is "I make sandwiches for myself.") But there are numerous dining halls on campus. In general, dorms that don't have kitchens have dining halls instead- this includes Baker and Next. Simmons and McCormick have both kitchens and a dining hall. There are also dining halls in the student center and Stata. There are also various other options for food (like food trucks and coffee shops). You can read more about all of these things at the MIT Dininig Website. (Just a note- there's also a preferred dining plan where you pay a set fee in the beginning of the semester and receive 1/2 off of all meals in the house dining halls. You can read more of the details here.)
On a completely unrelated and yet excessively amusing note: the Conner-side elevator in Burton-Conner is broken. There's a sign saying so taped to the front desk, so that it's the first thing you see when you walk in the door. But just in case you can't read, the message is repated on the elevator doors: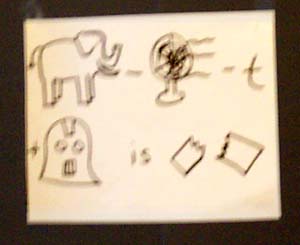 9 responses to "Ruth says update your blog!"