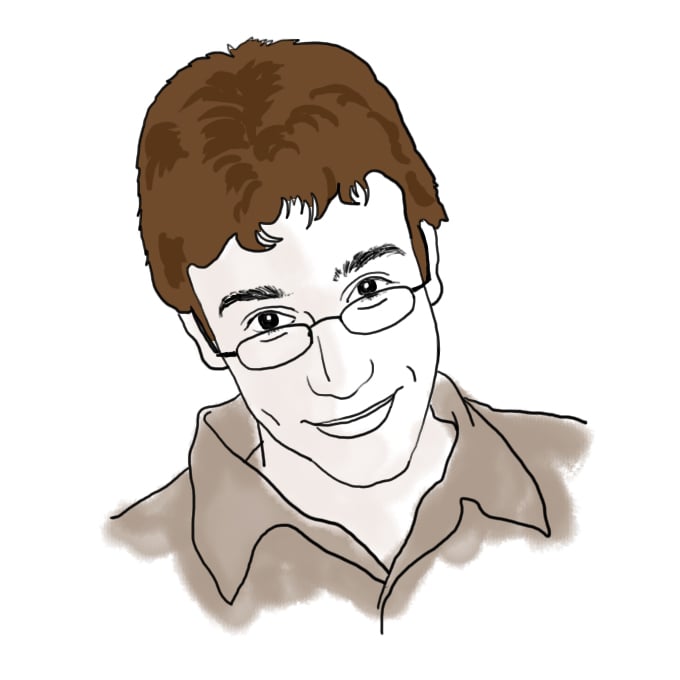 See me, feel me, milq me, heal me

by Sam M. '07
Picture entry! Don't read if you're on dialup! DON'T DO IT! Sorry, but it's for your own good. I don't mean to yell at you like that. I love you, baby.
I have a lot of free time tonight after finishing my 21F.401: German I listening assignments, courtesy of the LLARC. I'm still not very good at it; I transcribed one line of dictation as "Wen essen Sie?" which I think is a grammatically proper question, but not a socially proper one. So, you get two blog entries tonight, one of them all text and one of them all pictures. Smile, you buggers. Pretend it's Christmas.
Also, remember in the summer when you used to get nice, well-cropped color pictures in immaculately-high resolution? That's all over now. There's an official MITblogs digital camera that I was babysitting this summer, but Laura is gonna be taking care of it for a while. It's way too long of a walk across the floor to ask her to borrow it. Pretty much, the majority of what you're going to get is going to be camera-phone pictures. I think it'll give my blog a homemade, Blair-Witch-esque feel.
If you have a dialup connection and your computer is powered by, like, a hamster with a little wheel or your little brother peddling an exercise bike, please don't read any further. Just enjoy my witty repartee in the September 20 entry. There aren't any pictures there, but I promise it will still be real good time.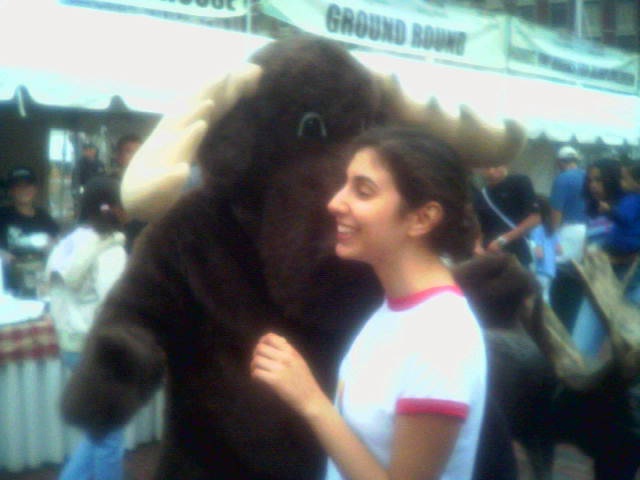 On Saturday, I went to the Taste of Boston. It was kind of not good; the food was mostly catering, not fancy restaurants, and the prices were a little high. Still, this establishment did sell us an excellent slice of "chocolate moose cake" (homonym for "chocolate mousse cake") for a mere two dollars. Really, I'm just posting this picture to embarass Mitra. I have no other excuse.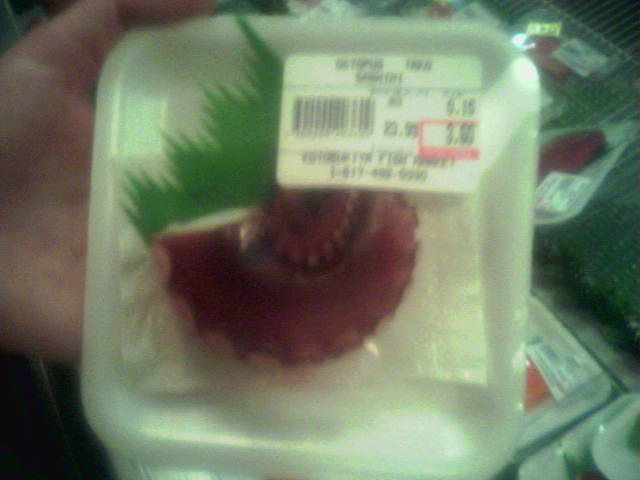 Saturday night, Ruth '07 and I went out to dinner at the Porter Exchange in Cambridge with a bunch of '08s. Despite being three T stops away from campus, Porter Square still used to be a pretty popular hangout when it was home to the Anna's Taqueria closest to MIT. Now that there's an Anna's in the student center, nobody goes there anymore. Anyway, it's still a pretty cool place–the mall itself has kind of been taken over by Japanese restaurants and is home to this strange little market, which sells Japanese snack items and sushi-grade seafood, as seen above. We did not eat the octopus tentacle for dinner.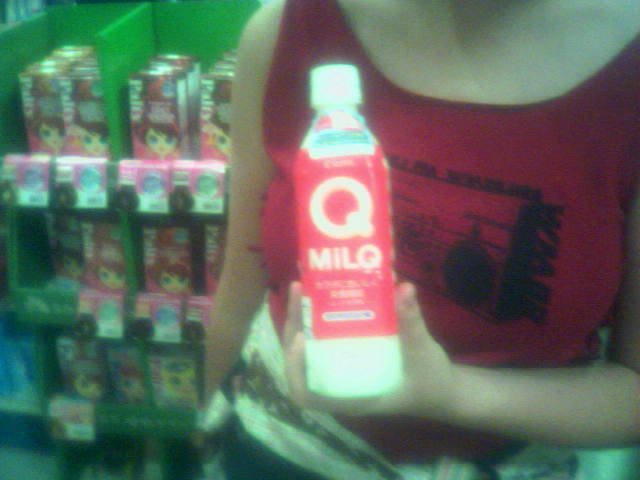 Nor did we drinq this Milq. Rather, we waited for reservations at a sushi restaurant for 15 minutes before Gloria talked to some people working at the mall in Mandarin and discovered that the chef was the same as at a cafeteria fifty feet away, which had prices that were about one-third in magnitude. So, we went over there. Sushi makes me throw up in my mouth a little, but luckily there's a full Japanese food court there, so I was able to get a lovely chicken and egg dish, much like the one that inspired the Paul Simon song "Mother and Child Reunion."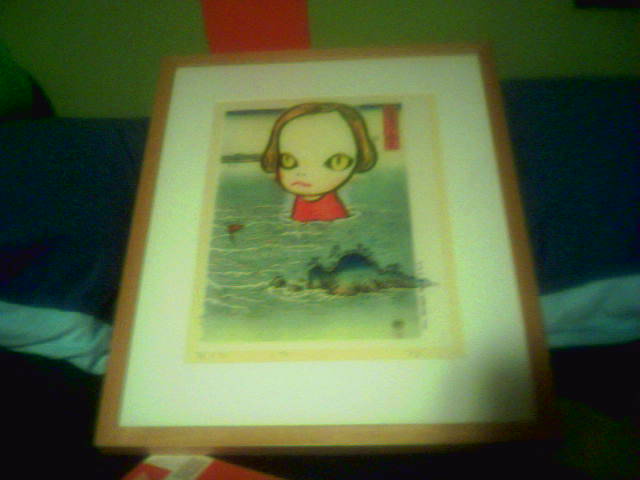 Sunday I dragged Joe '08 over to the List Visual Arts Center (LVAC!) to enter the Student Loan Art Program (SLAP!), which Matt eloquently described in an earlier entry. The key to winning art in this program is to select things that are really creepy that nobody else will want. This extra-creepy print by Nara, "Ocean Child," has found a comfortable home in my room.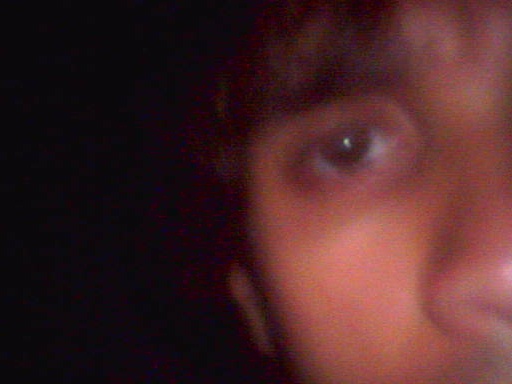 Monday, a most resplendent day, I walked over to the BSO with Mitra and Gabe '08 to pick up our college cards. These puppies are fully subsidized by MIT and let you get into about 20 concerts every year totally free. Unfortunately, they don't go on sale until tomorrow. How disappointing. Then we got lost in the woods, I found a bloody knapsack with some of Gabe's teeth in it, and I ran and ran around with my handheld camera and then cried for a while while snot came out of my nose, as seen above. Just playin'.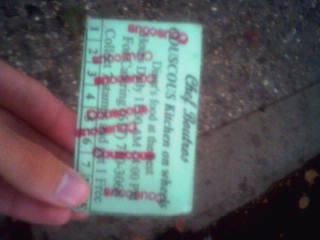 The falafel truck at 77 Massachusetts Avenue makes a decent-tasting, unbelievably large sandwich for only $3 and has a "buy 7, get 1 free" deal where you get this cool card that they stamp. It's a good price for lunch, and you can get a baklava and a diet SODA for a dollar extra. Anyway, Tuesday I was very excited because I had finally earned my free falafel after a month of hard work. I wondered how the truck possibly make money, since falafel is pretty expensive to make, but then I realized that I would probably never patronize this truck if not for the "buy 7, get 1 free" promotion. Well, I'm not Course XIV. Tomorrow I will go back over to get my third card of the year.
Wednesday, Burton-Conner had a bake sale to benefit victims of Hurricane Katrina. I baked this Jewish Apple Cake based on a recipe that my across-the-street neighbor Dot gave me (or as Mitra calls her, "my Aunt Dottie"). It turned out incredibly well. I may have to try it again sometime. I think I'll cover it with apples foster and homemade whipped cream and serve it in our dorm's apple bake competition.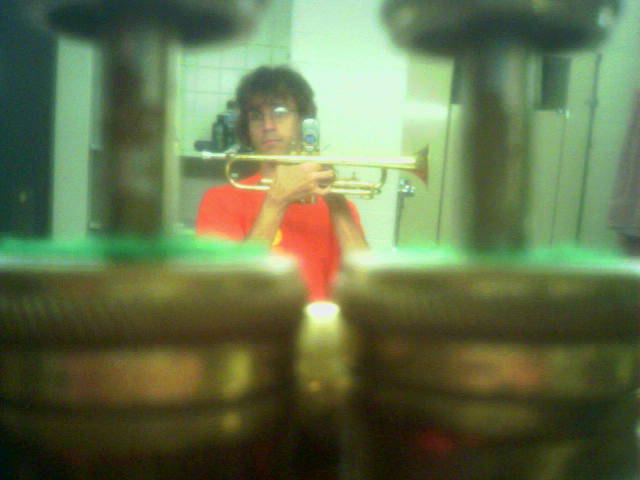 Wednesday night I joined the MIT Marching Band. Now, in high school I was kind of an accomplished mellophonist in my school band. However, I never owned my own instrument, and all they had for me to borrow at MIT was this old, disused trumpet with a mouthpiece that can't be removed. So, I'll learn trumpet. Turns out I suck eggs at trumpet. It's the same fingerings, but you get different pitches when you play them. Very confusing! Oh well. We only rehearse once a week (really!) and the first rehearsal was a ton of fun. The director is always very positive. I wanted to practice for the game on Saturday but they didn't give me any music to take home. I really missed playing an instrument. We'll see where this leads me. Isn't this an artistic photograph?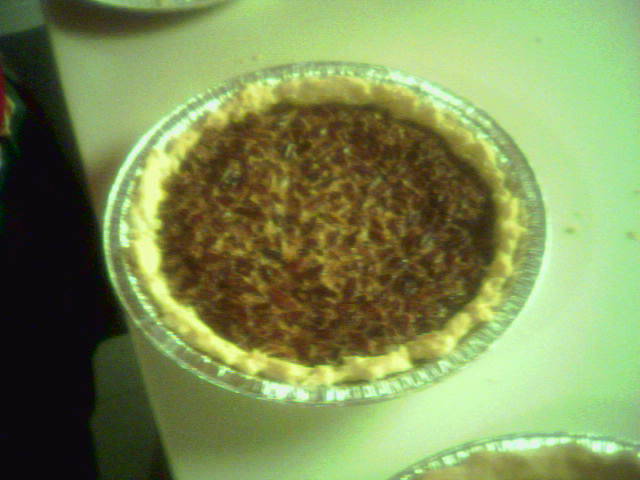 This is a pecan pie that Ruth baked. It was also excellent. It was also excellent when she helped resolve a budget crisis this evening. The dorm has an IFAF, which is basically a $3000 fund to sponsor different floors in the dorm to hang out together. Can you guess what it stands for? Well, we had originally requested over 150% of the IFAF money, but with a little common sense an a lot of free Bertucci's pizza, we were able to reach a great compromise that worked out spendidly for all parties involved. Except Burton Third, who's paying a lot more for a cabin in Maine than they had originally expected. Sorry, guys. At least you got pizza.
Today I fell in love with Pamela Wood and Jean-Francois Hamel. I want to marry both of them. Better yet, I want them to marry each other and become my adoptive aunt and uncle. They are both so amazing. Professor Wood speaks in a whisper, says "it matters not" non-ironically and yet never sounds pretentious at all. Professor Hamel, speaking in his adorable French lisp, his one gray streak shining against his unkempt brown hair, today asked me as I was watching glassware, "Are you enjoying yourself? Are you leaning a lot and at the same time uh, uh, having fun?" Sigh…
And tomorrow you'll hear all about the life of a chemical engineer, at the request of an anonymous commenter.
Wow, a week in the life.
11 responses to "See me, feel me, milq me, heal me"