I can't believe it. It's been a whole year. An entire year.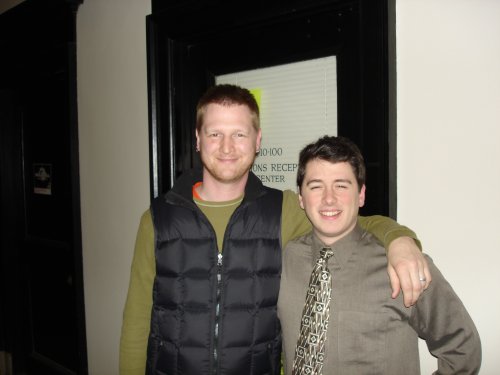 They're selecting Early Action applicants. Yes, on a Saturday. These folks are amazing. I hung around the Infinite today and caught Ben and Matt as they were leaving for the day :-)
They both looked kind of tired, but as you can tell Matt's got his characteristic tie for selection period! I figured I'd better get out of there once I had my picture so they could go home and think about anything but applications. :-)
My application period for MIT was probably the most anxious period of my life. Everyone's probably telling you not to worry, to think about other things, to just trust that it will all work out — yeah, right! I know you're going to be thinking about nothing but MIT for a while. Hang in there and feel free to weigh in with comments.
I'll have a couple more entries (gosh, I'm overdue) in the next few days with some photos and such. Try to get some rest, everyone :) [or just me]
28 responses to "Selection?"