DID YOU KNOW? Human females are the second-largest female primate, but Human males are only the third-largest male primate.
"Wait… you're Course 9, and you like Dr. Phil?"
As promised, I headed over to the MIT Integration Bee this evening. It was pretty cool, but it not rule quite as thoroughly as I had hoped. For one thing, the integrals were incredibly, unbelievably, brain-screamingly difficult. I mean, it goes without saying that I'm not smrt enough to do them, but these were even too difficult for some of MIT's best fifth-year mathematics graduate student integralists. So the #7 and #10 seeds in the tournament missed the first five integrals. Which makes for 20 minutes of just not too much fun if you ask me. But then the #8 seed was Dave Shin '05, who is apparently like a superhero or something, and he started solving the integrals in like 30 seconds, and after that things started seriously rocking out. I had a list of my favorite integrals from the competition, but I forgot it. So, I'll type them up for you tomorrow and you can fail to solve them for yourself (just like I did on all but two of them) and then look at the answers down below.
Really, with the advent of the Wolfram Integrator online, there's no reason for me to learn this anymore. Plus, engineers don't do math. Sometimes if I'm lucky I can solve like, dT/dt – 2 * T = 0.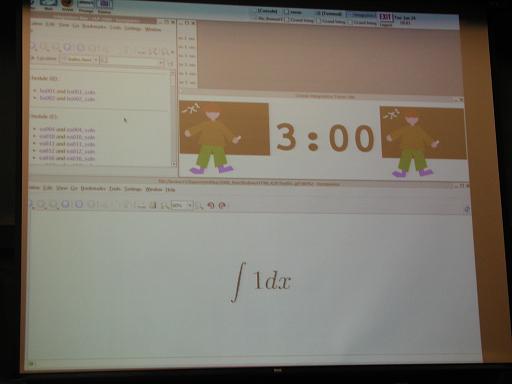 The timer/integral display. You can't appreciate it here, but the little CLIFTON guys next to the timer were actually like animated GIFs that did integrals as the time counted down. It was astounding. The integral shown was the "warm-up" round before the proper competition started.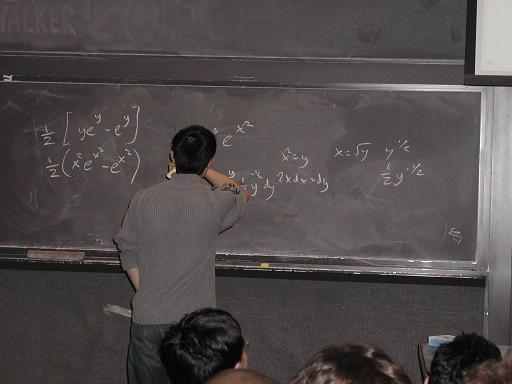 Dave Shin '05 eventually solved this particularly tricky integral. I know you think it doesn't look that cool here, but when he got it, a whole lecture hall full of people ended up getting really excited. "How excited, Sam?"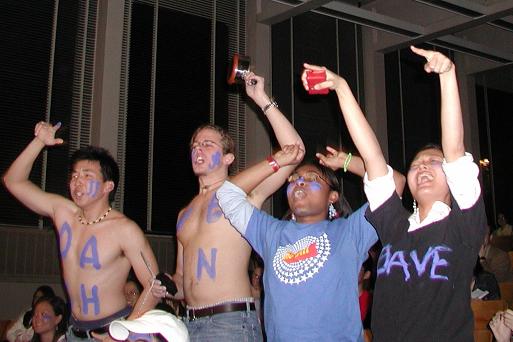 Really excited, Chester.
You might think these are just misrepresented photos from a different event, but no–look at their cheeks.
Only at MIT.