I woke up today to blowing snow, the sound of fire trucks (from the firehouse across the street) and a call from our team captain saying that the boathouse was locked, so practice was cancelled. The day is turning into the first snow day I have had in years.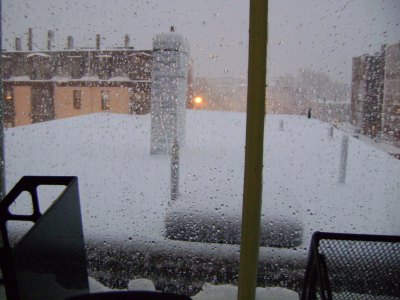 The view from my window
Back home in Colorado, snow days are few and far between. It usually takes about 18 inches of snow, and ice on the roads to close schools. Being as sunny as it is, this never happened much. There were a few memorable days throughout my school career, but we could go years without one.
I'm not sure if Bostonians are less accustomed to snow, or perhaps it really does stick around more (case in point: I had never seen snow turn black), but the four-ish inches we currently have is enough to close down the Institute and the city governments.
My IAP so far has taken place mostly in Florida, during winter training for crew. Stick four crew teams together in a hotel, add two practices a day, access to a hot tub and a television, and you get rowers who row, sleep, eat and watch tv. Repeat. It was a great time to bond with teammates (and improve our rowing of course). It was also 70 degrees most days. I unfortunately forgot to take any pictures during our time in Florida, but just imagine the sun, salt water and dolphins.
After a tumultuous journey home due to bad weather in Philadelphia, and some help from Derreck '10 (Thank you so much!), I finally made it home to Cambridge. The past two days have consisted of rowing practice, running errands and working. Today was supposed to be much of the same, but now that the Institute is closed, I have the expanse of an unplanned day sitting ahead of me. First order of business: back to bed.
12 responses to "Snow has arrived"