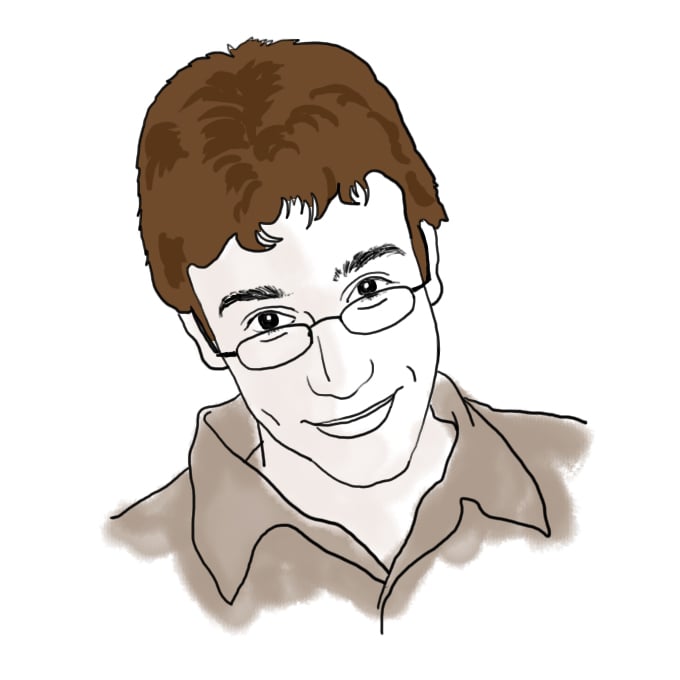 Some Time in New York City

by Sam M. '07
I'm not much of a man by the light of day, but by night I'm one heck of a chemist.
DID YOU KNOW? A long time ago, before the Fleet Center was built, spectators at the Boston Garden reported seeing leprechauns in the rafters during Boston Celtics games. Many years later, when the venue was demolished, monkey skeletons were found in the rafters.
I got this info from Sergeant Pepperz on a Boston Duck Tour I went on this afternoon with Tau Beta Pi. Duck Tours are something you might do with your parents or grandparents, but they're a little too touristy for a future Boston resident to pay $26 for a ride–after all, you can just get upperclassmen to to tell you all these helpful little facts. Luckily, TBP has awesome social chairs that plan events like these at huge subsidies.
One thing that I really appreciate about MIT is that Boston is RIGHT THERE. Like, RIGHT THERE. Like, right out my window. For two-thirds of you, it's just going to be a half-mile walk out of your room and across the Harvard Bridge. The other third of you are actually going to live in Boston! When other colleges say that they have a city life, it might be a half-hour shuttle ride or a 2-hour bus ride or a 6-hour plane ride to the nearest city! And yet, you still have the river separating your classes from Boston–it's not like NYU where the bottom floor of your dorm might be a Chinese supermarket or something.
BUT WAIT, there's more. If you walk fifteen minutes out of your dorm and take the T down to South Station, you can get on a Chinatown bus down to New York City! It's about a four hour ride and it costs $32.50. So last weekend my fierce non-girlfriend Mitra and I decided to head down for about 24 hours of total domination.
In the past, when I've gone to New York, I've been all "Oh WOW I want to get student rush tickets to a Broadway show and see all the great museums and go to these 57 great restaurants that I saw on Food Network and get mugged and do everything!" But since I am now twenty years old and mature, the whole point of this trip was more, "Oh, I just want to have a nice relaxing weekend far far away from MIT and Boston." Having completed our final project for ICE 15 minutes before the deadline, I was indeed a little bit ready for a break from all that.
So, since every single person who read my election day entry voted, here are a few pictures and anecdotes of last weekend.
We started off our time in New York with a trip to Pommes Frites, where we got three sauces–vietnamese pineapple mayo, pesto mayo, and sweet chili paste. You might think these sound weird, but the person after us ordered "a sauce made of 3/4 curry mayonnaise and 1/4 sambal olek." Seriously, what is wrong with you? Anyway, we were in a huge gigantic hurry to get to the apartment of Mitra's friend Veena, so we decided to eat while we were on the subway. At 2 PM in New York. The result was a Lucy and Ethel-worthy scene in which we dropped sweet chili paste on the ground, offered free french fries to other tourists after almost dumping mayonnaise on them, and speed-munching fries at opportune subway stops.
On our way to Veena's apartment, we were hungry something fierce, so we almost stopped to get something to eat…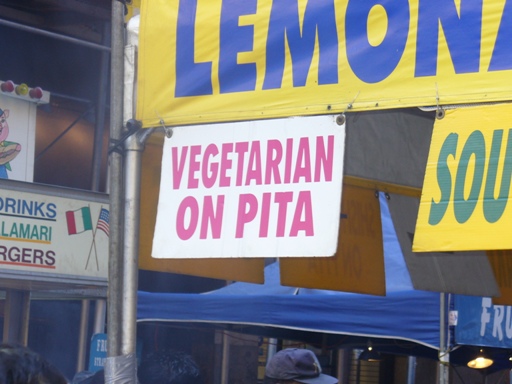 …or perhaps someone to eat. But no, we pressed on. Besides, a vegetarian on pita would not provide nearly as much food porn as Rosa, where we eventually did end up going with Veena.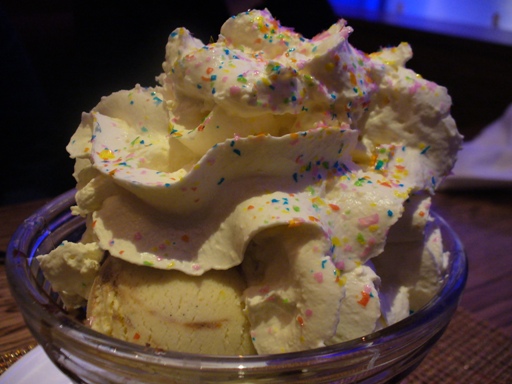 We had a lot of choices as to where we could go to eat, but Veena basically summarized them thusly: "Well, we could go to this noodle place that I don't like very much, or we could go to Rosa, where they have homemade guacamole that changed my life." At least, that's what I heard, basically. So, of course, we had to end up being huge gigantic tourists and take pictures of that action.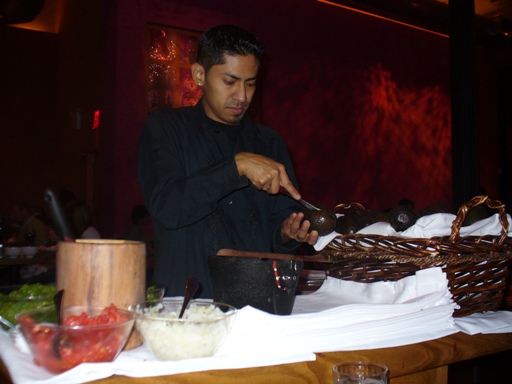 But how was the food? Intriguing, if you're my non-girlfriend Mitra.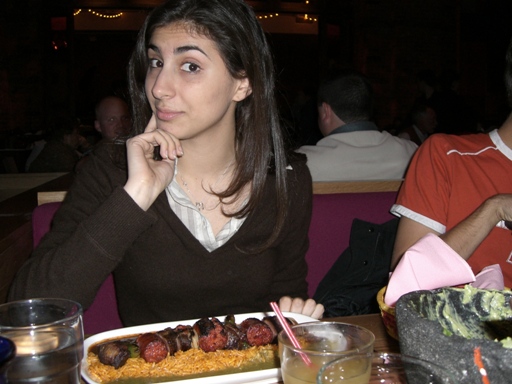 Before dinner, Mitra, the best saleswoman on Earth, and I helped Veena find a delightful new coat worthy of Kara Saun from Banana Republic. After dinner, we went back to a post-Halloween party at Veena's apartment, where we reprised our Simon and Paula costumes. It was great, although Veena had seven OutKast songs on her iPod, Bombs Over Baghdad was NOT one of them. Mitra and I were so distressed by that, we had to sneak out for two hours in the middle of the party.
We concluded our stay by heading down to Central Park for a few minutes to learn about the salvation of our souls from helpful pamphlets and also to watch the conclusion of the New York Marathon. I have to tell you, I was getting a little tired of running around all the time last week–I only ran a total of 8 miles the whole week! But watching hundreds of nearly-dead people crossing the finish line and hundreds more yelling madly for them and throwing babies at them made me think fondly of last April and being carried 26.2 miles on the enthusiasm of tens of thousands of crazy Bostonians. Basically you can get me to do anything if you tell me that people will be cheering for me.
All things considered, last weekend was refreshing, like a green tea frappucino.
13 responses to "Some Time in New York City"