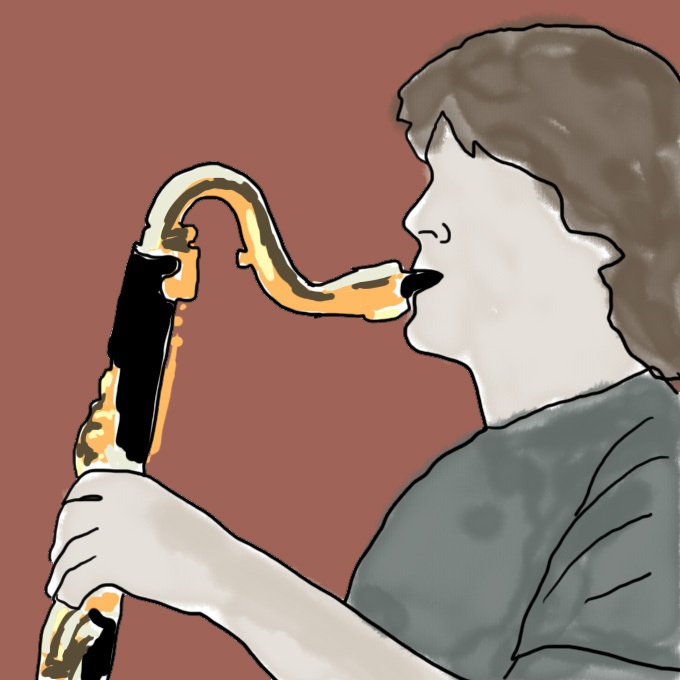 Stories from Uganda

by ARTalk
[by Biyeun Buczyk '10] Installing an exhibit in the Wiesner Student Art Gallery.
[by Biyeun Buczyk '10]
The Wiesner Student Art Gallery is located on the second floor of the Student Center (W20) and is the only permanent location for current MIT students to show off their work. Exhibits are usually booked by month and scheduled well in advance through the Student Art Association.
If you've been following the blogs since 2007, you might remember I spent two months in Uganda that summer under a Public Service Center Fellowship. In June 2009, I traveled to Uganda again with Computers for Uganda, an organization based in Seattle, Washington, that brings computers to secondary and primary schools in Uganda. I have been a part of this organization since 2004, and this was my 4th visit to Uganda.
I brought my Mamiya RB67—a beautiful, entirely mechanical, medium format workhorse weighing in at about 8 pounds with its 180mm lens—to document the trip. Along with the camera, I carried roughly fifty rolls of medium format (120mm) film of various speeds (black and white) and a few rolls of color negative (C41) and slide (E6). As soon as I returned to the States, I scheduled a photography exhibit with the Wiesner.
However, being the incredibly hosed MIT student that I am, I of course didn't get around to working on this exhibit until the last two weeks of January. After spending weeks in lab helping put a paper together for SIGGRAPH, I locked myself in the dark abyss that is the darkroom, losing all track of time, endlessly hovering over trays of chemicals, watching the secondhand tick-tick-tick. A week later I finished toning my last 16″x20″ print. This, of course, was not the end.
I spent the next week mounting the majority of my prints to gatorboard. The process is quite simple:

Dry mount paper is cut to size to fit the print. Dry mount is waxed-based and will melt and stick to surfaces after heated.

Using a tacking iron, I melt enough of the dry mount to stick to a small portion of the print, enough to keep it from shifting.

I then sandwich the dry mount in between the print and the gatorboard and apply heat and pressure using the dry mount press.

I then trim the image to my liking using a heavy duty art knife and straight edge.

While dry mounting was my main method for finishing prints (largely due to cost), I did mat and frame four pieces. Unfortunately, matting is perhaps the most stressful thing a photographer can do to finish prints. Consequently, the only photo of the ordeal comes from the beginning, where I start cutting my mat board to size:

A few dozen blades, sweat and #[email protected]$%@ later, I've matted and framed my prints:

But this image is quite far into the future. Before I can get to this point I have to sleepily roll my cart of finished prints down from the Student Art Association to the Wiesner Gallery…

Measuring 57 inches (gallery height) from the floor I set up a sightline on every wall. This line determines the height at which the middle of each image should be hung.

With the sightline set up, I can begin to hang my prints.

A few hours later, and I'm all done.
The gallery is a constant work-in-progress. Sam Magee, the SAA's program coordinator), recently installed new track lighting and cleaned the space up a bit, but even with these changes there's still a lot left to be wanted. Nevertheless, the space is in high demand, and I'm lucky to have gotten a spot. Perhaps one day we'll have a larger array of options and a more formal space to exhibit pieces that might be too delicate to leave out in a public space.
As an example of an informality of the space, people frequenting the second floor tend to use the Wiesner as a corner to make phone calls, have lunch and leave trash on the windowsill, and organize informal dance lessons. Yesterday I witnessed the gallery being turned into a playground of sorts: children of parents attending an event in Lobdell were left to run around the gallery, climb the walls, and leave food crumbs all over the floor. Grrrr…… >_<
In the meantime, though, I'm making the best of the space and am proud to have finally installed my first solo show. I hope that more than a few people will enjoy the work I've put up this month, and maybe learn a little bit about Uganda in the process.
Here is a highlight of some of the pieces featured in Stories from Uganda:

Playground (2009), Gelatin Silver, Sepia and Selenium Toned

Maama Namu Beauty Saloon (2009), Gelatin Silver, Sepia and Selenium Toned

Music Centre (2009), Gelatin Silver, Sepia and Selenium Toned

Village Boy (2009), Digital Print from Slide Film
<plug> If you're around for the next week, please come to my opening on Thursday the 11th from 5pm-7pm.</plug>
13 responses to "Stories from Uganda"