Several things happened last week of note.
Monday was the first day back after Thanksgiving break. And somehow with three problem sets and a presentation in the same week, I'd never been so behind on work. For Thanksgiving I had traveled to Maryland (where my mom now lives due to work) to spend the holiday with the family (Mom, Dad, Aunt, Uncle, Cousin — in other words, all my relatives that are currently in this country). And considering Thanksgiving is usually just the three of us in a big empty house, the commotion was a welcome change and a nice bend toward normalcy for a family like mine. Unfortunately all this came at the cost of 2 full days of travel. Wednesday was 13 hours including traffic by bus, just me and my suitcase, standing in the cold and chaos of Penn Station, wondering just where I would stay the night in case all the busses ran out of room, Saturday night coming back was 10 hours by car, just me and my dad, 1 phantom of the opera soundtrack, 1 Beatles album, and a trunk loaded up with winter clothes and all manners of sustenance for the finals and final weeks ahead. Mostly junk food.
Monday night, I learned a new word: syzygy — or the alignment of three celestial bodies in orbit. I was deep in the discussions of Rune financial matters when I received an email from my boyfriend telling me to look up.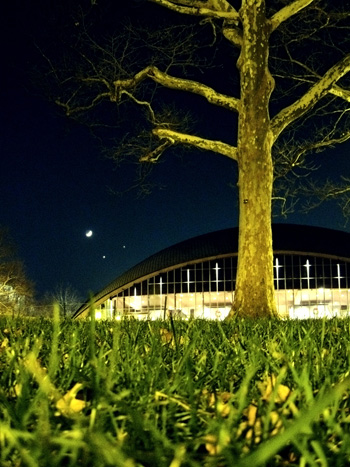 The moon, jupiter, and venus in a right triangle. Over Kresge.
I hope you got to see this, it's a pretty incredible sight. It was bizarre like seeing two suns or something. I hear the next one isn't happening for another 20 or 30 years.
To see
The coming together of things.
Then Tuesday at 1pm I persuaded my Rhetoric class with facts and figures and a sleek black powerpoint presentation that the LHC isn't going to kill us all. So everybody should just relax. (The link is to my final transcript – complete with cues for gestures and slide changes and all – along w/ the accompanying presentation). And that would be the last assignment for Rhetoric this semester.
Also, that night I attended a physics faculty dinner hosted by the Undergraduate Women in Physics this time with Professor Rajagopal who had lots of advice for the wandering undergrads including, "apply to grad school, even if you're not sure you're going to go right away" (oops), we ate at The Asgard Pub on Mass Ave. I had delicious salmon which I then heated up and ate for left overs the next night.
Then Wednesday was a big day because after all the waiting, all the head scratching, all of the components for our new CCD testbed has finally arrived and the electronics were hooked up and configured and the new linux computer polished up and ready for action. It's hard to describe the kind of relief this brings me. Not only from being relieved of having to work on a 10+ year old sun machine running what appears to be the first version of linux ever, but even being able to do any work at all. Also, we have a totally sweet new 3-axis mount for our star plate for simulating spacecraft jitter. For real. And it came together, finally.
So Wednesday I went to check out our new lab bling, and ran some basic functionality tests on the lens/CCD/computer communications, that is to say, I took emo picture of myself through a hole in a piece of aluminum foil covering the lens which made for actually a pretty good pin hole camera.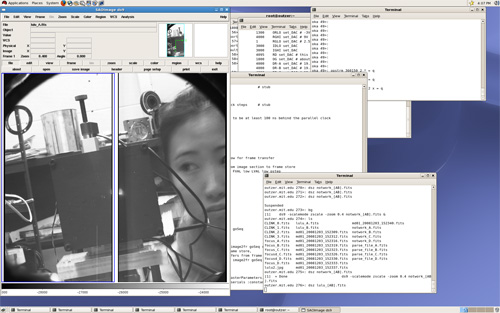 This CCD is much bigger than the old one. You actually are seeing the inside edges of the lens here.
With Friday came final projects showcases in dance class. I'll post videos (maybe) when they come out depending on how they came out. I don't think they came out all that well. The space was too small for taping. But we'll see. Anyhow, it went very well, I think. And in the approaching syzygy of classes, that class is now over, too.
Confirmed: 2 down. 2 to go.
34 responses to "Syzygy, basically."