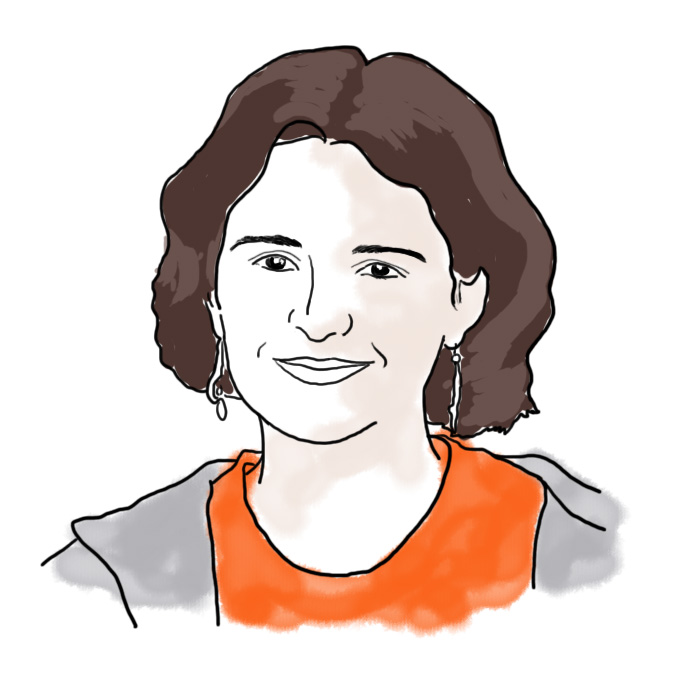 Veronica Mars was canceled. That, or the seniors left. Interpret the title as you will.
On Saturday, I sat in the floor lounge and began writing this entry. Yeah, that was a few days ago. I was distracted by the front desk and its extensive collection of movies. I've decided to replace Veronica Mars with Lost, so I've watched almost the entire first two seasons in the last two weeks. It's so, so sad. (I just finished the episode where Ana Lucia dies. WTF?! She rocked so hard. That makes me mad, killing off good characters for no reason. Rar.)
I was in the floor lounge to distract myself from the bustling activity of the seniors packing up their belongings and preparing to leave us forever. I remember thinking, "After today, there will be no Ruth or Sam around all the time to make Conner 2 the bastion of awesomeness that it is." Tear!
I decided to finally blog (weeks after the fact) about the series(!) finale of my ex-favorite TV show, Veronica Mars. The week before the finale, the following exchange happened on the floor's email list:
Subject: non-lounge reservation
From: Sam
Date: 5/17/07 1:48 PM
To: conner 2
I am NOT reserving the floor lounge at 8 PM on Tuesday to watch the American Idol finale, because Melinda got voted off last night, and that just sucks. Please watch something else during this time period.
angrily,
sam
Subject: RE: non-lounge reservation
From: Wesley
Date: 5/17/07 1:55 PM
To: conner 2
On that note, I'm reserving the floor lounge on Tuesday from 8-10 pm for the
season finale of veronica mars.
Not so angrily,
Wesley
Subject: RE: non-lounge reservation
From: Laura
Date: 5/17/07 2:02 PM
To: conner 2
Just to introduce an opposing opinion, I angrily support Wesley's reservation. As an avid VMars supporter for nearly 3 years, I'm appalled at the subpar quality of season 3, most notably the fact that they've destroyed any integrity the character once had. I'll be watching, just to give the show a good kick in the pants on its way out, seeing as how it was (thankfully) not renewed for Season 4.
Just keeping up the theme.
Angrily,
Laura
Which basically sums up my feelings about the show, and the finale. It may be hard to believe, but once upon a time, Veronica was basically the most awesome person EVER. I aspired to BE her. For real. But then she just became whiny and self-centered and superficial and just plain dumb. For those of you who didn't see it, in the series finale, someone sneaks a video camera into her boyfriend's room and then spreads a video of them around on the Internet. And at first, the episode looked promising- because Veronica became her old self and utterly destroyed the lives of everyone who remotely stood in her way of justice. It ROCKED.
Then she started doing really dumb things, like breaking into the Kane estate (um what?) and then LYING to her dad about it, who proceeded to DESTROY THE EVIDENCE against her. I cannot tolerate stupidity, seriously. Then, she hacked into this hard drive and found all the info about the members of this all-male secret society, so she gave the list of their names to Nish, because you know, she and Nish are all BBF blood sisters and all. THEN, she finally figured out who posted the video, and she did NOTHING to him. It's like, I did not sit through 2 hours of Veronica and her supercurls flouncing around while she does idiotic things to ruin her relationship with her dad in exchange for NO payoff whatsoever. I mean, the guy sat down next to her in the cafeteria and taunted her, and she just LOOKED at him, didn't even make a snarky remark. Then Logan came in and beat the ?#$! out of the guy (sweet!), threw him at her feet, and demanded his apology. And Veronica was all, "I don't want it."
Um, excuse me, in her shoes, I'd be like, "Oh yes, while you're down there, please lick the bottom of my shoes and then don't move so I can stomp on your face." But apparently Veronica is less vindictive than me. Sure. I buy that.
One thing I did find hilarious about the episode was not actually in the episode, but in the Television Without Pity recap of the episode:
In the Mech E lab, Veronica is visiting Wallace, who's working on a "1/32 model of an amphibious regional turbo prop." It looks more like a toy plane to me, but there's a reason I stayed away from engineering in college. Those kids never slept.
Ha! That totally made me laugh. =)
In any case, my apologies for the rant- apparently that episdoe made me go into CAPS LOCK MODE for some reason, but it's all out of my system now. Also, before you start judging, I really don't watch that much TV. I used to watch Arrested Development, then after that was canceled I watched Veronica Mars, and now I'm going to try Lost. I figure my brain deserves to sit there and let itself rot for at least one hour per week. That's my strategy, and I'm sticking to it.
Anyway, now the seniors are long gone, and the summer session is finally really getting started. People are moving into their summer rooms and getting started at their jobs and UROPS, and it's all terribly exciting, which is why we sit around watching 10 hours of TV shows on DVD per day. I'm the summer RA for the dorm, which means I'm in charge of planning exciting events each week, so that should be fun. No worries, once I catch up with Lost I'll have plenty of free time to chronicle the life of a summer-time MIT student.
As sad as it was to see the seniors go, I wish it were moving day more often. Do you have any idea how much free stuff I've acquired? Last Saturday alone I got two half bottles of laundry detergent (seriously, I have enough to last me for like 3 more years now), a couple of mixing bowls, a handy map of Boston (I have the worst sense of direction of all time), a strand of decorative lights, a can of WD-40, and a soldering iron (thanks to Evan, the newest blogger). I think getting a free can of WD-40 and soldering iron in one day is more than a girl could ask for, nevermind all that other stuff.
The problem inherent in all of this is that now I have even MORE,,,junk I don't really need cluttering my room, so when I move in the fall (into a slightly smaller room, no less), that'll kind of suck.
Okay, so now that I've rambled about every topic under the sun NOT relating to the actual purpose of this blog, I think I'll finish this one off. But trust me, there's some good material on its way.
Good luck to everyone on their senior dinners and proms and graduations and stuff!
26 responses to "The end of an era"