DID YOU KNOW? One of the top 20 Scrabble players in the country, and the #1 ranked scrabble player in all of Massachusetts, is a sophomore at MIT.
I was gonna blog about classes, but that can wait until tomorrow.
What cannot wait until tomorrow is some mad props. Tonight while doing the dishes, I cut the dickens out of my finger. Mad props to Mitra for running up five flights of stairs to get some Neosporin for me from one of our dorm's five Medlinks while I stood around shouting obscenities as I waited for the bleeding to subside. Props also to the Medlinks program at MIT for being so accessible that I can get neosporin even at 1 AM.
Mitra could have grabbed some pain reliever or bandages from the Medlink too, but luckily I keep band-aids on hand.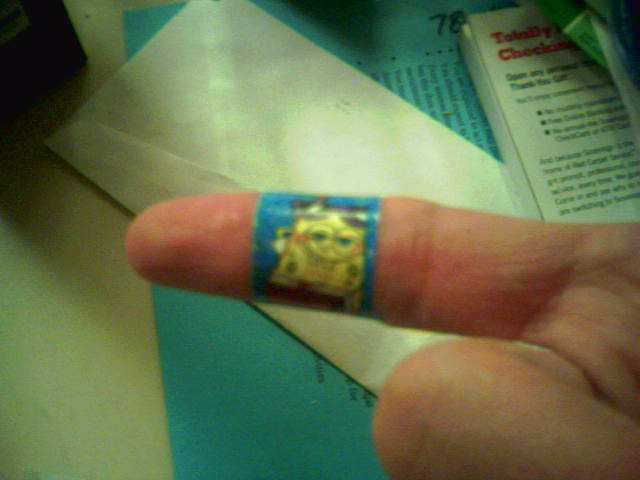 Yes, for the next day my finger will be healing under the watchful eyes of gay icon Spongebob Squarepants.
Does anybody want a "before" picture?
Tomorrow we are painting the suite red with something other than my own blood, and you will be astounded. I guarantee.
Okay, because of this unprecedented, and quite frankly, somewhat unsettling interest (just kidding, I love it!) in seeing my spilt blood, here you go.
If it's something that can be stopped, just try to stop it.
5 responses to "The kindest cut"