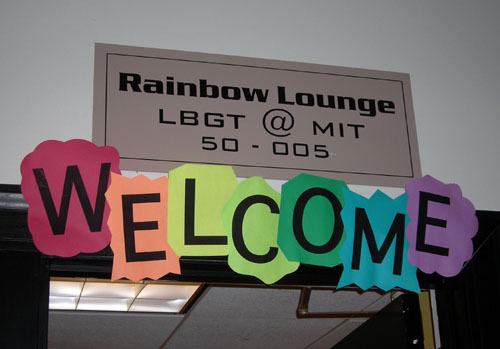 Back in the day (TM) when I was a prefrosh participating in the awesomeness that is
Campus Preview Weekend
, I noticed an event in my 500 page calendar called "Rainbow Lounge Open House." I had no idea what that meant.
Perhaps you are as sheltered and/or clueless as me, so I'll break it down for you. The rainbow is the symbol of the LGBT (Lesbian, Gay, Bisexual, and Transgender) Community, so the Rainbow Lounge at MIT is the home to the Institute's various LGBT student groups and support staff.
More loftily (and according to the sign outside the door):
Through the establishment of the Rainbow Lounge the MIT students, staff, faculty and guests strive to:
– provide a safe space for the MIT LBGTQ community, including allies
– achieve a better sense of community with its cross-cultural perspectives
– educate about gender issues, safe sex, and LBGT-related topics
– present resources available at MIT and in the surrounding community
– encourage participation of allies and friends
– provide a comfortable space for meetings, relaxation, learning and social interaction
The MIT Rainbow Lounge exists as a place and a home for all people – lgbt, questioning, allies & friends – to feel comfortable about themselves, while learning and sharing with others.
The entrance to the Rainbow Lounge has a big collection of those informative booklets for anyone to take, and posters about various LGBT events that are going on around campus. (By the way, as you can tell from the number in the photo above, the room is in the basement and doesn't have the greatest lighting- so I apologize for the quality of the photos. I did the best I could, but hey, I'm not Yan.)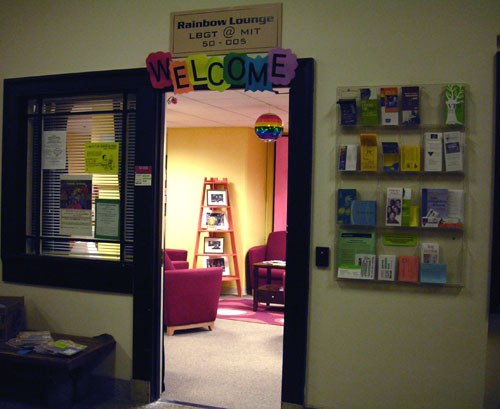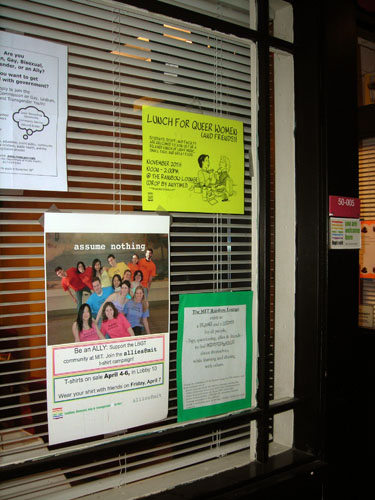 The Rainbow Lounge has a whole bunch of resources for students. There are two full-time staff members who are around to talk to students, plan events, and generally hang out.
There's also a reading room with a huge collection of LGBT related books…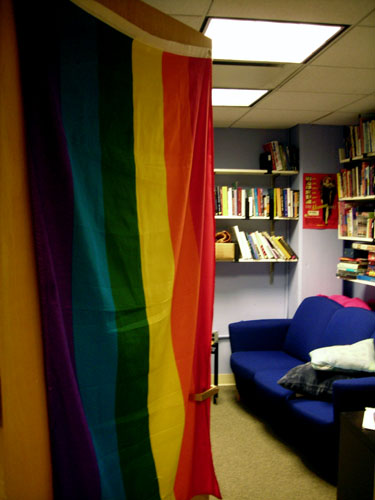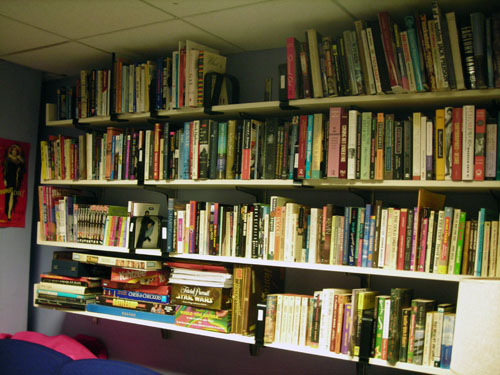 …and movies.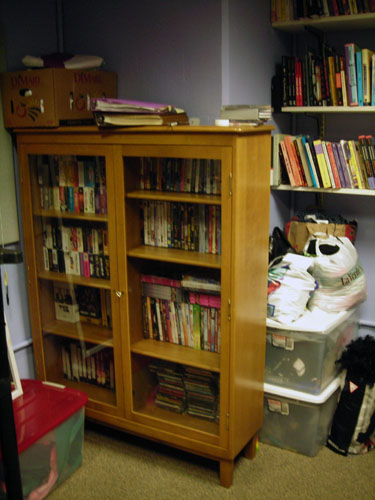 Any student is welcome to sign up for lending privileges and borrow any of these materials for a few days at a time.
There's even a small kitchen which is useful for things like making PB&J sandwiches during movie nights.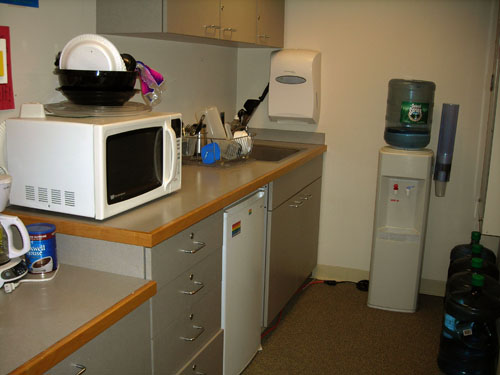 The Rainbow Lounge, just like the Center for Health Promotion and Wellness (who are totally cool people, btw), also functions as a resource for safe sex information and materials (like free condoms).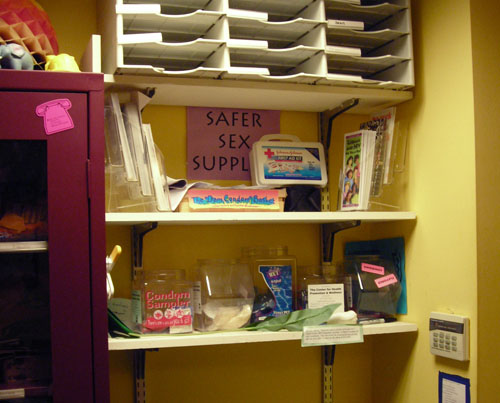 The main room is used for club meetings, informal gatherings, movie nights, and occasional special events, like movie screenings, discussions, or last week's "Make Your Own LGBT Valentines." As the name suggests, the room is very colorful.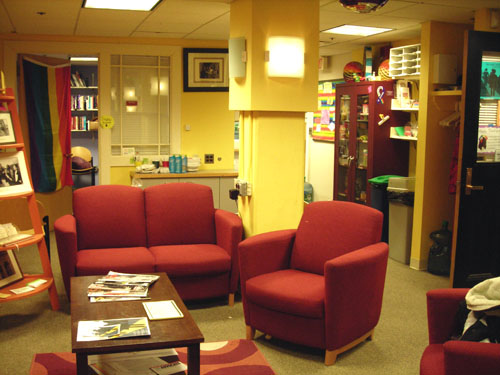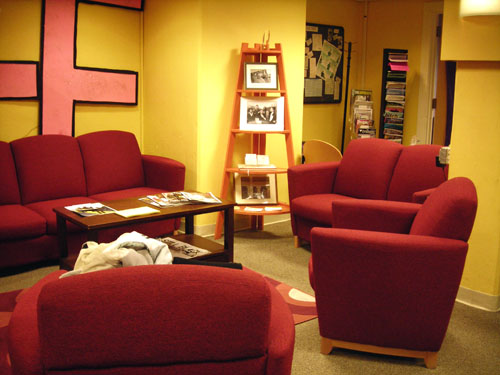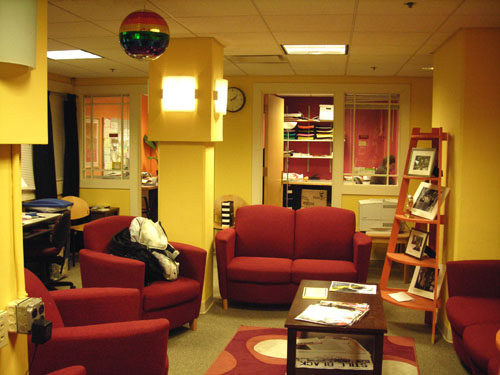 Also, those couches are seriously comfy.
One of the most well-known projects to come out of the Rainbow Lounge is the "You Are Welcome Here" campaign. (Money Man has blogged about this before. The idea behind the campaign is this: any member of the MIT community who would like to participate can get a copy of a small slip of paper, about the size of an index card, to place on their office door.
The stack of "you are welcome here" cards in the Rainbow Lounge.
The presence of one of these cards on a door indicates that those behind the door are friendly to and supportive of LGBT people and causes.
I see these cards everywhere, so to demonstrate their ubiquity, I took a camera with me on a brief trip around campus and compiled a bunch of photos. This is by no means anything approaching a comprehensive list, but possibly a representative sample? (Does it matter that I was lazy and never made it up a staircase?)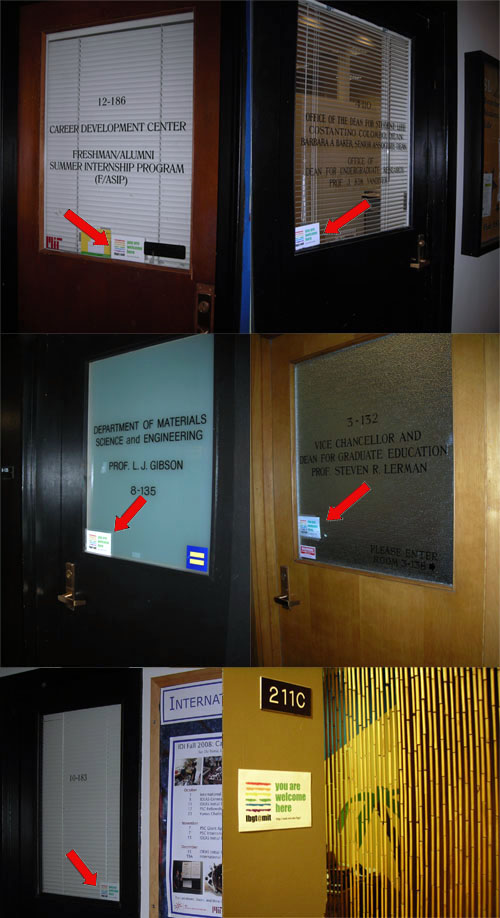 So, who are all of these people who went through the trouble to stick one of these cards on their doors? From left to right and top to bottom: the staff at the
Career Development Center
,
Chris Colombo, the Dean for Student Life
and Kim Vandiver, the Dean for Undergraduate Research (also the Director of the
Edgerton Center
and my 2.009 instructor),
Professor Gibson
(from the Department of Materials Science and Engineering, according to the MIT "people search"),
Steven Lerman, the Vice Chancellor and Dean for Graduate Education
, the people in room 10-183 (whoever they are, they are apparently LGBT-friendly!), and me (I grabbed a copy for my dorm room door while in the Rainbow Lounge to take photos).
And of course…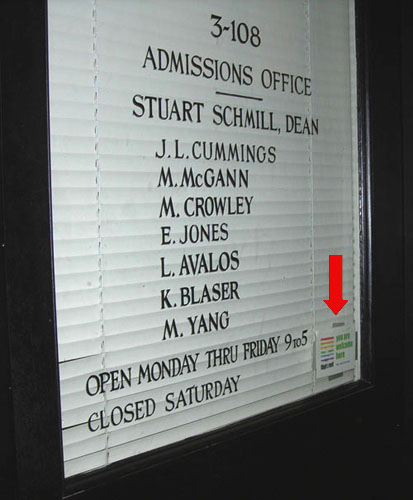 I know the
[email protected]

category
is….basically empty right now, so if anyone has any questions that might inspire some content for that page, send 'em this way.
EDIT: This blog entry is not about tolerance or intolerance, or justifying or glorifying or encouraging or discouraging anything. It's about providing interested people with factual information about life at MIT. Obviously I have presented the facts with a bit of my own personality interwoven, because this is a blog and not an encyclopedia. However, the fact remains that this is not about whether anything is right or wrong. Some of you started a discussion about LGBT issues in general, and I'm ashamed to say that it got quite ugly on both sides. It did not want to have to do this, but I have deleted all of the comments from this discussion, and I will delete and future comments that reopen the argument. Please feel free to continue commenting on the content of the blog entry, asking questions etc, but I will delete any future comments that make judgments or are in any way uncivil. There are plenty of places on the internet where interested parties can have such arguments. This is not one of them.
71 responses to "The Rainbow Lounge"